'From Illness to Wellness': Max Healthcare, Medanta, Dr Lal PathLabs Share 8 New Healthcare CX Trends
'From Illness to Wellness': Max Healthcare, Medanta, Dr Lal PathLabs Share 8 New Healthcare CX Trends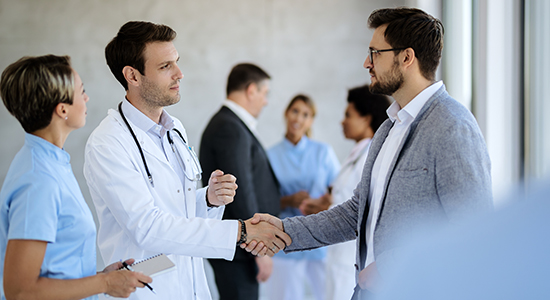 In the evolving healthcare landscape, there is a growing need to adopt automation while delivering patient care. As was evident from our recent discussion, it's a top priority for healthcare providers, diagnostics providers, and exchange insurance companies.
However, there is another side to the story. 
No matter the level of automation – healthcare needs a human touch; the buzz of seamless person-to-person interactions is essential for enhancing patient experience. 
In this article, we explore how to balance automation with a human touch, with insights from our webinar:  Creating a unified patient experience in healthcare with omnichannel automation, where we invited leaders from diagnostics, core healthcare, operations, and customer care. 
The panelists included:
Shashi Ranjan, Head-Customer Experience, Dr Lal PathLabs Ltd.

Kousher Shah, Senior Vice President, Max Healthcare

Prabhat Kumar, CTO, Redcliffe Labs

Rajesh Bhardwaj, Head- Operations Control Centre, Medanta

Vineet Sikka, Country Head, Growth & Marketing, NH Group

Jay Parekh, Director-Customer Experience, Aglius Diagnostics

Rampradeep Kumar, Associate Director-Product Solutions, Ozonetel
All our panelists offered interesting views and eight key healthcare CX trends emerged from the interactive discussion:
#1 Patient-Centric Healthcare: Beyond Clinical Care to Overall Experience
The patient experience itself is evolving due to the changing patient expectations. Patients are now spoilt for choice and will constantly compare your services with those of other providers. Ease of use and availability are key elements driving their decisions. 
If there is no underlying reason for a patient to choose a hospital because of a specific treatment or doctor, patient experience is the sole criterion they adopt while searching for hospitals. And experience includes everything – ranging from food to laundry. 
"Patient experience has emerged as a vital aspect of the healthcare industry, encompassing not only clinical care but also non-clinical factors such as food quality, laundry services, ratings, and the overall experience. Being a part of this industry is truly exciting as we work diligently to elevate the experience for our patients," said Dr Kousher Shah of Max Healthcare.
According to Mr. Jay Parekh, Director of CX at Aglius Diagnostics, the COVID-19 pandemic has played a substantial role in reshaping patients' perspectives and decision-making processes. 
In the pre-covid era, patients would go to a doctor who would write them a test and recommend a diagnostic lab to get it done. Post-covid, patients are making their own decisions based on Google research, online reviews, and ratings of the hospitals and diagnostic centers. 
So, if earlier the focus was "patient satisfaction" now it is shifting to "patient obsession."
#2 Accessibility and Convenience Are Now Top Priorities
Today, ease of availability is a critical factor for enhancing patient experience. Whether it's streamlining appointment booking, assisting patients in navigating to OPDs for doctor visits, providing medication support, ensuring post-surgery home care, or any other facet — accessibility is paramount.
Personalized care remains at the core of any healthcare delivery; the only difference is that the care now is powered by technology, said Dr Vineet Sikka from NH Group
Real-time appointment scheduling via mobile apps, the delivery of test reports through email, and proactive appointment reminders from customer service centers are just a few examples of how technology is revolutionizing the patient care landscape.
#3 Patients Expect Collaboration & Shared Decision-making
Today's patients are more tech-savvy than ever before. Across interactions with other industries, they have become accustomed to personalized experiences. They want this personalization to reflect in their healthcare interactions – meaning more active participation in their treatment plans. 
"Modern patients want access to pertinent health records and information, aiming to engage in shared decision-making with healthcare providers. This shift towards patient-centric communication, marked by collaboration and transparency between patients and providers, represents a significant transformation in healthcare in recent years," said Mr Rampradeep from Ozonetel
Healthcare providers need to understand the patient's journey across departments from their point of view. The journey begins when the patient starts searching for a hospital. How easy it is to find a hospital or reaching out to their contact center can make all the difference. 
But the most important element comes into play when the patient is at the hospital. 
How easy is it for them to locate departments and specialist doctors is a big pain area. Time is another issue. For instance, how much time will a doctor take to come back to the OPD after let's say, surgery? 
In all these cases, the flow of information throughout the entire patient journey is critical for delivering stellar patient experiences.
#4 Self-Service and Omnichannel Support Are Critical 
When it comes to delivering omnichannel experiences, there is a gap in technology adoption, especially in locations such as Tier 1 vs. Tier 2 cities. You need to identify the right channel based on what works for the customer – WhatsApp, SMS, a push notification on mobile or an in-person visit to the diagnostic center 
"Empowering customers through self-service is equally important. By allowing them to explore our offerings independently, they gain clarity about their specific needs. Should they require any assistance, our dedicated support team is readily available to provide guidance and ensure a seamless experience," said Shashi from Dr Lal PathLabs.
The entire process itself can be localized using technology. So, for instance, you can deploy bots that communicate with customers over WhatsApp in a language they are most comfortable in. Or create brochures and other materials in local languages. 
Healthcare as an industry is shifting from illness to wellness, and the trend accelerated post-COVID. 
Customers are moving beyond recommendations; they want to understand the health conditions of themselves, their families, and their relatives. So, making information easily available to them in an understandable format is very important. 
#5 From Search to Satisfaction: Redefining Patient Expectations in the Digital Age
Silos across departments and processes, leading to a broken patient journey is one of the biggest challenges in big hospital chains.  
Pre-COVID, the trend for the big hospital chains was handling call centers separately. Post-COVID, these chains have centralized their call center experience that handles the entire flow. So, right from booking an appointment to pharmacy orders, the entire customer journey is being mapped and experiences delivered.
"The journey begins when patients search for doctors on our app or website. We promptly engage with them in their preferred language. Once an appointment is confirmed, the experience unfolds seamlessly, featuring advance notifications and an efficient queue management system to ensure timely consultations. All patient activities, including pharmacy purchases and e-prescriptions, are meticulously tracked within the app,"
said Mr Vineet from NH Group.
Hospitals are refining the post-hospitalization journey and follow-up processes, aiming to enhance brand loyalty and achieve improved lead closure rates. 
#6 Patient-Centric Automation with a Human Touch: The Key to Successful Healthcare Transformation
While the panelists unanimously acknowledged the importance of automation, particularly in tasks such as appointment scheduling and reminders, they also recognized that it may not always serve as the ideal solution. Hospitals have experimented with bots in the past, but it has largely failed without the human touch
"Patients reaching out to us often have urgent needs, whether it's for an emergency or to obtain a medical report. Their primary objective is to connect with an advisor, get swift resolution, and move forward," said Jay Parekh.
Automating everything is of no use if there is no patient adoption in the end. Healthcare organizations must employ patient education initiatives. For instance, when they walk into the reception, they can get an iPad or other device to navigate to the right place or identify the doctor's availability. The interfaces must be user-friendly and multilingual and cater to diverse patient populations.
Some hospital chains have also adopted a few best practices, especially for elderly people. A red jacket guide is assigned, who accompanies such patients till the end – finding the specialist, helping them navigate between departments, engaging with the doctor, billing, getting medicines from the pharmacy.
#7 Patient Connection Must Be Balanced with Data Security 
One of the foremost challenges healthcare providers faces is the fragmented nature of patient data. Patient information is often scattered across multiple systems, making it challenging to create a unified view. 
As Rampradeep pointed out, "The integration of patient data from electronic health records, appointment systems, and diagnostic labs into a single cohesive platform is a critical endeavor. Healthcare teams must invest in robust data management solutions to facilitate seamless data exchange among various platforms." 
Additionally, privacy and security concerns loom large in the healthcare sector. While digital transformation offers significant advantages, navigating stringent privacy and security regulations, such as HIPAA compliance in the U.S., is imperative for healthcare providers embracing this transformation.
Redcliffe Labs Rahul noted, "Agents dialed directly from their phone numbers, and while this provided a direct connection, it had its disadvantages, including the potential loss of customer lifetime value. Displaying customer numbers and ensuring compliance with data security regulations posed challenges. Each piece of sensitive information, such as customer numbers and emails, required encryption. When we established this requirement, the solution providers stepped up to address the need."
#8 Patient Engagement is Actually Patient Empowerment
Hospitals sending reminder messages on WhatsApp is good for customer experience. But where does one draw the line when there are too many messages that put off the customer? The solution is to empower the patient by giving them a choice.
"I believe in empowering patients and providing them with choices right from the beginning. When a patient has received a specific service from the hospital, we should offer them the option to decide if they'd like to receive reminders for themselves. This approach addresses the frustration that patients often feel when their inboxes get cluttered with messages, "remarked Dr Kousher Shah.
When it comes to healthcare, a significant chunk, around 75% to 80%, involves inpatient services at hospitals. And automation is critical in some key areas like the billing cycle and final discharge process. You need to find ways to help a patient save time. For instance, if a patient is given a medication which is available in three different brands, you must have systems in place to help patients choose the brand in advance that would accelerate the billing process. This trend even has a name – healthcare consumerism, where the patient is more involved in the entire healthcare process.
In Conclusion
The panel concluded that patient-centricity has emerged as a driving force in this digital-first age. Patients today demand a holistic healthcare experience that goes beyond clinical care to encompass every aspect of their journey, from accessibility and personalization to self-service empowerment and automation. 
Hospital chains are centralizing their operations, emphasizing data integration and security, while focusing on patient education and engagement. As healthcare transforms, striking the right balance between patient connection and data security becomes imperative.