How a Diagnostic Brand Boosts Patient Satisfaction by 36% With Omnichannel CCaaS
How a Diagnostic Brand Boosts Patient Satisfaction by 36% With Omnichannel CCaaS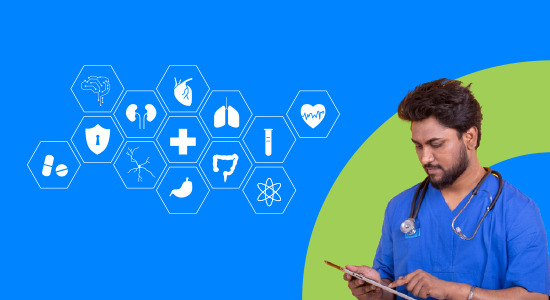 In today's healthcare landscape, the focus has shifted beyond providing medical treatment & services. Instead, healthcare players are proactively working to enhance patient engagement, boost satisfaction levels, and transform the overall experiences at every step of their healthcare journey.
Digitalization has revolutionized how healthcare services are delivered, accessed, and managed. But a comprehensive approach to healthcare goes beyond relying on technology. A Deloitte study found that 56% of consumers feel the quality of care on virtual platforms is not on par with in-person visits. This highlights the importance of balancing digital advancements with a human touch in healthcare interactions.
According to the 2021 Health and Life Sciences Global Experience Survey, creating a positive healthcare experience involves four crucial factors: emotional support, digital adoption, trust, and access. These elements shape patient perceptions and satisfaction throughout their healthcare journey. In other words, the significance of Customer Experience (CX) in healthcare has never been more apparent.
In this article, we will explore:
Healthcare providers must tackle multiple challenges to deliver excellent CX. Some focus areas include:
How to achieve continuous availability for patients?
What interactions can be automated, and which require human intervention?
How to tailor communication approaches to cater to the diverse needs of patients?
How to identify patients who may prefer traditional channels over digital ones? 
Let's take a look at the various CX challenges that healthcare providers face today and how a leading health-tech firm leveraged omnichannel, consultative approach to transform the diagnostics experience, building trust and creating immense value for patients.
CX Challenges to Achieving Patient-Centric Healthcare
How can we make the more pleasant and effortless for its patients? Here are some key challenges a leading health-tech firm identified to improve patient experience within diagnostics:
a. Meeting patients where they are:
Based in India, the world's most populous country, the first challenge this firm dealt with was diversity. Every patient is unique, hailing from diverse backgrounds and age groups, each with their own communication preferences. The firm wanted to offer patients the freedom to book appointments, access reports, and receive medical advice on their preferred channels.
b. Overcoming doubts & hesitation:
Booking a diagnostic test may seem straightforward, but for many Indians, it can be an overwhelming task. The thought of going to a clinic and interacting with busy nurses or impatient lab assistants can be daunting. Moreover, they are often unsure about diagnostic tests and have many unexpressed doubts, apprehensions, and misconceptions.
c. Recognizing patients across channels:
Healthcare providers need to ensure that their system and agents can recognize patients irrespective of channel choice. Patients should be able to switch channels effortlessly without the need to repeatedly identify themselves.
d. Nurturing relationships beyond first interactions:
The patient-healthcare relationship must not merely end with a test report or medical advice. If patients require further handholding, they should be offered additional support through various touchpoints and contact channels.
The organization's focus was to ensure patients receive the necessary guidance and care throughout their healthcare journey. To do this, the healthcare firm needed to build an omnichannel approach that was efficient and responsive, yet humane and caring.
An Omnichannel, Consultative Approach to Transform the Diagnostics Experience
The healthcare firm realized that to achieve their goals they needed to integrate their voice and digital channels and enable their agents to act as trusted advisors.
Five-pronged approach for superior diagnostics experience
Personalized omnichannel engagement
Provided consistent point of contact
Offered conversational continuity
Equipped agents to become trusted advisors
Unlocked revenue streams with teleconsultation
They decided to take a five-step approach:
1. Personalized omnichannel engagement:
The health tech firm did not want to restrict their patients to a single communication channel. They wanted to be available for every patient on a channel of their choice at every step of the diagnostic experience. With Ozonetel's omnichannel CCaaS, patients could book appointments, access reports, and receive medical advice — not only through the app, website, and email — but also via WhatsApp and phone calls.
2. Provided consistent point of contact:
The healthcare provider leveraged Ozonetel's One Business One Number Solution to ensure that patients get connected to the same agent irrespective of their channel choice. This gives them a familiar and consistent point of contact, which significantly improves the type of conversations that they have. We find patients respond positively to this familiarity, comfortably clarifying doubts that they may have been reluctant to share with a stranger
3. Offered conversational continuity:
A patient's digital journey must not be anonymized and impersonal. Instead, it should feel deep and meaningful. With Ozonetel's CTI integrations, the system recognized patients irrespective of their channel choice. As a result, patients could easily switch channels, at any time during their diagnostic journey, without needing to identify themselves or explain their history.
4. Equipped agents to become trusted advisors:
The health tech brand also realized that to transform their agents into trusted, caring advisors they must provide them with secure access to the right information. Through deep CRM integration & agent assist AI, agents can view relevant patient details while critical identifiers such as patients' phone numbers and other sensitive information remain masked, agents could seamlessly view relevant patient details — such as the patient's name, preferences, feedback, and past interactions — during their conversation. Consequently, agents could resolve queries faster and engage patients more meaningfully
5. Unlocked revenue streams with teleconsultation:
To reduce patient hesitation around diagnostic tests and treatments, the company streamlined access to medical advice across all touchpoints. Patients can simply call the healthcare firm to connect with a dedicated team of doctors, across 22 departments, who are available for teleconsultation at extremely cost-effective rates. This service lets patients instantly speak to a doctor, book tests or scans, and seek their advice once the results come in.
Results: 36% CSAT, 54% Lead Conversions
This personalized, omnichannel solution became hugely successful. Patients were engaging more — especially over WhatsApp — leading to higher customer satisfaction (CSAT) and conversions across campaigns. It led to an improvement of 36% in CSAT score and 54% in lead conversions.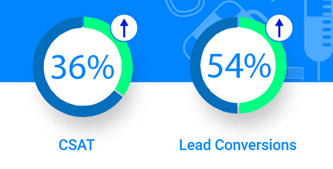 What truly makes the solution remarkable is its holistic problem-solving approach to what is needed to improve patient outcomes beyond a single touchpoint. The solution deeply understands and removes the root cause behind a patient's hesitation and discomfort around the diagnostic experience.
Conclusion
A customer-centric approach helped the health-tech firm meet the dynamic needs of patients, deliver quality care, and orchestrate meaningful patient journeys. As the healthcare industry continues to embrace digitalization, it must prioritize a patient-centered approach that incorporates both technology and human touch to ensure a positive and fulfilling healthcare experience for patients. By harmonizing these elements, healthcare providers can truly leverage the potential of digitalization while delivering empathetic and high-quality care to patients.