Everything You Need to Know About Progressive Dialer
Everything You Need to Know About Progressive Dialer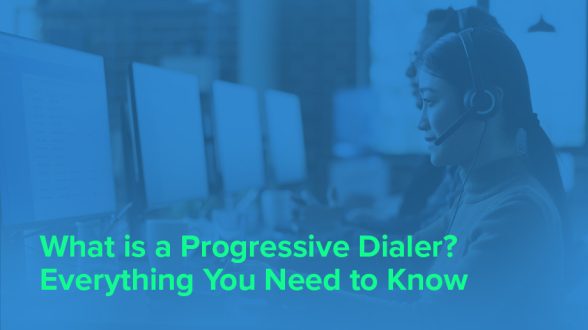 Introduction
In today's competitive business landscape, sales teams need to be able to reach more customers in less time while still delivering personalized and effective outreach. That's where progressive dialers come in – by automating the process of dialing phone numbers and streamlining call management, they enable sales teams to work more efficiently, increase productivity, and achieve better outcomes in their outreach efforts.
However progressive dialers are not the only type of dialer available to contact centers. Contact centers can choose different dialers or dialer modes based on their campaign requirements. 
For instance, for large campaigns with large data lists of relatively lower value, a contact center may prefer a predictive dialer. For extremely high-value databases where a sales representative requires sufficient time to prepare between calls, a preview dialer is popular.
This blog explores what a progressive dialer is and when and how to use this dialing system for your business.
In this article, we will explore:
What is a Progressive Dialer?
Progressive dialer is an automated dialing system that sequentially dials one contact after another from a call list. It skips answering machines and busy tones to connect an agent with a customer or prospect. This kind of dialer dials out only when an agent is available to take a call, and only dials one phone number per agent. 
Progressive dialing is generally three times faster than manual dialing, but less productive than predictive dialing where the dialer dials multiple phone numbers per agent and begins dialing even before an agent completes their previous conversation.
Progressive vs Predictive vs Preview Dialers
A contact center solution or a dialing software may offer multiple auto dialing functions to increase agent efficiency and productivity. These functions are classified into: 
1.  Preview dialing.
2. Predictive dialing.
3. Progressive dialing.
4. IVR dialing.
Your business may select a standalone dialer software for its outbound call campaigns or could select a dialer with all four modes of dialing. Apart from these dialing modes, the software you select may also offer click-to-call from within your CRM or manual dialing mode.  
To better understand when to select a progressive dialer or a progressive dialing mode, let us compare it to the other auto dialers:
| | | | | |
| --- | --- | --- | --- | --- |
| Type of Auto Dialer and Differentiating Functions | Progressive | Predictive | Preview | IVR |
| Principle | Sequential dialing one after another sequentially, ensuring agents' availability before the call is answered. | Automated dialing workflow based on agent availability. | Agent "previews" important information about the customer before dialing. | Based on programmed contact center functions such as personalization and pre-recorded messaging. |
| Pace of dialing | Sequential dialing with a few seconds between calls | Fastest dialing mode with almost no waiting between calls. | The business could set this at anywhere between 5 minutes to 30 minutes between calls | Simultaneous, automated dialing with no time between calls. |
| Number of calls per agent | Sequential calling action (1 agent-1 call at a time) | Predictive calling action based on the agent's choice | Preview calling based on information available | Defined by contact center based on an average number of calls received in a day/ agent availability. |
| Best suited for | All sales calls Proactive customer service calls. | Lead-generation campaigns | Highly targeted sales calls | Proactive alerts, CSAT surveys. appointment reminders, sales qualification calls, |
Now that we have understood the broad differences between dialers, lets deep dive a little into the advantages and disadvantages of a progressive dialer and understand when you should select this type of dialer for your business or a specific campaign.
Typically, Call Monitoring software has these features: 
Unified call recording and monitoring (desktop, voice, and mobile screens).

End-to-end call recording security and data compliance as per the latest guidelines including CCPA and GDPR.

Automated agent performance analytics and data reporting.

Track call idle time and interruptions.

Next-gen AI-based analytics.

Content Management for sales enablement, agent training, and coaching.
Advantages of a Progressive Dialer
Boosts productivity
Progressive dialers improve agent productivity. With a progressive dialer, agents do not waste time dialing numbers and listening to busy tones. The dialer systematically and sequentially connects agents to one phone number after another and typically leads to three times higher productivity than with manual dialing.
Centralized Control
Switching from manual dialing to progressive dialers also shifts the control of data from the agents to the manager or supervisor. Instead of looking into a contact list and randomly selecting whom to call next, the system or management can plan the calling priority.
Low Drop Ratio
Unlike predictive dialers, a progressive dialer connects your agent once the phone is ringing on the other end, but before the prospect answers the phone. This means that when the call connects, the prospect is immediately greeted by the agent. In contrast, during predictive dialing, a prospect often hears an awkward silence or hold music before they are connected to the agent. In many cases, the prospect immediately disconnects the call leading to a dropped call.
Progressive dialing systems eliminate these hang ups or dropped calls. 
Compliant
In many countries, there are regulations to govern telemarketing. These regulations specify that drop ratios should not exceed 3% of your total calls. With Predictive dialing, contact centers need to monitor and adjust their algorithms to ensure they stay compliant to this rule. Because progressive dialers have fewer hang ups and no dropped calls, suing them ensures that your contact center is compliant with these drop ratio regulations.  
Better Agent Experience
Typically, progressive dialers allow more idle time for agents between calls, reducing the hustle and offering the agent a more stress-free experience.  As a result, your agents end up sounding less scripted and robotic and more natural and genuine during calls leading to a better and more effective sales experience. 
Simple to Use
Progressive dialers are also simpler to use than predictive dialers where supervisors need to monitor drop ratios and idle times and adjust the pacing accordingly. Progressive dialers are relatively stress-free for managers – they simply upload their data and let the dialer connect agents to contacts sequentially without worrying about dropped calls, compliance issues or pacing.
Disadvantages of a Progressive Dialer
A progressive dialer isn't always the best choice for an outbound campaign. When compared to other dialing modes, here are some disadvantages they create:
Slower Than Predictive Dialers
Although a progressive dialer boosts agent productivity, they are not as efficient as predictive dialers. On average, the connection rate for progressive dialers(that is, the total number of calls connected) is around 20% lower than predictive dialers.
Higher Agent Stress Compared to Preview Dialers
Although they offer higher idle times that predictive dialers, there still is very little time for agents between calls. In comparison, some contact centers use preview dialer which ensure higher idle times between calls to further reduce the stress on agents and give them more time between calls to prepare for their next conversation.
When to Choose Progressive Dialers for Your Outbound Campaign?
With all these choices of dialing software, how should you select the right dialer for your campaign? Let us explore five criteria based on which you should select a progressive dialer or progressive dailing mode for your campaign.
Data Quality
Quality of data is important. The better is the quality, the more you can get out of it. At times, you may have access to highly select and qualified data useful for personalized campaigns. And then, there might be low-quality information only useful for running cold telemarketing campaigns. The marketing campaigns through which you acquire your data also make a difference to the data quality and value of the data. So naturally, you will want to run different kind of campaign for each kind of data.
When data quality is low (for example when it is sourced from a 3rd party), and the connect ratio is expected to be 20-30% or lower, we recommend that you choose a predictive dialer, because the value of each call is lower, and it is best to optimize these campaigns for speed. When data quality is high, that is a 50% or higher connect ratio, choose a progressive dialer because it is worth the extra time that your agents spend on each call to ensure they convert. 
Size of Your Call List
Your goals and targets are often based on the size of your call list. The longer the call list, the less time you must run through it and vice-versa. We recommend predictive dialers if you require to make 1000+ calls per day whereas you should use power dialers for medium-large call lists, for instance, when you need to make 100-900 calls per day or when you need to make 100-250 calls per agent, per day. If the call list is smaller, we recommend click-to-call or preview dialing. 
Call Drop Management
Depending on the customer lifetime value (CLV) of each contact number, you can opt for a dialer that reduces the chances of call drops. Contact with a higher CLV should be managed by a progressive or preview dialer for higher conversion rates.  
Agent Preparation Time
Finally, consider how long your agents require between calls. Predictive dialers give your agents very little time between calls while preview dialers give your agents ample time. Progressive dialer falls in between the two, giving your agents a few minutes to prepare or relax and stretch a bit, between calls.
Cold calling with zero preparation and ready script: Predictive dialer
High-value sales calls, upsells, cross-sells or proactive customer service calls: Progressive dialer 
High-value outbound call where sales teams need to prepare for call: in advance: Preview dialer.
How to use a Progressive Dialer for Outbound Calling?
Progressive dialers are simple to use. Here is a step-by-step guide to setting up your call flow with a progressive dialer:
1. Set up an outbound campaign
To begin with, you need to set up the basics of your outbound campaign. At this stage depending on the contact center solution or dialer software you use you would be able to select certain options to define your campaign.
2. Upload Data
The next step is to upload the data or phone number that you want the system to dial. Typically, most dialer software allow you to upload excel sheets, but a CRM integration can further automate and simplify this process. You can upload contacts directly from your CRM into the dialer or create rule-based dialing enabling you to run personalized campaigns for various customer segments based on their recent activity or the stage in the customer lifecycle.   
3. Connect and Speak
Next, you run your outbound campaign and enable your agents or sales teams to speak to all the customers on their contact lists while saving their time and ensuring a better agent and customer experience. 
4. Repeat
Finally, your progressive dialing will end one you have exhausted all the data or you're your campaign times out, whichever takes place faster. At this time, a supervisor or team lead can review the campaign how many calls were successful, how many failed, and how many are pending.  It is likely that some phone numbers were unreachable during the campaign. At this point, depending on the quality of your data, you may want to schedule retries at a different time to optimize your campaign.
At this stage depending on the contact center solution or dialer software you use you would be able to select certain options to define your campaign. This would include:
The dialing mode you want to use (for a progressive dialing campaign you would select the progressive dialing option).
The agents or group of agents who would handle these conversations.
The business phone number or DID number that you want to be visible to your prospects and customers when you dial them.
The number of times you would like the call to be redialed if the call goes unanswered.
The duration or run time of your campaign.
The time available to agents for post-call work before they attend to the next call.
Important criteria for selecting your progressive dialer
As we mentioned earlier in this article, you can choose to use a standalone progressive dialer for your business or choose a complete contact center solution that offers multiple dialer modes. Either way, if you plan on running campaigns with progressive dialers, here are some key features that your solution should offer:
Answering Machine Detection
AMD technology can help in screening outgoing calls & skip automatic answering mechanisms such as IVRs & voice mails to directly connect with prospects.
Multiple Number Formats
A dialer must understand multiple number formats, so you can upload contacts with multiple phone numbers in one go without wasting time on editing.
Efficient Retry Rules
Retry rules basically mean that you program your dialer to retry calls within a specified framework. So the auto-dialer does the initial work of sorting the numbers and deciding which ones to call and in what sequence. A dialer should allow you to effortlessly schedule the time and number of retries to maximize the chances of pickup.
SMS Plugin
Follow up answered and unanswered calls with a text message to improve recall. Notifying via SMS is important because this is a good way to inform customers that they are valuable to the business. 
Outbound IVR & Bots
With a powerful drag & drop IVR along with voice bots, you can fully or partially automate your outbound campaigns. customers or prospects receive automated, interactive voice messages. Each message can be personalized with a caller name and other details.
Live Monitoring
With this feature, call supervisors can easily monitor individual agent performance. They can also barge into an ongoing conversation or help agents on the go.
The goal of any outbound contact center is to connect agents to as many qualified prospects as possible and maximize conversions. In this regard, a progressive dialer can be of great help. It has a very customer-centric approach. It ensures that an agent is readily available to speak to the customer, therefore, abandoned calls are less likely. It also allows an agent to review customer information before automatically placing the call. So, the business is better positioned to nurture more leads and improve agent output.
Contact us today to get started with a next-gen outbound dialer for your business.
Frequently Asked Questions
There are different types of dialers and dialing modes that an outbound call center can use, based on its goals. These are Preview dialing , Predictive dialing, Progressive dialing , IVR dialing.
Progressive mode in dialer means that the call is only being placed when the agent is available to attend the call.