What Is Interactive Voice Response?
What Is Interactive Voice Response?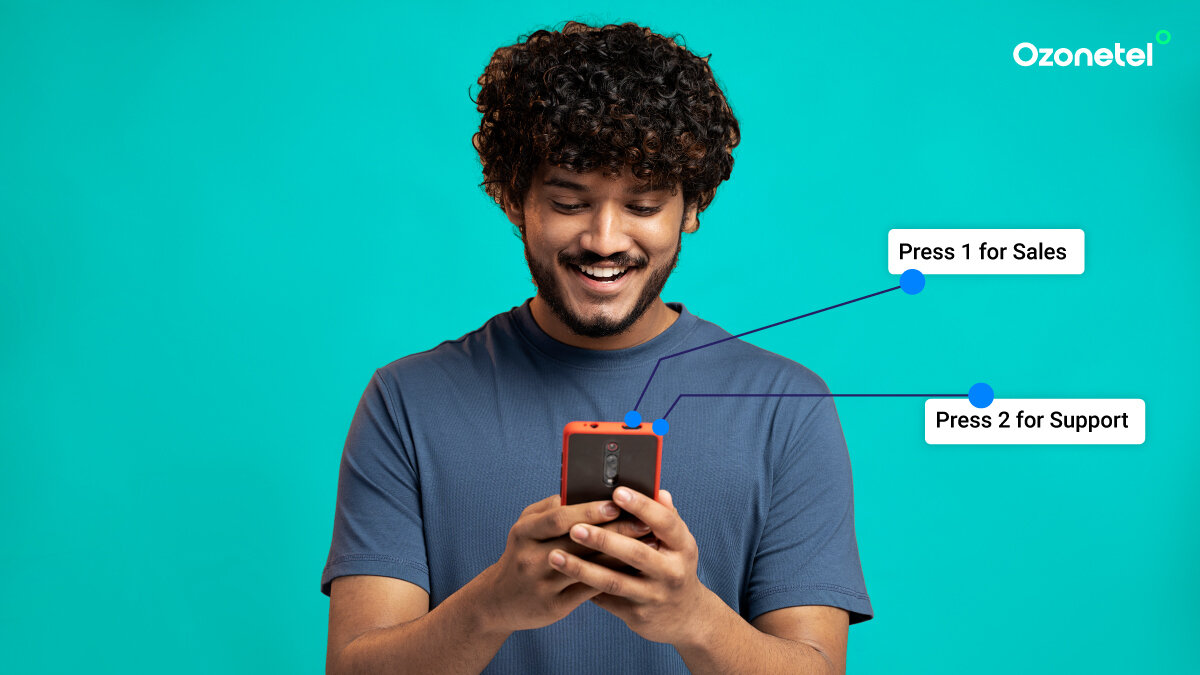 Interactive Voice Response (IVR) has evolved significantly over the years. At first, IVR (Interactive Voice Response) was a simple phone system that played pre-recorded messages for greeting callers or leaving after-office hour messages. But, with rapid advancements in technology, IVR has evolved into a sophisticated tool that can answer a caller's questions or carry out simple transactions for them.
Today, customers have high expectations, with a HubSpot study revealing that 90% of them anticipate rapid responses to their customer service or sales inquiries. Meeting these expectations for a large customer base can be challenging for companies. Here is where an IVR system helps. It can provide rapid self-service, route calls to the right teams, or even deflect calls to WhatsApp or other digital channels— making them integral to modern contact center operations.
In this article, we will explore:
What Is IVR?
Interactive voice response is an automated system created by pre-recorded messages. It allows call centers to answer customers without the need for an agent or live 24/7 service. 
For example, when you call your nearby hospital, your call is usually greeted by an automated message prompting you to choose from a menu of options. You can select an option and get directed to the relevant department. This is an IVR solution in its most basic form.
Modern IVR systems, by contrast, are more evolved and offer far more than wait-time announcements and basic menus. These IVR systems now recognize your customers, greet them with personalized menus and messages, and resolve many queries without any need for agent intervention. 
Let us explore these uses of a modern IVR in a little more detail.
What Is IVR Used For?
Traditionally, IVRs were used to hold customers in a queue and direct customers to the correct department. Today, they serve a wide range of functions.
Efficient Call Routing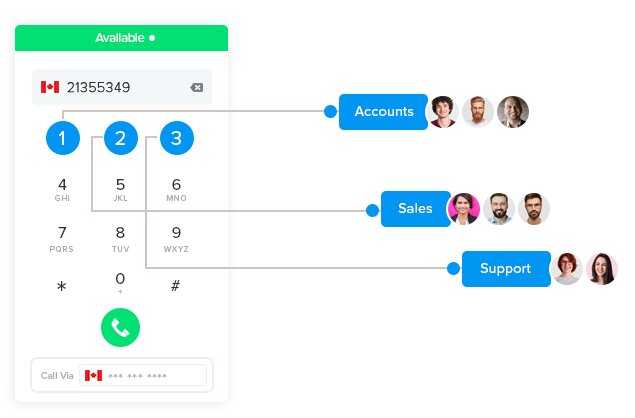 Call routing is one of the most prominent functions of an IVR system. Businesses use IVR to answer inbound calls and direct customers to relevant departments for years. 
Depending on the information a user provides at the menu stage, the IVR system routes inbound calls to the most relevant department. Customers give this information by touching their keypad (also known as DTMF inputs) or through voice recognition. 
This means customers find answers as quickly as possible, making for a smooth customer experience.
Thinking back to the HubSpot study, 90% of people expect a response within 10 minutes. While this isn't always possible, an efficient IVR helps relieve the stress on call center agents and assists callers as quickly as possible.
Prioritizing Important Calls
IVRs act as expert call filters. They sort and prioritize calls based on importance. This feature is particularly valuable in scenarios where prompt attention is paramount. Just like in a hospital, where urgent cases are treated first, IVRs ensure that vital or emergency calls are answered promptly. This helps reduce long wait times, as less urgent queries can patiently wait for their turn. This not only reduces response times for vital or emergency queries but also enhances overall user experience.
Managing Call Queues
An IVR system effectively manages call queues, reducing wait times, which helps in quick query resolution. The IVR calling system provides self-service options, agent connect, voicemail options, and automatic callback requests.
When passengers call an airline's customer service line, the IVR allows them to quickly navigate through options, such as checking flight status, making new reservations, or changing existing bookings. The system efficiently assesses their requirements, reducing wait times and providing a seamless customer experience.
Recordings Calls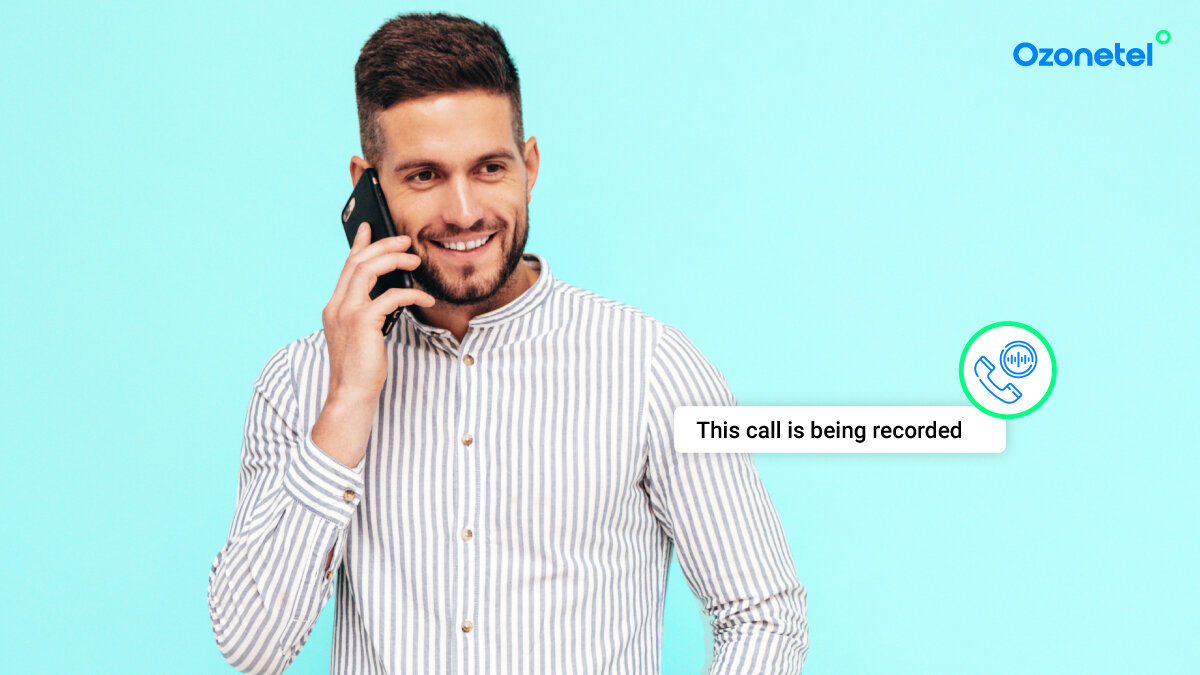 Modern IVR software also offers call recording features. These recordings help businesses with call quality assessment. Based on these insights, call centers can improve customer service and offer training opportunities for agents.
Let's consider a telecom company using IVR call recordings. They regularly record customer interactions for quality assessment. The call center management reviews these recordings to ensure that their agents are providing accurate information and maintaining a high standard of customer service. Any deviations from the desired quality standards can then be addressed through agent training and process improvements.
Automating Simple Tasks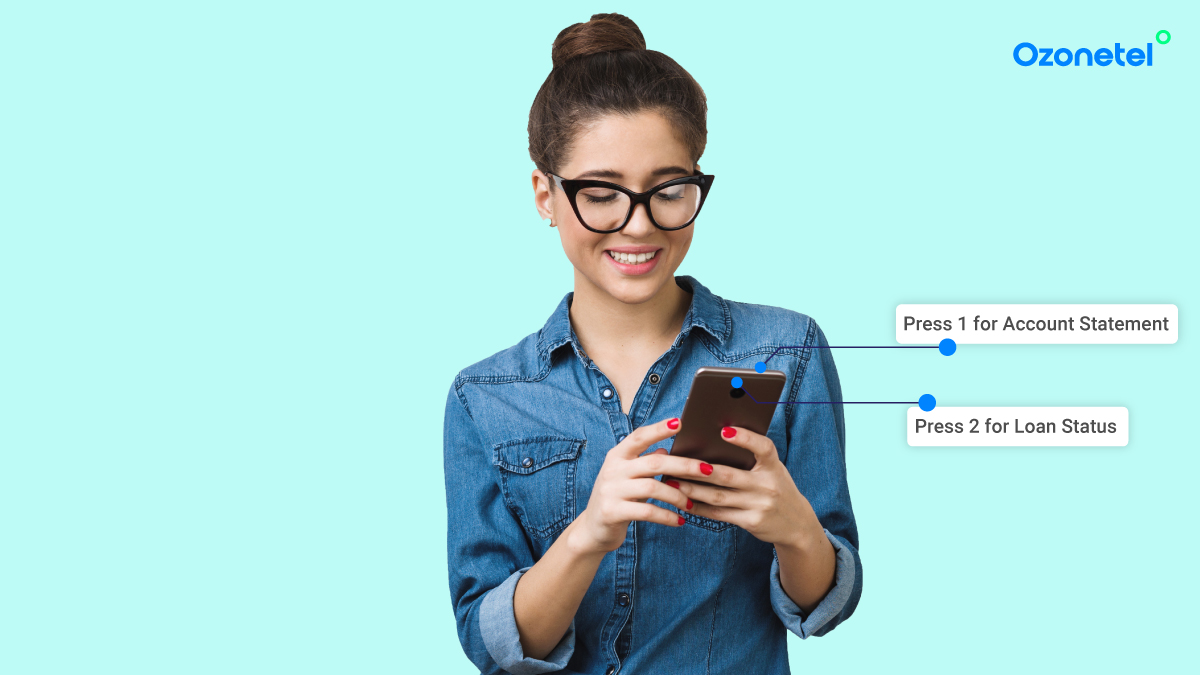 Routine tasks, such as when callers ask for an account statement, the status of an insurance claim, the delivery status of a product, or even the results of a recent diagnostic test can be handled by the IVR itself. This helps to address questions quickly without putting a customer on painfully long holds. 
Despite this, another survey revealed that 63% of participants felt "forced to listen to a menu of irrelevant options." So, creating an IVR menu that provides only the most necessary options is extremely important. 
Answering the most common options first, then layering down less critical options, is the way to create a more effective and user-friendly menu.
Enabling Simple Transactions
IVR systems today do more than just information-sharing. They enable actions. For customers, being able to perform these functions reduces friction and creates a more enjoyable user experience. For instance, when you call your mobile provider, you can check your balance, update account details, or top up your balance using the IVR menu. 
When calling healthcare companies, such as diagnostic labs today, you may receive an option to ask for your lab reports via SMS. E-commerce and logistic firms allow you to cancel an order or reschedule a delivery via IVR, making your entire customer experience with them more effortless and delightful. 
How Do IVRs Work? 
Traditionally, IVR systems were extremely complex to set up. They needed a specialist, their own infrastructure, software, and database, and then to be integrated with an existing phone system.
Thankfully, with cloud technology, things have become more manageable. With tools such as Ozonetel, you can now set up your own IVR system.
Essentially, IVR systems work by integrating with your phone system to provide an automated customer service menu. These options can then be directed to the relevant department, a frequently asked questions option, or a specific function. Basic and advanced systems work in slightly different ways. 
Basic IVR Solution
The most basic IVR typically uses DTMF tones, also known as touch-tone phones, to get inputs from a caller. Other IVR systems may use simple voice recognition technology to understand basic 'yes,' 'no' responses. 

When a customer chooses from the IVR menu through touch-tone keypad selection, DTMF connects things automatically without the need for a human operator. 
IVR systems that use voice recognition essentially perform the same function, but instead of using the telephone keypad, the system recognizes speech. For example, "If you want to speak to an advisor, press 2" may be replaced with "if you want to speak to an advisor, say 'connect now.'"  
Advanced IVR Solution
Advanced IVR systems are a little different and use deep CRM integrations and conversational AI to transform the caller experience. While a conversational IVR can understand spoken responses, freeing users from the limitations of DTMF, an IVR that is well integrated to your CRM systems can help you recognize your callers and offer tailor-made solutions for them. For instance, an IVR may directly connect a student to their counselor, connect a patient to their personal healthcare advisor, or a client to their personal account manager. 
Alternatively, it may greet the caller by name and direct them to the most appropriate branch of the self-service tree using recent interaction data they have with that particular customer. 
This brings us to the most critical aspect of deploying an effective IVR today: integrations
Integrating IVR with Other Business Applications
Seamless IVR of Interactive Voice Response (IVR) with your CRM or other business applications is critical for reducing the silos that prevent excellent customer experience. Following are the key reasons 
Consistent Experience: When your IVR is integrated with your CRM solution, customer data from other interactions that your customer may have had with you via email, webchat or messaging apps can be used to offer a consistent experience. For instance, your IVR may greet your callers with the ticket status of any unresolved complaint they have filed with you via email.

Efficiency and Workload Reduction: A seamless flow of customer data between systems can help your business to automate many routing tasks such as booking and cancellations via your self-service IVR, reducing workloads for your agents. 
Data Consistency: When IVR and call center systems work in harmony, it ensures that customer data is consistent and updated across systems. Agents have access to the same information that customers share through the IVR, minimizing errors and miscommunications.
Valuable Insights: Integrated systems provide a comprehensive view of customer interactions. This data can be analyzed to understand customer preferences and pain points.
Customizing IVR Menu Options
The phone menu options in an IVR system play a crucial role in providing a personalized customer experience. As discussed earlier, your basic and advanced IVR may differ in how they present a menu to your caller. 
Depending on the specific needs and preferences of the business, this IVR menu can be as concise or expansive, as necessary. A thoughtfully designed IVR menu, coupled with a clear and user-friendly IVR script, enables your customers to effortlessly navigate your phone system. Companies can allocate distinct keys to various departments and services. 
Callback Option: Customers can leave a message or request a callback during high call volumes.
Personalized Assistance: Forward calls to a specific number if the issue requires more personalized approach
Additional Layer: Provide additional information or website guidance through recorded messages.
Text Messaging: Allow your users to switch to text-based communication, reducing inbound call traffic.
FAQ responses: Automatically address common queries with pre-recorded solutions, saving time for both customers and agents.
Now that we have a detailed understanding of how basic and more advanced IVRs work, let us explore what the options 
Types of IVR Systems 
IVR services offer a range of options to cater to the diverse needs and preferences of businesses and customers. 
Hosted IVR 
Hosted IVR is a cloud-based telephony system provided and maintained by third party service providers. Unlike traditional Interactive Voice Response systems, businesses do not need to set up hardware on their premises and it is hosted by external vendors. Hosted IVR calling offers a cost-effective and scalable solution to businesses, helping them manage high call volumes, cutting down on wait times and improving overall customer satisfaction. 
Drag & Drop IVR 
Drag & Drop IVR comes with an intuitive and user-friendly interface that can easily be designed without extensive coding or programming knowledge. In other words, users can create an IVR flow by simply dragging and dropping elements such as prompts, menus, and actions. You can customize an IVR solution in real-time to address your business's dynamic needs. 
Agent-assisted IVR 
This is basically a hybrid approach aimed at boosting agent productivity and routing calls to the right agents. Agent-assisted IVR combines automated IVR technology with live agent support to improve customer interactions. For routine tasks, customers get an automated response whereas for complex issues, the system transfers the call to the most suitable agent. 
Outbound IVR 
Outbound IVR calling typically enables businesses to reach out to individuals for marketing, sales, surveys, reminders, or notifications. Outbound IVR calling typically delivers pre-recorded messages and may offer interactive options for the recipient. This technology can be used to deliver messages, collect feedback, notify appointments, and also connect with an agent when needed.

How Can Your Business Benefit from IVR Calling System? 
Interactive Voice Response (IVR) systems offer numerous advantages to businesses, simplifying customer interactions and optimizing operations. Here's how you can benefit from an IVR Calling System.
Save Time  
Efficiently saving time is a critical aspect of IVR systems for both customers and agents. These systems streamline call routing, ensuring that customers are promptly directed to the appropriate department. Furthermore, IVRs prioritize, and filter calls based on importance, guaranteeing that urgent matters are addressed promptly 
Minimize Human Error 
With a well-programmed system, the risk of human error is eliminated (provided pre-recorded messages are recorded correctly). 
Meaning you can provide customers with accurate information 100% of the time when they come through your automated system. Misinformation given by a call center trainee can't happen if a customer query is answered automatically. 
Human error reduction can be especially useful with important information and information related to accounts and personal details. This benefit can save a lot of time and money, not to mention the headaches of fixing human error issues. 
Improve Operations
Once your system is set up, Ozonetel makes things incredibly easy to manage. By using Ozonetel for your IVR system, you won't have to spend valuable time managing your system and fixing issues. Everything is taken care of. 
To sum up, IVR systems offer several advantages, including prioritizing urgent calls, automating responses to non-essential queries, and efficiently directing customers to the appropriate departments. These features enhance call management, ensuring that critical matters are addressed promptly and reducing customer wait times.
How Do IVR Systems Provide Better Customer Service?
From a customer perspective, things can be incredibly frustrating when it comes to IVR systems. In a 2019 study of more than 2,000 U.S. participants, 63% felt they had to listen to a menu of irrelevant options, and 65% also stated the reason for their call was not explicitly listed on the automated menu.
Stats like these only reinforce how frustrating automated systems can be for customers. However, frustrating they may be, there are some significant customer benefits. 
Respond Quickly 
Customers should be able to call you and find the answer/service they need immediately. In the Vonage study, 90% of customers expected customer service questions to be answered within 10 minutes. At times, high call volumes make this a tall order; providing a service that makes this possible certainly isn't. 
From automated answers to questions to being directed to the correct departments with just a few menu options, IVR is vital for a customer-centric business as well as positive customer service interactions.
Improve First Call Resolution 
Enhancing First Contact Resolutions (FCR) is a pivotal goal for businesses aiming to improve customer experience. IVR implementation plays a crucial role in this endeavor by efficiently directing callers to the most suitable agents or departments, reducing the need for multiple follow-up calls. By providing customers with self-service options and quick query resolutions, IVR significantly boosts the FCR rate. This proactive approach not only elevates customer satisfaction but also optimizes operational efficiency by mitigating long call queues and reducing the workload on agents.
Offer 24/7 Support  
Not all companies have the budget to provide a 24/7 call center, so IVRs are a great way to provide round-the-clock assistance. An automated message stating when your operators are available is essential, but having a detailed and automated frequently asked question option is fantastic. 
In a world where customers expect help quickly, whenever they need it, a system that helps them at all hours of the day, day in and day out, is a sure-fire way to increase customer satisfaction.
Automate Repetitive Tasks 
IVR systems offer a streamlined approach to customer service by automating repetitive tasks, effectively addressing frequently asked questions, and ensuring customers receive relevant information to resolve their issues promptly. 
Optimize Call Handling 
IVR systems optimize call handling by efficiently managing high call volumes. They intelligently route inbound calls to the most suitable agents or departments, ensuring quicker issue resolution and enhanced customer satisfaction. 
Boost Customer Engagement 
IVR calling systems enable personalized customer interactions with tailored greetings and customized menus. Customers feel valued as they are directed to the specific service or information they require, resulting in an improved overall experience. 
Conclusion
Now that you know what IVR systems are exactly, what they do, and how they do it, it should be apparent what they can do for your company.
As we move into an ever-more-connected world, customers expect a constant level of help whenever they need it. Providing an amazing interactive response system is not just an option but essential for delivering fantastic customer service and maintaining company credibility. 
If you need any help and assistance to understand IVR further, how to set them up, and what they can do for your business, please contact us today. 
Ozonetel packs all the tools you could ever need to improve service levels within an affordable, easy to integrate, quick to set up call center solution. Contact us to learn more.
Frequently Asked Questions