How Leading Insurance Firms Craft An Effortless Customer Experience for Policyholders
How Leading Insurance Firms Craft An Effortless Customer Experience for Policyholders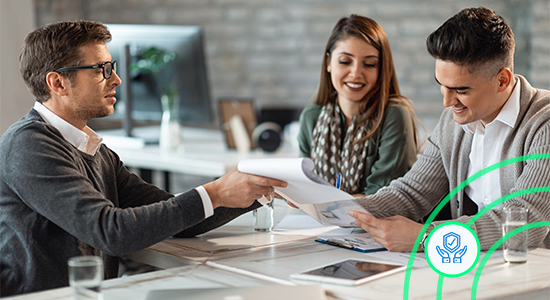 Interactions between insurance companies and their customers have evolved over the years: processes such as claims settlements have been simplified, customers interactions are frequently taking place via apps and chatbots, and physical presence is not required anymore to purchase an insurance cover.
Yes, at its core, Akshat Shukla, Assistant Vice President, RenewBuy, reminds us that insurance is basically about trust. In the absence of a physical asset, every sale that an insurance agent makes is the result of nurturing this trust and connection.
As companies scale up, the contact center plays a key role in nurturing this trust by providing fast, effortless, reassuring experiences. The challenge for insurers as they grow is to provide these effortless experiences as efficiently as possible. How can they be available for their customers at all times? What interactions can they automate, and which interactions necessitate human intervention? 
In this article, we explore the customer experience (CX) challenges that insurers face today and showcase how India's first digital-native insurance firm used a customer-centric approach to solve one of these critical CX challenges in an efficient, scalable manner.
In this article, we will explore:
Customer Experience in Insurance: Identifying Critical Touchpoints

Customer experience in insurance is defined by the number of interactions that a user may have with the company. These include:
Policy inquiries and renewals 

Upgrading or changing existing policies

Seeking roadside assistance

Filing claims

Requesting app or payment support
Depending on their situation, the customer may feel a range of emotions during these interactions. Some may be frustrated when calling to report a problem or to file a claim, while others may be curious or have questions about their policy. When calling for roadside assistance, they may be stressed and afraid. When filing claims, they are likely to be anxious or worried. If the claim is related to a loss, there may be a sense of sadness or grief. If they are filing a claim for the first time, they might feel stressed or uncertain. 
Each of these touchpoints is a moment of truth, presenting a unique opportunity to deliver exceptional service. The key is to reduce stress and frustration at each of these critical points.
One of India's leading insurtech firms set about creating a solution that focused on making the claim settlements and communications experience as smooth, effortless, and quick as possible. Since most of these interactions occurred within their contact center, they worked with us to create a customer-centric self-service solution. 
The aim was to ensure that the experience was as reassuring, personalized, and frictionless as possible. 
How to Make Claims, Inquiries, and Renewals Effortless?
Not all claims, inquiries, and renewals can be solved by self-service. As a customer-centric insurer, it was vital for the firm to ensure that customers who needed human support were directed to the right agent immediately, while all those interactions that could be resolved without human intervention were smoothly managed by the self-service IVR.
The firm set clear goals: decrease time in IVR by 20%, increase routing accuracy to 80%, improve speed of resolution by 40-50% and set up a process to automate query resolution.
With this clear set of goals, we worked together to design a self-service engine that pre-emptively gauged customer needs, leading to faster resolutions and higher customer satisfaction. 

Transforming Customer Experience Within the Contact Center: Key Highlights
To begin with, we analyzed the kind of calls that were coming into the contact center. This included calls regarding enrollment, onboarding, app usage, policies, roadside assistance, renewals, claims, or payment assistance. Next, we planned how to use CRM data to personalize the experience for each of their users. 
Over several sprints we perfected the solution which included:
Advanced predictive logic for pre-empting customer needs

Frictionless self-service for routine queries

Accurate routing to boost renewals

Equipping agents with the right data for effective resolutions
1. Advanced predictive logic for pre-empting customer needs
The best way to reduce customer anxiety is by letting them know we understand what they need even before they tell us. The team conceptualized a smart IVR system that preemptively deduces the reason for an incoming call when it strikes the IVR. The system would utilize CRM data and consider several customer attributes (such as line of business, policy duration, expiry date, possibility of a claim, existing claim status, and endorsements) before rapidly and accurately routing callers to the most relevant branch of the IVR tree. This step helped them reduce time in IVR by 20% and increase routing accuracy by 20%.


2. Frictionless self-service for routine queries
Understandably, callers had diverse requirements. These ranged from wanting to know their premium at renewal to eligibility and claims. After several sprints, the product team finalized which conversations could be resolved via self-service and which required agent intervention. The self-service IVR helped customers solve many requests — policy endorsements, changes, renewals, and more — quickly and without agent intervention. Callers could also easily update their policies directly on the IVR.
Consequently, the number of queries handled entirely via self-service IVR and without agent intervention increased from 0 to 3000 calls per month. 
3. Accurate routing to boost renewals
It took the insurer several sprints to finalize what they could resolve via self-service and what required agent intervention. Implementing smart routing based on the predictive engine and IVR interactions helped direct queries requiring agent intervention to the right skill group. For instance, the system routes customers considering a new policy or those due for renewals to the pre-sales team. This improved customer acquisitions and directly impacted the top line. 
4. Equipping agents with the right data for effective resolutions
In all cases where the call needed agent intervention, the experience drastically improved because the agent knew the call context beforehand. A Freshdesk integration provided agents with the right context before calls. As a result, they asked fewer questions and offered faster responses, improving the overall customer experience. Consequently, this increased productivity by 100% and reduced average handle times by 50%.
Results: 90% CSAT, 54% Faster Resolutions 
This customer-centric and holistic approach towards contact center interactions proved instrumental in the insurance firm's success. By reducing friction at critical touchpoints, it provided millions of customers with reassurance and peace of mind during stressful periods in their lives. The Insurance firm witnessed a marked improvement in following parameters.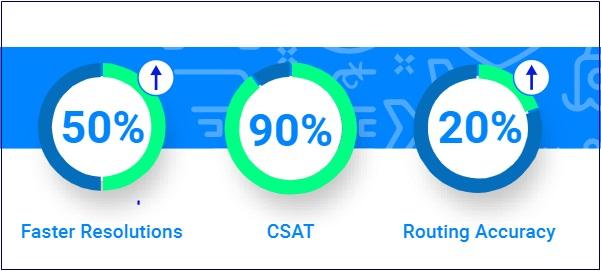 The smart IVR engine made claim settlements and policy-related queries effortless and reassuring. Most importantly, this implementation helped the insurance firm create a distinct, award-winning customer experience, leading to several happy customer reviews and a CSAT score that is 15% higher than the industry average.

 Conclusion
The advent of rapid digitization has ushered in significant changes in customer behavior. When it comes to resolving issues, a significant 76% of customers prefer searching for their own solutions rather than reaching out to customer service. As a result, insurers must increasingly invest in various forms of digital self-service to enhance customer centricity. They must prioritize continuous improvement in customer experiences across channels and business functions.
The contact center plays a key role in humanizing the insurance experience. By adopting a customer-centric approach to accelerate resolutions, and personalize experience, insurers can walk the fine line between creating efficient, scalable process and ensuring high customer satisfaction and loyalty, positioning themselves for high customer retention, conversions and brand loyalty in the highly competitive insurance landscape.