Simple Steps to Better CX: How Can Warm Transfers Improve Customer Experience?
Simple Steps to Better CX: How Can Warm Transfers Improve Customer Experience?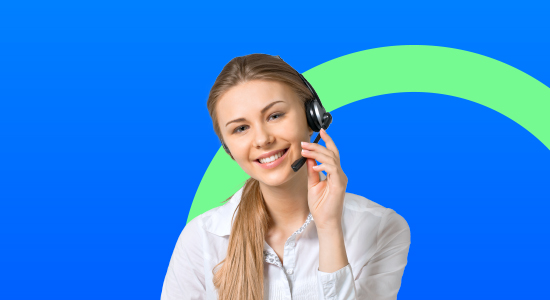 Have you ever called customer service with a simple question or issue, only to find yourself being transferred from one agent to another, repeating your story each time? Or worse, being disconnected mid-transfer and having to start all over again? It's a frustrating experience that can leave customers feeling ignored and undervalued.
Situations that require transfers are inevitable in a contact center. For example, a caller may have dialed the wrong extension on the IVR, a sales process may involve the handoff from a junior to a senior representative, or the call center agent may require another department's assistance to fully resolve a particular query.
In this article, we will explore:
And, though call transfers cannot be avoided, the experience around them can be revamped — this is where warm call transfers can make a significant difference.
What are Warm Transfers?
Warm transfers, also known as soft transfers, involve connecting the customer with the next agent before disconnecting the call. This enables a seamless transition and reduces the need for customers to repeat background information.
Why Are Warm Transfers Important?
Compared to cold transfers, Warm transfers allow agents to speak with the recipient before transferring the call. Here's how warm transfers improve customer experience.
Agents are better prepared for call and provide quick resolution
Removes the need for the caller to repeat their issue
Provides a personal touch and shows the caller that you care
Reduces the chance of the caller disconnecting in frustration
Eliminates the need for initiating another phone call and improves FCR
Of course, a warm transfer involves an agent spending more time and effort on a customer than a cold transfer. And while this time and effort may cost the contact center in terms of efficiency, this simple action goes a long way in making your customer feel valued.
Businesses must evaluate the efficiency cost versus the gains in customer satisfaction and loyalty. In this article, we'll explore the benefits of warm transfers and provide examples of when it's appropriate to use them.
When to Warm Transfer A Call 
Here are some scenarios where you can use a warm transfer to improve the customer experience in your call center: 
The Caller Needs Technical Assistance
When a caller is facing a technical issue with a product or service, instead of scheduling a call back from a technical expert, an agent can warm transfer to the expert for prompt assistance.
Because it is a warm transfer, the agent stays online to ensure that the customer connects with the right technical team member. And by explaining the problem to the expert, the first agent spares the customer from having to repeat their issue.
In this way, you resolve a problem in a single step (or at least in fewer steps) and with less inconvenience to a customer than a cold transfer or a callback would have offered.
From a KPI perspective, this means higher FCR (first contact resolution) and CSAT (customer satisfaction) scores. But put yourself in the customer's shoes and you can see how much happier and satisfied they would feel. If an agent goes out of his or her way to solve your problem, wouldn't it be likely to increase your brand loyalty?
The Caller Requires Additional Information
Let us now assume that an agent has successfully resolved a caller's query, but the caller requires some new or additional information about a product or service. Or, after resolving a query, the agent has interested the caller in a cross or upsell opportunity about which they now want additional information.
Of course, the agent can cold transfer the call to a subject matter expert who will provide the necessary details. But the likelihood that the caller would disconnect during this type of transfer is high.
Whereas, if the agents stay on the call during the transfer, it improves customer engagement and your cross-sell and upsell outcomes.
The Caller Needs to Connect to a Different Department
If a caller has reached the wrong department, the agent can politely and effectively cold transfer the call to the correct department. For instance, if a customer has called the billing department instead of the technical support department, the agent can transfer the call to the technical support department. 
Or if the caller has specifically requested to speak with a particular agent or department, a simple cold transfer can connect them with the correct person or department to quickly and efficiently resolve their issue.
However, let's say, based on your CRM data, you know that this is a high-value customer, and you want them to have a premium customer experience. Or let's assume that the agent who has answered the call is that particular customer's relationship manager. In both these instances, a warm transfer is a better choice as it can offer a superior experience, making the customer feel more valued.
The Caller Requires an Escalation
If the agent is unable to resolve the caller's issue, they should warm transfer the call to a supervisor or manager who can provide a higher level of support. For example, even after an agent has done her utmost, a customer is unhappy with the resolution, the agent can politely transfer them to a supervisor who may have the authority to provide a more satisfactory solution. This is an important step in helping an irate customer to calm down.
The Caller Wants to Make a Purchase
Often, though your customer service agents may be trained to cross-sell or upsell products and services, they may not be the ones who complete the sales process. If a caller is interested in making a purchase or wants to know more about an offer, warm transferring the call to a sales representative is important to close the deal and meet revenue goals.
The Caller is on Hold for Long
When the caller has been on hold for an extended period: If the caller has already been on hold for a long time, a warm transfer can help to alleviate frustration and improve their experience by reducing wait times.
Overall, as demonstrated in the above examples, while cold transfers are efficient, warm transfers are useful for offering a premium experience and improving customer satisfaction, trust, and loyalty.
The Role of AI in Warm Transfer
AI-powered cloud contact centers could truly change the way customers perceive call transfers. 45% of service organizations rely on AI to drive efficiency.
As technology advances, AI is increasingly being used to streamline and improve the call transfer process.
Today, generative AI-powered (such as those powered by ChatGPT) systems can contextually listen to conversations and suggest if a call should be transferred to another agent based on the customer's needs. It can also use existing customer data (within the CRM) as well as agent performance data before suggesting a transfer to the agent who is best suited to handle their query.
Conclusion
Eventually, warm transfers are more empathy-driven than cold transfers. When the transferring representative takes the time to understand the customer's needs and matches them with the appropriate specialist, it shows the customer that the company cares about their experience and is willing to invest time and resources to ensure their needs are met.
It can help a contact center to meet the following goals
Create a premium customer experience
Deepen a relationship with a customer relationship manager
Improve First Contact Resolution
De-escalate an irate customer
Improve cross-sell and upsell outcomes
While cold transfers are appropriate in certain situations, businesses should know how warm transfers can improve customer satisfaction. By reducing wait times, minimizing the need for customers to repeat their issues, and providing a personal touch, warm transfers help build stronger relationships with your customers, transform the customer experience, and consequently increase customer loyalty to your brand.