Warm Transfer vs Cold Transfer: Which One Would Work for You?
Warm Transfer vs Cold Transfer: Which One Would Work for You?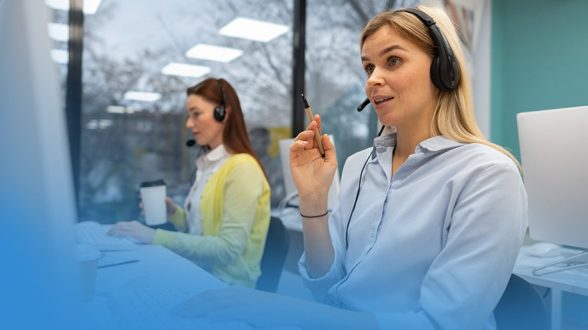 Call transfer is a common call center process.
According to a report, 19% of customer calls made to a call center are routed to another agent. These call transfer rates lower customer satisfaction scores by 12% and FCR by 14% compared to non-transferred calls. 
In most cases, modern call centers are continuously flooded with calls from customers seeking proactive solutions and services.  
Knowing that many customers prefer to stick with a brand that provides an immediate response to their customer service queries, it should be your top priority to improve the call transfer experience.
In this article, we will outline the types of call transfers available to your contact center and how you impactfully improve your customer experience by evaluating and strategizing your call transfer methods.
In this article, we will explore:
What is Call Transfer? 
Call transfer or call forwarding is the process of routing a call to another phone or agent console using a "transfer" button or software. A call transfer facility within your call center software enables the caller to reach the appropriate person or department.
Why Are Call Transfers Needed?
Call transfers are inevitable when a call center agent is unable to solve or answer a customer query and must route the call to another agent or an expert from the same or different department.
Like handshakes, how these calls transfer to the second agent can be classified as cold or warm.  
Types of Call Transfer: Warm Transfer Vs Cold Transfer
Call transfers are of two types – cold (blind transfer) and warm (attended transfer). 
A cold transfer is one where the agent directly routes the caller to a different agent without passing any further information to both connections. A cold transfer is also referred to as a "blind" transfer because of a lack of clarity and information regarding what the call is about.
Meanwhile, a warm transfer involves a more personalized way to transfer calls to another agent. In this transfer type, the first agent does not disconnect while the call is transferred. They may stay on to introduce the customer to the next agent and give them some context as to why this call was transferred to them. Depending on the situation, the agent may stay on the call for longer or exit the call. This simple act can make a customer feel more valued and significantly transform their customer experience.
Compared to cold call transfers, warm transfers are considered more compassionate and considerate. During cold transfers, the caller may have to repeat the same information to different agents in the loop – a frustrating experience considering customers are looking for faster, proactive resolutions from customer service professionals. 
A cold call transfer or blind transfer initiates between a customer and an agent via an automated call distribution service. It may be routed through virtual attendants or IVR systems, with little or no human interactions.
Often, inbound callers are taken aback by the sudden transfer and may be frustrated at having to wait on hold. This could result in call drops and abandonment.
Examples of Cold Call Transfer
Out-Of-Office Response
If you do not have any human agents available after business hours, you can set up call transfers with an automated call distribution service integrated with an IVR system. This would allow the caller to send voice messages or inquiries straight to an emergency number. 
Direct Routing to the Agent
If a customer had a history of calling for billing or service-related inquiries, the virtual receptionist can identify the caller and directly forward the call to an available billing agent. This initiative speeds up the calling response time and facilitates quick action. 
Agent Mis-Identification
A caller has dialed your HR business number but wants to speak with Ms. "XYZ" from the sales team, you can route the call to XYZ immediately without announcing the cold transfer relocation. 
Examples of Warm Call Transfer
Welcome Greeting
A warm call transfer or attended transfer plays out when the receptionist or attendant speaks to an appropriate available human agent before transferring the call.  
Lead Generation
Inbound qualified leads are quickly captured by the first agent and passed to the senior AEs for closing the deal immediately. 
Locating the Right Department
If the caller has located a call in the wrong department, a warm transfer would assist the customer reach the appropriate agent/ department without waiting time. 
Mitigate Emergency or Crisis
When a customer has a persistent issue with service or quality of communication, the agent can transfer the call to the supervisor to enhance response time and reduce churn. 
Benefits of Cold Transfer
Saves time and resources for call centers facing a heavy workload 

Addresses customer queries immediately by routing customer calls to the correct department without lag 

Improves agent productivity 
Benefits of Warm Transfer
Prevents the frustration of repeating the same information repeatedly 

Empowers call agents to add more executives to the conversation and create a great outbound sales experience for the customer 

Enhances customer experience and quality of service with accurate passing of information on customer intent, mood, and tone 

You can personally greet the customer to make them feel more valued each time 

The agent has the authority to accept the call or route the call to a voicemail with an auto-generated recorded message or outbound calling request 
How to Choose Between Cold and Warm Transfers
Call center managers must define their call transfer policies based on the customer query, availability of agents, and cost of business associated with the call. If you intend to build stronger customer relationships, going ahead with a warm call transfer makes sense. 
While it's true that warm transfer can significantly improve customer satisfaction, the importance of cold call transfers can't be ignored completely, particularly when your call center agents are unavailable or out of the office, and you have no option but to go ahead with a cold forwarding. 
Conclusion
Choosing between a warm transfer versus a cold transfer strategy can significantly impact your customer experience goals. Though often overlooked by call centers, call transfer rate (CTR) can provide a clear understanding of a call center's operational effectiveness and quality of service. Most call centers are found heavily short of expectations in connecting the dots between
first call resolution (FCR)
, call transfer experience, and customer experience. 
Frequently Asked Questions