How a Diagnostic Firm Doubled Patient Engagement with Omnichannel CCaaS
How a Diagnostic Firm Doubled Patient Engagement with Omnichannel CCaaS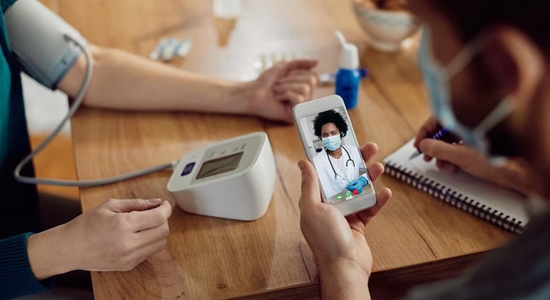 The demand for proactive healthcare and diagnostics is on the rise. On one hand new technologies are redefining the way services are offered and on the other hand patient expectations are changing. 
The contemporary healthcare consumer expects more than professional competence; they expect a seamless, personalized experience that caters to their requirements and preferences.
They demand simplicity, accessibility, and involvement, not just medical test findings, throughout their diagnostic journey. They want to be heard, informed, and cared for at all times. This shift in patient expectations is enormous and cannot be stressed enough.
According to a survey, about 50% of healthcare consumers believe that a patient's digital experience can influence their choice of a healthcare provider. Moreover, 80% of patients feel an excellent patient experience is more significant than a provider's reputation.
In this fast-evolving world, what can diagnostic chains and healthech firms do to boost patient satisfaction, improve referrals, and increase customer lifetime value? 
How can they engage their patients and make them feel genuinely cared for?
In this article, we will look at how diagnostic firm transformed their patient experience and engagement levels in a cost-effective manner by understanding their patient expectations and leveraging Ozonetel's healthcare CX solutions to deliver a superior diagnostic experience across the entire patient journey. 
In this article, we will explore:
Key CX Challenges in Today's Patient Journey
The diagnostic firm wanted to establish a contact center that could seamlessly connect with patients at various touchpoints, understand their pain points, and adopt a personalized approach to address their needs. To achieve this, they faced the following challenges.
Delivering Cost-Effective Service
Creating Awareness in Tier 2 & 3 cities
Identifying Leads for Targeted Engagement
Catering to diverse Communication Preferences
Building Meaningful Patient Relationships
Mitigating Social Media Escalations
Delivering Cost-Effective Service: In a market driven by cost-conscious consumers, the diagnostic firm aimed to deliver high-quality healthcare services while ensuring affordability. Their challenge was to strike the right balance between cost efficiency and service excellence.
Creating Awareness in Tier 2 & 3 cities: To promote preventive health checks in smaller cities (tier 2 and tier 3), the firm needed an effective outreach strategy. Their goal was not just to create awareness but also to educate and motivate people in these regions to prioritize their health.
Identifying Leads for Targeted Engagement: In order to improve conversion rates, the health-tech firm needed to identify leads with the highest potential. This involved data analysis and predictive modeling to channel prospects toward the most relevant and effective engagement resources.
Catering to diverse Communication Preferences: Recognizing that patients come from diverse backgrounds, the firm wanted to accommodate various communication preferences and provide conversational continuity to patients. Overcoming communication barriers, such as hesitancy and misconceptions, was essential for delivering effective healthcare services.
Providing Streamlined Access to Healthcare: The firm aimed to simplify test booking, appointment scheduling, result viewing, and query resolution, ensuring easy access for everyone. The firm wanted to make these critical aspects of healthcare easily accessible to patients, regardless of their technological literacy.
Building Meaningful Patient Relationships: They also wanted to nurture trust and foster meaningful patient relationships that go beyond a single interaction. This approach aimed to provide patients with continuous support and guidance throughout their healthcare journey.
Mitigating Social Media Escalations: The healthcare service provider also aimed to reduce social media escalations, which often occurred when patients couldn't reach healthcare advisors through traditional means. Addressing this challenge involved optimizing communication channels and responsiveness.
How Omnichannel CCaaS Helped Diagnostic Firm Deliver Efficient, Accessible and Patient-Centric Care
To address these challenges, the diagnostic firm leveraged Ozonetel's omnichannel CCaaS solution, streamlining operations, increasing accessibility, and delivering quality care to patients.
Adaptive IVR Flows: The diagnostic firm deployed Ozonetel's dynamic IVR menus that adjust based on caller input and history, streamlining communication and routing to relevant departments. This enabled the system to route callers to the most relevant department or agent, offer customized information or solutions, and streamline the overall communication process.
Data-Driven Communication: They leveraged data-driven mechanisms for personalized, multichannel communication, directing leads to suitable agents based on demographics and diagnostic needs. With our solution, the system could now intelligently direct incoming leads to the most suitable agent, considering factors like demographic details, skills, and the patient's diagnostic requirements.
Robust CX platform: They leveraged Ozonetel's robust CX platform to elevate their contact center's capabilities, achieving significant growth within 1.5 years. This solution allowed them to provide dependable phone support, ensuring that every customer call is answered, even during periods of high and fluctuating call volumes.
Localized Agent Approach: The diagnostic firm strategically assigned dedicated agents from remote locations to address queries, fostering stronger connections, and enabling more meaningful and empathetic conversations with clients.
Lead Source Identification: By effectively pinpointing lead sources, such as malaria ads or health check promotions and prioritizing them accordingly, the firm provided tailored and highly accurate responses, ensuring seamless and efficient customer interaction and improved conversions.
Seamless Integrations: Ozonetel's open API allowed seamless CRM integration empowering agents with comprehensive customer data, facilitating personalized test package recommendations, and significantly improving the effectiveness of sales pitches
Efficient Customer Retargeting: The diagnostic firm also implemented a dynamic retargeting algorithm, engaging patients through preferred channels for regular health checkups, enhancing customer engagement and conversions.
 Through these solutions, the diagnostic firm achieved greater efficiency and delivered superior patient experiences.
Results: 2X Engagement, 3X Lead Conversions
With dedicated efforts, they were able to seamlessly engage with customers across various channels, ensuring consistent and personalized interactions. Here's what they have achieved.
Self-Service Efficiency: Leveraging the intelligent IVR solution, the diagnostic firm resolves 70% of customer queries through self-service options, enhancing satisfaction. This streamlined approach allows agents to focus more on complex inquiries, ensuring a seamless support experience.
Rapid Scaling: With Ozonetel's unified CX platform, the company achieved remarkable growth, scaling up the contact center 5X in less than 1.5 years, significantly enhancing customer interactions.
3X Growth in Conversion Rate: The company achieved a remarkable conversion rate increase, surging from 10% to an impressive 30% (3X growth), resulting in substantial business success.
2X Increase in Customer Engagement: Over the past year, the organization has seen a significant increase in customer engagement. The diagnostic firm's customer engagement score almost doubled , resulting in a 40% increase in sales over twelve months.
Increased Agent Efficiency: The organization also observed a 2X increase in agent efficiency. They significantly streamlined operations, resulting in a remarkable 67% reduction in agent count, downsizing from 450 agents to a highly efficient team of just 150.
Higher Customer Satisfaction: The organization has made significant progress in reducing complaints on social media. They achieved remarkable growth in Call NPS, increasing by 60% from below 50 to 81 (above the industry average of 58-60) as of July 2023.
Conclusion
In an era where people want more than healthcare services, this business saw the value of meeting and surpassing these expectations. They delivered a healthcare model going above and beyond the usual. They simplified procedures, developed confidence, decreased escalations, and, most significantly, delivered great results. Ozonetel is proud of this association and looks forward to proactively supporting them in their CX journey.
Ready to see what Ozonetel can do for your company? Sign up today for a free 21-day trial.