Top Virtual Phone Number Providers in India: A Comprehensive Guide
Top Virtual Phone Number Providers in India: A Comprehensive Guide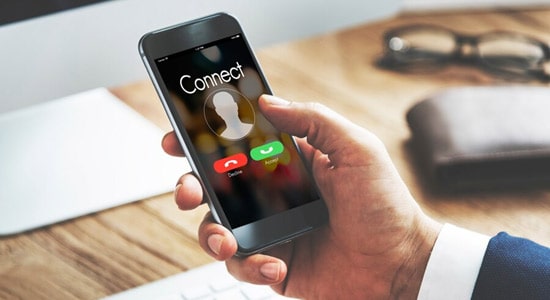 Imagine you are a small business owner based in Surat, but you want to tap into the bustling market in Mumbai. Instead of setting up a physical office there, a virtual phone number with a Mumbai area code can help you establish a local presence. Calls made to this number are seamlessly forwarded to your Surat office, offering the appearance of a local business. Despite being completely virtual, calls made to these numbers can be redirected to either landlines or mobile phones that already exist.
With virtual phone numbers, you are no longer tied down to a physical location to make or receive business phone calls. These numbers are incredibly flexible, allowing you to choose area codes that align with your goals while operating from your current location.
In today's digital age, virtual phone numbers have become an integral part of call centers. They tap into the power of internet telephony, with features like IVR, call recording, and analytics to enhance customer service. A virtual number masks the phone number of the actual device, concealing it during both incoming and outgoing calls. This not only improves efficiency but also provides valuable insights into customer behavior. Call centers can also expand their global reach effortlessly by using local numbers, reducing costs, and increasing customer satisfaction.
In this article, we will take a look at the best virtual number provider and platform in a market where reputation, trust, and worldwide reach are critical factors.
1. Ozonetel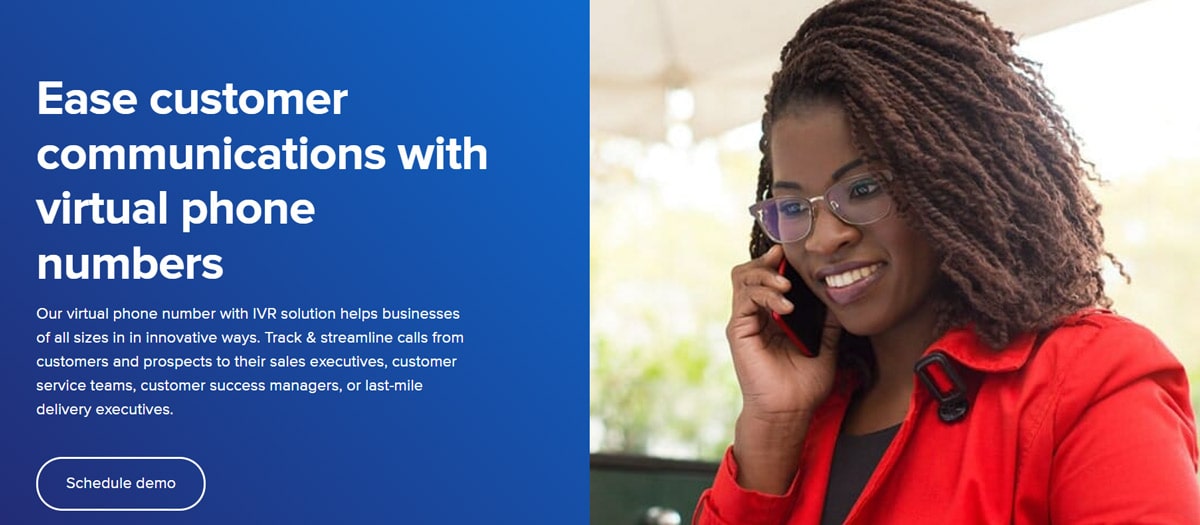 Ozonetel's virtual phone numbers offer a versatile solution for businesses of any scale, enabling them to efficiently monitor and optimize customer and prospect calls, directing them to their sales teams, customer service representatives, customer success managers, or last-mile delivery personnel as needed.
Key Features
Have a single toll-free number for your support or marketing calls
Use local numbers to improve telemarketing response rates.
Give direct numbers to reach account managers and reps without disclosing their personal numbers
Route calls to agents with the right skillset
Use an IVR for professional call answering.
Seamlessly connect through SMS, WhatsApp, social media
Automatically record calls for training & quality purposes
Forward calls to executives who are on the move.
Monitor calls, whisper, snoop, or join in during high-intent calls
Pros
Effectively track campaign ROI
Efficiently route calls to agents anywhere, anytime
Record & rack field sales calls with CTI connector
Enable one-to-one conversations between agents and customers without revealing their personal numbers.
Is retained by customer until the complaint is resolved, after which the company recycles it for future use.
User rating
Ozonetel is rated 4.6 out of 5 by G2
"A user-friendly experience which has made managing customer interactions effortless and efficient"
"Go-to solution for contact centers" "Incredibly helpful for call monitoring and audits through speech analytics"
Pricing
Get a free trial and test our cloud-based solutions for 21 days. Sign up today!
2. CallHippo
As a leading virtual phone system, CallHippo significantly enhances agent productivity, streamlines workflows, and effectively reduces communication costs.
Over 4,000 businesses trust CallHippo, which boasts outstanding features like AI-enabled call routing, excellent call connect rates (99.9% uptime), and thorough integration with CRM and helpdesk systems. Businesses including Amazon, Oracle, and Turing trust CallHippo virtual phone systems.
CallHippo stands out from the competition due to its extensive features for call management, international calling, and collaboration. Businesses that need to call nations unsupported by other tools will find it very useful. It is an attractive option for various company demands because of its capacity to give numbers from different countries, high uptime guarantee, and seamless call management tools.
Key Features
Increases the output of the agent.
Process automation and team performance monitoring.
Lowers the cost of communication.
High phone connection rates (uptime of 99.9%).
Thorough integration of the support desk and CRM.
Intelligent call routing and call queueing for better two-way communication.
Guaranteed CLI in more than 70 nations.
It allows businesses to mask their contact information, making it more secure and professional.
Pros
Setup is quick and simple (less than 3 minutes).
Suitable for call centers, BPOs, and sales and support teams.
Offers features like call queueing software and a power dialer.
Offers voicemail, call statistics, and call recording.
Collaboration tools and user roles that are flexible.
Voicemail greetings that may be customized.
Cons
Some users find it expensive.
Integration might not always be smooth.
This tool has negative reviews regarding hidden charges, overcharging, and responsiveness to customer support.
Rated 4.4 out of 5 by G2
User Reviews
"Awesome customer support- I guess it is rather uncommon to find really top notch customer service that provides individual solution. No canned answers that lead to some FAQ. It real help!"
Pricing
CallHippo provides 10 days free trial. It offers three pricing levels.
Bronze plan for SMBs: ₹ 1300 per/month
Silver plan for accelerating business: ₹ 1900 per/ month
Platinum for big enterprises: ₹ 3200 per/month
3. Servetel
Servetel is a cloud telephony provider in India, that offers various services primarily focusing on virtual mobile numbers. Their services include virtual numbers, missed call campaigns, voice broadcasting, VoIP channels, text-to-speech, multi-level IVR, call transfer, and SMS alerts.
These tools make Servetel an adaptable choice for businesses seeking enhanced call management, remote work capabilities, and improved customer interactions. Servetel has earned the trust of well-known clients such as Cipla and Ola due to its excellent services.
It is the best tool for businesses that need multilingual support in India. This means your customers can choose different languages as per their preference means by selecting the preferred language in IVR, be it Punjabi or Marathi.
Key Features
Toll-Free Number for free customer calls.
Affordable mobile numbers for campaign tracking.
Reduce human dependency with IVR technology.
Connect with customers through free missed call campaigns.
Effectively convey voice messages to a large audience.
Maintain quality control and live monitoring with recorded conversations.
Maximize opportunities by forwarding calls to available destinations.
Swiftly direct calls to the right department.
Pros
Smooth and straightforward software implementation.
User-friendly and easy to use.
Free 10-day trial with valuable features.
Customizable paid plans for diverse business needs.
Impressive customer service.
Cons
Connectivity depends on a stable internet connection.
Users may experience latency and jitter occasionally.
According to some users, customer support could be improved.
According to GetApp user reviews, Servetel rating is 3.7 out of 5
"Easy to Use Product & Good Support- I would recommend Servetel for calling solutions."
Pricing
You can start your free trial by signing up on their website or calling them on their toll-free number 1800-313-3006
4. DialerHQ

DialerHQ is a virtual number provider that offers communication services to small and medium-sized businesses. With DialerHQ, you can manage your communications more effectively. You can sign up for a free trial to explore the services they offer.
It provides a private and low-cost VoIP service that allows you to make phone calls and send text messages using a virtual phone number. This service keeps your primary phone number private. You can also download the DialerHQ app from the App Store on your iOS device. In addition, they also let you make seamless international calls
Key Features
Multi-user login and role-based access control
Contact management
IVR and dial groups
Call forwarding
Call recording
Voicemail
Real-time analytics
Event-triggered actions
SIP trunking
Call logging
Pros
Intuitive interface for easy setup and navigation.
Comprehensive communication tools for diverse interactions.
Advanced contact management for organized networking.
Strong security with end-to-end encryption.
Seamless integration with various platforms.
Cons
Limited free version with restricted features.
Some advanced features may have a learning curve.
Performance depends on internet quality.
Mobile app optimization could be improved.
3.8 out of 5.
"One of the best Business phone system solutions for SMBs"
Pricing 
When you pay Monthy:
Starter Plan- : $9.99 per user
Professional Plan- : $19.99 per user
Ultimate Plan- : $24.99 per user
5. Freshcaller

Freshcaller's virtual phone system is a great option for small businesses. It's affordable, accessible, and has pay-as-you-go pricing. You can easily customize your phone number to align with your brand and communicate with your customers using toll-free, vanity, or local numbers.
It also allows remote work, which is especially helpful for small teams. Call recording, call-back queues, and other features make it easier to provide great customer service with less effort. You don't need technical knowledge to set it up and use it. Freshcaller consistently receives high client ratings, so it's a reliable choice for businesses of any size.
Key Features
Manage customer interactions seamlessly.
Boost efficiency with automated tasks.
Connect with popular tools for a comprehensive ecosystem.
Lower telephony costs with flexible pricing.
Choose from toll-free, vanity, or local numbers.
Agents work from anywhere using desktop and mobile apps.
Queue call-back, business hours, and AI bot reduce agent workload.
Easily control call recording.
AI bot answers common questions.
Agents can make calls on the go.
Quick and simple to get started.
Pros
Streamlines customer interactions across channels.
Manages inquiries from one platform.
Reduces manual tasks, boosting efficiency.
On-the-go call management for agents.
Cons
This can be relatively expensive for small businesses.
New or less tech-savvy support agents may face challenges.
8.2 out of 10
Freshdesk better alone than integrated – "FreshDesk is intuitive and useful for both our agents and admins. It has helped our agents move to a healthy and productive occupancy rate, which has had a positive impact on our SLAs overall."
Pricing
Free Plan:
Billed Annually: ₹0/agent/month + pay/min
Billed Monthly: ₹0/agent/month + pay/min
Growth:
Billed Annually: ₹999/agent/month + pay/min
Billed Monthly: ₹1199/agent/month + pay/min
Pro:
Billed Annually: ₹2799/agent/month + pay/min
Billed Monthly: ₹3399/agent/month + pay/min
Enterprise:
Billed Annually: ₹4999/agent/month + pay/min
Billed Monthly: ₹5999/agent/month + pay/min
6. Aircall

Aircall virtual phone numbers let you make international business communication easier. These numbers provide local area codes, which are independent of any particular device and make it simple for companies of all sizes to remain approachable.
With virtual numbers from Aircall, you can cut costs, segregate personal and business conversations, and project a more polished image. The platform provides crucial capabilities, including simple team communication, CRM integration, and insights from call data. Its support for text messaging, phone transcription, and configurable notifications produces a flexible communication solution.
This platform also offers customized programs to simplify your international connections, whether you're a small business or a huge corporation.
Key Features
Powered by VoIP, Aircall enables calls from any internet-connected device.
User-friendly setup, no technician required.
Adjust phone numbers as your business grows.
Support for remote work, allowing calls from anywhere.
Save with lower call rates and bundled features.
Seamlessly integrate with CRMs and other tools.
Monitor team performance and call data efficiently.
Record calls for quality control and training.
Enhance team collaboration with contact sharing and conferencing.
Pros
Easy to use and onboard new team members.
Features like Call Monitoring and time zone recognition streamline call handling.
Seamless integration with CRM systems like HubSpot for efficient call management.
The PowerDialer feature enhances the calling process.
Cons
Users encounter disruptive software glitches.
Frequent mobile app updates disrupt call availability.
Inaccuracies and reporting delays are reported.
Compatibility issues with Bluetooth devices cause service interruptions.
4.3 out of 5
"Aircall is a very convenient and easy-to-use platform where it is very easy to manage my day-to-day calls."
Pricing
Aircall offers a pay-as-you-go model where you only pay for what you use but they have varied pricing as per the number of licenses you choose and a lot of features. 
7. Zoiper

A flexible VoIP (Voice over Internet Protocol) softphone called Zoiper offers a strong method for placing and receiving calls online. It acts as a link between old-fashioned phone networks and contemporary digital communication. With various features to improve phone, video, and text-based interactions, Zoiper is a great option for people, companies, and organizations looking for a quick and safe way to remain in touch.
A VoIP softphone called Zoiper provides a variety of functions for placing and receiving calls online. Its primary attributes and user evaluations include:
Key Features
Zoiper ensures secure text, voice, and video communications.
Easily integrates with various sources for a unified contact list.
Available across multiple platforms and browsers.
Supports audio, video, fax, presence, and instant messaging.
Features like click-to-dial CRM, number recognition, and plugins.
Minimal memory and CPU usage, even on older devices.
Simplifies user experience with auto-provisioning.
Works with most VoIP providers and PBX systems.
Pros
Zoiper encrypts text, voice, and video for privacy.
Integrates sources for easy access to your contacts.
Works on macOS, Linux, Windows, iOS, Android, and browsers.
Combines audio, video, fax, presence, and messaging.
Simplifies setup and customization.
Works with most VoIP providers and PBXs.
Cons
Configures only one line.
Rare software lock-ups and call hold problems.
4.4 out of 5 G2 reviews
User reviews  
"Zoiper is an affordable choice of easy-to-use and feature-rich VoIP software for voice and video communication."
Pricing
It offers a free platform for non-commercial use. It also comes with a Pro version which is paid.
8. Cloudtalk

A dynamic business calling tool called CloudTalk was created to help businesses communicate more effectively. It offers a variety of tools to simplify voice and video chats and gives users access to international numbers in more than 160 markets, all with the goal of enhancing the customer experience.
For companies wishing to communicate with customers, control call volumes, and easily integrate with their current customer relationship management (CRM) and helpdesk systems, this cloud-based communication tool is a potent answer.
Pros
Access international numbers in 160+ markets.
Use local numbers for customer trust and better response rates.
Seamlessly integrates with CRM, e-commerce, and helpdesk tools.
Call Quality: Exceptional voice and video call quality.
Ensures consistent data across systems.
Cons
Some struggle to install the Zendesk Marketplace app.
Occasional lags and connectivity problems.
Some face hurdles when switching systems.
User Rating
4.3 out 5 on G2
"Great VOIP solution for fast and effective calling campaigns and marketing "
Pricing
You can also start a free trial for 14 days. They provide three plans starters, essential, and expert plans. You can also customize plans as per your needs.
9. Vonage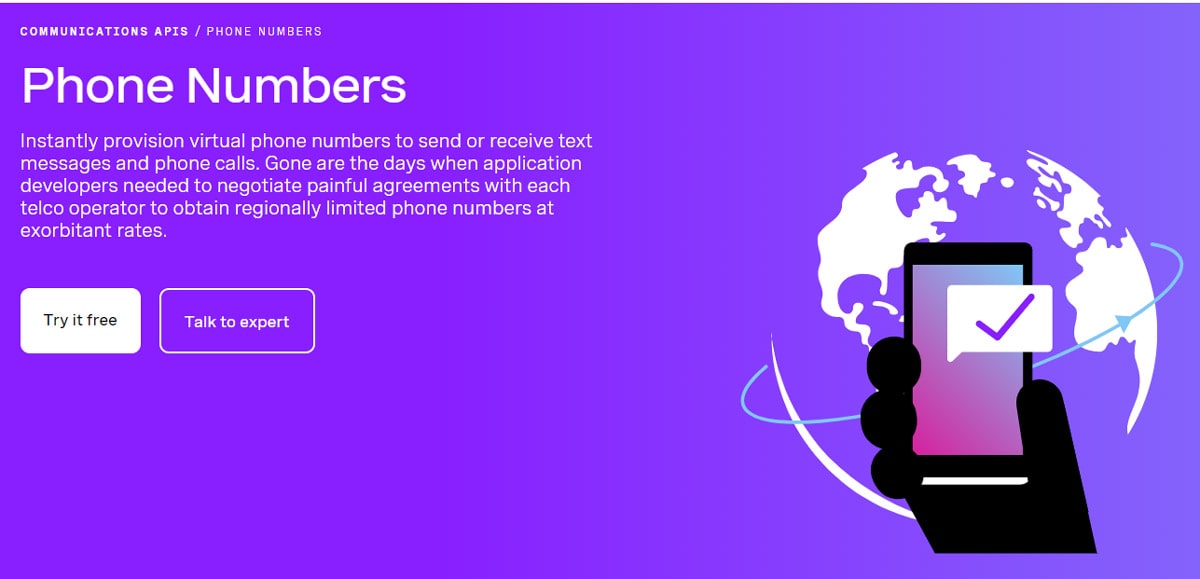 Vonage offers a compelling choice for business owners seeking virtual phone number solutions. With Vonage, you can instantly provision virtual phone numbers, enabling you to send and receive text messages and phone calls without the hassle of traditional telco agreements. This agility allows you to build communication tools quickly and efficiently with just a few lines of code.
Vonage provides an extensive range of phone number types, ensuring you have the flexibility to support various communication needs. The platform boasts the most comprehensive offering of phone numbers and shortcodes in the industry, allowing developers to reliably reach their target markets.
Whether you need a local identity in various markets or a simplified approach to building communication features into your applications, Vonage delivers an excellent solution for businesses of all sizes.
Key Features
Helps protect against unwanted and spam calls.
Efficiently manages incoming calls and distributes them to available team members.
Allows for recording calls across the organization.
Permits users to initiate call recording when needed.
Offers tools for managing call routing and handling.
Provides local phone numbers for various regions.
Supports toll-free phone numbers for businesses.
Provides a digital mailbox for voicemail messages.
Enables remote IT support capabilities.
A centralized inbox for managing various types of messages.
Facilitates faxing without the need for physical documents.
Visualizes voicemail messages for easy management.
Pros
Offers a wide range of communication services.
Supports local and toll-free numbers.
Facilitates easy remote IT support.
Enhances communication with features like visual voicemail.
Supports call recording for quality assurance.
Cons
Some customers have reported issues with customer support and billing, based on reviews.
Connectivity and quality may vary depending on location.
4.1 out of 5
Many available features and smooth transition– " Vonage is taking some time to learn, but the transition was easy and the features I've been able to use already have been spotless."
You can try Vonage for free by signing up on their website.
Conclusion
Choosing the right virtual number provider and platform is a critical strategic decision for experienced business owners in this fast-paced business environment. As mentioned above, Virtual numbers offer a gateway to reliable, flexible, and credible communication with audiences worldwide.
The flexibility to exhibit a local presence and command authority with toll-free numbers is now readily available. As business transcends geographical boundaries, your choice of a virtual number provider reflects your adaptability, strategic acumen, and unwavering commitment to serving an array of clients effectively. Virtual numbers are your conduit to a successful global enterprise.
Want to see what Ozonetel can do for your company? Sign up today for a free 21-day trial.
Frequently Asked Questions