10 Best Power Dialers to Look for in 2023
10 Best Power Dialers to Look for in 2023
Imagine how much you could boost your sales if you were able to speak with more people every hour, without wasting time on dialing, waiting, or leaving messages.
That's what a power dialer can do for you.
It dials the numbers for you and connects you to a prospect or customer right away. You don't have to do busy work and can instead focus on having great conversations and closing deals.  
In this article, we take a closer look at best power dialers, exploring various aspects and helping you find the ideal power dialer software for your organization's needs.
In this article, we will explore:
What is a Power Dialer?
A power dialer dials one phone number after the next, sequentially. It skips unanswered, busy tones to connect agents to live contacts. It automatically moves on to another call when the previous one ends.
It streamlines outbound calling procedures so teams can effectively contact prospects and customers. It dials a list of contacts automatically rather than manually, cutting down on downtime and increasing agent efficiency.
Power dialer technology simplifies phone campaigns, making it an essential tool for companies looking to increase sales, strengthen customer relations, and expedite communication processes.
Key Advantages of a Power Dialer for Call Center
A power dialer connects agents to live callers after a call is answered by automatically dialing a list of contacts. It boosts productivity and agent talk time during outbound call campaigns. Here are the key advantages of a power dialer for a company.
Efficient Calling: With a power dialer, you can make calls more efficiently, leaving behind manual dialing and errors, allowing you to focus on selling.
Continuous Calling: When calls go unanswered or are busy, it moves to the next one, keeping your workflow steady.
Personalized Engagement: You get to engage prospects more personally as the dialer displays their info, making conversations more meaningful.
Streamlined Processes: The integration with CRM (Customer Relationship Management) systems automates data updates and keeps track of call outcomes for you.
Performance Insights: By providing analytics, reports, and call recordings, it helps you keep tabs on your sales performance and maintain quality.
How to Choose a Power Dialer?
A power dialer can help you save time, increase efficiency, and improve sales performance. But not all power dialers are created equal. You need to find one that suits your specific needs and goals. Here is how you can choose the right power dialer for your business.
Security: You should make sure that the power dialer you choose has robust encryption and authentication. The power dialer solution must comply with the relevant regulations and laws, such as GDPR, TCPA, etc.
Scalability: You should choose a power dialer that can grow with your business and handle fluctuating call volumes and agents without compromising on quality or performance.
Cost: Cost is another key factor. Your power dialer should come with flexible pricing plans that matches your budget and should offer value for money. You must compare it with prices offered by other vendors and look for any hidden charges and fees.
Functionalities: You should choose a power dialer that has features and functions that meet your specific needs and goals. Following are the common features and functionalities of a power dialer.
Seamless Integrations: Using this feature, you can sync your power dialer with your CRM system and access customer data and history during or after the call.
Call Recording: This feature allows you to record and store your calls for quality assurance, training, or legal purposes.
Analytics and Reporting: This is another key feature which helps you track and measure your call metrics, such as call duration, conversion rate, call quality, etc., and generate reports and insights.
Call Disposition: With this feature, you can assign a status or outcome to each call, such as interested, not interested, callback, etc., and update your list accordingly.
User-friendly Interface:You should always look for power dialer software that comes with a user-friendly interface. It will make it easier for your staff to learn and reduce training time.
Ozonetel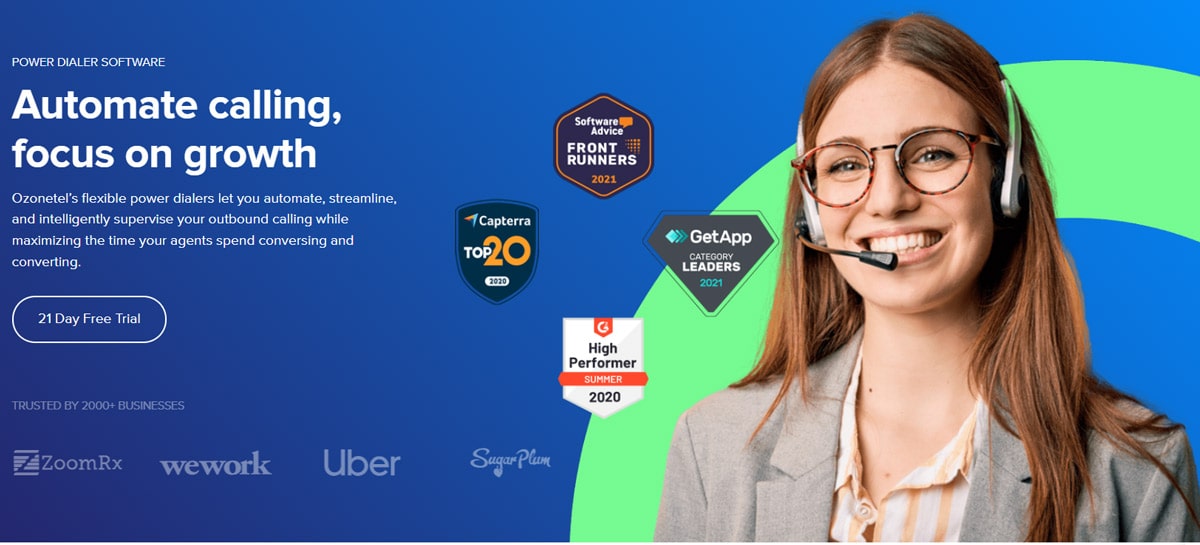 Ozonetel's power dialer can significantly boost your outbound calling operations. Power dialers help rule out repetitive, distracting processes that keep your frontline staff from maximizing their customer-facing time. Apart from sales calls, they can also streamline many customer support and customer engagement processes.
Key Features:
Flexible Number Format: Reduce time wasted on editing and uploading. Dialers should accept multiple number formats.
Answering Machine: Detection Skip answering machines and connect agents only to live prospects
Flexible Dial Logic: Switch from customer-first dialing to agent-first dialing, in the event of low data quality
Call Recordings: Record calls for training, compliance, or ombudsman purposes
Pacing: Use historical call-handling statistics, wait times, and SLAs to change the pacing ratio.
DND Filtering: Effortlessly filter out DND (Do Not Disturb) numbers and maintain compliance with dialers.
Pros:
Instant Lead Responses: You can use our integrated dialer to enable lead callback within 5 minutes of filling in a web- inquiry.
Proactive Support: Use our power dialers to verify online orders and ensure repeat business.
No dropped calls: Unlike predictive dialers, it ensures agent availability before the call connects, preventing awkward silences when calls connect and dropped calls.
Automated callbacks: Enable automated call backs to connect with leads who call during holidays or after-office hours.
Cost-effective: With our flexible pricing plan, you can add or reduce headcount based on seasonal demand.
Call Monitoring: With Ozonetel, you can generate 40 reports based on real-time and historical monitoring of agents, empowering you to track and enhance performance.
Pricing
Ozonetel offers a 21-day free trial with flexible pricing options to adjust your staff as needed. Also, you can access premium features and get 24/7 assistance during the trial period.
What Users Say
" A pleasant experience with a mutual vision to grow and enhance."
Dialpad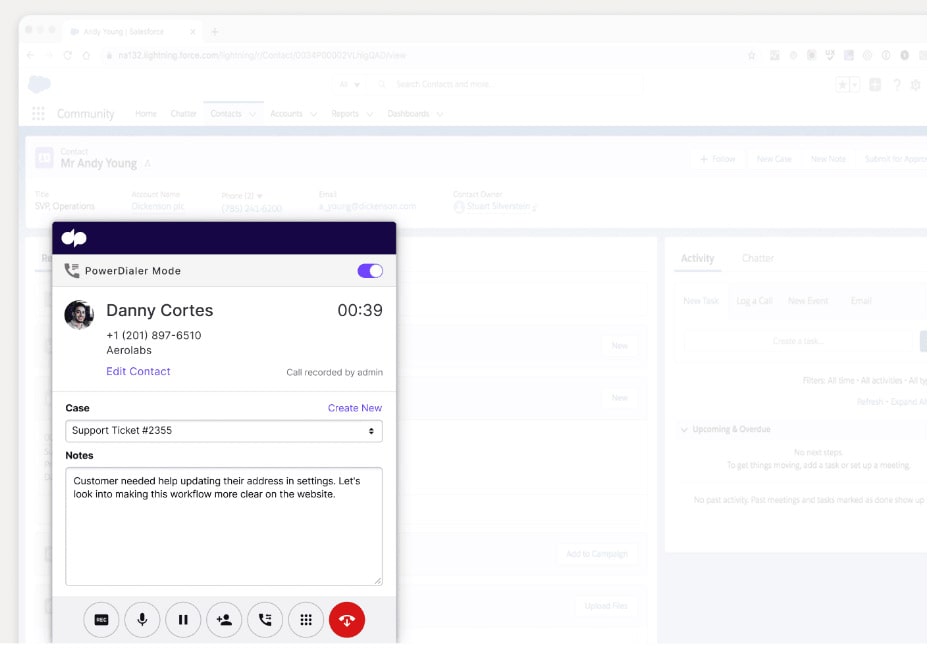 The power dialer function of Dialpad stands out as a powerful cold calling automation solution for call centers and outbound contact teams coping with substantial call volumes.
Features
Sales Rep Guidance: Dialpad's AI Playbooks ensure proven sales methods during calls.
CRM Integration: Seamlessly integrate with Salesforce for efficient operations.
Call Recording: Track, record, and create playlists for team performance.
Voicemail Drop: Save time with pre-recorded voicemails.
Real-time Monitoring: AI offers sentiment analysis and transcription.
Multi-country Calls: Use the power dialer for international calls.
Pros
Ai Transcript's ability to fully transcribe calls for future reference.
Slack and Front integration
Setting Up Voicemail
Browse Feature
Multiple Call Centre Features
Cons
Dark Mode is not available.
Not many customization options
Pricing
Dialpad offers three pricing tiers:
Essentials: $60/user/mo ($70 billed monthly)
Advanced: $95/user/mo ($110 billed monthly)
Premium: $150/user/mo ($170 billed monthly)
What Users Say
-"DialPad has been a great service for our business"
Aircall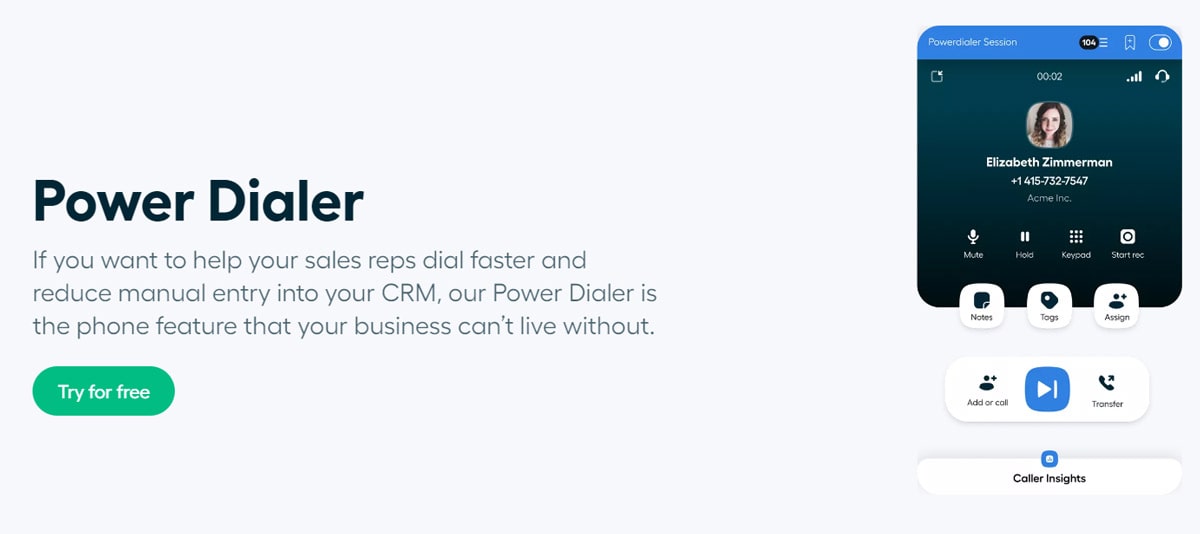 Every second matters in the quick-paced world of sales. Aircall power dialer software can help you accelerate your sales reps' dialing process. This tool saves time on each call to substantial productivity improvements.
Key Features:
Sales Calls: Aircall's Power Dialer saves time when integrated with CRM.
Lead Generation: Auto-add website numbers to your call queue and CRM.
Contextual Insights: CRM info displayed for each call.
Effortless Follow-ups: Record notes and actions with automated CRM integration.
Pros
Interacting with technologies like Slack, Chorus.AI, and CRMs like Salesforce is simple.
Adding a schedule and work hours was simple, as per users' needs.
Accessibility of voicemails prepared messages.
Cons
Users are experiencing difficulties with the sign-in procedure.
Pricing
Aircall is providing a 7-day free trial.
What Users Say
" Aircall is the easiest system as well as the best value for money."
Freshworks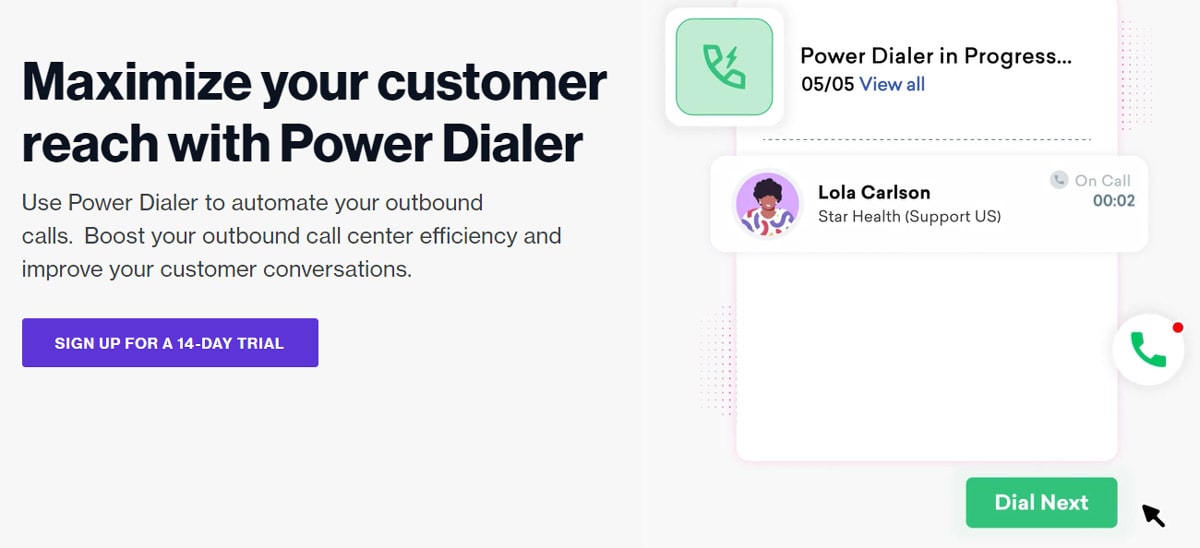 Freshworks power dialer simplifies calling lists for sales and support, reducing the need for manual upload of data. With this solution, you can increase call center productivity, and improve customer interactions
Key Features
Power Dialer automates client phone calls, boosting productivity.
5x Agent Performance: Enhances agent efficiency for focused marketing and better client experiences.
Third-party App Integration: Integrates with apps like Salesforce to quickly access customer info.
Easy Contact Management: Simplifies call list creation and supports real-time sales and support.
Pros
Connect with more prospects for higher lead conversions.
Power Dialer works well with outside apps for improved efficiency.
Organize outgoing connections and campaigns effortlessly.
Cons:
Dependency on Third-Party Apps
Some users may require time to grasp the application's features fully.
Pricing
Freshworks provides a 14-day free trial.
What Users Say
"Unveiling Excellence: A Review of Freshworks Solutions."
CloudTalk

With CloudTalk's Power Dialer, you can streamline call campaigns, reach three times as many prospects daily, and relieve agents of tedious administrative work. You can use this solution to handle growing call volumes and automate processes, allowing agents to focus on productive discussions.
Key Features
Simple Campaign Setup
Automate routine tasks, eliminating manual dialing and software navigation.
Time-Saving Power Dialer
Pros:
Triple call volume
Increased outreach
Analytics Insight for team performance insights and improvement.
Lead calls systematically with customizable scripts and action buttons.
Cons:
Integration Learning Curve: Some users may require time to integrate CloudTalk with existing tools.
What Users Say
"Great Mobile App Experience with Excellent Customer Support"
Ringover

The power dialer software from Ringover can help you cultivate a genuine call campaign culture, driving higher standards. Moreover, it can help you enable quick micro-call campaigns without compromising call center efficiency.
Key Features:
Automated Calls: Streamline call handling with automatic dialing.
Enhanced Efficiency: Boost daily calls by up to 5 times, eliminating manual work.
Perfect for Cold Calls: Improve outbound call capacity by reducing manual dialing and downtime.
Pros:
Automates tasks for up to 100 calls per hour.
Cold Calling Mastery
Import lists, gather numbers, and connect with CRM data.
Cons:
Integration Learning Curve: Users may need time to integrate with existing tools.
What Users Say
"Intuitive to setup, great price, excellent customer assistance."
"Simple et efficace"
CallHippo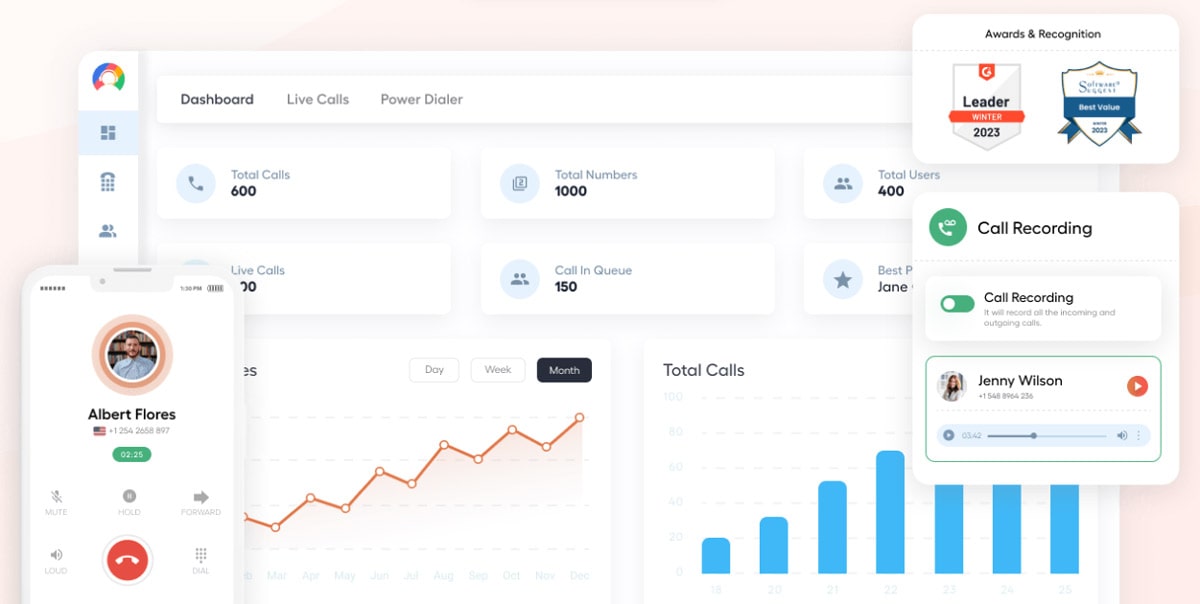 CallHippo provides a power dialer that can be set up in just 3 minutes, making it an easy option for companies worldwide. This solution gives you easy access to call monitoring, smart call forwarding, queueing, recording, etc., helping you meet all your communication needs.
Key Features
Automatic Dialing: The Power Dialer automates call dialing for cold calling and telemarketing.
Sales Boost: Drive more pipelines and increase sales conversions.
Lead Management: Organize lead and sales data efficiently.
Improved Customer Satisfaction: Access to customer data and personalized call strategies enhance loyalty.
Analytics: Detailed performance history improves sales team efficiency and training.
Pros
Reasonably priced and has fantastic features.
Integrations are seamless, service can be used hassle-free.
Cons
SMS Reception Limitation
Slow Response Time
Pricing:
Basic: $0 per user/month (For Startups)
Bronze: $16 per user/month (Ideal for Small Teams)
Silver: $24 per user/month (For Fast-Growing Teams)
Platinum: $40 per user/month (For Larger Teams)
What Users Say
"Great little tool for sales calls"
Salesmate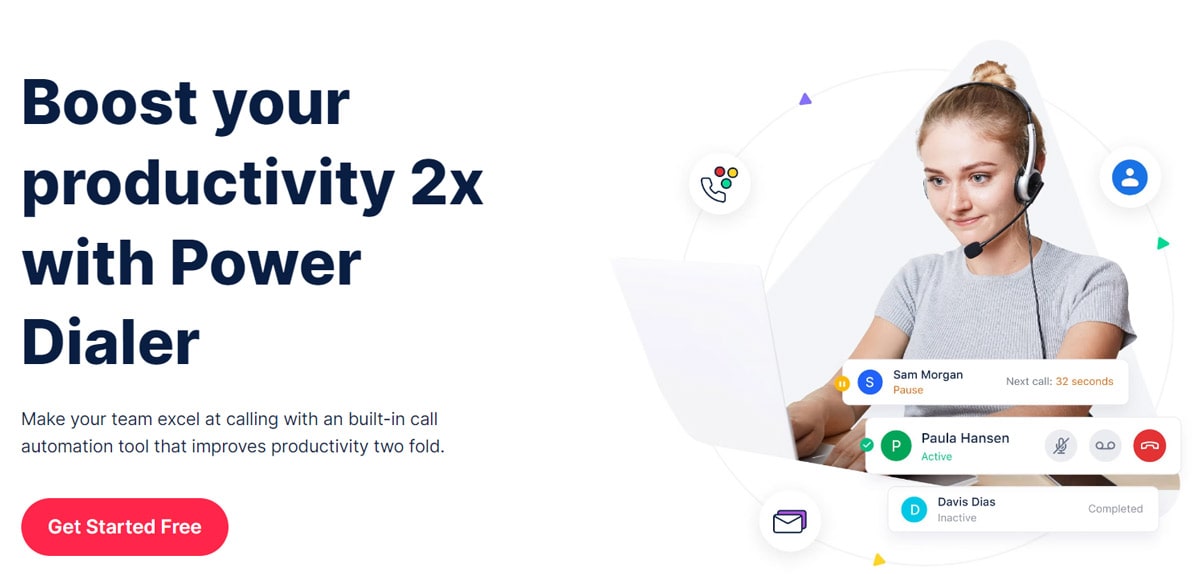 With Salesmate power dialer, you can increase agent productivity by up to two times. You can simplify the calling process, maintain control and adjust wait times effectively.
Key Features
Efficient Call Automation
Smooth transitions between recording screens based on activities.
Customizable Wait Time (Set the wait time between calls).
Pause, resume, reschedule, and skip calls as needed.
Pre-Recorded Voicemails
Automated To-Do List
Pros:
Intelligent email campaign tracking
Customizable sales progress dashboards
Minimal downtime
Good customer support
Cons:
No Multilingual Support.
User experience is not good
Pricing:
Salesmate provides a 15-day free trial to evaluate the Power Dialer's advantages before choosing a subscription.
What Users Say
"Salesmate is a gamechanger for any business large or small"
Ring.io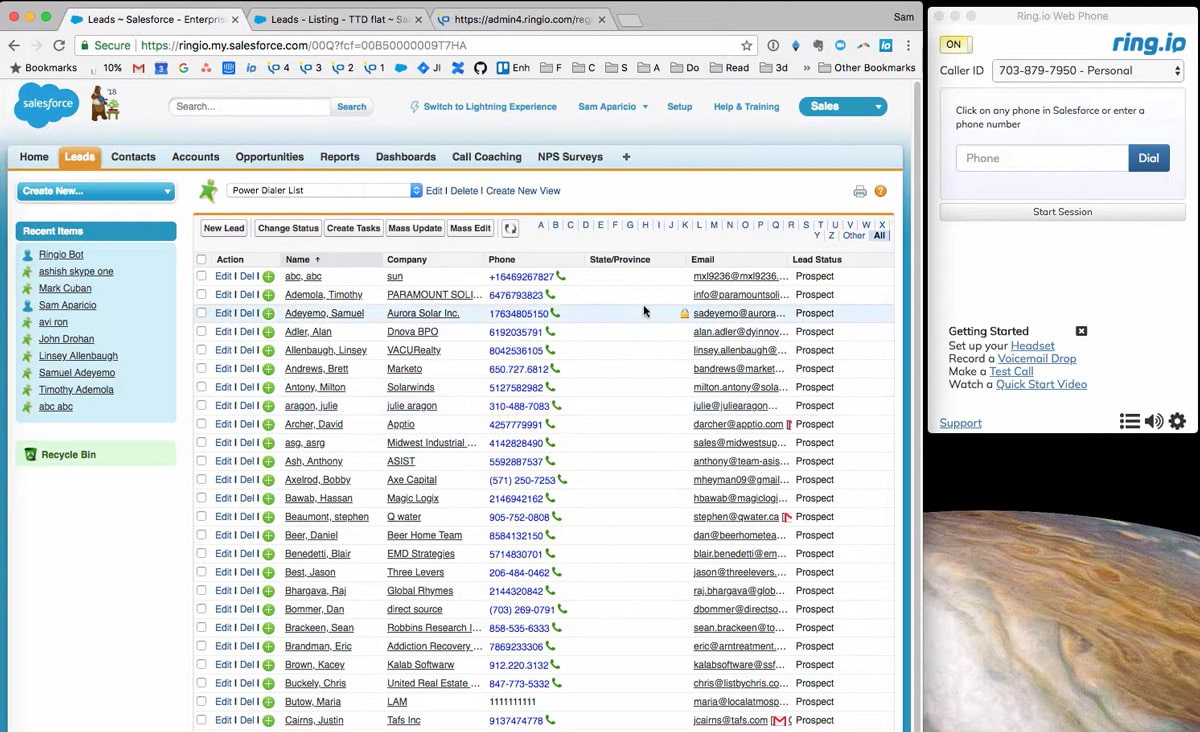 Ring.io's power dialer comes with a very user-friendly interface that significantly increases your sales productivity and effectiveness. Its customer satisfaction rating on average is 8.1/10—powering over 3 million monthly sales calls.
Key features
Call Queueing: Prioritize calls and manage high volumes.
CRM Screen Pops: Provide reps with personalized call openings.
Power Dialer: Efficient lead list calling.
Live Monitor: Listen to live calls, track metrics, and gamify prospecting.
Advanced Analytics (RingInsights): Analyze conversion rates and prospecting trends.
Pros
Increased calls, meetings, and concluded transactions in the sales department.
Effective call routing for incoming calls to guarantee that warm leads are never lost.
Effective coaching and training methods to boost rep efficiency.
Ability to safely take phone payments and increase sales.
Cons
Occasional Call Drops
Integration Issues with Highrise CRM
Buggy IP Phones.
What Users Say
" Giving all employees the ability to call from anywhere."
JustCall

JustCall power dialer can boost your connect rate by up to 3 times. It allows you to make calls from CRM within minutes and also effectively measures campaign and agent performance easily.
Key features
Automated Dialing: Upload contact lists for program-initiated calls.
Voicemail Drops: Leave pre-recorded voicemails when calls go unanswered.
Read Call Scripts: Ensure a consistent and persuasive message during calls.
Note-taking: Record crucial information during or after calls.
Contact Tagging: Simplify classification and follow-up by tagging contacts.
Analytics and Reporting: Evaluate campaign and agent performance with detailed analytics and reports.
Pros
Eliminate busy tones, disconnected calls, answering machines, and agent waiting.
Agents engage with leads and clients for longer durations.
Boost conversion rates and revenue with improved call volume and reduced idle time.
Cons
Limited Call Recognition: The system fails to identify incoming call numbers.
No Call Log: Lack of call log leads to device restarts, wasting time.
Missed Calls: Excessive waiting for call transfers causes missed incoming calls.
What Users Say
-"Fast implementation, great support team"
Conclusion
In simple terms, selecting the right power dialer software can significantly improve your company's operations. It's a remarkable tool for sales and customer service teams, offering features designed to boost productivity and expedite interactions. By carefully evaluating your requirements and priorities, you can make a decision that sets your business up for success.
And when it comes to power dialer software, Ozonetel's solutions stand out as the best in every aspect. So, leverage the full potential of technology to expand your reach and enhance customer engagement. Get started with the power dialer software available today and watch your business operations soar!
Want to see what Ozonetel can do for your company? Sign up today for a free 21-day trial.