11 Top Podcasts Every Customer Experience Leader Must Hear
11 Top Podcasts Every Customer Experience Leader Must Hear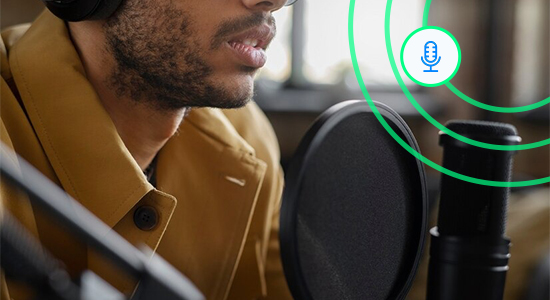 Is product quality enough to guarantee customer satisfaction and retention in today's cut-throat business landscape? Even the most premium offerings can falter in the face of negative experiences, leading to a cascading effect that erodes brand reputation and customer loyalty. 
CX leaders are at the forefront of this transformative movement in a world where customers demand more than ever before. Their expertise in crafting riveting customer journeys and fostering lasting connections has turned them into trailblazers of customer-centric success.
But how do you become a CX leader capable of shaping exceptional experiences and driving brand loyalty? The answer lies in learning from the best in the field. 
Podcasts have emerged as a powerful platform for experts and thought leaders to share their knowledge, experiences, and insights with a global audience. To help unlock the secrets of successful customer experience strategies, we have carefully curated a list of the 11 most popular and insightful podcasts every CX professional must listen to.
CX Insights on Air: 11 Podcasts You Can't Afford to Miss
Discover a treasure trove of CX insights with these 11 podcasts that offer invaluable perspectives on enhancing customer experience.
Humans of CX
The "Humans of CX" by Ozonetel Communications is one of the finest podcasts where CX experts from around the world share their insights and experiences in crafting humanized interactions. With empathy at its core, this podcast is an essential resource for entrepreneurs, CX professionals, marketers looking to elevate their understanding of customer experience and enrich their approach to fostering meaningful connections
Tune in and listen as Neal Topf explains the critical significance of agent experience and let Shep Hyken guide you on how to forge an emotional connection with customers. A recent episode featuring April Obersteller, the VP of Global Experience at Woom Bikes, USA, talks about harmonizing customer and employee satisfaction – a must-listen for those seeking to strike that elusive balance. Join the conversation and enhance your CX journey by tuning in to the 'Humans of CX' podcast today.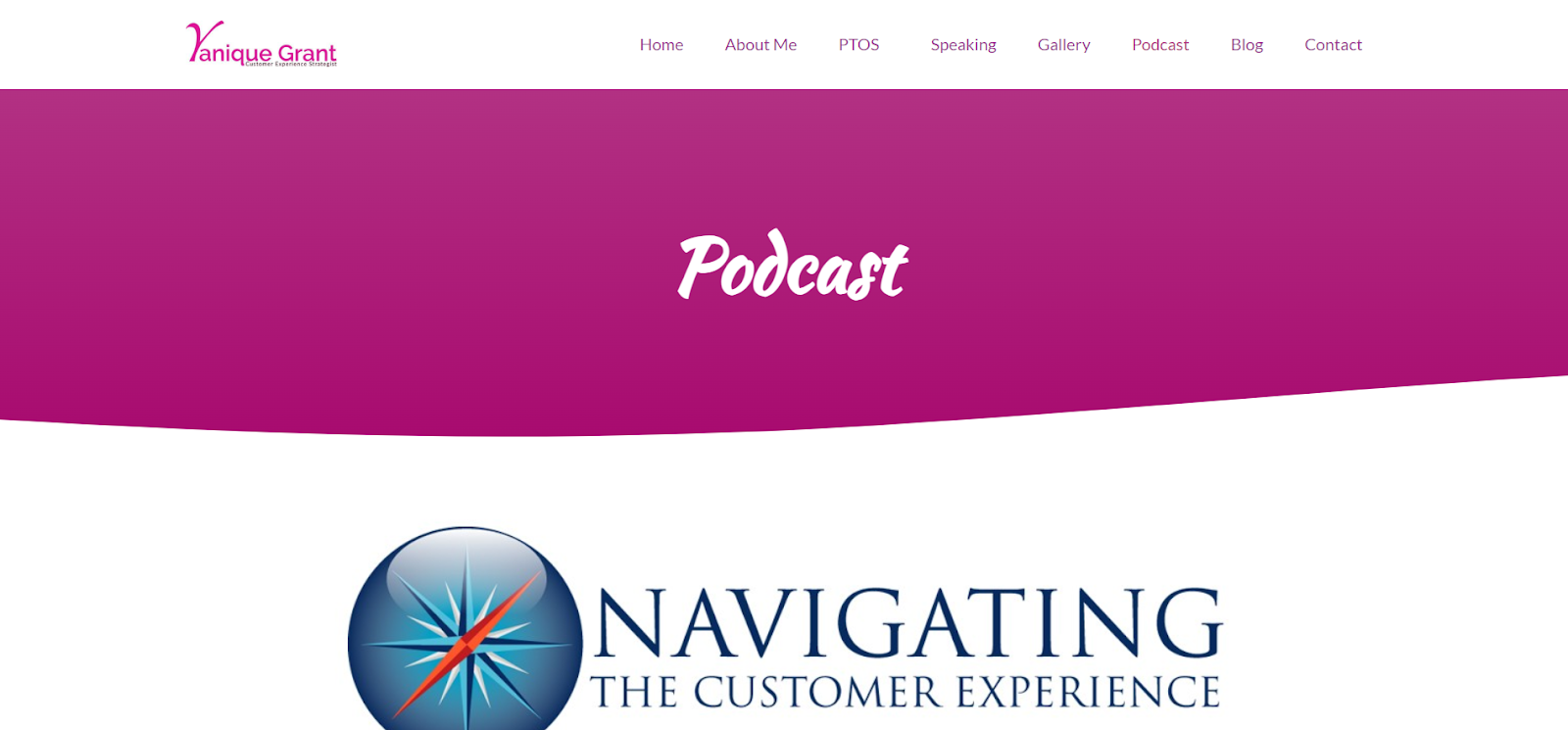 The CX Chronicles
Launched in 2018, The CX Chronicles Podcast marked one of the pioneering shows of its genre, with Adrian Brady Cesana as its host. Having hosted several customer-focused business leaders, The CX Chronicles offers a weekly podcast sharing ideas for growing your business, the latest SaaS news and industry updates, and provides value-first insights from experts.
You can find CX Chronicles on Google Podcasts, Apple Podcasts, and Spotify for insightful discussions about all things customer-related. With over 200 episodes, the host digs deep into customer experience and shares insights on the four pillars of CX – Teams, Tools, Process, and Feedback.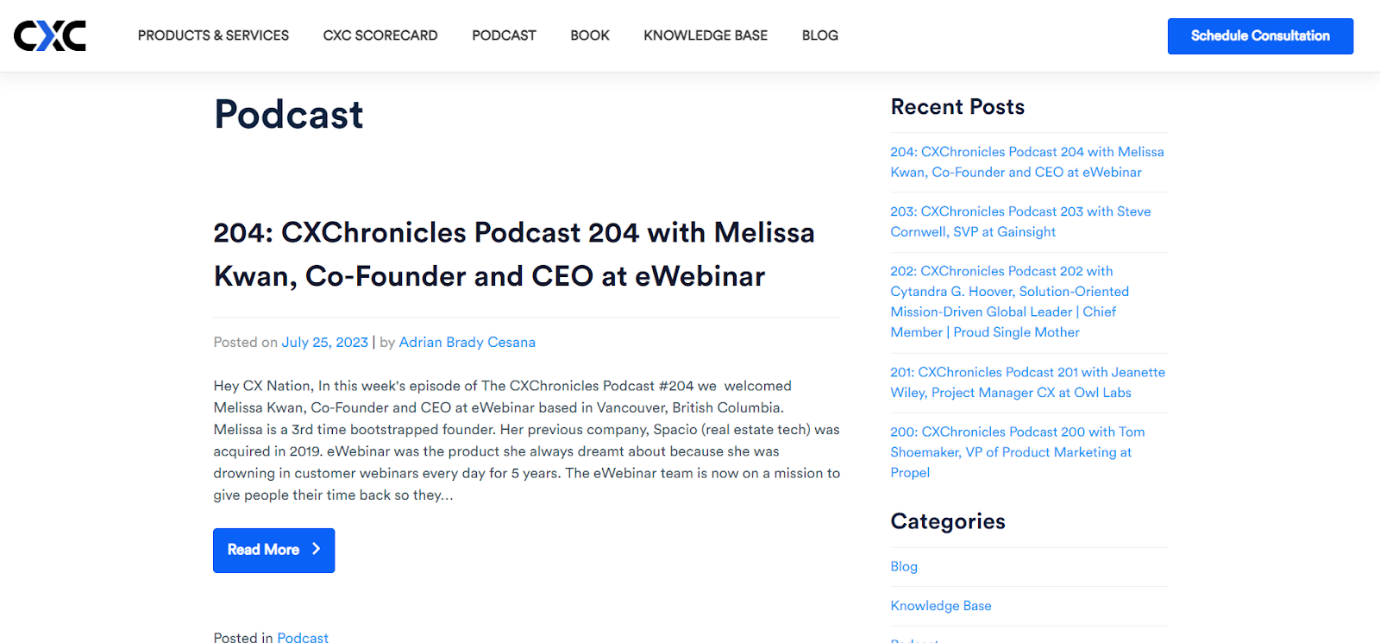 Crack the Customer Code
Dedicated to helping small business owners and customer-facing professionals, Crack the Customer Code is produced by Jeannie Walters and Adam Toporev. They have been focused on customer experience for over 25 years and are joined by Fortune 500 executives, authors, retail magnates, and entrepreneurs in their quest to discover what strategies work best for them.
The CX podcast is about learning from experts in different niches and provides a peek into the psychology of what customers expect from a business. It aims to address contemporary and timeless aspects from a diverse array of industry professionals.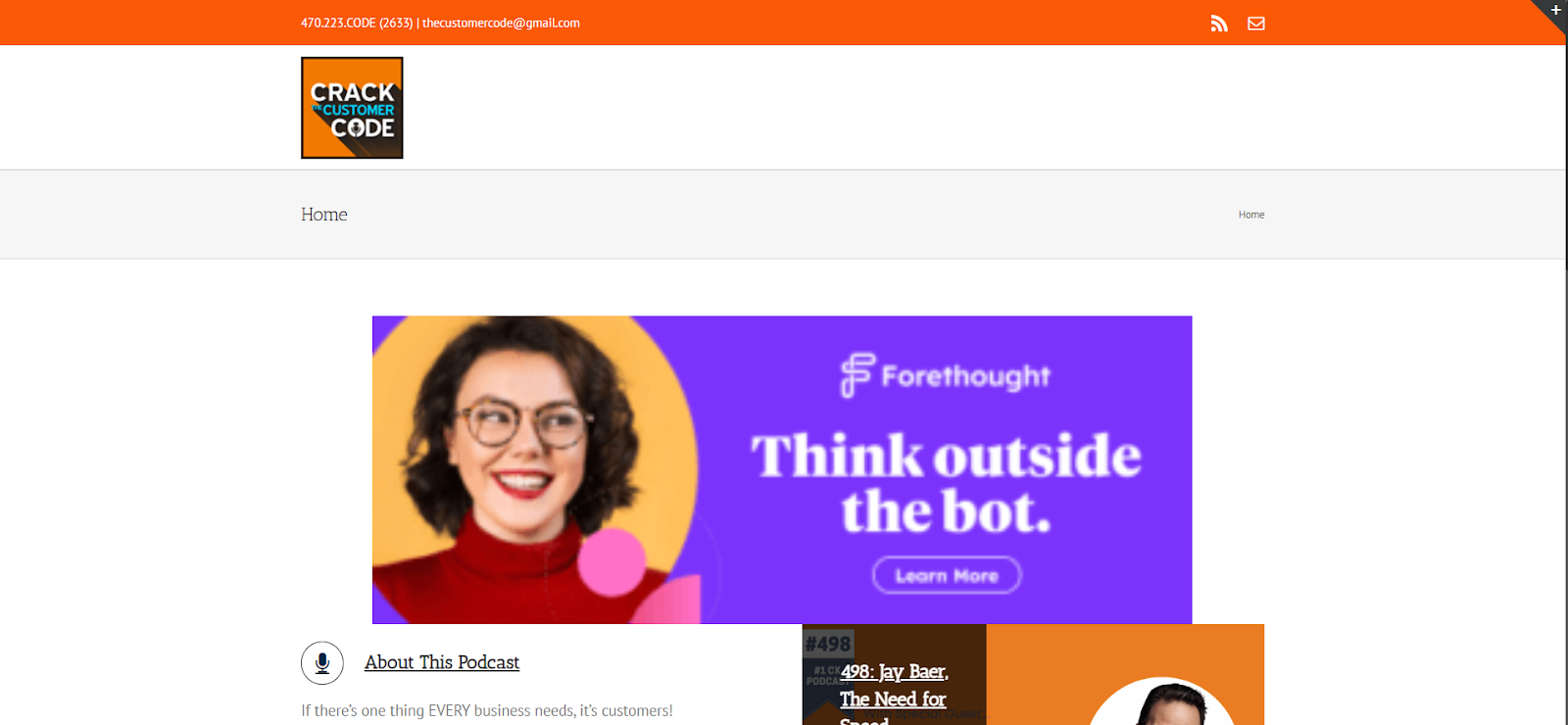 The CX Leader
With Steve Walker as the host, The CX Leader approaches the customer experience niche differently. Steve is also the CEO of Walker, a CX advisory firm. He has worked with some of the world's most influential businesses, which is evident in the discussions during the podcasts.
The customer experience podcasts cover much more than plain CX subjects, focusing on how CX professionals can build the necessary skills to cater to the dynamic landscape of customer experience. With over 200 episodes, most of their audience describes the podcast as informative and insightful. Some of their more recent podcasts uncover the nuances of the CX communication ecosystem and how organizations can set their priorities straight.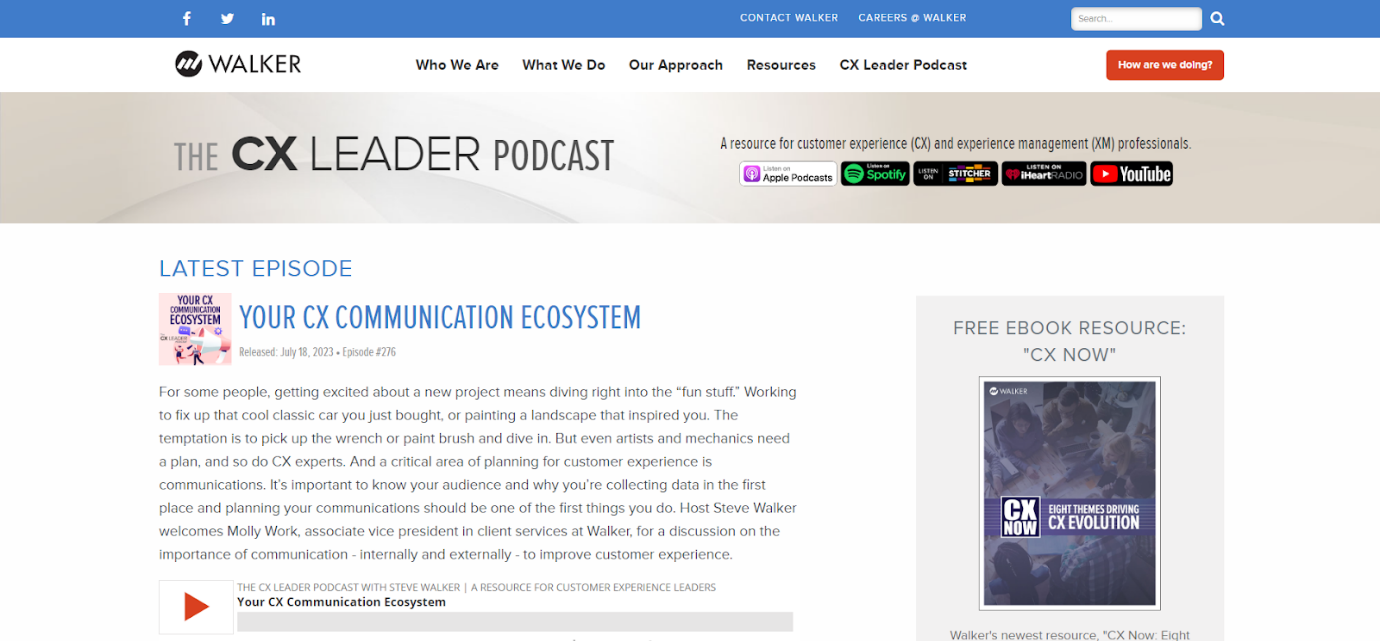 The Modern Customer
With a focus on how businesses can make their customers' lives easier and better, Blake Morgan hosts The Modern Customer, a weekly podcast. Blake has hosted over 300 guests and discussed tried and tested CX strategies that cater to consumer-centric cultures. Unlike Modern Family, her podcast discussions are quite tangible and easy to understand and implement.
Upon witnessing a vast gap for ideas on customer retention, Blake developed an inclination towards customer experience. She is also the bestselling author of "The Customer of the Future" and one of the world's top keynote speakers.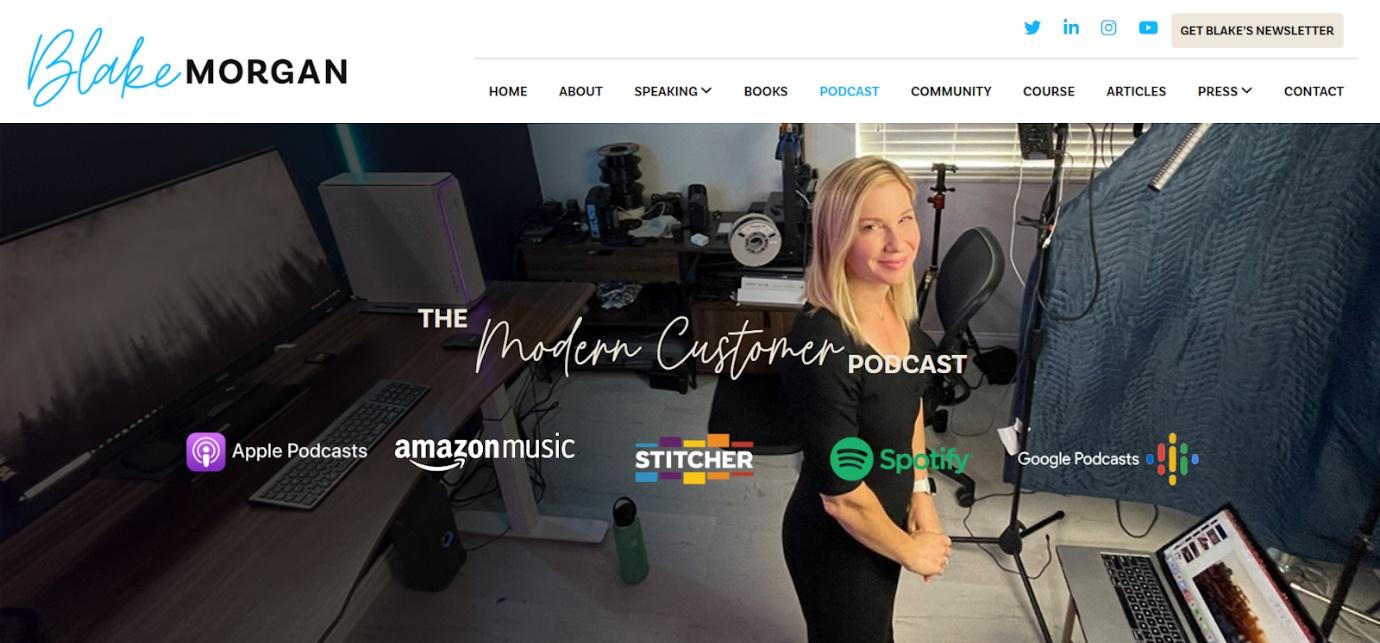 The Intuitive Customer
Hosted by Colin Shaw, a global influencer on customers, alongside Prof. Ryan Hamilton from Emory University, The Intuitive Customer discusses improving your customer experience and leveraging it to accelerate growth. Each host brings a unique take and plays off each others' sense of humor. 
Most of the audience enjoys the dynamic between the hosts and appreciates the laugh-and-learn culture surrounding the podcast. They talk about the value of experience in a competitive landscape, preventable mistakes, and the significance of building a relationship with your customers, among other things.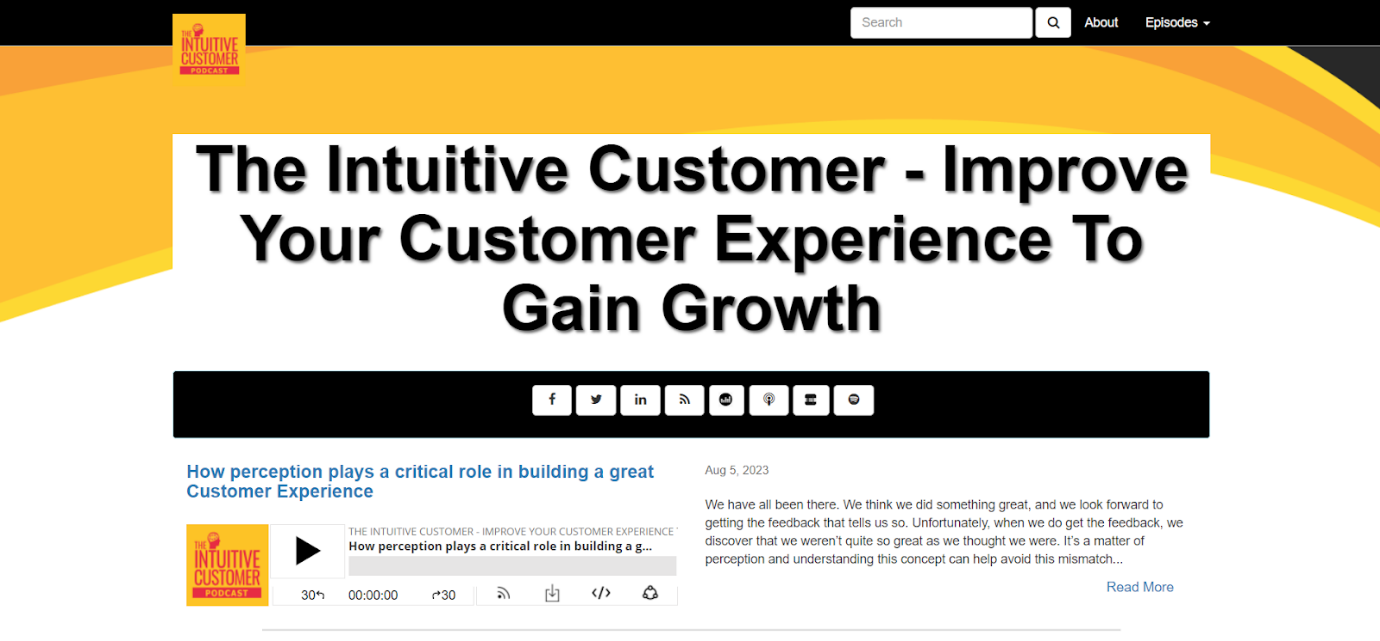 Amazing Business Radio
Featuring The New York Times bestselling author and customer service expert Shep Hyken, Amazing Business Radio interviews leading business professionals and other customer experience experts. The dynamic, customer-centric podcast rolls out weekly episodes with CEOs across industries. It delivers insights and tips on taking your business to the next level using CX as ammunition.
The episodes are usually 25-30 minutes long and available on Google Podcasts, Apple Podcasts, and Spotify. She also maintains a blog page that serves as the ultimate CX resource for leaders striving to keep up with the latest news in CX. Some of their recent podcasts discuss how both employee and customer experiences are essential to a successful organization.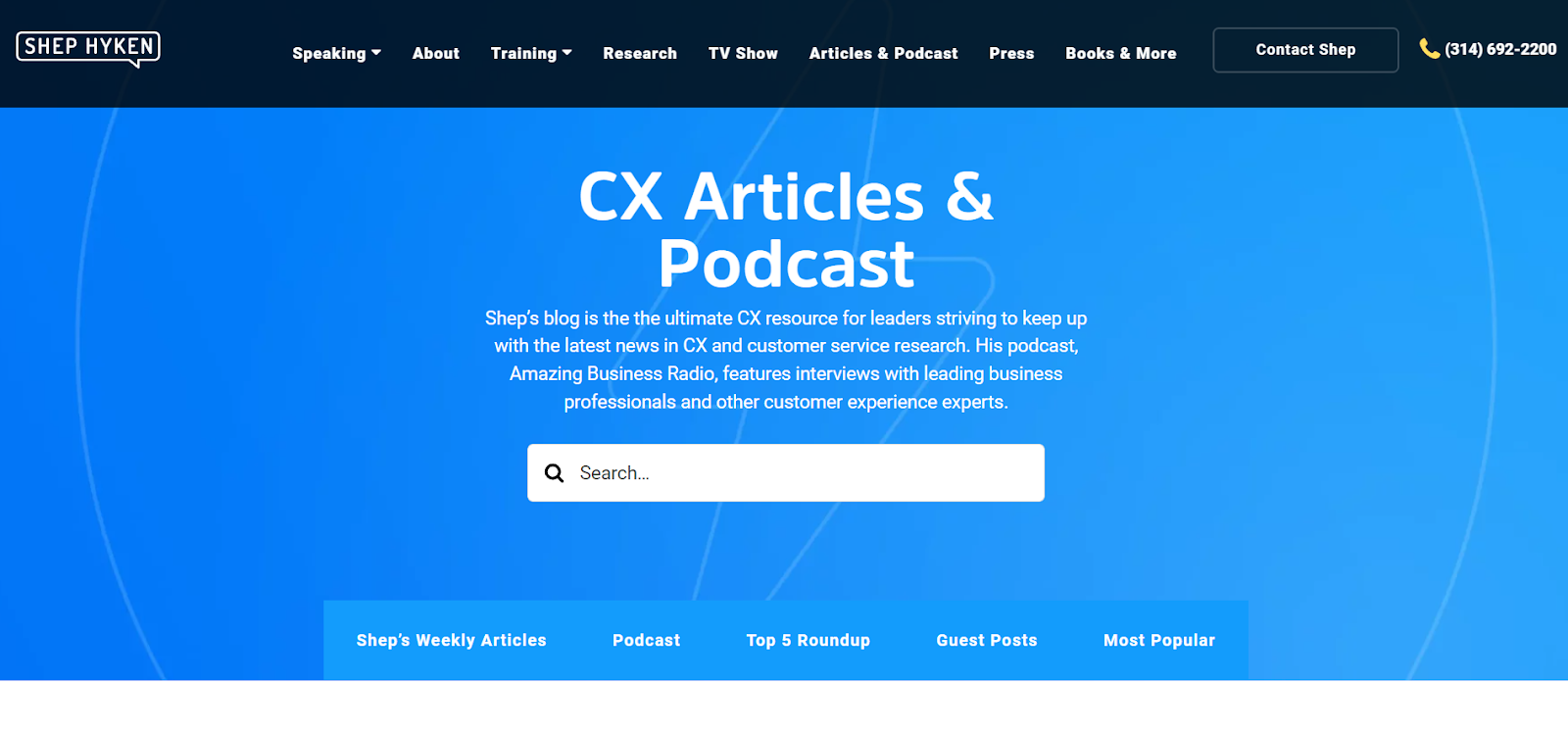 Navigating the Customer Experience
The host, Yanique Grant, describes her podcast, Navigating the Customer Experience, as a journey alongside global entrepreneurs and subject matter experts to help you navigate through the nuances of customer experience. The podcast aims to uncover what customers really want and the psychology behind how they engage with a business.
The CX podcast features nearly 200 episodes on a broad spectrum of topics including building marketing teams, personalization, and AI's role in customer support. Yanique has worked with SMEs and 9-figure businesses and lent her expertise to increase sales and ROI that enhances customer retention.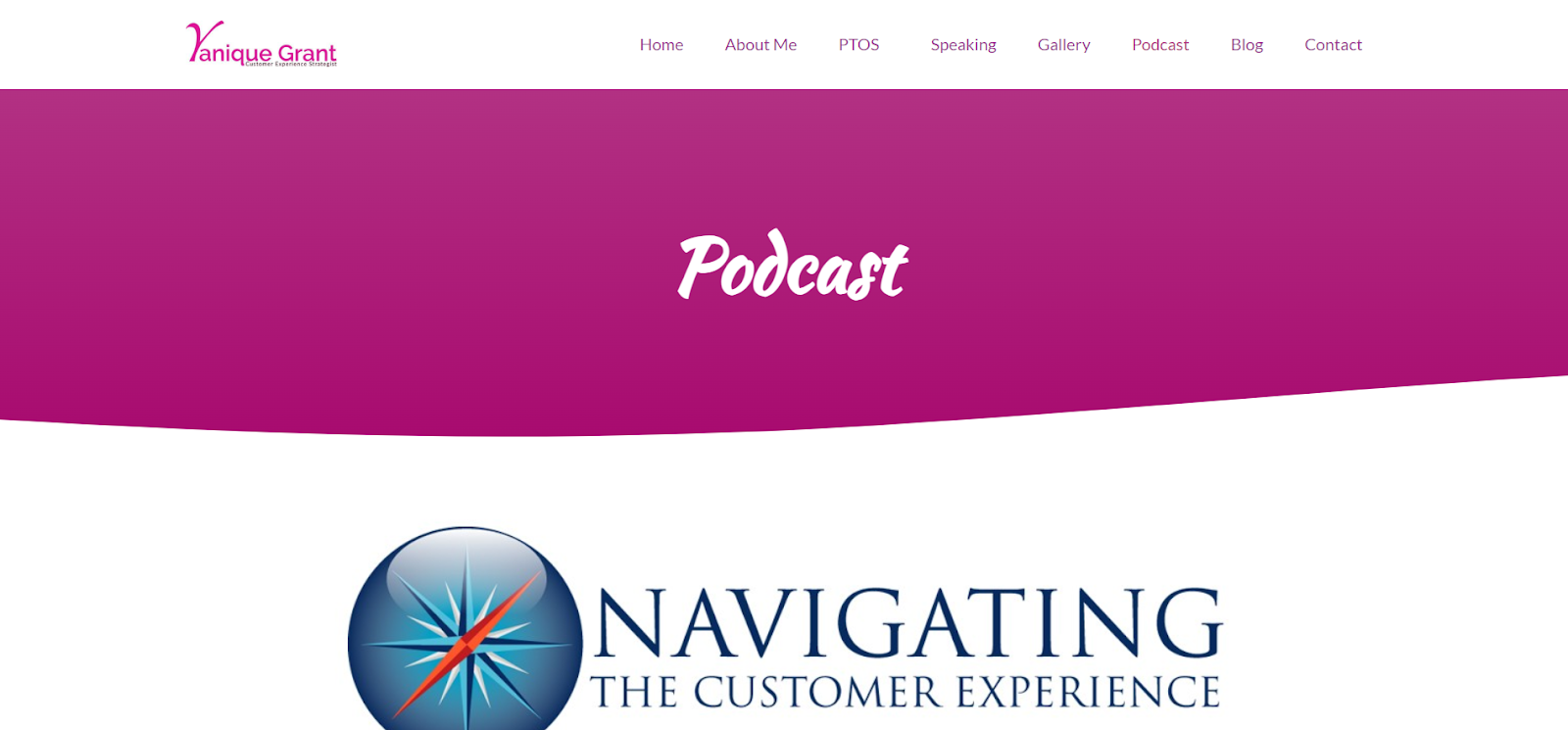 CX Files
Hosted by CX industry analysts Mark Hillary and Peter Ryan, The CX Files is a weekly podcast that welcomes leading analysts, thinkers, and practitioners in the realm of customer experience. The hosts usually talk about the future of CX, essential trends, and everything customers expect of a brand.
With nearly 300 episodes of around 30 minutes of discussion, CX Files is one of the most consistent podcasts within the CX space. Mark continues to write books on the future of CX and was twice nominated for UK Business Blogger of the Year. 
In one of the recent episodes of the podcast, Alistair Niederer discussed how ESG (Environmental, Social, and Governance) and BPO (Business Process Outsourcing) are crucial to business growth.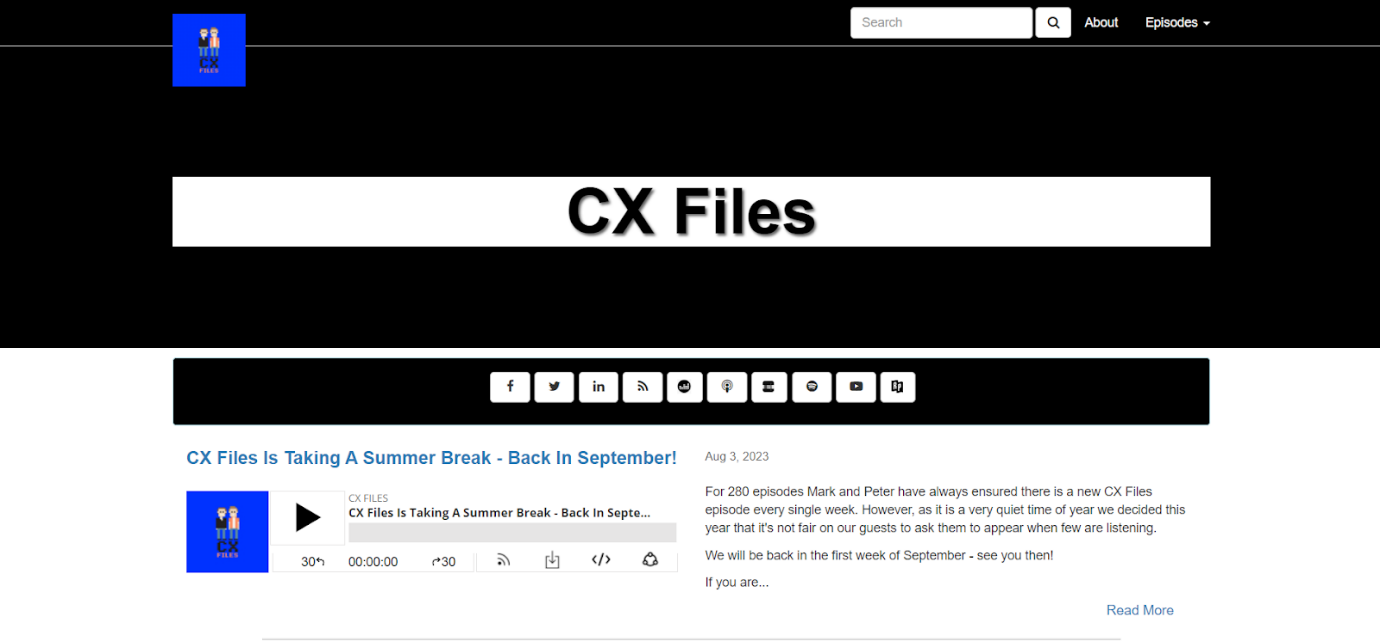 The Experience This! Show
"Customer Experience begins before someone becomes a customer."
Hosted by Customer Retention expert Joey Coleman, and social media expert Dan Gingiss, Experience This!Show is a podcast that delves into customer experience with a unique perspective. The customer success podcast has a quick-hit segment that delivers customer-focused tips, tools, and trends you can implement in your brand strategy.
Dan's engaging keynotes and lively presentations speak volumes to his credibility as a CX professional. The customer experience podcasts are fun, upbeat, and entertaining, providing actionable takeaways for businesses to integrate into their workflow. They also offer a blog and a weekly CX newsletter to keep you abreast of the latest updates in the space.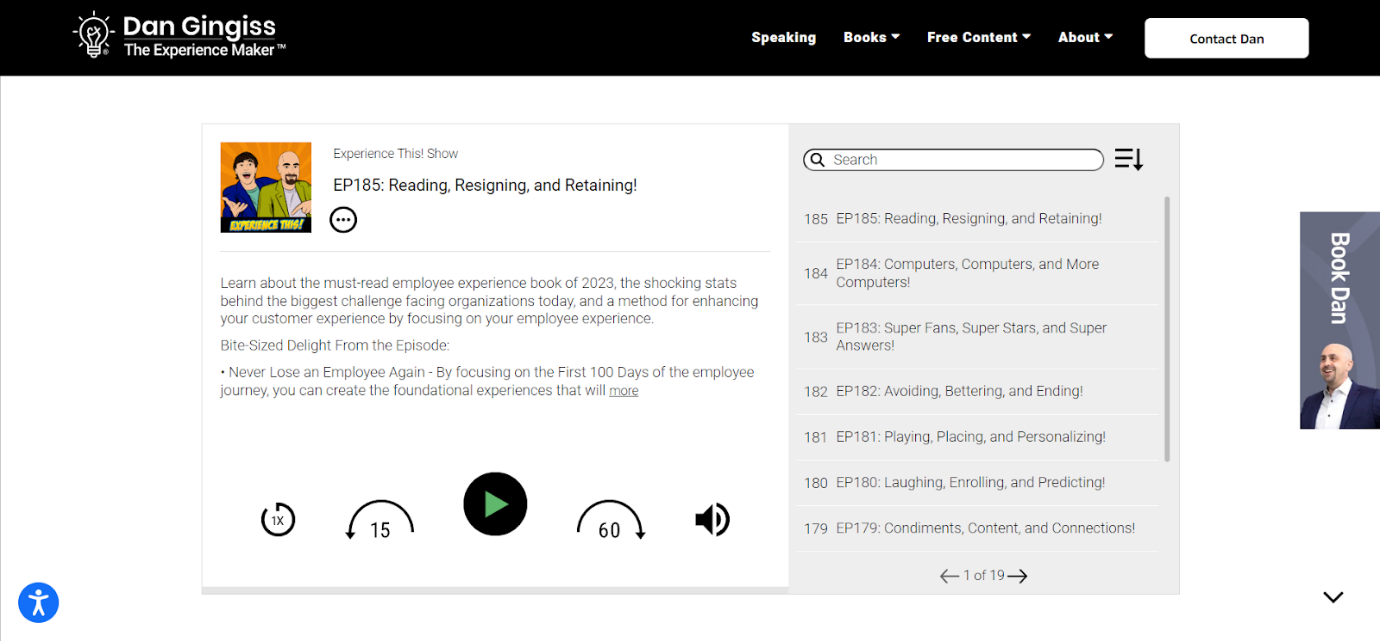 The Chief Customer Officer Human Duct Tape Show
Hosted by five-time Chief Customer Officer and author of "Chief Customer Officer 2.0" Jeanne Bliss, The CCO Human Duct Tape Show can help you understand and learn leadership practices from C-level customer experience executives. As intuitive as it sounds, the podcast's name is an allusion to how the CCO acts as the duct tape for an organization.
The customer-centric podcast has published over 250 episodes of around 45 minutes with leading experts from Airbnb, Audi, and Adobe, among others. The host helps you understand the importance of the human element in your business and ways to strengthen CX leadership in a purpose-driven environment. Her podcasts focus on first-hand experiences in customer-centric economies.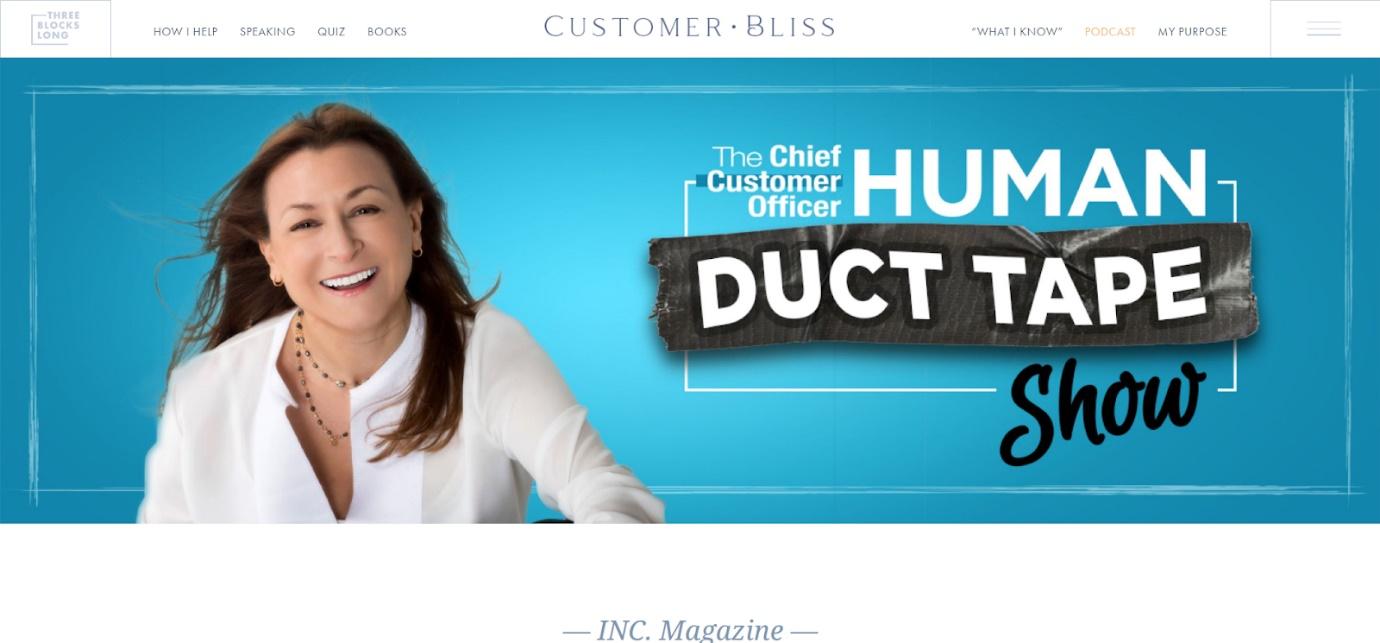 In Conclusion
For those with an ear to the ground and a passion for customer-centricity, these podcasts are not just auditory treats; they are a roadmap. Delve into the heart and soul of customer-centricity with "Humans of CX", where tales of real people and their experiences come alive, offering a masterclass in humanizing business approaches. 
And if you are feeling particularly adventurous, let "The Chief Customer Officer Human Duct Tape Show" unravel the intricate tapestry of leadership in CX. So, as you gear up to redefine your brand's customer journey, remember to lend an ear to those who have walked the path, one podcast episode at a time. After all, in the symphony of business, the customer's note hits the highest pitch.