What Does Customer Experience Mean to Today's Customer? An Updated Guide to Building Better CX in 2023
What Does Customer Experience Mean to Today's Customer? An Updated Guide to Building Better CX in 2023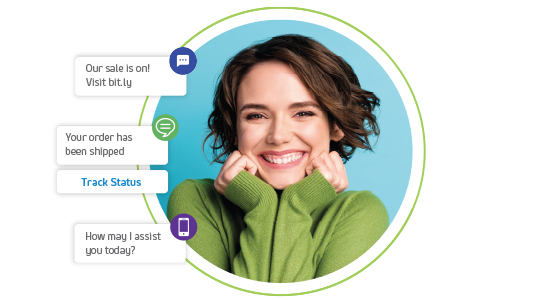 In this article, we will explore:
What is Customer Experience?
Customer experience (CX) is all about putting your customers at the center of everything you do, providing each customer with an opportunity to experience a flawless journey while satisfying their needs in a highly organized manner. 
Why customer experience matters to brands, today
To understand the impact of customer experience, let us look at some of the latest statistics and insights around CX:
86 percent

of customers are ready to pay more for a product or service if they receive a great customer experience.

In a highly competitive and unsettled marketplace, consumers want to choose brands that provide a simple, effortless, consistent omnichannel experience across

voice and digital channels.

According to PwC,

efficiency, convenience, and ease of payment

are among the top five CX elements that customers value the most and have no hesitation in paying more for products and services that offer this improved CX. The Gen Z cohort would pay more for a better mobile experience and a fun brand personality compared to the general population.

From an organizational perspective,

81% of CX-centric players

cite customer experience as a clear differentiator against competitors.

To match customer expectations, organizations are investing up to 80% more in CX initiatives than they were doing in 2010.

The future of CX programs would revolve around

precision, predictive intelligence,

and automation that would be tied to specific business outcomes such as customer satisfaction scores, CLV, revenue growth, employee productivity, and call center efficiency.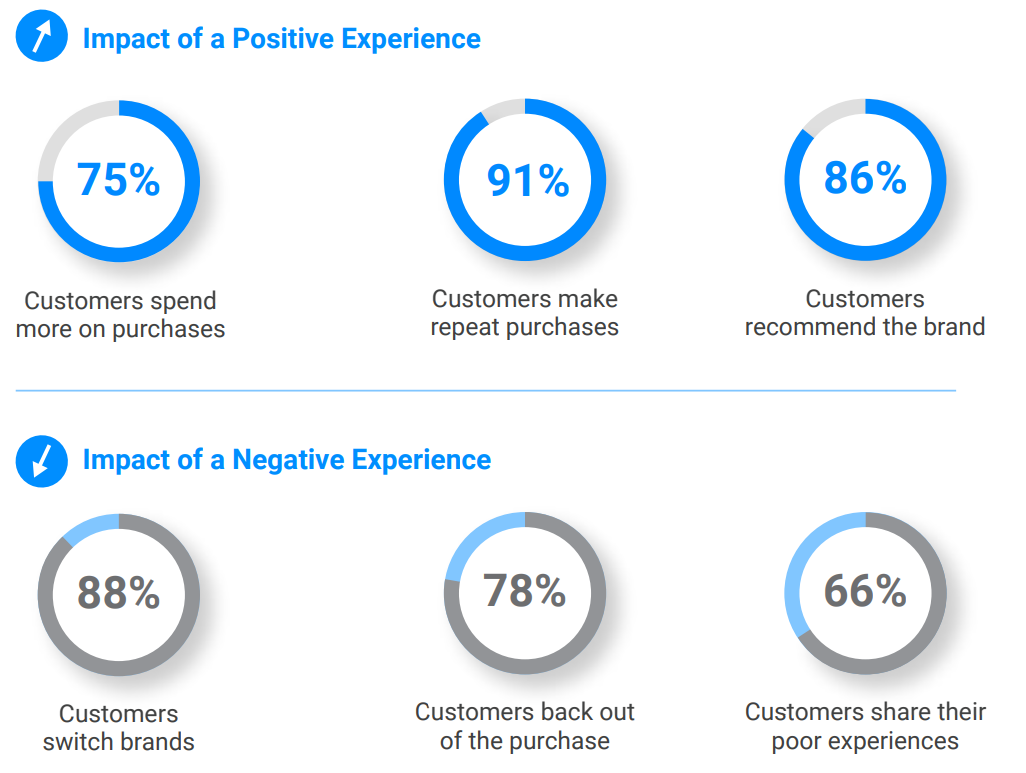 Business Impact of Customer Experience. Source: Ozonetel
As we can see, there is a shifting attitude towards CX both within consumers and brands. Customers do not care about who owns the customer experience on behalf of the company they deal with — whether it is billing, onboarding, service calls, or post-sales loyalty management — all these and others are part of the same customer journey. 
Creating a strategic roadmap for CX across the entire journey (including sales, marketing, customer service, and support) is a priority and key focus area for forward-thinking and future-ready organizations. Let us examine how companies can achieve these holistic CX strategies.
The Big Challenge: A Siloed Approach
One of the biggest challenges businesses face today is a siloed approach to CX. Too often, attributing CX metrics to a single department dilutes ownership and control of the customer experience across other touchpoints.   
For instance, customer experience is deeply intertwined with other departments such as sales and marketing, but often companies' hand over the highest share of the CX responsibility to their customer service teams. 
So much so, many companies use the words customer service and customer experience interchangeably. Before talking about how we can improve and align CX to modern customer expectations, it is important to understand what customer experience means. Let us begin by establishing the difference between customer service and customer experience.
Customer Experience Versus Customer Service: It's Not the Same
Customer experience and customer service are often used together or interchangeably. From the context of CX strategy, customer service (CS) is a sub-set of customer experience, a single touchpoint in your customer journey mapping.
Customer Experience, on the other hand, extends across the cusotmer journey and its ownership stretches across multiple departments. In fact, according to Dan Gingiss, CX is the responsibility of everyone in the organization, and it begins much before you have even met your customers.
Here are five key differences between customer experience and customer service:
1. Customer experience is a conglomeration of multiple interactions and touchpoints with a customer across various journeys. On the other hand, CS is a single point of interaction that is connected to overall CX values.
2. In most cases, the CX efforts are proactive, while CS is mostly reactive — a step taken to solve a customer's problem with the customer service department.
3. CX is undifferentiated from the various activities that the organization undertakes during the Marketing, Sales, Product service, and, to an extent, even HR and workforce management. Meanwhile customer service is handled by the customer support team and commoditized in value, lifespan, and quality of service.
4. CX is measured by KPIs such as Net Promoter Score (NPS), and customer loyalty score while CS would be measured by customer satisfaction scores across the specific customer service interactions, First Contact Resolution, or contact center metrics such as Service Levels, or Average Response Time.
5. Brands focusing on CX would create multiple touchpoints to improve it across channels. When it comes to enhancing CS, the brand could create new ways to access resources or develop self-service automation tools to improve resolution speed.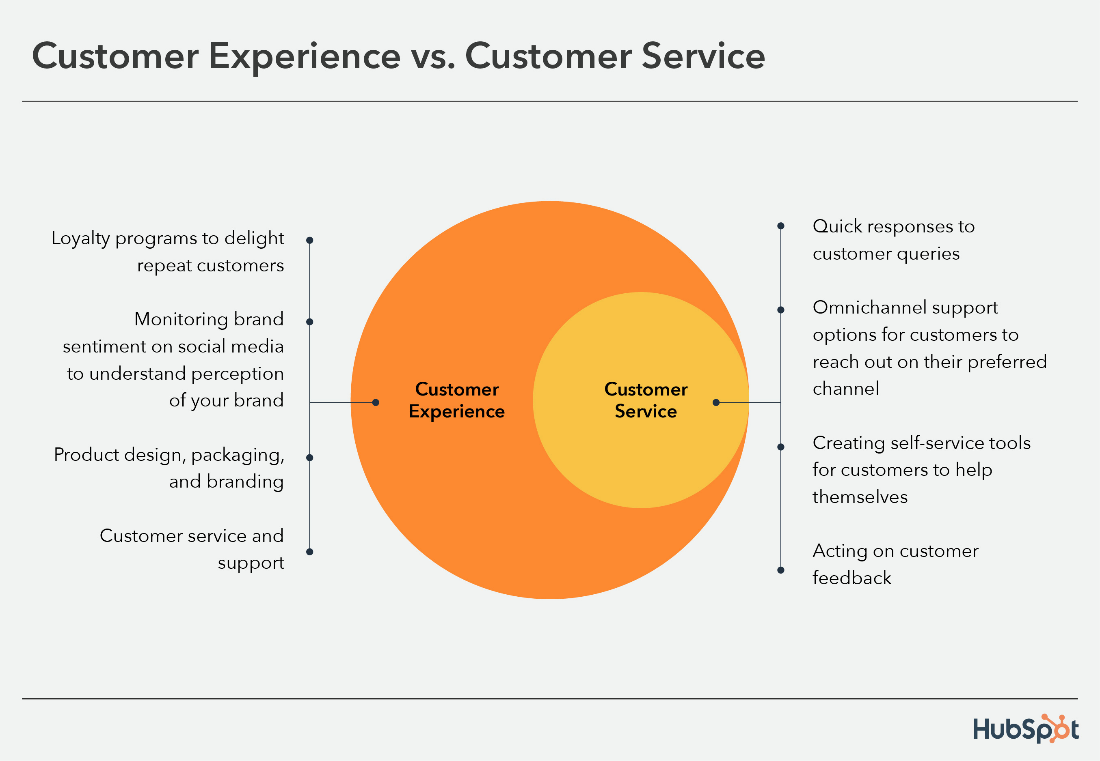 Customer Experience vs Customer Service. Source: HubSpot
Understanding the Customer Experience Lifecycle
The CX lifecycle is a series of logical steps that a customer undertakes to complete a particular activity, which may or may not result in a sale. There are five steps in any CX lifecycle:
Step 1: Discovery
This step starts when the customer begins an internet search or comes across social media content related to the intent or when someone mentions the brand or its products and services through word of mouth. During the discovery stage, the brand creates an impression in the prospect's mind through targeted marketing and omnichannel advertising. The goal here is to identify customers and collect information to create personas that can be fed to the CDP or CRM.
Step 2: Education
The goal here is to give a customer a complete picture of what CX, CS, and brand marketing look like. It is achieved by educating the customers about various products and services through website blogs, product reviews, DIY videos, whitepapers, case studies, and other resources. It also educates customers on what they should expect to gain after signing up for the services and support from the company. 
Step 3: Purchase
The transactional relationship begins with the customer at this stage. The customer pays upfront as a subscriber or signs up for a free trial for a limited period. The job of the CX team is to give a delightful product experience with timely support and service to the customer. 
Step 4: Post-purchase Engagement
This step involves the use of customer feedback and quality of service assessment. The company collects direct feedback or monitors the feedback and comments shared on social media. 
Step 5: Advocacy
The customer is now shaping up to become a brand advocate or a brand loyalist who would encourage other prospects to try the product and services. This is measured by checking what kind of reviews, recommendations, and how-to content is published and explained by the customer. These customers educate other customers and help them through the discovery and education stages mentioned above.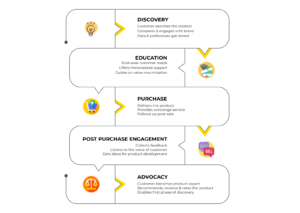 Source: Forbes
Leveraging Customer Experience Across the Journey
"Customer experience is 'absolutely' vital. The key is to create such a pleasant experience, that those customers turn into advocates for your brand." – Ronnell Richards
Meeting the primary requests of the customer is only half the job done for CX managers. Excellent customer experience management makes the customer feel positive about sharing their experiences — their micro-interactions — across the customer journey.

The ultimate goal of your customer experience strategy should be to monetize each of these "micro-moments" and turn these into elements that enhance customer lifetime value (CLV). When you get the CX strategy right, your customers would take up brand advocacy roles more seriously and promote your products in the most human way possible.
For your CX plan to succeed, you should create a human touch with your employees and customers to provide exceptional value with minimum stress and friction. The objective of designing a CX plan should be to build a strong marketing and sales association that can turn any customer into a "devotee." 
Here's how marketing and sales could help their companies get the CX strategy bang on target. 
CX and Marketing
CX leaders should constantly work with the marketing team to foster a CX culture based on continuous CX improvement. This CX culture helps in creating a customer-obsessed brand and anticipates the future needs of the customers much before anyone else in the market does. 
"Well, the fastest way to do business," explains Ronnell Richards, author of Shut The Hell Up And Sell, "is old business." Highlighting the connection between customer experience and marketing, he asks, "What are you doing with your existing customer base? How are you leveraging the customer experience?" According to him, businesses who are doing a good job with their customer experience must learn to leverage these experiences to get more business, via testimonials and other great content that can feed into their organic marketing strategy.
CX and Sales
CX has taught us that sales is not about selling but adding value to the customer's life and journey. 
CX and sales are inseparable as both activities require complete information on what the customer is truly seeking from the service provider. In the CX lifecycle and journey mapping, it's the role of the CX-Sales manager to create awareness, understand requirements through consideration and help with decision-making. So, the Awareness-Consideration-Decision part of the CX-sales engagement should appeal to the customers so that they can shop without requiring any kind of persuasion or sleazy sales pitches. 
Ronnell Richards explains, "Customer experience is so fundamental to my philosophy on sales. I am about building advocates. I want to build advocates. And the reason you want to build advocates, folks, is because advocates become non-payroll sellers"
How to Strategize for Customer Experience in 2023
In 2023, it is impossible to win and retain customers without having a solid customer experience strategy. Most businesses risk becoming obsolete solely if they fail to align CX goals with their brand loyalty programs. Therefore, a customer experience strategy should be a never-ending, continuously evolving process.  
Here are the top ways you can use to strategize your CX in 2023. 
1. Prioritize CX. Experience is More Influential than Brand
According to a PwC report, 73% of customers associate their purchasing decisions with a positive experience. For Gen Z customers, in particular, purchasing decisions are driven by a seamless transition from one device to another.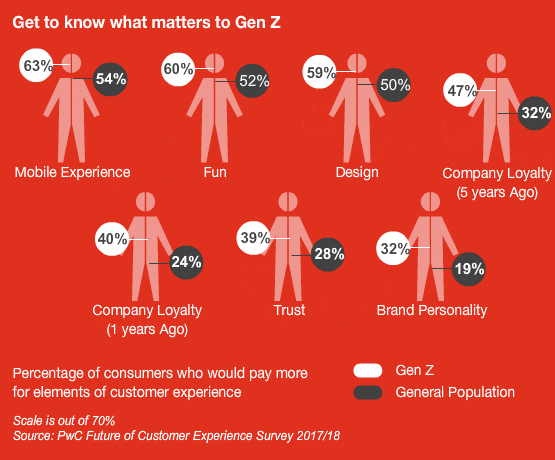 Source: PwC
For these customers, convenience is the number one brand impression that they have about a good CX strategy.
2. Solve with CX. Your CX Strategy Should Fix Day-to-Day Issues.
Bad experiences can drive your loyal customers faster than you can ever imagine. All it takes is one bad experience for your customers to leave you and choose your competitor.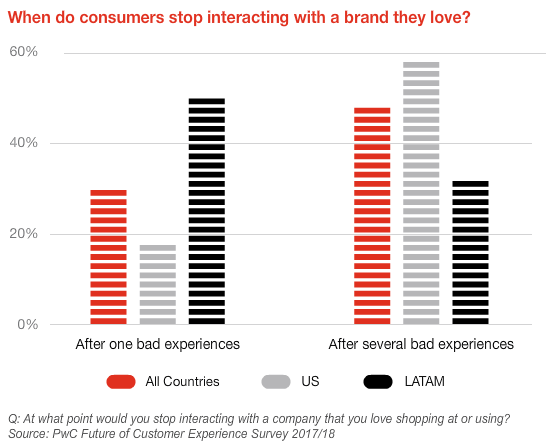 Source: PwC
Customers always have demands, and the business model should be able to solve them instantly. This is the only way to retain customers and reduce churn. As CX guru Adrian Swinscoe mentions here, "There's no point in having a gold-plated service and a low-cost business model." 
Adrian mentions Jack Springman's notion of the "appropriate" solution to explain why customers are not always looking out for a wow or delightful moment, but only a workable solution that does the job for them in a jiffy. While technology is a great enabler in driving consistent CX, it may not solve all the problems if your business operations are broken.
3. Empathize with CX. Plan CX Around Customer Challenges
CX can only become a gamechanger for your business if your CX professionals understands the different kinds of problems faced by the customers. The use of the right techniques and technologies can help you unlock the true potential of your CX strategy.
How? 
By empowering you to ask the right "questions." 
Consider you are the Head of CX for a leading e-commerce retailer that sells domestic appliances. Your customers have reported that your appliances are breaking down during use within 3 months of purchase. While the ease of using these appliances is better than the competing products, the replacement experience is keeping away your regular buyers from purchasing the e-commerce portal. 
As a CX owner, you should be able to ask these questions to solve the customers' nagging problems.
1. Should we stop the best-selling items due to their failure during operations?
2. Should we offer free replacements for every broken item within the first 30 days? And free maintenance for items that break down between the third and the sixth month?
3. Should we open a centralized after-sales maintenance department to tackle the friction arising from the failed items?
4. What can we do with happy customers? Are they writing about our products and their experiences?
The bottom line of any CX problem should be to analyze the pain points and generate options that make customers believe in your services and products. Be proactively helpful all the time to your customers. 
4. Be Proactive. Embrace New Channels, but "Tell the Truth."
According to Salesforce, more than two-thirds of customers trust honest companies that act with customers' best interests in mind. These customers expect a quick solution to their problems from someone in the company, even if it means using multiple channels to start a conversation. Phone, clearly by new standards, has emerged as the go-to option for customers to raise their queries, beating email, online chats, and in-person meetings.
Customers are more likely to purchase from a brand that clearly states its business values and is truthful about its claims and reviews. The rise of digital-based experiences has increased the demand for personalization at scale, even as brands scour to make an emotional connection to enhance CX. 
5. Eliminate Friction. Humanize Your CX
Establishing an emotional connection with your customers can unlock the true potential of customer lifecycle value (CLV). This is one of the hardest things to achieve for any brand. Even for the most liked and trusted brands, if their CX does not align with the emotions of their customers, their businesses may not drive positive and profitable customer behavior. 
How to enhance the emotional connection with your customers?
Shep Hyken, Chief Amazement Officer at Shepard Presentations, LLC, explains this in a recent podcast, taking an example from the pandemic-related disruptions. 
Shep said, "Frictionless experience has to go across all experiences related to the customer. From the first time, they think of doing business with you. Your website's intuitiveness, contact information, FAQ, video tutorials, and AI chatbots popping up to provide support all contribute to a frictionless experience."
You can reduce the friction in your CX by embracing technologies that reduce the time to answer questions from your customers, offering them more than one way to connect with your best agents across channels. Invest in your customers and build an emotionally connected brand to humanize every bit of your CX. 
6. Amplify. Good CX Emerges from Great Employee Experience
Focusing on employee experience (EX) is at the core of building a great culture that drives superlative CX too. Without employees, none of your CX efforts would deliver results. While customers drive revenue for your businesses, it's the employees that create and share truly effortless "experiences" for your brands. If you lose employees quickly to attrition, you could face a similar churn with your customers very soon. 
If you want to build an organization with an emotional DNA in your CX strategy, focus on attracting great talent, train your employees with big data analytics, and allow them the creative freedom to go beyond the usual call of duty. 
Neal Topf, President at Callzilla explains the importance of agent experience in a recent podcast, "In the CX and contact center community, it's not easy to retain employees. Hence the need to provide the best working environment possible." 
"An enjoyable, comfortable, lucrative, and productive place where they can thrive. Your business won't be successful without your employees. You must do all that is necessary to keep them, make them feel good, align them with your mission and vision, and ensure they are at their best," Topf added.
How to Improve Employee Experience (EX) to Generate Better CX Results?
Achieving the best possible efficiency from every employee in the call center is the number one priority for CX managers. When agents are overwhelmed and quit their jobs due to frustration and exhaustion, it leaves no option for the organization but to hit the hot "automation" button and reorganize the workforce by reskilling and retraining agents for achieving higher productivity. 
1. Incentivize Your CX Across Company Functions
According to research, an organization with a good CX strategy have 1.5x times more engaged employees. The onus should be on creating brand advocates who evangelize your brand. 
It's no secret that the rise of technology has upended the way customers now interact with a company across various departments. Most marketing leaders now understand the role of digital channels in driving greater CX values but are unsure if other departments treat CX efforts at par with what marketing and sales teams do. 
Ronnell Richards, author of Shut The Hell Up And Sell explains how to execute a "cocktail" experience management.
Incentivization of CX efforts across company functions can help in creating CX champions who take care of your customers all the time. 
How to do it?
Ronnell said, "You have to incentivize those activities. So, if it's about an intense focus on customer experience, customer service, build your compensation plan, build your financial structure around incentivizing those right activities, they're going to have everyone focused on creating that exceptional customer experience."
2. Set the Tone with Analytics and the Voice of the Customer (VoC)
Customer feedback should be the ultimate goal of every CX-centric conversation. Targeting spontaneous feedback on customer experiences could improve how CX professionals work with data and analytics. Customers send multiple signals when they engage in a brand survey. These could answer problems with the product or service, ease of use, emotional connection, and so on — all these could be valuable insights representing CX opportunities.
Jenny Dempsey, CX Manager at Apeel Sciences said, "To incorporate customer feedback into their strategies, businesses have to do two things:
a) The first is to solicit comments and recommendations from external customers (those who pay for the service) and internal customers (those who work with the software, such as frontline agents and those in other departments)
b) The second thing is to follow up with this feedback, whether actionable or not, and to make sure everyone feels heard."
Jenny also said, "Feedback funnels are so effective. It is crucial to have organizations around feedback and get it where it needs to go."
As Adrian puts it, "Figure out how the business can add value to the customers; figure out how doing that can add value to the business."
Creating the Right Customer Experience Strategy Across Industry Verticals
Companies of all stripes and skins have begun to holistically invest in their Customer Experience Management strategy. Marketing teams have the highest number of CX executives who report to a CMO or a Chief Customer Success Officer or the CEO. In 2019, only 8% of CX teams had more than 50 CX executives, A majority of CX teams still have less than 10 members, that handle CX budgets between $100,000 and $500,000.  
Keeping the CX team sizes and their relevance in mind, we have shortlisted four industries to understand how their CX strategy has helped in improving the business ROI.
1. Customer Experience in Healthcare and Health Tech
Customer experience in healthcare is mission-critical due to so many reasons. Healthcare and patient experience management are hugely disrupted by modern CX programs. Today, caregiving systems must be sufficiently well-informed and integrated into a proactive CX initiative. This is achieved by providing secure and easy access to medical information, alongside high-quality personalization that matches the customer persona.
For example, CX darlings such as Spotify, Pandora, and iHeart are now disrupting the healthcare landscape with so much ease and perfection. Thanks to all the first-party data that these CX-centric organizations collect, it is possible to craft and deliver a soothing customer experience to patients and healthcare professionals. 
Mobile content personalization, on-demand report generation and delivery, and timely monitoring of critical illnesses — there is so much that modern healthcare companies offer to patients and customers. 
When it comes to health technology companies, the emergence of fitness trackers and their integrations with various popular apps (gaming, music, and immersive content) is worth a mention. 
2. Customer Experience Financial Services
Customer experience in financial services is a multi-billion-dollar industry. CX leaders should look at the physical transactional experiences as well as omnichannel customer journeys to fully understand the impact of tools and capabilities for effectively engaging with a customer.
Due to the integration of AI, automation, and cryptographic technologies, financial services companies have been able to simplify the CX journeys for their customers and prospects. CX-powered communication is the biggest advantage for top organizations in the financial services industry. 
Swapnil Kasar, Associate Vice President of Customer Service – PCG, Kotak Securities said – "We belong to a very dynamic industry. Customers are investing their money and there is a lot of emotion bound to it." 
3. Customer Experience in Banking
Customer experience in banking hinges on the time and ease of interactions with the front office as well as back-office personnel. So, how are banks transforming their CX?
By implementing Intelligent Automation (IA) to handle document processing and IVRs for tele-calling support. Another notable example of simplifying banking communication is leveraging conversational AI and chatbots for answering frequently asked questions. 
4. Customer Experience in Online Retail and e-commerce
If you are running an e-commerce business, you already know that having a great marketing and sales plan is not enough to acquire and retain customers. What you need to thrive in this competitive industry is a time-tested CX strategy that engages, retains, and delights customers all the time! Digital shoppers love convenience, safety, and value — all of which can only be promised when your CX framework answers everything that the customer asks you. 
To win with an e-commerce customer experience strategy, what you need to do is to reduce friction points and eliminate the need to rely on customer support teams. 
Future-ready CX: Role of Cloud, AI in Shaping CX
The internet is buzzing with topics related to generative Artificial Intelligence and how AI can improve customer experience. The AI-CX pairing is already helping the marketing, sales, and customer service teams get close to their customers and answer their queries with a hyper-personalized tool or platform. Here are a few ways AI is shaping the future of CX. With the rise of generative AI, CCaaS providers like Ozonetel are now enabling contact centers with OpenAI's ChatGPT bringing in more efficiency, enhancing customer experience
1. AI Cloud Contact Centers
Contact center AI automates all the contact center operations within a cloud infrastructure. It analyzes the contact center data to improve customer experience with omnichannel communication, hyper-personalization, and lower overall friction in customer journeys. An AI agent could intelligently route the call or email from a disgruntled customer to a qualified agent without any barriers.
2. Automated Quality Audits
 Every single call can now be monitored in contact centers, a significant improvement from the earlier practice of random sampling of 2%-5%. Additionally, results are available more quickly. Through automated quality audits, you can evaluate agent performance in real-time and build curated coaching plans. 
3. Agent Assist
Enhance customer experience with real-time AI-based assistance, empowering agents to personalize conversations, demonstrate empathy, and effectively handle complex issues with full visibility of customer sentiment and intent. With tools such as Smart Replies, contact centers can reduce the load on their operations, improve agent efficiency, and resolve queries faster.
4. Self-service dashboards
You can use AI to reduce the time taken in serving customers. The use of AI in cloud contact centers for self-service dashboard automation and analytics significantly cuts down on the time to resolve queries, improves customer satisfaction scores, and improves first-call resolutions. 
5. ChatGPT-powered bots
Using ChatGPT-powered bots, it is easier to train and implement AI assistants for Marketing, Sales, and Service operations. By adding an AI assistant to your CX mix, you can deliver relevant and hyper-personalized responses based on the context of a conversation and maintain a conversational flow that feels natural to the user. 
Sometimes, the use of AI is so effective that customers needn't even dial a number! The CX agents would immediately receive a notification on their dashboard and they can make an outbound call to the customers. With AI technology, you can significantly reduce the challenges that arise out of unresolved customer queries or delayed communication from the service team.
Conclusion
Why customer experience matters should no longer be an afterthought! With AI at the helm, we could expect CX organizations to stitch a human-centric, safe, and secured CX strategy for 2023 more proactively. 
What business leaders thought of as the basic CX benchmarks in 2020 have undergone a radical shift in 2023. CX, powered by generative AI and cloud automation has blown the stalled CX programs to bring a new lease of life into marketing, sales, and support. Today, it is so easy to build a 'digital twin" of your CX team across brand touchpoints. If you want to succeed with new CX dynamics in 2023, you should train employees on how to make business-critical decisions, and judgments and build perceptions using neuroscientific principles.