Leading the Way: The Best Conversational AI Software for Elevated Customer Engagement
Leading the Way: The Best Conversational AI Software for Elevated Customer Engagement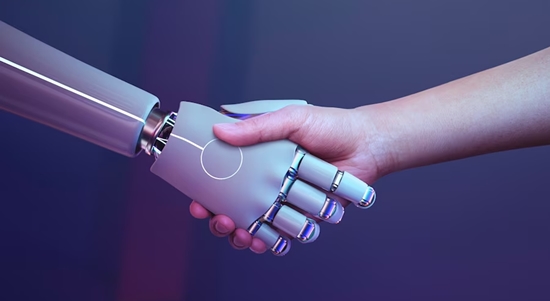 Today, meaningful customer interactions are the heart of a business's success. Conversational AI platforms, fueled by natural language processing and generative AI, transform user queries into meaningful interactions. From healthcare to e-commerce, these platforms deliver personalized, efficient, and engaging customer experiences.
As customer expectations evolve, the top conversational AI platforms are not just transforming industries; they're setting new standards. Thanks to this innovative technology, data-driven, human-like conversations have not just become a possibility, but a competitive advantage that's shaping the future of customer engagement.
According to Gartner, Conversational AI contact centers can reduce call center costs by $80 billion in the next three to four years. Conversational AI software offers tailor-made solutions that expedite problem-solving, improve efficiency, ensure faster responses, and provide valuable data-driven insights into customer behavior.
In this article, we will discuss the best Conversational AI platforms for your business and the factors you should consider while selecting the right tool.
So, let's get started!
In this article, we will explore:
What is Conversational AI?
A conversational AI platform is a tech tool that helps businesses have smart, natural conversations with customers. Conversational AI uses the strengths of artificial intelligence (AI) and machine learning (ML) to grasp better user intent and context than traditional chatbots, which are rule-based and have a narrow focus. Because it focuses on creating dynamic dialogues that closely resemble human interactions, it has become an essential tool for companies in various sectors.
The best part is that Conversational AI constantly learns from conversations to deliver ever more accurate and context-aware replies. It can recognize prior interactions, determine user intent, and personalize discussions for a more gratifying and engaging experience. These AI-powered programs customize themselves to a user's language and tastes.
For instance, A user asks, "How to update my password," and suddenly, he changes his question to "I need assistance with the payment method."   Here, conversational AI will switch the intent in real-time and provide the correct answer for a user query.
Factors to Consider While Choosing Conversational AI Platform Software
Conversational AI is a valuable communication tool, so choosing the right vendor is crucial for accessing advanced conversational capabilities. Here are some factors to consider when selecting Conversational AI software:
Look For Strong NLP & ML Capabilities
A platform with strong NLP and ML capabilities improves user comprehension and response accuracy. With the help of these features, your contact center will be able to adapt to changing linguistic patterns and enhance interactions over time, resulting in more efficient and tailored discussions.
Seamless Integration
The Conversational AI software should seamlessly integrate with  your CRM and ERP. This connection improves operational efficiency by streamlining data flow and providing a consistent user and administrator experience across various media.
Capability for Future Growth
To retain maximum performance as your user base and interactions grow, choose a platform that can expand your business. This flexibility guarantees constant and responsive AI as your company grows.
Data Privacy and Regulatory Compliance
If you deal with sensitive data or operate in regulated sectors, be sure the platform complies with data privacy and security laws. Compliance is essential for protecting user data and upholding credibility.
User-Centric Experience
Consider how easily the platform can provide natural and user-friendly dialogues. A more natural and engaging engagement is fostered by user-centric AI, increasing customer happiness and adherence.
Analytical and Reporting Tools in Depth
Look for conversational AI software with analytical and reporting tools. These tools offer perceptions of how well bots function, how users engage with them, and where they may be improved. By studying this data, you may continually improve your AI's performance and overall impact.
Cost and Price Model
Consider the price model to see whether it is within your means and provides a reasonable value for the features offered.
User-Friendly Interface
For non-technical team members, a user-friendly interface is crucial for creating and managing chatbots.
To make an informed choice that supports your company's aims and customer experience objectives, carefully consider these elements.
Best Conversational AI Software Solution
Step into the world of enhanced customer interactions with the best Conversational AI platform software. These platforms provide personalized conversations, anticipate customer needs, and leave customers with a seamless and unforgettable experience.  Here's the list of the top 8 conversational AI platforms.
Ozonetel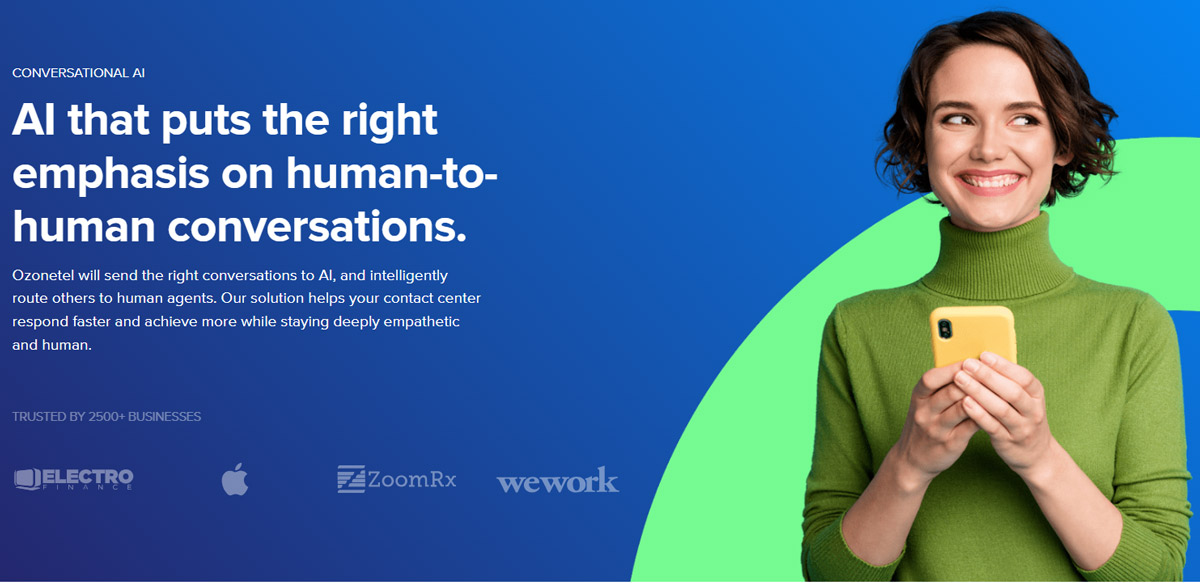 Ozonetel's Conversational AI allows businesses to create and manage intelligent, natural language-based interactions with customers. It is made to correctly blend human-to-human and human-to-AI communication. This tool ensures that your contact centers answer quickly while maintaining crucial human touch and empathy. This solution intelligently routes the right conversations to AI and human agents.
Key features
Intuitive creator interface: With our user-friendly interface, you can create a bot in a snap, no coding needed. You can simply automate greetings and FAQ responses effortlessly. Alternatively, you can get in touch with Ozonetel's team for custom training to suit your specific needs.
Contextual Responses: Deliver relevant and hyper-personalized responses based on the context of a conversation. Maintain a conversational flow that feels natural to the user.
Unified interactions: You can use Ozonetel's bots to seamlessly manage both voice and chat interactions, offering effortless one-click integrations across various messaging platforms.
Deep analytics: Automate quality assurance and deliver deep granular insights into the root cause of customer dissatisfaction.
Real-time processing: Instantly grasp conversations and deliver quick responses. Ozonetel's conversational AI guarantees users a seamless and efficient interaction, optimizing their experience.
Intent recognition:  Identify caller intent in real-time and intelligently connect them to agents with the precise skills and expertise needed. Our bots are powered by natural language processing and are well-versed in understanding colloquial language nuances.
Continuous learning: Our bots continuously learn from interactions, resulting in error reduction and improved capabilities in handling complex conversations.
Agent Assist: Empower your agents with pertinent insights into customer sentiment, demographics, and recent interactions.
Pros
Trusted across industries, Ozonetel delivers 24/7 support.
Empathetic human-agent synergy.
Ensures prompt responses with real-time processing.
Cons
As of now, multilingual support is limited to English.
Pricing
Ozonetel provides a 21-day free trial.
"It bridges the gap between customer and organization and help both parties get their desired outcomes."
IBM Watsonx-assistant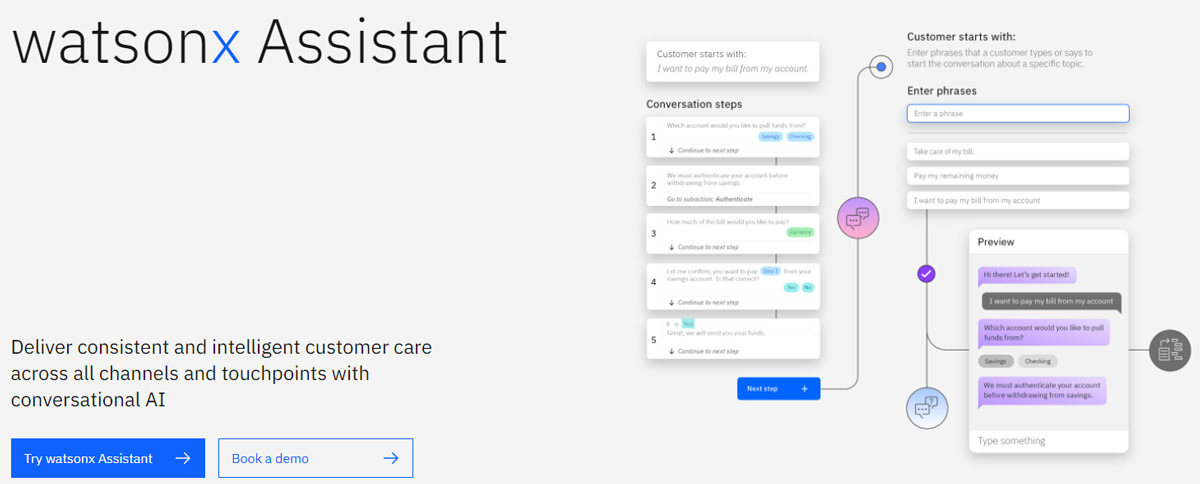 IBM Watson Assistant is a cutting-edge conversational AI software solution that revolutionizes customer service by providing prompt and reliable assistance. Powered by large language models, Watson Assistant lets you create AI-powered chatbots and speech agents to provide automated self-service assistance across all communication channels while integrating seamlessly with key business operations tools.
Key Features
– Enhance reps' performance and scale their best practices.
– Understands natural language and speech.
– Connect with customers and processes effortlessly.
– Ensure data confidentiality and protect against vulnerabilities.
– Code-free chatbot deployment (Visual builder)
– Clear voice for AI chatbots
– Tailored industry solutions for banking, government, healthcare, insurance, and retail.
Pros
95% Accuracy (Bradesco).
24/7 Support.
No-code Visual Builder.
Industry Solutions.
Seamless Integration.
Cons
Lack of Multilingual Support
High Pricing
User Interface (UI) Improvement Needed
Pricing
IBM Watsonx-assistant provides three types of pricing:
Lite ($0)
Plus (140/Month)
Enterprise (to know the enterprise plan's pricing, you need to content their team)
-" IBM Watson Assistant – Uses Adaptive Learning on Fly with great Operational efficiency."
Kore.ai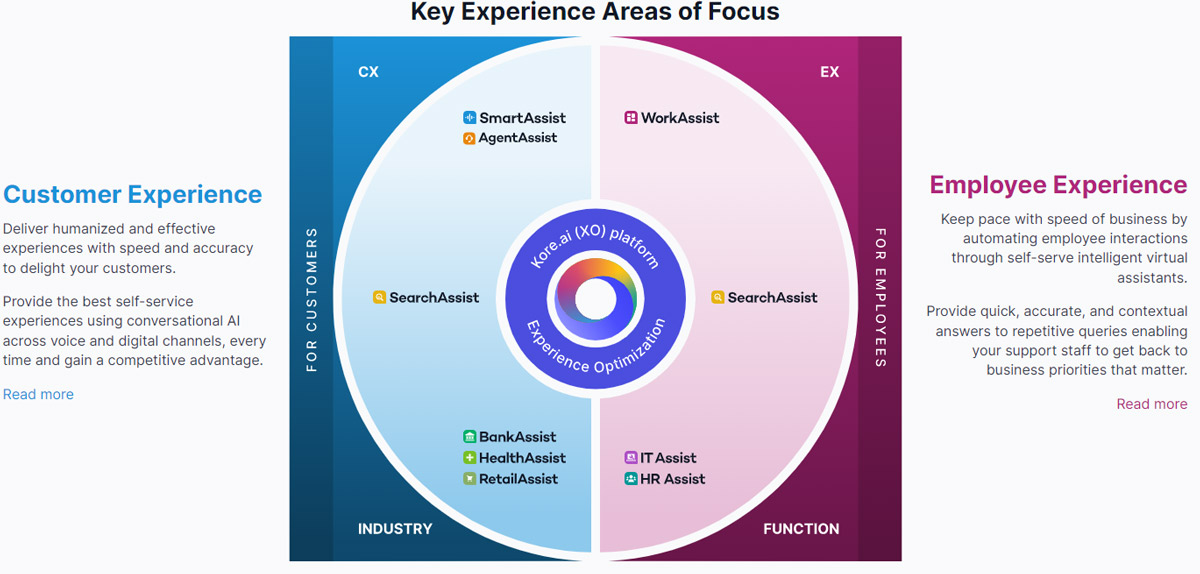 The Kore.ai XO Platform is intended to transform IVA development. It helps you improve the experiences of customers and employees, and it uses generative language models to construct intelligent virtual assistants. In addition, lively conversations, advanced co-piloting, and potent analytics transform how your customers talk to your business.
Key Features
Codeless full IVA control
5x Faster, 3x Fewer Efforts with AI
High intent recognition
No-Coding for all
30+ channel support
Global language compatibility
Proactive data capture
Versatile deployment
Enterprise-wide integrations
Pros
Accelerated IVA Dev
Constant Enhancement
100+ Language Capable
Rich Automation Toolkit
Cons
Platform Stagnation
UI can be made better
Pricing
Kore.ai offers two pricing plans: Standard and Enterprise. You can contact their team for pricing information. They also provide a free trial, but the duration is not specified.
– "Kore.Ai is a very intelligent virtual assistance tool."
Yellow.ai

Yellow.ai Customer Service Cloud enables companies to offer unmatched customer care. It delivers up to 60% automation, a 40% boost in customer satisfaction, supports 35+ channels spanning text and speech, and supports 135+ languages with the Dynamic Automation Platform (DAP) at its heart. It is the secret to securing customer service operations for the future.
Key Features
60% Automation in 30 Days
AI-Boosted Agent Productivity
Top Accuracy for Faster Resolution
Easy Bot Building
Real-Time AI Metrics
Pros
Speed up bot development
Real-Time Metrics
Omni-Channel Conversations
Cons
Customer identification problems lead to missed ticket creation
Frequent platform outages affecting SLAs
Pricing
The exact pricing is not mentioned on the website, but they do provide a free demo
-"True digitally enabled customer service through Yellow.ai's AI/ML powered Bots."
Oracle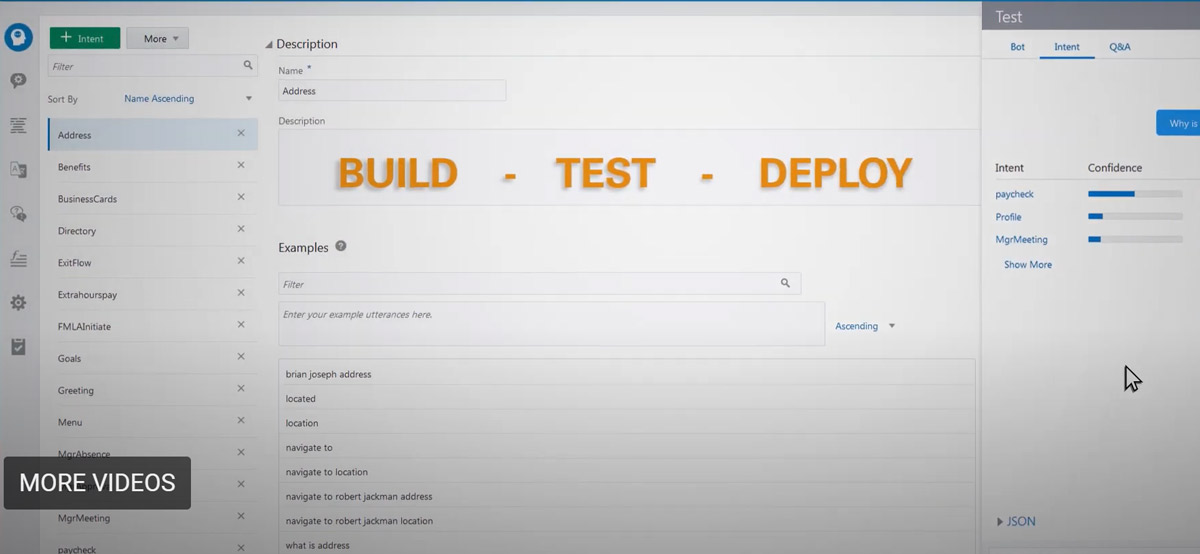 Oracle Digital Assistant is a cutting-edge conversational AI tool created to enhance client connections through mass personalization of interactions. It uses artificial intelligence (AI) and natural language understanding (NLU) to simplify client acquisition and retention.
It is built on Oracle's state-of-the-art cloud infrastructure. The platform streamlines access to information and procedures through voice and text interactions, automates chores, and offers individualized suggestions.
Key Features
Personalized Conversations at Scale
AI-Driven Task Automation
CX Touchpoint Integration
24/7 Customer Service
Enhanced Knowledge Search
Personalized Customer Interviews
Pros
User Onboarding and Resource Efficiency.
Potential for Integration with Other Solutions.
Security and Scalability.
Cons
Limited Flexibility in Response Choices.
Voice Recognition Accuracy Needs Improvement.
Limited Language Support.
Pricing
You can try it for free to know the terms and conditions of this software.
-" Strong reliable conversational platform for the enterprise"
Haptik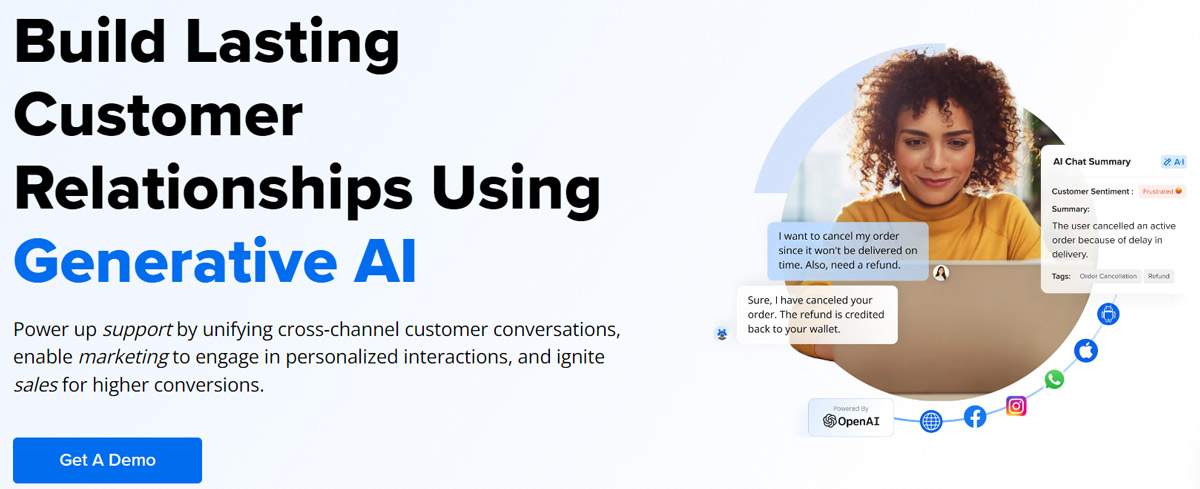 Haptik empowers businesses with AI-powered chatbots driven by GPT technology, facilitating 24/7 customer query resolution. With a hybrid AI and live agent system, you can handle millions of monthly conversations, save man-hours, improve first-time resolution rates, and resolve significant queries without human intervention.
Key Features
Self-Service for Quick Answers
Personalized Support for Satisfaction
Clear and Actionable Info
Proactive Messaging
Efficient Query Resolution and Routing
Pros
Excellent User Experience.
Useful Features like Disambiguation, Spell Check, and Agent View.
Good Documentation and Support.
Potential for Industry-Changing Features.
Cons
Difficulty in Integrating WhatsApp Product.
Challenges with Intent Training.
Pricing
Price is not mentioned on Haptik's website. You can request a demo by clicking on this
-" Service – They have an excellent and responsive Customer Success Team. My experience has been very good."
Senseforth.ai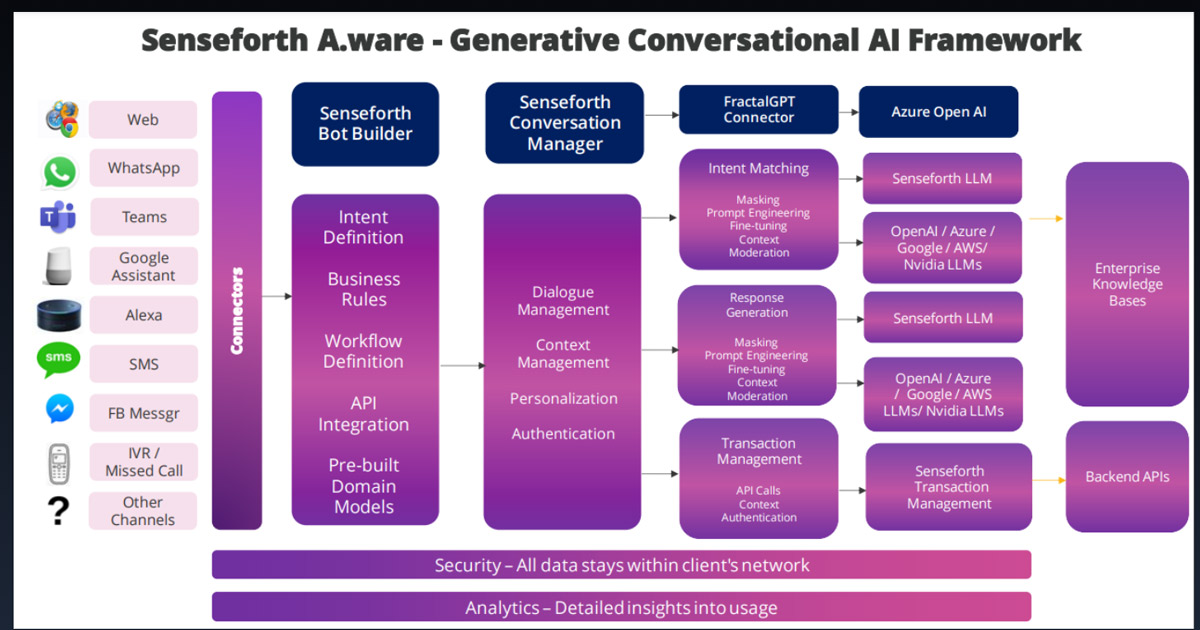 Businesses can reinvent themselves and succeed in the digital age with the help of Senseforth.ai. It assists businesses in generating more income, saving money, and achieving outstanding customer engagement with a heavy emphasis on generative conversational AI.
Senseforth.ai is a dependable partner for international businesses and has been recognized in the 2022 Gartner® Magic QuadrantTM for Conversational AI Platforms.
Key Features
Drive customer acquisition with chatbots.
Boost conversions with personalized recommendations.
24/7 support for higher satisfaction.
Full-stack solution for streamlined development.
Superior NLP for high performance.
Multi-channel deployment.
Zero-code bot creation.
Access industry-specific chatbots.
Pros
Fully automated NLP bots.
Supports multiple languages.
Easy deployment in various applications.
Cons
The only downside is that it could be a bit cheaper.
Pricing
The pricing is not mentioned on the website. You can request a demo
-"One of the best AI virtual assistants for customer support with fully automated features."
ServisBOT

Developed for businesses, ServisBOT is a cutting-edge Conversational AI Bot Platform. Low-code tools, out-of-the-box AI solutions, multi-bot orchestration, and AI insights are all provided. Through intelligent chatbots and automation solutions, ServisBOT allows organizations to automate staff and customer assistance, increase productivity, and cut expenses.
Key Features
Manage multiple bots for unified experiences.
Gain insights for personalized automation.
Quick, low-code chatbot building.
Efficient RPA integration.
Flexible AI engine options.
Real-world case studies.
Support for digital transformation at all stages.
Pros
The ability to automate the complete customer lifecycle.
Supports a variety of AI engines to provide flexibility.
Enables business analysts to design low-code bots.
Cons
Not many user reviews are there for this tool.
Conclusion
In conclusion, conversational AI is fast developing, giving organizations a potent tool to change client interaction. The greatest conversational AI platforms provide lively, organic conversations beyond what is possible with conventional chatbots. They improve customer service, boost productivity, and provide data-driven insights. Staying at the forefront of Conversational AI is crucial for organizations looking to deliver top-tier customer experiences and remain competitive in today's digital market as sectors continue to adopt these technologies.
Want to see what Ozonetel can do for your company? Sign up today for a free 21-day trial.