Best Cloud-Based CRM Software to Watch for in 2023
Best Cloud-Based CRM Software to Watch for in 2023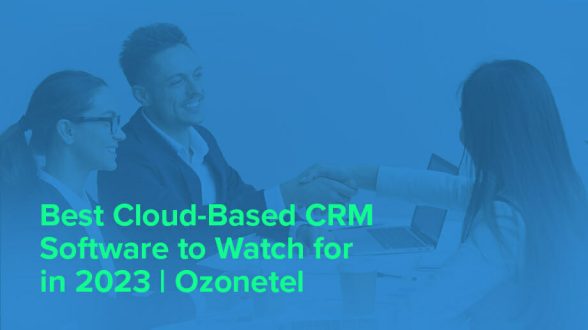 In this article, we will explore:
Best CRM Software to Watch for in 2023
CRM (or Customer Relationship Management) industry is growing at an astronomical level, with revenues expected to reach $80. billion by 2025.
Owing to the rise in customer expectations, companies are looking for the most advanced customer experience platforms that offer robust features and intelligence to help grow businesses. Moreover, with the ever-evolving technology landscape, organizations are looking for CRM solutions that are cloud-based, mobile-friendly, and AI-powered. Other key features they look for include data integration, customer analytics, omnichannel communication, customer portals, etc.
With such a perplexing range of CRM software, it becomes difficult to choose the right one. Therefore, to help you decide, here is a list of the best CRM software to look out for in 2023 —
1. Salesforce
Salesforce helps to manage customer data, automate customer service processes, and build stronger customer relationships. The artificial intelligence feature in Salesforce offers business insights and makes recommendations.
Its easy-to-use drag-and-drop interface helps in creating custom reports quickly without the need for coding. In addition, Salesforce also facilitates easy automation of customer service processes. The software offers Chatter for real-time collaboration support, AppExchange for additional apps, and Lightning for an enhanced user experience. Other key offerings include Sales Cloud, Service Cloud, and Marketing Cloud which are designed for specific business needs.
2. HubSpot
HubSpot is a software company that provides marketing, sales, and customer service tools designed to help businesses grow better. Its software platform enables users to create and manage websites. You can also track visitor behavior and engagement, capture leads, and analyze marketing performance.
HubSpot's goal is to help businesses build and scale their operations to be more effective, efficient, and successful. It provides services ranging from marketing automation to customer service management and analytics. You can capture, qualify, and nurture leads with HubSpot's lead management and nurturing tools. HubSpot's products and services are designed to help businesses streamline their operations, attract and engage customers, and grow their revenue.
3. Zendesk
Zendesk is a cloud-based customer service and support software that allows companies to manage customer service and support operations. It offers solutions for companies of all sizes, from small businesses to large enterprises. Zendesk provides ticketing systems, help desk software, and customer service software. It also offers self-service portals, live chat, automated chatbots, and more. Zendesk can help agents create and organize customer requests using automated rules and triggers and automate customer service responses with AI-powered chatbots.
With its suite of solutions, businesses can track and manage any customer service and support requests, monitor customer feedback, and deliver knowledgeable customer service. Additionally, Zendesk allows companies to create custom workflows, integrate with existing systems, and customize reporting.
4. Zoho
Zoho is a cloud-based business suite of online applications, services, and products developed by the Indian software company Zoho Corporation. With Zoho, you can Manage contacts, deals, and sales pipelines, track customer activities, automate workflows, and get insights into customer data.  It offers solutions for sales, marketing, finance, project management, human resources, and collaboration. Zoho also provides an Application Programming Interface (API) that allows users to integrate the platform with custom applications. It enables you to automate marketing campaigns and track customer engagement, create targeted campaigns for potential buyers
Zoho was launched in 2005 and is used by more than 40 million users in over 180 countries. Zoho's products are designed to enable customers to better manage, collaborate, and analyze data to make more informed and effective decisions for their business. The suite is highly customizable and secure, making it a popular choice for firms of all sizes.
5. Freshdesk
Freshdesk is an award-winning customer service software and helps desk platform that enables companies to support their customers through multiple channels such as email, phone, chat, and social media. It simplifies customer service management by providing automated ticketing, self-service support, and customer feedback features.
Freshdesk allows users to capture customer feedback and share it with their team members while also providing an integrated knowledge base, analytics, and reports to help companies analyze performance. Freshdesk makes it easy to create and manage customer tickets with automated workflows and tagging systems that streamline the resolution process. With great flexibility and scalability, Freshdesk can enable companies of all sizes to provide a personalized customer service experience.
6. Leadsquared
Leadsquared is a cloud-based software platform designed to streamline customer engagement, marketing, sales, and service processes.  The platform enables companies to quickly generate leads, track & monitor customer engagement, and build data-driven customer journeys. It also provides a suite of powerful automation tools that help users create personalized experiences and deliver value to their customers.
The platform also helps create automated workflows that trigger personalized messages and emails to customers. LeadSquared automates customer lifecycle management, simplifies lead nurturing, streamlines customer onboarding, and offers powerful insights into customer behavior.
7. Kapture
Kapture is an AI-powered customer service platform designed to provide businesses with a seamless and tailored customer experience. Kapture gives businesses the tools they need to create interactive customer journey experiences, such as chatbots, automated responses, personalized surveys, and more.
By leveraging natural language processing and machine learning, Kapture helps businesses provide customers with timely and relevant customer service experiences. Additionally, Kapture provides analytics to businesses to help them measure the success of their customer service interactions.
8. Sprinklr
Sprinklr is an enterprise software platform that enables organizations to manage customer experiences across social media, mobile, and the web.
Its cloud-based solution provides a unified SaaS platform to plan, operationalize, and measure customer experience programs for marketing, customer service, social media, and more. It has more than 1,600 customers, including over one-third of Fortune 500 companies.
The platform allows users to create social media campaigns, interact with customers in real-time, manage customer data, and gain customer insights into customer behavior and preferences. For customer service applications, Sprinklr's Conversation Management platform helps firms identify and address customer problems quickly and efficiently. Sprinklr also provides a suite of analytics tools to help companies measure their success and identify opportunities for improvement.
Conclusion
Successful customer experience requires a combination of technology, people, and processes.
The right customer experience software seamlessly integrates with your CRM to offer seamless communication at every step of the customer journey and gain insights into customer behavior.
Ozonetel's AI-based contact center suite works with a plethora of CRMs including  Salesforce, HubSpot, Zendesk, Zoho, Freshdesk, Leadsquared, Kapture, Sprinklr among others. The integration can help businesses create omnichannel CX at every step of the customer journey.
Ozonetel packs all the tools you could ever need to improve service levels within an affordable, easy to integrate, quick to set up call center solution. Contact us to get started.