10 Compelling Reasons to Use WhatsApp Business API
10 Compelling Reasons to Use WhatsApp Business API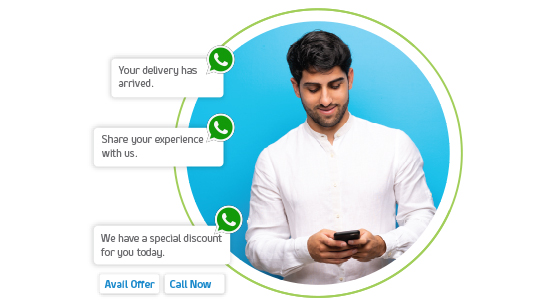 In a rapidly evolving digital landscape, businesses are under constant pressure to find innovative ways to draw customer attention and win their trust. In recent years, WhatsApp Business API has emerged as a highly effective tool for medium & large enterprises, enabling seamless, secure, and personalized communication with customers.
With over 2 billion active users worldwide, WhatsApp has become one of the most widely used messaging apps. As a result, businesses are leveraging this platform to engage with their customers in a more personalized and effective manner.
In fact, according to a recent survey, 
70% of consumers prefer to use messaging apps like WhatsApp to communicate with businesses. 

Businesses that adopt messaging apps see a 20-40% increase in engagement and conversion rates. 
These figures highlight the growing significance of WhatsApp as a powerful customer communication and engagement channel. But how can businesses scale up or customize their services? What is the right WhatsApp Strategy for their customers? What is the best implementation strategy for them?
First off, a business must decide between using the WhatsApp Business App and the WhatsApp Business API. While both these tools enable businesses to reach their customers via WhatsApp, the API provides some definitive advantages, especially to enterprises and fast-growing startups. 
In this article, we explore these advantages in detail, as we help you understand some critical considerations for your WhatsApp Strategy and implementation. Let's begin by understanding the difference between the WhatsApp Business API and the WhatsApp Business App. 
In this article, we will explore:
WhatsApp Business vs WhatsApp Business API
Meta has launched three variants of WhatsApp: WhatsApp app (for non-commercial purposes), WhatsApp Business (for small businesses), and WhatsApp Business API (for large enterprises). Following are the distinct features of WhatsApp Business app.
Helps small businesses reach their audiences and clientele more easily. 

Designed to handle messages on iOS and iPhone, the app comes with a different logo.

Allows companies to create profiles, organize contacts, and send messages in bulk.

Offers features like quick replies, one-to-one chats, group chats, and automated messaging.
WhatsApp Business API is an advanced version of WhatsApp Business. The API offers several distinct features that set it apart from the standard WhatsApp Business app.
Designed for a higher volume of customer interactions.
Enables seamless integrations with third-party systems and CRM platforms.
Lets businesses automate and streamline their messaging workflows. 
Offers advanced messaging capabilities such as customized notifications and automated responses. 
Provides detailed analytics and metrics to track and measure the effectiveness of messaging campaigns.
In short, while both WhatsApp Business and WhatsApp Business API are geared towards improving customer communication, the API offers a more robust and customizable solution for larger enterprises.
What Makes the WhatsApp Business API Unique?
WhatsApp Business API is a powerful tool that you can use for customer support, marketing, and even sales. It can help an organization efficiently manage hundreds of messages per day, automate workflows, track analytics, and ensure faster resolution of customer queries. Following are the key features of WhatsApp API:
Unlimited Messages: Allows businesses to deliver bulk messages to unlimited users (only opted-in users).
Integration: Integrates with contact centers to customize conversational flows and heighten engagement.
Green Tick: Confirm brand reliability by letting prospects identify whether they are engaging with a legitimate and reputable brand.
Chatbots: Use WhatsApp chatbot to automate sales, nurture leads & solve common queries.
Human support: Provide live chat support on unlimited devices using the same phone number.
Proximity of customers: Target customers in specific geographic regions with the help of localization.
Analytics: Enables businesses to use analytics to track outreach campaign performance.
10 Reasons to Use WhatsApp Business API
Using WhatsApp Business API as part of your messaging strategy can be a game changer for your business. We've compiled 11 benefits of using WhatsApp API for your business.
1.  Single Unified Platform
One of the key advantages of the WhatsApp Business API is its ability to integrate with a variety of solutions including customer relationship management (CRM) software, marketing automation tools, and chatbot platforms. 
By integrating these solutions, you can automate different processes, track customer interactions, and gain deeper insights into customer behavior — in a unified manner. This can help you reduce silos, improve efficiency in your business, and customize workflows with ease. 
2. Flexible Automation
WhatsApp is a conversational platform. When customers respond to your messages, they expect fast replies. Automation is essential, and although WhatsApp Business offers several automated responses, with the API you add an extra layer of intelligence to these templates. Besides, you can ensure 24/7 support so that customers receive timely responses even outside of business hours.
Moreover, you can either fully automate a conversation or simply automate those parts of the conversation that are repetitive. For instance, you can program your chatbots to collect customer information, such as name and order details, which can then be used to personalize the conversation. 
With Ozonetel's CCaaS Platform for WhatsApp, you have the flexibility to choose between bots, bot + chat agents, and bot + chat agents + voice agents. Not only can you flexibly orchestrate your customer journeys on WhatsApp — your agents can continue any conversation via a phone call, letting your customers enjoy a truly omnichannel experience. 
3. Intelligent Fallbacks
Because conversational marketing and customer service via WhatsApp are relatively new fields, you cannot predict exactly how your consumer base will respond or interact with this channel. It is important to ensure human fallbacks when your automated replies fall short.
With WhatsApp Business API, you can enable chatbots to handle initial customer inquiries and then seamlessly transfer the conversation to a human agent if the request is beyond your capabilities.
You need to run an efficient operation to enable these fallbacks at scale. Your WhatsApp Business API must leverage an Automated Chat Distribution to evenly distribute the chats amongst your workforce. You should define intelligent routing rules to ensure that the right department handles the conversation.
By integrating your WhatsApp API with if your agent is unavailable, the API can automatically route the conversation to another agent or channel, such as email or phone, based on predefined rules. 
Additionally, leverage generative AI capabilities to monitor your customer conversations in real-time and provide agents with intelligent suggestions and smart cues to resolve requests quickly and well. 
4. Personalized Conversations
A study conducted by Epsilon found that 80% of consumers are more likely to do business with a company that offers personalized experiences. Additionally, a survey conducted by Accenture found that 91% of consumers are more likely to shop with brands that provide relevant offers and recommendations. Today customers expect brands to know their preferences and provide tailored experiences. 
This is why CRM integration is vital for effective WhatsApp campaigns. Use the WhatsApp Business API to integrate with your CRM systems to create personalized campaigns at strategic touchpoints in your customer journey. 
5. Seamlessly connect to the right agent
Whenever needed, customers can directly message account managers, delivery partners, or field sales. 
Using Ozonetel's WhatsApp solution, agents and counsellors can use the same masked caller ID for customer calls and WhatsApp messages. Leverage the system to automatically connect customers to the agents without revealing each other's contact number. In this way, you can create efficient communications while solving the issue of lead leakage.
Moreover, you can create a consultative experience by connecting customers to the same advisor every time they call or message. Many of our clients have used this strategy to create meaningful relationships with their customers, especially within healthcare, education, and financial services 
6. Secure Messaging
WhatsApp Business API provides end-to-end encryption, which means that the messages are secure and protected from unauthorized access, providing customers with peace of mind.
According to a study by Pew Research Center, 28% of adults in the US have experienced some form of data theft, highlighting the importance of secure messaging. By using WhatsApp Business API's end-to-end encryption, you can protect your customers' sensitive information, such as personal details or payment information, from being intercepted by cybercriminals. This not only helps to build customer trust but also ensures compliance with data privacy regulations such as GDPR and CCPA. 
7. Single number across channels
By tying up with the right WhatsApp partners, you can leverage investments and activate WhatsApp on any phone number that your business currently uses. 
Today, customers are experiencing "number fatigue" as they struggle to keep up with multiple business numbers. With our OBON (One Business One Number) solution, you can now bring your existing phone number onto the WhatsApp channel, providing customers with a single point of contact. This not only enhances the customer experience but also enables businesses to leverage their existing marketing efforts on that number.
Overall, OBON simplifies the communication process, allowing businesses to streamline their customer service operations and build stronger customer relationships.
8. Faster Time-to-market
The WhatsApp Business API can be a powerful tool for enabling faster time to market for products and services. By leveraging the platform's features, businesses can quickly and easily engage with customers, promote their offerings, and drive conversions. 
This can help to speed up the sales cycle and reduce the time it takes to bring products and services to market. Additionally, the API's automation features can help to streamline workflows and reduce manual intervention, further accelerating time to market. 
Overall, by integrating the WhatsApp Business API into their operations, your business can gain a competitive edge by engaging more and responding faster ultimately increasing revenue and growth.
9. Improved Agent Experience
With WhatsApp API, your business can unlock several functionalities to improve agent performance. For example, you can partner with the right BSP to get an omnichannel agent dashboard which allows their agents to manage calls and chats within the same window. The dashboard is easy to navigate, allowing agents to switch between calls and chats effortlessly while keeping track of all ongoing conversations. Its screen pop feature provides agents with real-time customer information, enabling them to provide personalized assistance and improve customer satisfaction. Also, the AI-based smart assist feature offers automated responses to common queries, reducing response times and enhancing overall productivity.
10. AI-powered Conversational Engagement
AI-powered Conversational Engagement is an advanced feature that uses machine learning to enhance customer engagement. You can use this feature to create personalized messages based on customer preferences, purchase history, and behavior patterns, leading to higher conversion rates and improved customer satisfaction. Our conversational AI platform addresses the specific needs of call centers across industries and provides insights into trending user queries, stages and reasons for drop-offs, and query resolution times. The Conversational Engagement feature includes automated responses to common queries and advanced messaging capabilities, such as sending customized notifications and alerts. Additionally, you can use Conversational Engagement to conduct surveys and collect valuable customer feedback. 
Choosing the Right WhatsApp Business API Partner: Key Considerations
WhatsApp Business API is a highly effective tool for customer support, marketing, and sales. However, it can be challenging to utilize without the proper resources or expertise. This is where a Business Solution Provider (BSP) can be useful for you. 
The API software is hosted by Business Solution Providers on their own servers or data servers. BSPs can provide guidance and support in areas such as API integration, message template creation, and analytics reporting. By partnering with a BSP, you can effectively optimize WhatsApp Business API, leading to enhanced customer engagement and improved business performance.
Unlike the standard WhatsApp Business app, the WhatsApp Business API is a code-based solution that requires development work to integrate into your business's existing systems. This means you can build your own custom applications or integrations to work with the API. When choosing a Business Solution Provider (BSP) for the WhatsApp Business API, it's essential to consider several factors to ensure the right fit for your business. Before zeroing in on a WhatsApp partner, do consider the following factors. They should:
Have a proven track record of successful API integrations

Offer transparent pricing 

Offer feature-rich options

Ensure compliance

Provide 24/7 Support
Conclusion
To maximize the benefits of the WhatsApp Business API, you should partner with a certified Business Solution Provider (BSP) that can offer you guidance, support, and additional resources to optimize their messaging strategy. By leveraging the full potential of the WhatsApp Business API and partnering with the right BSP, you can improve customer satisfaction, drive sales, and enhance your overall business performance. 
Ozonetel CCaaS Platform on WhatsApp offers a robust means of leveraging the WhatsApp Business API to create personalized, conversational customer journeys. Speak to our experts to get a free demo or learn how we can help.
Frequently Asked Questions