The contact center has normally been viewed as a cost center vs. revenue center.  It typically adds to overhead, not revenues.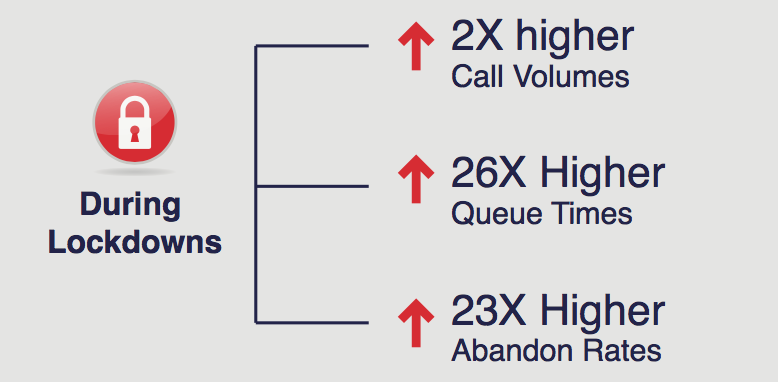 In 2016, Accenture found it cost US companies approximately $1.6T in poor customer service. Ozonetel, in its State of Customer Experience 2020-21 report, found, in the e-Commerce sector alone, that call volumes were 2X higher, queue times were 26X higher, and abandon rates were 23X higher during lockdown.
One key insight that came out of the Ozonetel report is customers are much more impatient than ever. And because their well-being is at stake, if they aren't getting exactly what they want from companies, they are quicker to jump ship and switch to a competitor.
Today, 80% of customers will switch after one poor experience.  In fact, brands could lose up to 96% of customers by not giving them what they want.
Some of these poor experiences happen right in the contact center. Customers become frustrated over excessive hold times, being transferred to multiple personnel, having to repeat the same things when they are transferred, not getting the issue resolved timely in the first place, and not being treated with respect.
It's not only about their poor experiences. Inability to track the right measurements or provide the proper customer feedback processes to understand behaviors and expectations adds to ongoing experience issues.
But the biggest issue of all is when a contact center is siloed from the rest of the company.
When the contact center isn't integrated with other teams, it can actually be responsible for customer churn. For optimum performance to exist, all teams must be aligned in providing an excellent customer experience (CX). When one team isn't in step, the entire company can break down.
When we talk about an integrated contact center, we mean the contact center team is aligned with other teams so that the organization is rowing in one direction, collaborating together to drive a consistent experience for the customer.
Because the contact center is usually the first and maybe one of the few interactions a customer has with a brand, it can actually make or break a customer relationship.
The contact center can actually set the CX tone in an organization.
How can an integrated call center help drive CX?
Provides a unified, productive team
Sir Richard Branson famously said "Clients do not come first. Employees come first. If you take care of your employees, they will take care of the clients."
A strong employee experience (EX) results in employee engagement, and engaged employees drive a strong CX.
Research shows companies with a strong CX have 1.5 X more engaged employees than companies with a poor CX.
When a contact center is integrated with the rest of the organization, all employees know what is happening, they understand how they fit into the overall big picture, feel like an important part of the corporate vision, and they buy into it.
Organizations that onboard and develop their contact center agents will be better able to retain them. By doing so agents will feel empowered to help customers succeed and will be helping the CX.
The contact center is a key channel and a key part of the customer journey. Contact center representation should be present at customer journey mapping workshops and involved as journeys are validated with the customer.
As part of proper customer journey management, an integrated contact center can assist in creating and managing a strong voice of the customer (VoC) program; provide input on where appropriate customer listening posts should be; help gather and share data; and participate in surveying, tracking online behaviors, interpreting field data and interviewing customers.
Integrated contact centers are important data conduits, and serve as feedback partners to product, sales, and marketing teams. When these crucial insights are fed back into processes, CX improves.
Creates an omnichannel environment
Customers expect consistent experiences.
According to a recent Microsoft study, more than three-fourths of millennials expect a contact center agent to already know about them when they call.
Inconsistent experiences cause mistrust and mistrust results in customers switching to another provider.
A contact center that is integrated with other channels helps drive an omnichannel experience.
Aberdeen Research has found that companies with a strong omnichannel focus retain 89%, on average, of customers, vs. 33% for companies that have a weak omnichannel focus.
Determines the type of Automation needed
It is important for an organization to know which customer support activities should be automated and those that require live agent help.
When the contact center is integrated with the rest of the organization, they understand customer needs and expectations, and know the support activities that should be automated, and those that need a personal touch.
Making it so that customers can personalize how they get their questions answered – via self-service, live agent or a combination – will improve their experience.
Establishes/tracks the right measurements and creates a singular customer view of data
A segregated contact center may know data to track at the contact center level, but how well does it align with the rest of the organization?
An integrated contact center will know the key performance indicators (KPIs) that the company has deemed valuable to driving growth and will be able to collaborate on the metrics that should be included in the customer and operational metrics dashboard.
Knowing this information will help enable agents to proactively engage with customers and help them achieve their business outcomes quicker.
In addition, an integrated contact center will also have access to a platform that provides for a single customer view of data instead of trying to integrate data across multiple locations.
Takes advantage of technologies to improve experiences
An integrated contact center has access to tools that help drive a consistent CX such as CRM, VoC, customer journey, analytics, and others.
An integrated contact center is also a key collaborator in determining the technologies and applications an organization selects to help it predict behaviors and engage proactively with customers to optimize the CX.
Remote working has raised the bar for what digital CX is today and the contact center must be involved in any of these applications that impacts the CX.
In addition, it's just as important for teams to be integrated as it is for an organization's infrastructure to be integrated. CX can only be optimized when there is a singular customer view to see where gaps and opportunities for improvement exist.
Shepherds customer advocates
Because customer relationships begin/end at the contact center, the contact center drives advocacy.
An integrated contact center is able to know all about the customer and an agent can suggest revenue-generating activities such as cross-sells or upsells, mention a webinar or blog post a customer might find useful, conduct a customer interview, etc.
In addition, the contact center is best positioned to identify candidates for a customer reference program, testimonials, case studies, a user or customer generated content piece, or advocacy program.
An integrated contact center is crucial to the growth and sustainability of an organization. Without it, organizations risk falling behind on changing customer expectations, and losing the ability to effectively predict customer behaviors and drive proactive customer engagement. And, if an organization can't meet a customer's needs, they will switch to somebody who can.
In fact, we're going to see a pivot from contact center, as cost center, to contact center, as profit center, through contributing to revenues solely by its actions.