7 Ways Virtual Call Centers Ensure Customer Service Excellence with Remote Agents
7 Ways Virtual Call Centers Ensure Customer Service Excellence with Remote Agents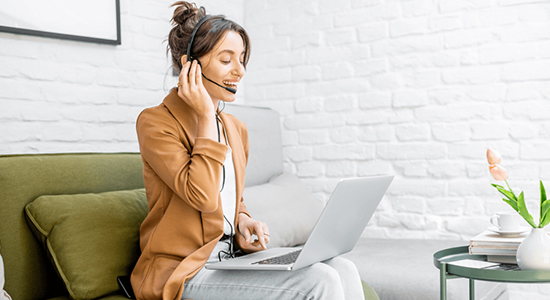 While a flexible work environment had been steadily on the rise, the COVID-19 pandemic accelerated this trend, imposing curbs that compelled many call centers to suddenly transition into virtual operations. Interestingly, even as restrictions eased, businesses recognized the benefits of a virtual or hybrid work environment and chose to continue leveraging this setup.
Gartner's 2022 Future of Work survey revealed that organizations adopting a human-centric work paradigm will see enhanced employee performance as well as higher retention and less fatigue. Another study by Mckinsey found that if given a chance to work flexibly, 87 percent of people would take it. This growing preference for remote work highlights the changing preferences of today's workforce.
In this article, we will explore:
Call center agents are no exception.
For customer service teams, a virtual call center is no longer a temporary solution to an emerging problem. Rather, it has demonstrated sustained relevance in an evolving business landscape.
The business benefits of a virtual call center include:
Lower infrastructure costs. Businesses make significant savings on real estate and maintenance costs
Lower Attrition. Virtual contact centers we work with have reported 40% lower attrition rates than industry standards
Higher Access to Talent. Remote working opens access to talent irrespective of geographical constraints
Business Continuity. With the right processes in place, virtual call centers can prove to be more resilient than traditional call centers especially during outages and natural calamities.
While the remote work model promises exciting possibilities, it also presents a unique set of challenges. One key challenge is operational disconnect, which could hamper collaboration, accountability, training, and support — significantly impeding an organization's ability to ensure customer service excellence.
Effective agent management is the solution.
With the right systems, processes, and software in place, we've seen multiple virtual contact centers overcome these challenges, often improving critical metrics such as first call resolution (FCR), customer satisfaction (CSAT) and call abandon rates.
We asked these call center heads how they manage their large remote teams successfully, efficiently resolving tens of thousands of customer service calls daily. With their help, we've listed six effective ways to ensure customer service excellence, remotely.
1. Ensure Uninterrupted Connectivity for Agents & Customers
Being available for a customer when they call is the most critical KPIs for any customer service or contact center team. Virtual call centers leverage cloud to ensure this uninterrupted availability. Robust contact center solutions ensure 90% and higher uptimes. If agents do not have access to uninterrupted internet connectivity, they enable agents to answer calls from their mobile handsets.
Further, to mitigate the risk of telecom network failures, virtual call centers invest in telecom redundancy. This redundancy ensures that calls can be automatically routed to alternative networks if one network fails. By having backup systems in place, virtual call centers minimize downtime and guarantee uninterrupted customer service.
Brands we work have seen up to 90% decrease in outages during peak call volumes by deploying our contact center solutions. They ensure that agents answer 90% calls or more within less than 10 seconds.
 

2. Empower Customers and Reduce Workloads with Self-service

To reduce call queues and empower customers, businesses must incorporate self-service options. These could be in the form of an FAQ on your website, which could even be powered by neural search intelligence. Or it could be by utilizing smart IVR solutions.

Processes such as fund payout status inquiries, transaction history, order status, updates, appointment rescheduling, and cancellation requests can be fully automated with self-service IVR (Interactive Voice Response). This step can significantly reduce the need for agent intervention and free up your agents to handle more complex customer issues. The brands we work with easily automate 30-40% of their respective calls with self-service IVR alone resulting in shorter call queues, lower wait times, and consequently higher customer satisfaction.
3. Be Proactive with Customer Communications
Like any call center, virtual call centers should also proactively communicate with customers to manage call inflow effectively. For instance, proactively inform customers about technical issues or unexpected app glitches via the IVR system. This approach helps reduce incoming calls and prevents the choking of telephone lines. Additionally, you can utilize voice blasters for targeted use cases, such as quarterly fund payouts, compliance-related announcements, or outages to reduce incoming calls.
Similarly, if you miss a customer call, you can automate call backs to customers by auto-assigning them to idle agents. While this kind of automation is good for any contact center, in a virtual setup, it significantly reduces the burden on supervisors and call center managers helping them handle emergencies and escalations, from anywhere.
4. Improve Onboarding & Agent Training 
For excellent customer service, agents need to be trained effectively. With technological advancements, it is easy for contact center managers to identify agent training needs, even in a remote setup. Technology like Speech Analytics can help you monitor and audit 100% of your call recordings to proactively identify every agent's strengths and weaknesses. We have seen contact center managers use these systems to improve agent performance in a single quarter. 
Moreover, these tools and a remote work environment help managers provide unbiased feedback. This contributes to a fair, inclusive work environment in which agents are more receptive to learning and growing. 
5. Simplify Agent Supervision
Your remote contact center needs to be as responsive to customer needs and escalations as an on-premise contact center. For this, supervisors must be notified in real-time about escalations, long call queues, or agent drop-offs.
The simplest tools at your disposal are the call monitoring dashboards that are inbuilt into most virtual call center software. This will give supervisors clear visibility to every agent's login time, break adherence, and log out time.
Besides using these dashboards, you can activate a rogue agent feature. What this means is that if any agent does not answer two or more consecutive calls, the supervisor will be alerted so they can proactively follow up and de-escalate the situation.
Screen recordings further simplify agent and call monitoring, giving them an unobtrusive way to supervise their team despite the physical distance.
Integrating with your HCM platform further reduces workloads by eliminating the need for duplicate work. It will also ensure employee data remains consistent and up to date across multiple systems.
6. Be Proactive with Agent Communications
Excellent customer service pivots around agent expertise. Knowledgeable agents are critical for a better customer service experience. So, how can you ensure that agents are updated on your latest policies and offers in a virtual, remote working setup? Emails and zoom meetings are one way to go. But the challenge is ensuring your agents read and assimilate the new information.
Businesses we know implement simple techniques like popup windows or tickers to announce new offers, launches, or policy decisions. Unless the agent clicks & acknowledges the notice, the ticker or window remains on screen in active and unread mode. AI-based knowledge management software is another way to keep your agent informed.
Investing in creating and mainlining a robust knowledge library is also vital. This knowledge repository should be continually updated and reviewed. You can leverage AI to make it easy for agents to find information with intelligent, neural search.
What is clear is that knowledge management and updates are possible even in a remote setup. In fact, many agents report a clear preference for these methods, and contact centers report a marked improvement in agent performance even in a remote working environment.
7. Personalize Customer Service and Delight Customers
Virtual call centers are made possible today thanks to cloud contact center software features such as automated call distribution and smart routing. With these systems in place, call centers route customers to agents located anywhere in the world. Distribution of calls and chat messages is completely automated and independent of any on-premise hardware or setup.
But virtual call centers must not stop there. You can deploy intelligent IVRs that integrate with your CRM to further personalize and accelerate customer interactions. These IVRs can identify callers while they are in the queue and use CRM data – call history and customer ticket status – to automatically route calls to the most appropriate agent or self-service branch of the IVR. Why? So that your customers have a more frictionless, pleasant experience. They will need to explain less and have queries resolved faster.
We've seen brands leverage this smart IVR technology to achieve CSAT results of 90% or higher. Further, CRM integrations also equip agents. With 'screen pop ups', agents automatically view relevant customer information during their conversations, leading to faster resolution and lower handle times. Now, Generative AI integrations can further simplify agent experience by offering smart prompts to further speed up customer service.
Conclusion
In this new environment, businesses must adapt to the evolving work dynamics with transparency and set clear expectations. With access to accurate information, efficient communication platforms, and effective coaching programs, organizations can empower agents to deliver outstanding customer service and ensure that their call center operations remain productive and successful, even in a remote environment.
Frequently Asked Questions
 A virtual call center, or virtual contact center, is a customer service center where its representatives are not located at a centralized physical location but are geographically dispersed. The agents may be working from home or satellite offices scattered within a single city, multiple cities, or even multiple countries. A virtual call center leverages communication technologies, such as VoIP and cloud-based systems, to handle customer inquiries and process both inbound and outbound communications – emails, chats, and social media interactions – from anywhere.
Customer Experience Strategy refers to a holistic plan where a brand outlines how it will deliver positive experiences across all touchpoints along the customer journey. A well-planned customer experience strategy takes into account factors such as customer journey mapping, personalization, seamless omnichannel experiences, customer feedback, and continuous improvement to foster customer loyalty and satisfaction.
Customer experience in a virtual call center refers to the overall perception and satisfaction that customers have during their interactions with remote agents and the virtual environment. Businesses can deliver superior customer experiences at their virtual call centers by offering advanced call routing, call monitoring, and AI-based solutions ensuring high operational efficiency, reducing cost, and improving agent experience.