Conversational CX: How E-commerce Brands Are Personalizing Shopping Experiences at Scale
Conversational CX: How E-commerce Brands Are Personalizing Shopping Experiences at Scale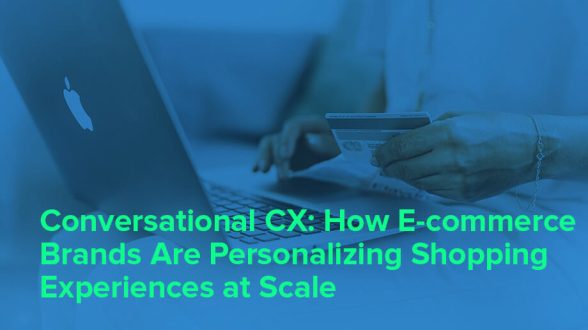 Today, consumers expect something specific from their online shopping: the trifecta of simplicity, ease, and intuitiveness. Over the past decade, consumer behavior has undergone fundamental changes, driven partially by the eruption of digital marketing, messaging apps, and mobile-first communication technology.
And when everyone's shopping online, how can brands stand out? Delivering a personalized online shopping experience and ensuring that customers come back to the platform, again and again, requires a deep understanding of who your customer is and what they want.
At the heart of e-commerce personalization is a very basic expectation — customers want brands to know, recognize, and undestand them. They do not like repeating themselves.
According to Salesforce, State of the Connected Customer, 66% of customers expect companies to understand their unique needs and expectations. Customers expect brands to know their preferences and assist them with a seamless personalized shopping experience.
We chatted with some experts to explore how brands can leverage conversational commerce, to meet customers at any point of their journeys – regardless of channel. But first, a bit of background is in order.
In this article, we will explore:
The State of E-commerce
Modern brands exist in an age of connected commerce, where convenience is a way of life. Businesses that want to succeed must focus on a holistic approach to customer understanding – which is where conversational CX comes in.
India is a perfect example, thanks in no small part to its 348 million digital shoppers. With an e-commerce market projected to reach a valuation of US$111 billion in 2025 and the nation as a whole ranked as the world's second or third-largest digital retail market, it's impossible to deny that online shopping is here to stay – and set for massive expansion.
And e-commerce personalization is empowering brands to curate unique online shopping experiences. This is where the opportunity lies to convert more and more browsers to buyers.
Shifting Customer Expectations and Priorities
The pandemic has impacted shopping behavior in several ways. Customers crave convenience and safety above all else, making them more likely to shop online and use contactless delivery and pick-up options. These behavioral changes also mean your communication frameworks must facilitate high-volume, informative interactions that go off without a hitch.
The Rise of E-commerce Brands
E-commerce has long been growing, but the pandemic led to a further boom as customers flocked to online shopping in search of convenience and safety. This has created a unique opportunity for e-commerce brands to gain market share and grow their businesses.
What is the modern customer looking for?
Digital shoppers love convenience, safety, and value. They want to be able to shop online and have their purchases delivered quickly and reliably. They also hate uncertainty, so keeping them informed and providing open channels throughout the journey are both vital.
With virtual fitting rooms and in-store experience online, the transactional experience of shopping online transforms into a friendly shopping experience.
When brands can deliver successful in-store customer experiences in every corner of the world, they have another great chance to convert leads by following up with an invitation to visit in person or booking an appointment. Club this with local stores where customers can go with any issues and painless return or exchange experiences —- brands have a customer for a lifetime.
The Age of Conversational Commerce
The pandemic has accelerated the trend toward conversational commerce as customers have turned to chatbots and other AI-powered tools to help them shop. Brands that want to stand apart from the crowd must provide more personalized, human-like experiences.
To put it simply, this is all about having the right conversations with the customers on all the channels they use to get in touch with a brand's customer service. From chatbots to WhatsApp, these conversations can be truly helpful if they're personalized, empathetic, and engaging enough to move the customers through the sales funnel.
Another promising opportunity that arrives with conversational commerce is that brands get to compensate for an inconsistent customer experience in their offline stores. When a helpful shop assistant is not present in the store, it affects the information customers receive and the brand perception.
Recognizing the need to build a more personalized relationship with the customers, it's exciting to see brands moving beyond aggressive advertising and pop-ups and opening a dialogue with their prospects and existing customers. By treating customers like real human beings, conversational commerce can go a long way in making customers feel comfortable and right at home. And most importantly, understood.
Why Personalization Lies at the Heart of Online Shopping
Personalization is key to online shopping because it gives customers the sense that they're being seen and heard. Anyone can get a generic shopping experience at their local big-box store – but they've grown accustomed to boutique experiences online, and it's a self-perpetuating problem. When a customer feels like a brand knows them and their needs, they're more likely to continue doing business with that brand.
How can you meet customers on their terms – no matter where they are in their journeys or which channels they prefer? Here's what our panel had to say about fostering communication practices that make it easier to personalize shopping experiences and improve customer satisfaction.
Evolving Buying Behaviors and the Changing E-commerce Landscape
Brand loyalty is somewhat of a dying breed in an era of true freedom of choice. In a world where consumers can easily compare products and prices online, it's becoming more and more difficult for companies to drive repeat business. Instead, companies are discovering that they need to work harder than ever to earn and sustain customer loyalty.
It's no surprise that companies have to differentiate themselves more than ever before, offering enhanced value to compensate for these trends. According to Prashanth Kancherla, VP of Products at Ozonetel, however, this doesn't just mean providing good deals. It's also critical to focus on an optimized experience, such as equipping fashion websites with virtual changing rooms – something Asian startups are already doing to set themselves apart.
Prashanth points to other tech-adjacent industries as examples of how AI can play a part in helping companies keep up with the shifting landscape. For instance, companies like Apple and others glean insights from large volumes of data to increase the efficacy of consumer retargeting – such as suggesting accessories to go with a shopper's earlier purchases.
Following these basic tips can help companies start earning customer loyalty to keep people coming back for more, but the other panelists had a few more suggestions.
Rajesh Kannan, Product Manager of Telephony Integrations at Zoho Desk, came at the roblem from a customer data platform perspective. He noted that although the shift to e-commerce has brought way more information to bear on behalf of companies, increased brand exposure can also be problematic because companies have limited resources.
In Rajesh's view, the main problem has to do with support – more customers mean more tickets. The solution? Public-facing e-Commerce solutions ideally ought to facilitate self-service that lets shoppers answer their questions without involving human representatives unless absolutely necessary.
Omnichannel support is also critical because consumer freedom of choice entails freedom of communication. Customers expect to be able to reach out to brands via any number of channels, so you need to keep them all open.
These increasing demands present a unique challenge in and of themselves. Companies naturally have to use analytics to keep up, and as Rampradeep Kumar P, Senior Product Consultant at Ozonetel, put it, "e-commerce marketers are finding themselves with more data than they can handle".
Achieving Hyper-personalization Throughout the Customer Journey at Any Scale
Even with all that data, it's tough to deliver hyper-personalized experiences – Add scale to the mix, and you've got your work cut out for you. So what can retailers do to put themselves on the ideal footing for customer-centric growth and leverage information more effectively?
As Prashanth said, "The technologies you choose at the start will make a big difference two years later when you scale up". Cloud platforms have solved most of the issues of scalability from the transaction point of view, so there's really no excuse for not performing at scale. Be sure your tech stack is capable of adapting to usage spikes before you put them to the test.
Recovering Abandoned Carts and Increasing Conversions
Abandoned carts are constant bugbears for retailers, and it's no surprise. Whether they're seeking better deals, doing product research, or comparison shopping, customers aren't always ready to commit to purchases when they visit your store – and that's their right.
On the other hand, abandoned carts also represent huge opportunities for improvement.
Not only can you potentially close sales, but you can also gain an enhanced customer satisfaction understanding of how your shopping experience contributes to abandonment. For instance, you can't do much about people who simply love window shopping, but you can tackle issues like shoppers:
Being unsure about the quality of the product, Feeling confused about your shipping and return policies, or Struggling to make flaky payment methods work.
Troubleshooting and debugging your sales backend or portal is just one aspect of correcting deficiencies. Payment gateway failures are good opportunities to reach out to customers and find out what went wrong, solving their frustration without them asking for help. Prashanth also said it's smart to prioritize your support efforts by attending to these problems by decreasing the order of their transaction sizes, reinforcing the idea that "human interaction gets more sales done".
Rampradeep shared a genuinely helpful insight here, stressing the importance of understanding the pre-purchase journey. Just looking at an individual abandonment incident might not tell you everything you need to know. The easiest way to learn how you could improve is to take a holistic approach to the entire customer journey and figure out what's missing by actively communicating with the people who've made it.
Automating Touchpoints Across the Customer Journey
One of the most obvious differences between e-commerce and traditional retail is that today's digital engagements with brands unfold over time and across platforms. Today's shoppers no longer interact with you exclusively when they're actively shopping, and you don't always know when or how they'll decide to cross the communication gap. In short, automation is critical for scaling up – it's the only way to handle sales at volume.
Thankfully, it's possible to automate almost every business process under the sun nowadays. Nonetheless, retailers would do well to focus on automating common touchpoints and minimizing the time they spend on the most frequent interactions: Send alerts, messages, notifications, or calls to drive conversations and eCommerce journeys forward based on predetermined triggers without human intervention.
For instance, you might use abandoned cart emails to remind shoppers they've left items in their carts and provide links that let them complete unfinished purchases painlessly. Or you could automatically notify people of their next appointments to drive sustained business and make life easier for Consumers. Understand your end-to-end omnichannel process (whether this requires flowcharting or some other form of planning) to paint a clearer picture of where to leverage automation and which critical processes demand live intervention.
Actionable Insights for Increasing Customer Retention and Loyalty
As the e-commerce competition gets increasingly fierce, CX will only gain importance as a differentiator – but not all experience-oriented strategies are equally effective at promoting brand growth. Our panelists suggested a few different ideas for achieving universal hyper-personalization that increases customer retention:
Keep your Brand Top of Mind
You could take cues from Google, Facebook, and Amazon by following shoppers across channels or sending emails related to the terms users search for when they're not on your site. This keeps your brand front-of-mind and increases your odds of a positive response more than random outreach might.
Hyperpersonalize. But Cautiously
Avoid getting too aggressive with your hyper-personalization strategy by making it simple for people to opt-out. Not only are you legally obligated to do so, but also you can avoid being pushy and engendering negative sentiment. Keeping your channels open also offers an unparalleled opportunity for improvement – You can use people's feedback to find out which aspects of your offers appeal to them and refine your approach.
Anticipate Engagement
Anticipate the amount of load or traffic your platform might have to deal with so that people don't get turned off by being unable to use or access your services during high-demand periods. Don't be afraid to offload some of the tech that burdens onto already-existing tools, like using WhatsApp as a communication channel, but be sure these technologies integrate seamlessly with the rest of your stack.
Include 'offline' in your omnichannel strategy
Remember that "offline" still counts as a channel – complete with its own unique customer behaviors – and the same consumers who buy certain items online may prefer shopping for other products in person. Your eCommerce system should let you track and identify customers no matter where they interact, making it critical to collect as much relevant data as possible.
Map your customer journey
Work to map out typical customer journeys so that you can visualize behaviors and gain an understanding of which marketing channels generate traffic that converts into sales.
Choosing the Right Support Platform for Your E-commerce Model
The e-commerce space is chock full of CX challenges, and it's impossible to anticipate all of the hurdles individual brands might face. Fortunately, our panel had some suggestions on how to tailor your business systems to adapt in the days to come.
Have You Got the Right Tech Stack?
According to Prashanth, you need to look at your tools with an objective, critical eye. No matter how invested you are in a particular tech stack, you need to ask yourself: "Is your basic platform ready to address the modern challenges and requirements of eCommerce? If so, will it help you sustain your successes and use consumer data securely once you scale?"
Remember: If your stack seems less than ready, there's nothing wrong with taking a step back and making adjustments. After all, this will prove far easier if you do it in advance.
Are you investing in the people that drive eCommerce – or just technology?
Ram pointed out the critical ties between business systems and effective retail teams. As he put it, "Everyone can invest in technology that supports employees and empowers them to contribute to a 360-degree view of communication flows. With consumers coming from different channels, having a broader perspective makes brands more likely to retain customers and employees while promoting consumer satisfaction."
Are you establishing your brand footprint and maintaining consumer awareness?
According to Rajesh, companies that want to thrive in the future must work hard to establish their brands in every consumer's mind. Does your support solution make it easy to keep your brand at the forefront of public awareness? If not, it might be time to reassess your tech stack!
Companies will also benefit from cultivating a hyper-awareness of consumer journeys to complement their quests for hyper-personalization. For instance, if someone looks at an item but doesn't add it to their cart, your salespeople shouldn't be the only ones who can take appropriate actions in response – your system must be capable of initiating the next step by itself.
Technology plays a huge role in helping e-commerce stores adopt holistic, sustainable CX strategies across the entire purchase path. Today's individualistic shoppers, however, don't want solutions that make them feel like just another number in the crowd. Any tech you use needs to be adaptable, flexible, scalable, and above all else, easy to seamlessly customize and integrate into your sales solutions.
Want to know more? Catch the complete conversation here. Want to discover how an omnichannel contact center can improve customer engagement for your e-commerce brand? Check out the rest of the Ozonetel webinar series online, or talk to one of our experts about getting started.