Customer Experience Metrics – The What's, Why's and How's
Customer Experience Metrics – The What's, Why's and How's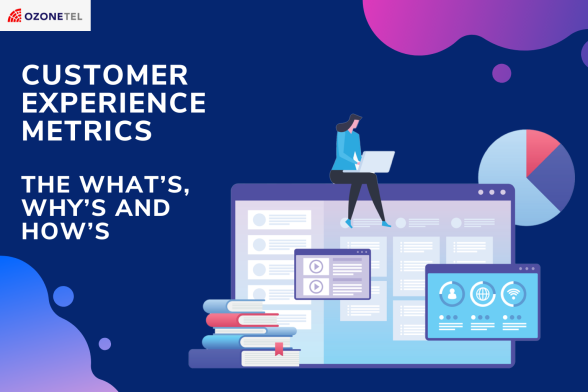 Business management guru Peter Drucker is often credited with coining the phrase "you can't manage what you can't measure". What he is saying is that if you can't define what success is and are unable to track it, you won't be able to improve it to achieve desired outcomes. This brings us to data, metrics, and analytics. An understanding of terms is important because we tend to use them interchangeably yet they are different. Data is the output of most any business process run today. It is information. A metric is a quantifiable measurement of that data. A key performance indicator is a metric that has been determined to gauge performance and drive business change. An insight is what you can determine from a metric that you can take action on. Analytics is the process of using metrics to make decisions to transform your business. Companies strive to be data-driven. Being data-driven means that companies use data and analytics to make decisions to achieve their business objectives and grow. Thus, companies, in order to be data-driven, must provide the right data at the right time, it must be available at the right place, and the quality of the data must be trusted. Yet a recent EY report found that while more than 80% of companies agreed data should be the center of all decision-making, less than one-third are operationally able to achieve this. A big part of this has to do with the presence of dark data. According to Splunk , over half of an organization's data is dark meaning that the data is "unknown, undiscovered, unquantified, underutilized, or completely untapped."
Data quality is also an issue. Gartner found that organizations believe poor data quality is responsible for an average of $15 million loss per year. Besides inefficiencies, poor data quality leads to poor decision-making, mistrust, and lost revenue opportunities. Another big issue is the presence of siloed data. ARM Treasure Data, in its "State of the Customer Journey 2019" report, found that almost 50% of marketers stated their data is siloed and difficult to access, making it challenging to get an accurate and integrated view of the customer journey.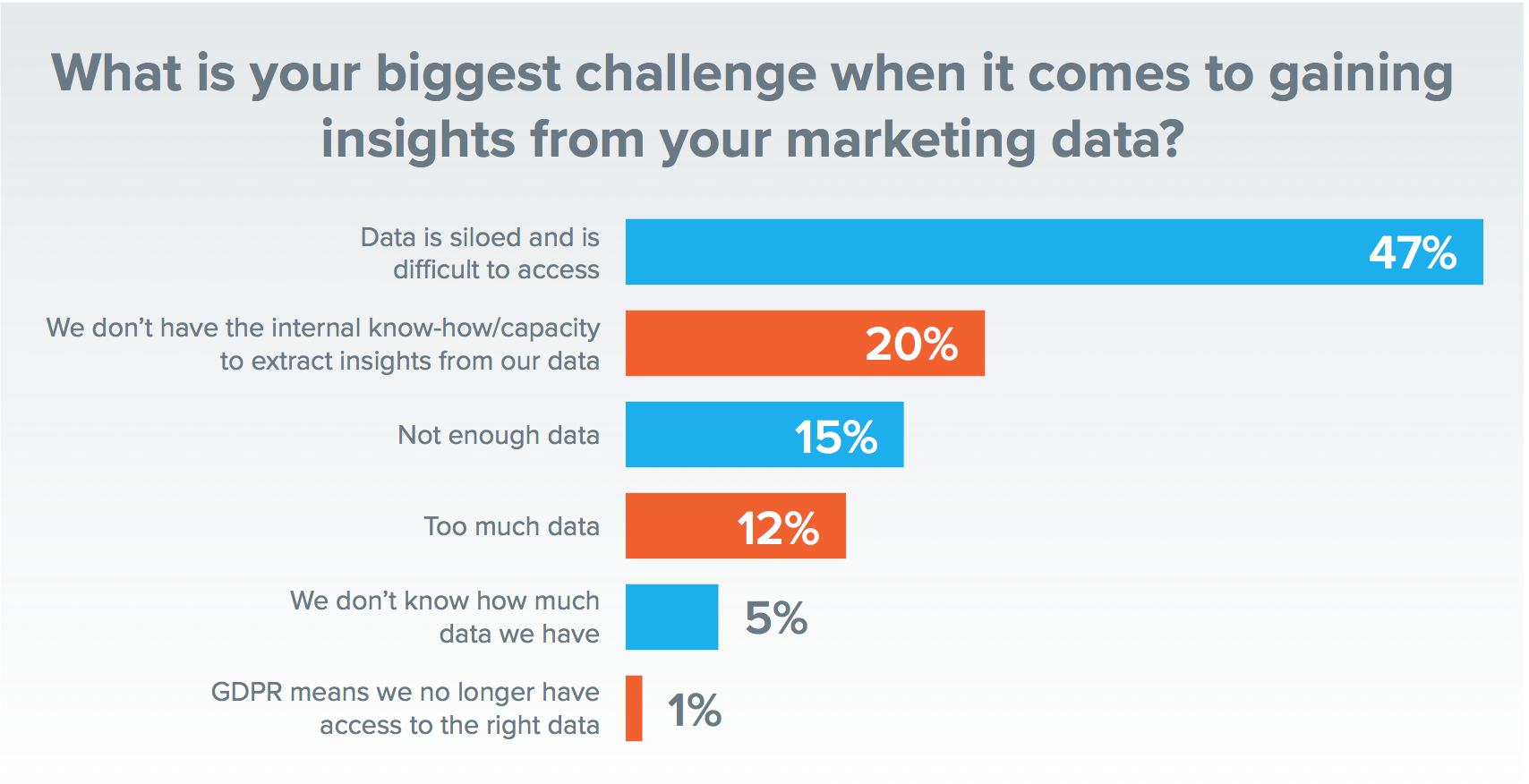 Customer analytics are at the top of the analytics list because if you don't know who your customers are, their expectations, their behaviors, or how they feel about the brand, you will not know how best to serve them and improve their experience. The result is they will switch to someone who can.
Customer experience has surpassed product and price as the key brand differentiator. Thus, it is vital that organizations implement some type of customer experience analytics to know their customers and how to improve their experience.
However, to be able to optimize customer experience, customer experience analytics becomes mandatory.
In this article, we will explore:
What is Customer Experience Analytics?
Customer experience analytics is the collection and analysis of customer data to help businesses better understand customers so they can deliver experiences customers want. Customer experience analytics enables effective data collation to help organizations achieve a holistic customer view. As a result, the metrics and insights derived from the data are much more trustworthy so businesses feel confident that the decisions they are making are optimizing the customer experience. As a further result, when customer experience analytics enable a holistic customer view of data, it can be better aligned to an organization's operational data and that helps drive customer experience ROI.
Benefits to Customer Experience Analytics
Customer Experience Metrics Helps Drive Optimization
Customer experience analytics is a necessary prerequisite to optimize the experience for customers. Measuring customer behavior to optimize it is a very powerful thing. Creating a dashboard of all the key metrics an organization has found to drive desired outcomes can create a holistic view to identify gaps, show trends, and provide insights on where to improve. In addition, customer experience analytics can also improve personalization, customer feedback through strengthening voice of the customer programs, and real-time customer engagement.
I like to segment metrics into three components – perception, descriptive and outcome metrics. Perception metrics is a look into how the customer feels about the experience they are receiving. Metrics such as NPS, CES, and CSAT are included here. Descriptive metrics represent observable events that happened. Metrics such as first contact resolution, average handle time, clicks to perform an activity are examples. Outcome metrics show the action(s) that occurred as a result of customers' perceptions. Metrics might include conversions, renewals, cross-sells and upsells, customer lifetime value, loyalty, advocacy, etc.
However, companies should use sound judgment and only track metrics that they have found relevant and are success drivers.
There are many key benefits to customer experience analytics.
A data-driven business can experience an average year over year growth of 30% or more . This represents a tremendous competitive advantage as data-driven companies outperform those that are not. By tracking customer behaviors and interactions, customer experience improves along with customer lifetime value and growth.
According to McKinsey, organizations that use customer experience analytics are 23 times more likely to acquire customers. They're also six times as likely to retain customers, and 19 times more likely to be profitable.
Customer experience analytics can improve operational efficiencies and increase cost savings. As an example, customer experience analytics can help an organization determine which activities can be placed in self-help channels leaving the more complex items with agents to provide a more personal touch. The result is improved contact center efficiencies and reduced costs.
Customer experience analytics enable organizations to improve the accuracy of customer journey maps and the customer journey. Customer experience analytics can

Customer experience analytics can help organizations establish and track key metrics. First, by using a customer experience analytics solution, data is pulled into one centralized location thus solving the issue of data silo inefficiencies so organizations can see the data they have and start to determine which metrics drive change. Once key performance metrics are established, these metrics can be viewed in one dashboard, which can be easily shared across an organization so that everyone is aligned on customer experience. Further, with data and metrics being centrally located, a holistic customer view can be achieved. Leaders feel more confident in the insights that are derived, and make more informed business decisions which means organizations can be more predictive and proactive in meeting customer expectations.
Drive increased acquisitions and quicker conversions
Identify where gaps in a customer's existing experience are, especially key moments of truth or other friction points where customer churn could be at risk
Help build a strong voice of the customer (VoC) program or make improvements to an existing one
Provide actionable insights on new product and service opportunities as well as existing new cross-sell and upsell revenue opportunities that could improve customer loyalty and drive growth
Discover where to personalize the experience, etc.
Customer Experience Analytics Use Cases
Companies that want to be customer experience leaders and growth drivers within their sectors use customer experience analytics. Some example use cases are as follows.
Improve Customer Engagement rates
Drive Growth
Through tracking key metrics and identifying actionable insights, they were able to create and implement a customer success and customer experience program. Activities included engaging customers from onboarding through key touch points at every key phase of the customer journey, measuring performance and producing associated playbooks. The improved engagement drove retention and loyalty to a point that got the attention of investors who funded the startup.  
Measure and Improve Customer Experience
A fintech organization used customer experience analytics to gauge customer experience, introduce new initiatives, and improve customer loyalty. 
Through understanding customer behaviors, especially times of day they were most active on the app,  and other key performance metrics, the company was able to introduce a successful referral program, content, and a chatbot, all of which combined to drive loyalty and increase active users by more than 1000%. 
Companies, through using customer experience metrics, are able to maintain a competitive edge and be proactive and predictive for existing as well as new customers.
Improve Customer Engagement rates
An education organization who caters to the K-12 market used customer experience analytics to help them better engage with teachers and students. 
They were able to improve customer feedback by going to schools and interviewing teachers and students to learn how they were using its products and services and how they could improve the customer experience. 
As a result, they implemented a VoC initiative, an aggressive social media program, online chats, and co-created video and blog content. These advocacy activities improved engagement that resulted in a 30 percent lift in new revenue and 60 percent increase in existing revenues.
Drive Growth
An early stage medtech startup used customer experience analytics to improve its growth efforts. 
The startup had issues with getting inactive users to start using its product. Acquisitions were respectable but it was having issues with retention. 
How can contact centers leverage the power of customer experience analytics?
Contact centers need to be proactive and predictive with customers to be able to stay in front of customer expectations. Customer experience analytics can help them achieve this. Agents can specifically use some of the things customer experience analytics provide, like real-time reporting, sentiment, and predictive analytics, to help them make on-the-spot decisions and recommendations, as well as modify their approach.
As an example, customer experience analytics can use existing data such as feedback and purchase history to predict the next product customers are likely to buy. It can then pull up a script that agents can use to drive quicker conversions.
One tool I've been interested in is Ozonetel's CloudAgent.
Many contact center solutions don't go to the deepness of looking at agent experience. Agent experience drives customer experience in the contact center so it is vital to track.
Another benefit of CloudAgent is the Speech Analytics dashboard. 
Speech analytics has many benefits for the contact center.
Implementing speech analytics improves the customer experience. It analyzes unstructured data from interactions with customers to understand needs and expectations of customers, identify behavioral patterns and predict trends to improve conversation quality. 
Speech analytics reduces costs especially in quality assurance, call transfer, average handle time, and call volumes.
Speech analytics can drive revenues. Through identifying behavioral patterns, contact centers can deliver the right product messaging at the right time, which could lead to more sales and less churn.
Customer experience analytics are no longer a nice-to have but a must-have. To be able to obtain and keep customers, and to stay ahead of the competition, brands must focus on optimizing the customer experience. And the only way to know what is working and what is not is in the analytics.
The wealth of metrics provided in the solution includes the following. 
Inbound call metrics include Average Time in Queue, Average Speed of Answer, Average Abandonment Rates, Average Hold Times, and Service Level Agreement. Service Level Agreement is intriguing as the metric indicates the number of calls answered within 20 seconds. High service level is at the crux of contact center efficiency. To maintain high service levels, contact centers must maintain high answer rates while maintaining low abandonment rates. In addition, contact centers must master call routing and call distribution, accurate staff forecasting, adequate staffing, and effective staff training. The Ozonetel solution enables all of this.
Outbound call metrics include calls dialed per agent as well as average Answer Rates (the number of calls that actually connected to a contact. Also known as Average Pickup Rates). 
Agent efficiency metrics include Average Talk Times (the average time an agent spends speaking with a customer), Average After Call Work (post-call processing), Average Speed of Answer, and Average Hold Times (the average time a customer is made to wait while an agent retrieves information). 
Agent experience metrics include Average Calls Per Agent: Inbound and Outbound  and Agent Working Hours: Average Login and Break Times. 
The Ozonetel tool is quite comprehensive with the following benefits:
Analyzes real-time customer sentiment for training, marketing, and intervention purposes. 
Tracks customer demographics across campaigns to improve and personalize offers.
Monitors agent speech rate to ensure clarity across calls. 
Provides alerts on raised voices on calls enabling supervisors to step in to take over calls if/where necessary
Ensures call quality by sending alerts when quality drops. 
Uses keyword analytics help gauge agent training effectiveness, script adherence, or marketing insights like customer interest in a specific product or offer.
Provides automatic transcriptions to help derive deep customer and performance insights.