Building Agile Customer Service? Learn How Inbound Call Center Software Can Help
Building Agile Customer Service? Learn How Inbound Call Center Software Can Help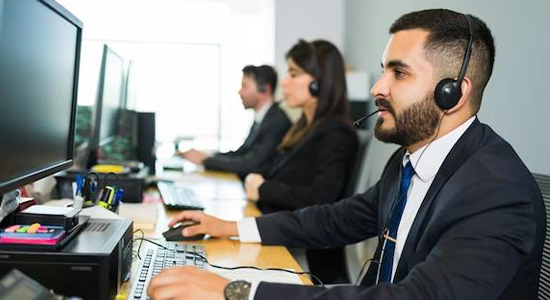 Post-pandemic, every organization wants to achieve speed, resilience, and flexibility in the shortest time possible. Contact center technology plays a key role in customer service, customer satisfaction, business continuity, and customer insights. In fact, "agile transformation" is one of the top priorities for omnichannel contact centers in 2023.
This article highlights the benefits, provides the feature checklist, and shows you how to transform your business with agile inbound call center software.
In this article, we will explore:
The Importance of Agility in Inbound Call Center Operations
Businesses often underestimate the role of inbound call center software in delivering agile customer service. But not only does the right technology ensure that your contact center runs disruption-free, it can help you meet your business outcomes more efficiently.
Today, customer-centric businesses are striving very hard to meet their KPIs on customer satisfaction, revenue generation, and loyalty — efficiently and at scale. This means your managers and IT teams must deploy a resilient operating model to ensure the highest call center efficiency.
An agile customer service strategy is one which prioritizes responsiveness and quickly adapts to changing customer requirements, leading to far higher satisfaction and relevance. This strategy requires you to focus on the key components that decide the outcome of your efforts:
1. People: Call center agents, back-office operators, IT teams, and people managers.
2. Processes: Dialing, Call routing, Automation, Inbound, and Outbound call management, and IT networking and security.
3. Technology: Contact center software, IVR, Dialers, analytics, NLP, and multi-channel integrations.
Reliable inbound call center software provides you with a firm foundation on which to build an agile responsive customer service team, helping to streamline and automate workflows, distribution, monitoring and time-to-insights.
What is Agile Inbound Call Center Software? Key Features
So, what exactly is agile inbound call center software? Here are seven features that define it:
1. Cloud-based
When compared to on-premise systems, cloud contact center software is more cost-effective, efficient, and agile. This software is hosted on the cloud, is location-agnostic, and automatically updated. They are maintained and continuously upgraded by the software vendor which means that businesses do not need to invest heavily in IT maintenance and support or take months to deploy a new upgrade or advancement. They can add more agents and avail themselves of new features in minutes. 
2. Interoperable
An agile inbound call center software is interoperable and will generally integrate more easily with other software and business tools. Often, this software has readymade integrations to most Customer Relationship Management (CRM) Software. An open API platform ensures that you can add custom integrations or customize your workflows more easily.
3. Advanced Interactive Voice Response (IVR)
As compared to other inbound call center solutions, an agile solution would have advanced IVR capabilities. This would include such as omnichannel bot support, personalized call flow builder, and interactive visual or adaptive IVR menu designs. Agents can choose from a wide range of IVR setups to personalize their conversations, or automatically route them to a virtual receptionist for better call center efficiency.
4. Multi-Channel Integrations
Today your customers expect you to recognize them irrespective of the channel they use.  Inbound call center solutions with out-of-box integrations and API connectors create a seamless architecture for inbound conversations arising from the website, live chat messengers, social media, email, and WhatsApp. An in-sync integration with CRM and call analytics applications makes it easy to manage customer expectations within an agile ecosystem.
5. AI Capabilities
From speech recognition to predictive intelligence and generative AI for text and voice follow-ups, you can no longer ignore the Artificial Intelligence component in call center software. For ensuring that your customer service teams respond to ever-changing customer needs, it is critical to stay abreast of customer sentiment. AI can drastically reduce time-to-insight and transform agent training, making it a vital component of your agile inbound call center software.
Benefits of Agile Call Center Software: How Does it Build Better Customer Service?
Agile customer service needs to be always available, highly responsive, and deeply insightful of customer needs. Here is how agile inbound call center software can help you achieve these three goals.
1. Availability & Flexibility
Having a complex workflow can overwhelm your agents, especially on days when they receive a higher-than-usual volume of calls from customers. With agile software, you can leverage live dashboards, AI and automations to detect unusual call activity and inform the manager to take action faster. They can quickly switch call routing or call distribution to ensure that queue length and wait times are speedily brought under control.
Moreover, agile software enables a call center manager to quickly adapt to new technology. For example, whether you need to explore Generative AI for customer service or add a new messaging channel to your contact center, agile inbound call center software easily integrates these advancements.
Agile software is also flexible, letting you add or remove agents as per your seasonal, monthly or weekly call flows, or company growth.
 2. Responsiveness
Customers today are impatient and have high expectations when it comes to customer service and support. When a customer calls you, it is a moment of truth.If your inbound call center is unable to address the call within 30 seconds, you could permanently lose the customer to your competitors.
Supporting your customer service teams with the best call center solutions can vastly improve their ability to answer and handle each call. For instance, agile call center software would seamlessly integrate with your CRM or other business tools to reduce the speed it takes for agents to access information and close calls.
With advanced IVR, it could offer better self-service handling 40-80% of common types of customer service requests and freeing up your agency time.
3. Insights
Companies that use agile inbound call center solutions have access to the latest call monitoring solutions. They can use the latest tools and technologies in the market to track agent performance and identify training needs, leading to higher performing customer service teams
Other key benefits include:
Increase in customer satisfaction and retention scores
Increase in employee engagement
Improvement in financial performance
Secured, compliant architecture
Creating an Agile Inbound Contact Center: 4-point checklist
Whether you want to migrate your existing operations to the cloud or start afresh with a virtual call center, setting up an agile inbound call center software has wide and deep implications for your business, especially in delivering agile customer service excellence.
You can use these pointers to implement an agile customer contact center:
Make a list of integrations for your enterprise including CRM, call analytics, and others.
Prioritize data security and compliance within your call center architecture.
Reinforce your IT team's capability with quality training, support, and technical documentation.
Pick a software vendor that matches your expectations.
Learn from the Best: How 5 Leading Businesses Create Agile Customer Service with Ozonetel's Inbound Software
India's leading brands trust Ozonetel's  inbound call center software for agile, responsive customer service. Here is how five customer-centric brands manage efficient, agile contact centers with  Ozonetel:
1. Dr Lal Path Labs
Dr. Lal PathLabs's association with Ozonetel goes back to 2016, when their team was evaluating a scalable call center software solution to cater to their growing customer base. So, when the pandemic broke out in 2020, they required an agile, innovative way to handle the large number of diagnostic reports that patients needed daily. 
With Ozonetel's flexible, robust IVR technology, they could quickly create an effective self-service solution for their patients, ensuring that they weren't left frustrated or worried, waiting for a response from the already overwhelmed customer service team. Read More
2. Acko
With Ozonetel, Acko meticulously crafted and fine-tuned a self-service IVR that significantly shrank the need for agent intervention, helping customers solve a wide range of requests — policy endorsements, changes, renewals, and more — quickly and effectively. Callers could also easily update their policies directly on the IVR, all while maintaining an industry-leading CSAT of 90%. Read More
3. Big Basket
Big Basket is known for its customer-centric values and responsive customer service team. With Ozonetel, they ensure that 95% of calls are answered in less than 10 seconds using intelligent call routing options. All while ensuring high levels of agent efficiency and industry-leading average handle times. Read More
4. Zomato
Zomato has mastered the art of providing agile customer service in the online food ordering and delivery segment. Powered by a reliable agile inbound contact center solution, the company has managed to expand into smaller cities, connecting customers to local restaurants and cafes with a near-perfect track record in customer experience management. Read More
Conclusion
With a software provider like Ozonetel, you can quickly build an agile inbound call center infrastructure with pre-designed IVR workflows, multi-lingual assistance, customizable reporting dashboards, pre-built app integrations, and demonstrated legacy of bringing ROI to customers with AI-powered ACD and call routing features.
By promptly responding to customer needs, adapting to changing preferences, and continuously enhancing customer service strategies, businesses can consistently deliver superior customer experiences.
Frequently Asked Questions