5 Best Texting Applications for Better Customer Service
5 Best Texting Applications for Better Customer Service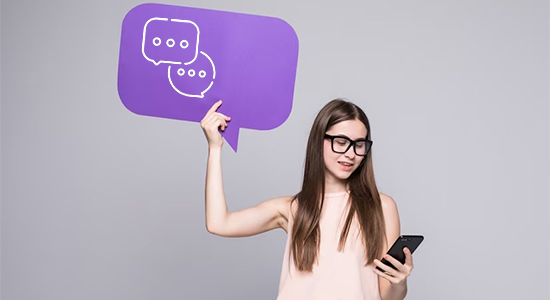 In this article, we will explore:
5 Best Texting Applications for Better Customer Service
Did you know?
90% of users open an SMS within 3 minutes of receiving the message.
45% of SMS campaigns achieve a successful ROI.
58% of users say texting is an ideal way for companies to contact them.
SMS communication has been around for more than three decades, and its prominence has only grown. Currently, around 7.26 billion people worldwide own a mobile phone, and a significant portion of users haven't used the internet due to inaccessibility or high data charges. This makes text messaging the most cost-effective and prevalent mode of customer communication. 
A robust customer service SMS software allows businesses to connect with customers especially in places where mobile data isn't always available or free for the consumer.  When it comes to open rates, clicks, and direct communication, it's evident that SMS is a powerful channel for increasing customer engagement and support. 
In this article, we've helped you explore and compare the top 5 texting applications that your business can consider for sending bulk SMS.
5 Must-have Messaging Apps for Better Customer Support
Enhance your customer support and marketing efforts with these texting applications that streamline communication and elevate customer experiences.
Over several sprints we perfected the solution which included:
Advanced predictive logic for pre-empting customer needs

Frictionless self-service for routine queries

Accurate routing to boost renewals

Equipping agents with the right data for effective resolutions
TextMagic

Source: textmagic.com
Text Magic is an easy-to-use messaging and marketing application that allows you to send notifications, alerts, and confirmations to customers across 190+ countries. The average response time for a text message is around 90 seconds. Text Magic understands this and allows you to convert your emails into texts. Furthermore, you can integrate SMS API into your business to send texts directly from your application. With over 20 years of experience and a delivery rate of 98.4%, Text Magic is one of the best ways to power your business through text messaging.
Pros 
Two-way SMS chat with a scheduling feature for reminders and notifications.

Email to SMS and vice versa, along with SMS attachments and MMS.

Zapier SMS integration and seamless SMS opt-out management.
Cons
Text Magic can be expensive when sending out bulk texts 

Email notifications can be redundant at times.

It can be slow when submitting and receiving messages.
SlickText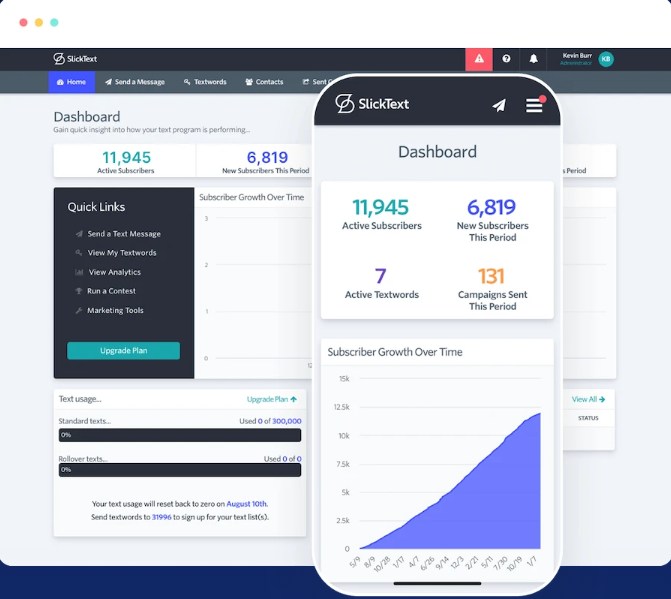 Source: slicktext.com
SlickText is an ideal SMS software for small businesses  looking to deliver value and reach customers through targeted action-driven text messages. This text message marketing platform offers a comprehensive range of features, from engaging text-to-win contests and interactive SMS surveys to digital mobile coupons and effective loyalty rewards programs. It equips you with all the necessary tools to connect with your audience in enjoyable and impactful ways.

Pros
Engages subscribers with mass texting as well as one-on-one conversations

Maximizes results by creating targeted lists based on location, age, purchase history, etc.

Builds hyper-personalized marketing experiences at scale with automated workflows. 
Cons
Price may go up if the list is growing.

Users may face occasional image and link attachment issues.

Can overwhelm new users as the software requires new users to build portions individually.
SimpleTexting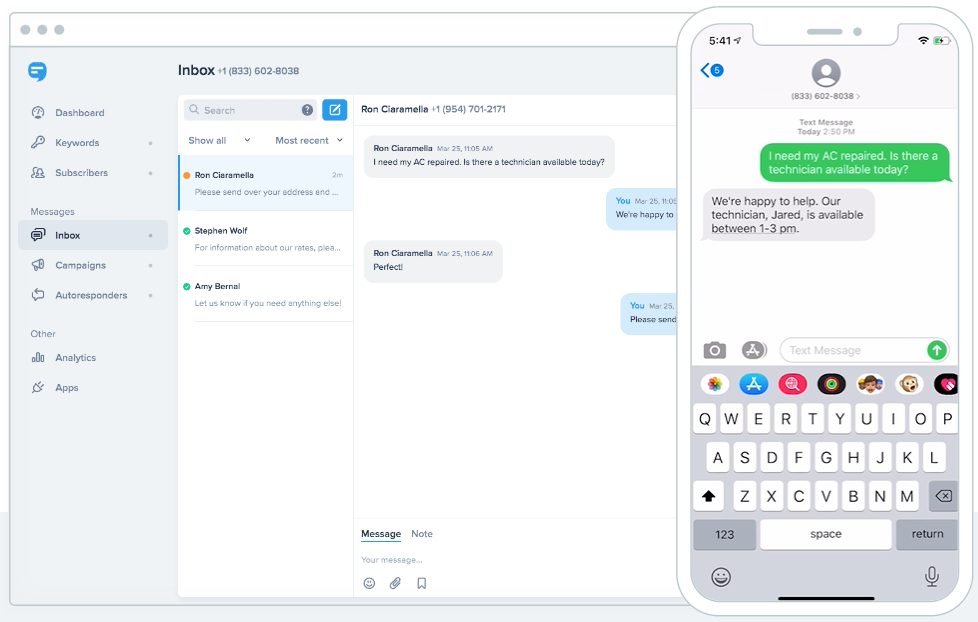 Source: simpletexting.com
Simple Texting is a texting software that makes it easy to personalize your texts and have two-way conversations when running SMS and MMS campaigns. You can use analytics to track delivery, click-through, and subscriber growth, among other metrics. Simple Texting lets you set up autoresponders with dynamic content to manage custom fields. Furthermore, you can host contests, gather feedback via polls, and roll over any remaining credits to the next month, so you pay only for what you use.
Pros
Segment customer lists to send more relevant texts during message campaigns. 

Create unlimited users and grant access control using Multiple User Access.

Integrate with

CRM

to use Simple Texting API & let users opt-in texts using web forms. 
Cons
It may get challenging to view incoming messages on the dashboard.

Importing CSV files can be cumbersome, and sometimes the contacts can get mixed up.

Some users highlighted flexibility issues when it comes to the number of outbound texts.
EZTexting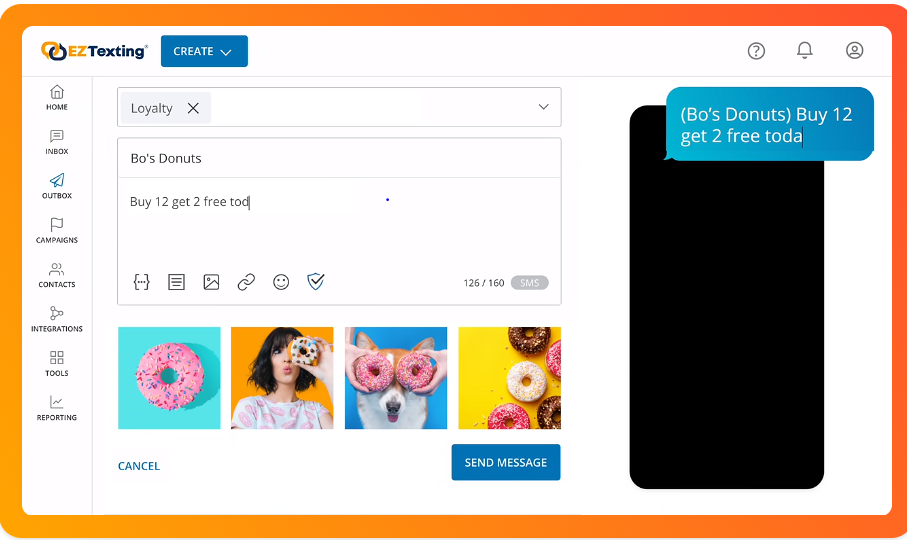 Source: eztexting.com
The all-in-one text marketing solution, EZ Texting, empowers you with keywords, QR codes, and sign-up forms to grow your sales. You can drive employee referrals, schedule staff shifts, and ease enrollment periods with automated scheduling. EZ Texting also allows you to upload existing contacts, segment and personalize lists and drive engagement using over a million free Shutterstock images. You can leverage the built-in reporting dashboard to adjust your marketing strategy in response to messaging trends.
Pros
API integrations with CRM tools like Hubspot, Mailchimp, and Zapier, among others.

SMS analytics offer critical insights & track bounce rates, opt-out, and contact behavior.

Shutterstock library & a powerful image editor broadcast branded announcements.




Cons
It is hard to filter recurring texts to avoid duplicates.

Some users have found its customer support to be cumbersome.

Its credit-based system is often found to be inconsistent among existing users.
Sakari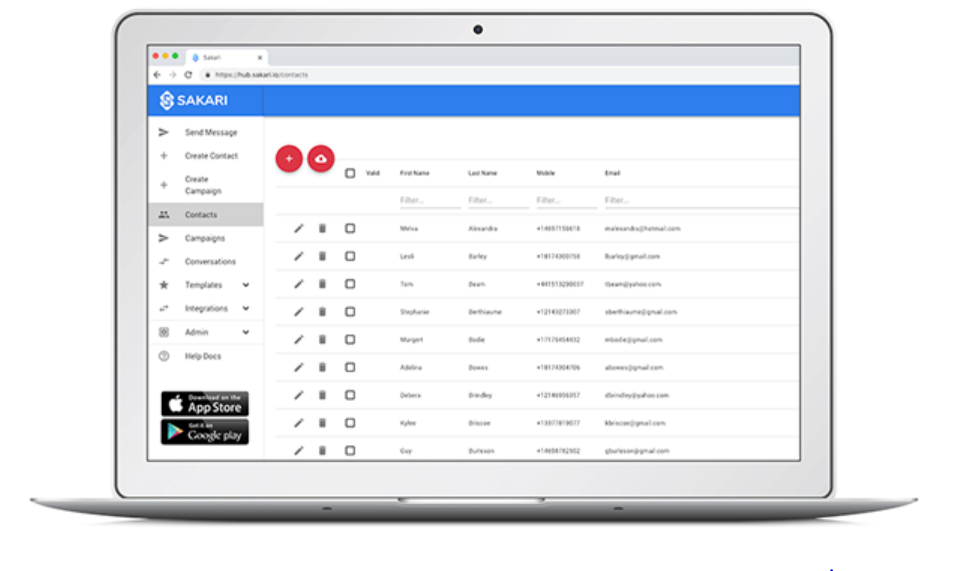 Source: sakari.io
Sakari is a cloud-based bulk messaging service that empowers enterprises to manage SMS campaigns across 200+ countries. Using their messaging API, you can leverage their mobile application or integrate Sakari with your existing tech stack. You can integrate Sakari with over 1300 applications, including HubSpot and Pipedrive, to send rich text messages online. You can also set up autoresponders to engage in two-way communication consistently.
Pros
Over 1300 API integrations, including Aircall, Cradle, and Intercom.

Bulk outbound texts are super affordable.

Create message templates and track conversation history using SMS gateway.
Cons
The design and usability of the web app is a bit clunky.

The options for using a number for texting are limited.

It makes you pay for inbound messages.
Want a Unified CX platform to Manage SMS, WhatsApp, and Calls? Consider Ozonetel
Ozonetel offers a unified CX platform to manage all your customer communications flows from end-to-end. Businesses have also used our SMS solution to create award-winning campaigns.
With Ozonetel's SMS solution you can:
Deliver messages pan-India across any telecom operator

Get real-time message delivery and campaign reports. 

Leverage Open APIs to program and customize campaigns.

Integrate with all major CRM and ticketing solutions.

Scale your campaigns with ease.
To know more about our SMS solution or CX platform, talk to our sales team today. 
In Conclusion
Regardless of the choice of your tool, you should look to make the most of your resources. Many of these platforms offer free trials to allow you to find the platform that perfectly suits your requirements. However, each tool has something unique that you should consider while choosing. 
Ultimately, choosing the right customer support tool can help you scale your business differently. With the dynamic nature of SaaS and rapid AI adaptation, we recommend platforms that offer AI-driven insights. This will help retain existing customers and attract new customers via word-of-mouth marketing.
Ready to elevate your marketing efforts and customer service with business text messaging? Start a free trial
Frequently Asked Questions