5 industries that benefit most from call center software
5 industries that benefit most from call center software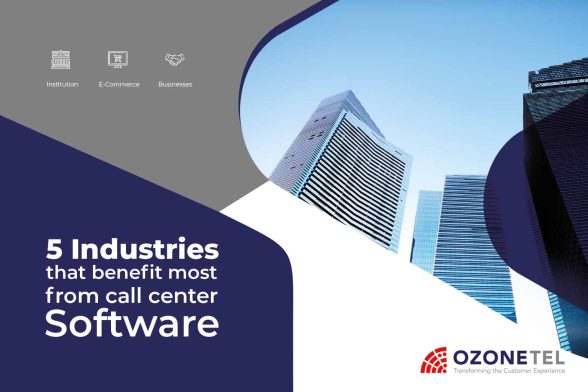 Over the years, call center software has evolved from a rudimentary form of technology into one of the primary assets that many businesses rely on daily. In fact, there are five different industries that absolutely stand to benefit from all that modern day call center software has to offer.
In this article, we will explore:
Financial Institutions
By far, one of the major industries that stands to benefit from all that call center software has to offer include financial institutions like banks, financial advisors and others. A big part of this has to do with the fact that pressing financial questions or issues can happen at any time, day or night – even after everyone at the firm has already gone home for the evening. Still, you always want to make sure that someone is on-hand to provide the level of customer service that your clients expect – and call center software goes a long way towards helping to accomplish precisely that.
Banks
Take banks, for just one example. Not only does a solution like Ozonetel offer anytime, anywhere access to the communication and collaboration tools that employees need to properly serve customers, but it also does so in a way that guarantees 100% security in terms of sensitive and personal financial data.
Financial Advisors
Financial advisors also stand to benefit from call center software for many of the same reasons. AI-based features like chatbots and voice bots can be used to answer basic questions about a client account or serve up information 24/7/365, meaning that crucial clients always have access to the information they need – even if they should happen to need it off-hours.
Education
Educational institutions like colleges and universities are another prime example of those who stand to benefit from everything that call center software brings with it. Think for a moment of the sheer volume of calls a college might field on a daily basis – especially if they have a student body of at least 20,000 people. Call center software can make sure that callers are always routed to the right person as quickly as possible, thus creating a far better experience across the board.
Call Center Software for Educational Institutions
Not every call that a student may have necessarily requires the intervention of a human employee – some tasks can be performed on their own with the right push. That, in essence, is what makes call center software so attractive for educational institutions – self service options give callers the option of quickly handling concerns on their own via IVR, thus freeing up the valuable time of human employees to focus on those matters that truly need them.
Student Support and Communications
Along the same lines, call center software can again make sure that calls are quickly routed to the right agent or department to get a resolution for students as fast as possible. Not only that, but calls can also be equally divided amongst all agents based on idle times – making sure that nobody ever has to wait too long for the answers they seek.
eCommerce
eCommerce businesses of all types also stand to benefit from the advantages of call center software. When your operations exist entirely online, there is essentially only one way for a customer to get a resolution to a concern – the direct route. If they have to wait too long, repeat themselves or if they feel like they're not getting the experience they expected, rest assured they will not hesitate to post about that online – thus harming an eCommerce business' reputation in the process. Call center software therefore becomes one of the best ways to help make sure that doesn't happen.
Chatbots for eCommerce Companies
Chatbots, for example, are a great way to make sure that there is a helpful resource available to customers 24/7/365. Customers can look up basic information about their accounts, pay bills and more – all without needing to involve a human employee at all.
Omnichannel Support for eCommerce
All of this also goes a long way towards creating a legitimate, consistent experience across all customer service channels – something that helps preserve brand continuity and control the impression that people are getting of your eCommerce business at the exact same time.
Small Business
One of the biggest industries that can benefit from call center software takes the form of small businesses of all types. Oftentimes these organizations simply don't have the resources necessary to set up a full customer service center on their own. Yet at the same time, their customers still have questions and concerns that need to be met.
Based on that, call center software becomes the best way to give customers the experience they want while also making sure that employees are spending less time answering their phones and more time driving revenue.
Automate Your Small Business With Call Center Software Solutions
A major reason why call center software is so essential to small businesses has to do with the automation features they bring with them. A tool like Ozonetel allows organizations to fully automate as many of those important-yet-menial administrative tasks as possible, all so that employees are free to focus on matters that truly need their attention.
Scale Your Call Center As You Grow
Call center software also grows as your business does the same. It's easy to add resources to account for seasonal fluctuations or even just to help take the burden off unexpected periods of high customer activity, all without needing to hire additional in-house employees.
Enterprises
Finally, large enterprises can benefit a great deal from call center software because it again helps free up the invaluable time of employees so that they spend less of it answering customer concerns and more of it driving revenue.
Cloud-based Call Center Solutions For Enterprises
Cloud-based call center solutions for enterprises create a "single source of truth" for your operations, allowing employees to be just as productive at home as they can be in the office. This is especially important now, given everything going on in the world with the COVID-19 pandemic.
There's a Call Center Feature for Every Need
Likewise, call center software is nothing if not versatile. Features are available like auto dialers, IVR, predictive dialers, skill routing, auto logging, AI-based features like speech analytics and more – all of which organizations are free to utilize in the way that makes the most sense given their long-term goals.
In Conclusion
Overall, call center software is nothing if not versatile – meaning that it can be used in different, organic ways depending on the type of business you're running and even the industry that you're operating in. So if you'd like to find out more information about the top industries that stand to benefit from call center software, or if you'd just like to get your free trial of Ozonetel so that you can see what it's capable of helping you accomplish up close and personal, please don't delay – contact us today.