Your guide to an Omnichannel Contact Center
Your guide to an Omnichannel Contact Center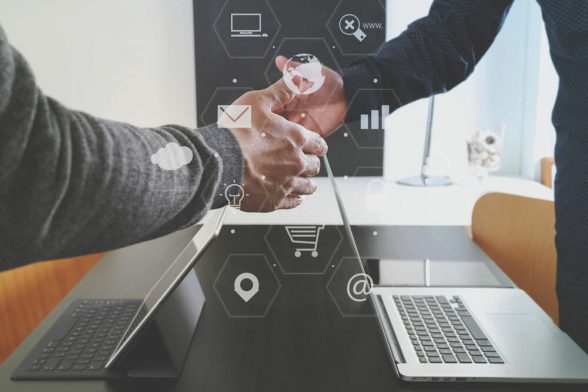 In this article, we will explore:
What is omnichannel?
Omnichannel is a unified communication strategy across content and media that businesses utilize to engage with customers and improve overall customer experience.
In the business world, the term "omnichannel" is not new. Think omnichannel retail, omnichannel marketing, or omnichannel customer experience. The stage for omnichannel retail was set almost two decades ago with Best Buy's customer-centric model that offered both on and offline sales and post-sales customer support.
What is an omnichannel contact center?
An omnichannel contact center is one that integrates and unifies customer interactions across your voice and digital channels. This includes creating a unified customer experience across phone calls, emails, webchats, WhatsApp, SMS texts, and social media.
In simple words, what this means is that a customer can contact a business on any of its channels and expect the agent who attends to them to recognize them and know them from their previous interactions on any channel.
Let's go over an example scenario. A customer browses a company's website and inquires through the chat option. A few days later they are back on the site and click to call to reach an agent. The agent's interaction with the customer is contextual and efficient (therefore impactful?) since the agent is able to access the customer's past interaction at a glance and have a meaningful conversation with the customer.
As a result, the customer's experience is great, as is the agent's productivity metric! This is a simple scenario demonstrating one of the many powers of an omnichannel contact center.
To quote directly from the CCW Special Report 2020 Predictions:
"Omnichannel doesn't [simply] mean having a website, having a chat interface, having a phone number, or having an email. It means all of that and meeting the customer where they are every day. On their Facebook Messenger interactions, on WhatsApp, on wherever they require us to be. It is important to reduce customer effort and be there for them rather than [force] the customer to find us when they need help."
What do we notice here?
All support channels automatically sync and share information
Agents have easy access to this information
The customer doesn't have to state the intent of his/her call and the agent is able to jump right in and pick up the thread from where it was left off
What is a multichannel contact center?
A multichannel contact center also allows agents to interact with customers across a plethora of channels. Thereby providing customers the flexibility to choose the channel(s) to engage with a company.
"Multichannel" includes voice, email, web forms, fax, chat, and SMS interactions. Interactions with channels, however, work in isolation, with each channel acting as a separate department. There is no sharing of data between these different departments.
Let's consider another example. A customer interacts via live chat on a company's website and then a few days later clicks to call. In a multichannel contact center scenario, since all customer engagement and interactions are not unified, the live agent who they speak to may not necessarily have easy access to the customer's previous engagement. As a result, the customer spends time to bring the agent up to speed.
Should the customer call again, a different agent is likely to answer the call, and once again the agent would not be able to easily and quickly navigate to the customer's interaction history. Once again, the (now possibly frustrated) customer would have to spend time to bring this agent up to speed. Good luck getting the customer to call again! An unhappy customer = A lost customer = Lost revenue.
It's certainly workable, but this customer experience isn't the best and there's a fair amount of precious time wasted that directly impacts operational output and bottom line.
How is a multichannel contact center different from an omnichannel contact center?
The key difference between omnichannel and multichannel contact centers revolves around the benefit of centralized and unified backend integration.
In a multichannel environment, customer communications and information live in isolation and are not integrated or unified. This can lead to inefficiencies in the form of wasted time, reduced output, and customer dissatisfaction.
In an omnichannel contact center solution, comparatively, boundaries between channels are nonexistent, offering customers a consistent experience across touchpoints, and therefore higher agent productivity and customer experience management (CXM).
Also Read: The differences between a multichannel and an omnichannel contact center
The business benefits of setting up an omnichannel contact center solution
So why should businesses invest in an omnichannel contact center? The short answer: To reap the benefits of amazing customer experience and service! Why is customer experience so important? Because it's the best way to stay ahead of the competition.
Today, customers reach out on their own terms using an ever-growing variety of platforms, services, and channels. Whether it's text, live chat, Facebook, or WhatsApp, an omnichannel contact center makes it possible to engage customers with ease, providing a personalized and consistent experience across all touchpoints. Agents can optimize for operations and executives can make data-driven smart business decisions thanks to a streamlined, simpler UI and richer set of data and reporting options. It's no secret that a superior customer experience predicts loyalty and repeat business.   
If, as a business, you aspire to provide the FP3 model of CXM 1, it's time to switch to an omnichannel contact center. Chances are, without it, you're falling short. Research shows that businesses providing an omnichannel customer experience have a 91% higher year on year increase in customer retention. A McKinsey report recently demonstrated how an omnichannel approach increased a regional bank's product sales by more than 25 percent per month. 2 That's compelling!
It has already been established that the multichannel contact center experience isn't exactly seamless, both for agents and for customers. An omnichannel contact center solution's unified customer experience, comparatively, has three big advantages:
Create actionable intelligence
Cultivate "actionable intelligence" through in-depth, valuable omnichannel insights from all sources of feedback (calls, chats, surveys, reviews, and social media) and behavioral intelligence. Gain insightful information about campaign impact, purchase behavior, future business decisions, etc., for example. (Source: CCW Digital)
Boosts customer experience. Optimizes customer relationship, engagement, and loyalty.
Reduce customer effort where customers don't have to repeat prior information and can easily access self-service solutions.
Wow the customer by exceeding customer expectations. Make your customer interaction meaningful, personalized, and contextual.
Make dropped and missed calls a thing of the past. By storing call data, you can ensure callbacks and even automate them.
By offering your customer a variety of channels, you allow them to choose a channel they prefer for their communications.
Improves overall contact center efficiency
Reduce agent effort through easy and quick access to customer engagement history (purchase patterns, issue log, etc.), issue resolution, and improved customer self-help as opposed to requesting help from a live agent, thereby lowering agent burden. High agent burden = High agent attrition.
Improve operational efficiency through intelligent omnichannel IVR programming and automation of manual tasks.
Reduce overall operational costs.
Reduce call volume. Thanks to the seamless integration between channels, an agent on an omnichannel contact center would be able to spot customer inquiry channels and expediently correct the situation. It could be done either through a pleasant and personalized call from the agent or through the implementation of a relevant chatbot. A business that rejects omnichannel would struggle to find the relevant data in the first place to meaningfully triage the situation.
How to switch to an omnichannel contact center solution
In spite of the advantages, 63.5% of US companies don't or can't provide their customers with a unified communication experience.1
Switching to an omnichannel mode is not as intimidating as it may be perceived to be, and pales in comparison to the benefits companies are likely to reap by implementing an omnichannel contact center solution. There are two simple steps to creating an omnichannel call center:
Share data:
What businesses essentially need is to ensure that customer data is stored and organized within a centralized database. For most businesses, this is their CRM. Here customer information can be captured as they move through the journey from prospect to after-sales support.
Integrate to automate:
Next, you need to ensure that this data is accessible to agents when they speak or chat with customers. That is, agents managing your digital (email, WhatsApp, chats) and voice (phone calls) channels are automatically presented with the relevant data as they speak or chat with the customer.  
Note: Ensuring that customer data is available to agents when they answer calls is also known as Screenpops. You can learn more about this feature in our blog on Screenpops.
Common challenges in switching to an omnichannel call center
In the next part of this guide, we get into the nitty-gritty of how this can be executed for different businesses depending on the current state of their call center. If your company runs a call center, but it's not an omnichannel solution, you would most likely be operating in one of these three scenarios
Scenario 1: 
You have a legacy call center solution that is not integrated with your CRM. If you offer more than one support channel, they all work as standalone systems.
Scenario 2: 
Your business uses a single channel, usually the phone channel. This phone channel may be supported by cloud telephony and integrated with your CRM, but you do not offer any digital support channels.
Scenario 3: 
Your business has a cloud telephony solution and one or two more digital channels, but you don't have a CRM solution that unifies the customer journey across these channels
We'll now cover how to migrate to an omnichannel call center in all three scenarios.
Solution 1: Migrating a legacy call center to an omnichannel solution
The challenge: For legacy call centers with on-prem hardware, the biggest challenge to an omnichannel solution is an inability to integrate with the CRM or the inability to quickly add new channels. For hardware intensive call centers, adding new channels can be prohibitively expensive.
The solution: Getting cloud capabilities is the only way to economically keep adding new channels, while seamlessly integrating with your CRM. One option, of course, is to migrate your on-prem solution to a cloud solution. The other would be to add on a cloud solution to your existing on-prem solution. This cloud solution can give you the integrations and digital channel capabilities you need while you continue to use your on-prem solution in the backend.
Note: Ozonetel provides the fastest legacy to cloud migrations. It also offers an "add to the cloud" solution to add cloud capabilities to your existing on-prem hardware. To know more, contact us today.
Solution 2: Adding new channels to your cloud call center
The challenge: For call centers that are currently offering only a single channel, what holds them back from trying out new channels is often the inability to start small or experiment. Setting up a new channel often requires onboarding a new vendor who provides that solution and getting together a new team to respond to this channel. This can be tricky when you're not sure about your returns on a new channel.
The solution: Initially, rather than investing in a new team, use your existing team to handle the new channel. For instance, if you add a chat channel, divert the chats to some members of your call center team. You can select which call center agents to assign these chats to within your chat routing options. Additionally, if those agents can answer both calls and chats for the first few months, it would be even more useful. A good contact center solution should have a dynamic agent interface. Agents in blended mode should be able to answer both calls and chats here.
When you add a new channel, don't forget to integrate it with the same CRM that your other channels use to ensure an omnichannel experience. Also, keep testing usage and satisfaction levels to see if you should continue with the channel, scale it up, or do away with it.
Note: Ozonetel makes it easy for you to add new digital channels and scale up or scale down with ease. Learn more about our omnichannel offerings here.
Solution 3: Unifying with a CRM integration
Challenge: When you have two or more channels, but they are not integrated with a CRM solution, it's difficult to get a seamless omnichannel experience.
Solution: Use a contact center solution that deeply integrates with your CRM solution. That means it passes on call and chat data automatically to your CRM system, seamlessly extracts the relevant data, and presents it to your agents when required. Our clients have found that these kinds of CRM integrations have reduced average handle times by 40% or more.
Note: Read customer stories that demonstrate how an integrated call center solution can improve both operational efficiency and customer experience, or learn more about our CRM integrations.
Guide to choosing an omnichannel solution provider
There are omnichannel contact center solution providers out there that provide ready-made integrations with your CRM. Here are some factors that mid-sized and growing businesses should keep in mind when selecting their solution provider.
Support. 24/7 email and live phone support is ideal. Not all services offer the latter, which is a saving grace, especially when businesses are adopting new technology and solutions.
Fast Setup. Agility is critical when testing new channels. Get a cloud solution that sets up in days, not weeks.
Scalability. A plan that scales with your business. Opt for an omnichannel contact center solution that allows you to cancel anytime without any penalty and lets you move up and down the subscription ladder based on your business needs. Basically, it should allow the flexibility of a 'go as you pay plan,' where you pay as your business needs scale. You do not have to commit to a flat rate for an extended period when several product offerings may not even be applicable to your current business needs.
Deep CRM integration. It's critical to ensure that the omnichannel contact center solution you select has seamless CRM capabilities from within the contact center solution (as opposed to having to toggle between windows and tabs) at no additional cost. Ideally, you would also find one that also works with your existing CRM platform, so that's one less thing to switch.
Additional tips to help switch to an omnichannel contact center solution
Ensure seamless ticketing integration. A robust CRM/ticketing integration ensures that users switching between email, live, and voice channels never have to repeat information. A CRM Phone Integration, for example, gives agents all the necessary information on a screen pop on the dashboard. Agent effort is reduced and productivity is enhanced. When the phone call is over, agents update the status in the dashboard. The integration automatically updates the status in the contact center as well as in the CRM/ticketing software.
Combine your biggest support channels. For example, connect your website to your contact center in real-time to harness the power of live voice and chat support online. This can usually be done with easy-to-use programmable APIs and interactive assistants. By doing this, you won't need different vendors/agents to manage live chat and voice calls. It's easy to operate, scale, and manage your omnichannel service right away.
Prioritize changes. Be mindful of customer behavioral diversity and prioritize pain points for an effective roll-out strategy. For instance, during set-up, companies can create flexibility in allowing varied options for customers to reach the same endpoint. It may be best to prioritize pain points to assess which changes to make first, gradually making the entire process simpler and more effective for customers.
Check the health of the omnichannel solution. It's also important to periodically re-examine how the omnichannel model is functioning. Identify improvement opportunities and translate gaps into new rounds of implementation initiatives.
Conclusion
While an omnichannel contact center reality is a relatively new idea, frictionless, personalized, predictive, and proactive (or FP3) customer-centric industry standards are not. Modalities of seamless, 360-degree customer engagement and satisfaction have changed and are more complex in our times.
Today's busy customer dictates the nature and mode of a business transaction through a plethora of devices and channels. Customer engagement is on a 24/7 cycle. Now, more than ever, metrics of customer loyalty, satisfaction, and retention are critical, simply because in a highly competitive environment, loyalty is a thing of the past. Today's customer is discerning and demands the highest level of customer experience.
An omnichannel contact center enables companies an increased analytics-based personalization to make the customer experience journey seamless and satisfying.
Note: Ozonetel prides itself on being the best solution for growing businesses. If you are a mid-sized business looking for an omnichannel contact center solution or better customer experience solutions, learn why Ozonetel is the best bet for you on www.ozonetel.com
1 Source: CCW Special Report 2020 Predictions.