WhatsApp for Real Estate: The Benefits of An Omnichannel Communication Strategy
WhatsApp for Real Estate: The Benefits of An Omnichannel Communication Strategy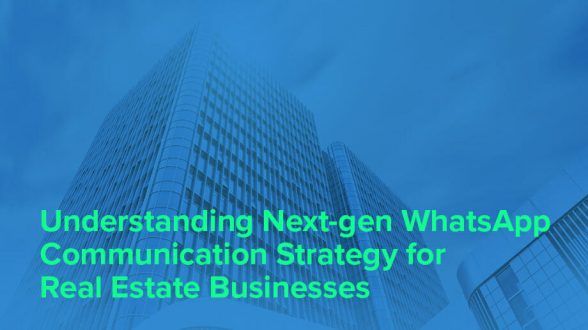 India's real estate industry has registered stellar growth in the post-COVID era. It is not only one of the biggest sectors driving economic growth and registering FDI flow but it is also a huge destination to deploy innovative technologies such as Artificial Intelligence (AI), the Internet of Things (IoT), and Robotic Process Automation (RPA). Real estate sales volumes have rebounded to their pre-pandemic levels and may reach new heights in the coming months. By the end of 20251, real estate businesses are slated to contribute 13% to India's GDP. The industry is witnessing a paradigm shift in the way it has embraced technology to deliver an exceptional experience (CX) to its customers. Its galloping strides have been firmly assisted by newer innovations for marketing, communication and sales across residential, commercial, and retail projects. WhatsApp chatbots and automated calls are prime examples of innovations in communication strategies that your real estate marketing team should be aware of.
In this article, we will highlight how WhatsApp communication strategy for real estate companies works and how you can digitize your entire omnichannel marketing communication around it.
In this article, we will explore:
Defining an Omnichannel Communication Strategy
Omnichannel or omni-channel strategy refers to a unified marketing and sales approach that strives to communicate with the customer across multiple channels, such as the desktop, mobile device, wearables, display ads, or physical stores.
In the modern era of omnichannel communication, leading brands promote their products via the latest "phygital" platforms2 to enable frictionless & seamless journeys for their customers.
An omnichannel communication strategy could involve two or more of these synchronized channels:
Website [home page, landing page, contact us forms].

Emails and newsletters.

Website chatbot.

Social media posts on Facebook, Twitter or Snap.

Pinned posts such as Instagram and Pinterest.

Social media messengers such as WhatsApp or WeChat.

SMS.

Contact centers / 

Telecalling

 centers.

Display ads.

Video content and live streaming content.

OTTs.

Next-gen immersive content such as metaverse and NFTs, and so on.
WhatsApp to Digitize Omnichannel Communication for Retail Businesses
Customers like to stay in touch with their favorite brands.
Though omnichannel communication technologies are still evolving, retail real estate companies, together with e-commerce, have understood the need to modernize their sales practices. A WhatsApp chatbot for real estate business is a reliable way to personalize the various touchpoints in your buyer's journey. Let's understand how.
Understanding India's Real Estate Sector
India's real estate market is still highly volatile. Despite registering a mammoth year in annual sales this year, a large percentage of retail units would remain unsold.
Why?
Indian buyers are usually brand-centric and price-sensitive. In real estate buying, traditionally, a buyer could spend a lot more on a first home or office unit, if there is a scope for personal relationship-building and mutual understanding. This has changed post-COVID.
With the Indian economy moving up, real estate businesses are expected to perform better even as buyers' perceptions continue to change around their aspirations to buy homes closer to an urban town or metro city. Buying a home near their office location is the number one priority, and that's where retail real estate companies are hunched to target prospects. However, there is a silent population of buyers and sellers who deal in agro-farming properties, farmhouses, and plantations. Urban real estate companies could miss out on this population. It becomes difficult to truly understand what a buyer wants and which category they belong to unless you have your first sales touchpoint.
That's where a personalized WhatsApp chatbot plays an important role!
Using WhatsApp Business for real estate, customers can search for properties based on location, price, size, and other details, and that data is tracked directly in the app. We will understand this aspect of having a WhatsApp chatbot for your sales communication by taking a few examples. These examples reveal the persistent challenges faced by real estate agents in India.
Challenge 1: Failing to Grab Eyeballs to a New Project Launch
Reach your potential buyers before your competitors do by using WhatsApp + call strategy for a new project.
Potential buyers are always on the lookout for new projects in their city. A majority of these buyers never get enough information about all the projects that could potentially enlarge their shopping list. They would give preference to the established builders who have a knack for grabbing attention with their marketing and sales tactics.
If you are planning to launch a new project, you will be surrounded by competition all the time. Prospects could fill in a contact form landing from a website, banner ad, or social media advertisement.
Challenge 2: Pricing Information
Give your customer all the information about prices and discounts via personalized WhatsApp chats.
Housing prices fluctuate in short periods, if not frequently. Recurring information on the same pricing structure could annoy your potential buyers. Personalize your conversation with AI-based messages sent via WhatsApp for real agents. The chat could include a comparison between different units in the same locality, forecasts on the real estate prices and appraisals in the next 4-5 years, and festive discounts to attract your prospects and leads.
Challenge 3: Funding Assistance
Integrate your real estate agent with banking and financing opportunities to ease buying pain points.
A top reason why prospects opt out of a conversation with real estate agents is pricing and non-assistance in funding. Top banking companies that offer home loans and personal loans offer attractive opportunities to real estate companies as part of promotions and branding activities. Leverage WhatsApp conversations with your top investors and real estate agents to secure customers who are planning to buy new properties using loan services.
Challenge 4: Multilingual Sales Conversations
 Sales conversations tap off due to the inability of the real estate agents to communicate in a language their customers speak.
The top 8 Indian cities with the highest number of bookings of new homes and offices are IT and education hubs. Employees working in IT companies but belonging to other states (speaking non-local languages) would prefer to chat in multiple languages. WhatsApp messaging platform benefits business users to communicate with a client in the language of their choice. This unique proposition allows real estate agents to build a personal rapport with the buyer and take the conversation forward toward closure.
How CCaas Platform and WhatsApp Chatbots Sync for Better CX
Apart from the obvious solutions to the above-mentioned challenges that real estate agents face, here are some of the unique propositions of using WhatsApp chatbots for real estate communication.
24×7 Instant Replies
The automated chatbot for WhatsApp messenger is highly responsive and crisp with its instant replies. Agents can stay connected with customers & prospective buyers 24×7 without losing touch.
Better Reach Through Omnichannel Platforms
So, your customer likes popular messaging app but seeks more information that can't be posted on the chat? 
Give your customer more options such as sharing the information in an email, or even better, invite them to a face-to-face video conferencing session! WhatsApp chatbot can schedule the next video call for you instantly based on your customer's convenience.
Locate My Property
How many times has it happened that your property was shortlisted by a customer, but they ended by visiting your competitor's site 500 meters away and giving yours a total miss!!! Never let this happen again by using WhatsApp's live sharing and Google Maps services to direct your visitors to the exact site location.
Have Referrals, Please Share
One lead often results in another referral for buying properties. WhatsApp conversations with chatbots are designed to seek referrals more scientifically without sounding too intrusive.
Follow-up, and Personalize
Customers who have WhatsApp conversations as a reference are more likely to buy the property on their first visit to the sales office or site. Personalization of WhatsApp chats is the number one priority for most real estate businesses looking to double up their bookings and retain more customer referrals for their next projects.
How Real Estate Agents Use WhatsApp for Business
Real agents can leverage WhatsApp for a host of reasons:
Automated Sales Qualified Leads
With automated sales qualification, you can integrate three steps into one: generation, qualification and automated lead scoring.
Most real estate businesses fail to scale their business because of poor sales planning and a lack of omnichannel strategy. A WhatsApp chatbot linked to a contact center as a service platform can solve this problem in one shot. Scale your lead generation with automated sales intelligence linked to yourmarketing CRM and customer contact center.
Query Management
Are your agents spending too much on understanding queries? Are you being sucked into the vortex of repetitive doubts and inquiries? Then you need to scale your omnichannel customer support center with WhatsApp and automated calls. 
Providing an accurate and exact answer to every query raised by a customer is part of customer service. It could save real estate agencies in India millions of dollars by automating their customer service department with WhatsApp chatbot.
Human-Agent Liaison
Human agents are brought into the picture to solve specific questions that a bot can't resolve. For instance, "Is this site sanctioned for re-purchase from the builder?"
For high-level customer queries, it is best to have a CCaaS platform that automatically transfers the chat query to a human executive or a manager. It saves the brand's reputation and allows the data science team to use this conversation data to build a better bot that can understand complex questions.
Site details
Once the sales team captures the SQL, the WhatsApp bot can send site details to the prospects, enabling them with more information about the property and its uniqueness. As the next step, the chatbot or call center automation tool can ask the prospect about a convenient time to visit the place with a scheduling app linked to the phone number, email ID or just a username.
Visitor Management
A site can get multiple visitors in a day. WhatsApp Business allows estate agents to manage every visitor in a more planner manner. You can give your visitors more options such as:
Is the site located close to their current place of residence?

 

Would they need transportation / a pick-and-drop service to visit the place?

 

how many companions do they plan to bring?

 

what time they would visit?

 

how much time do they usually take to finalize a deal?

 

are they bringing a pet, a kid or elderly people with them?

 
Virtual Tours
The Virtual Reality Software market for real estate business is slated to touch 1159 million USD by 20233. Many agents see tremendous potential in integrating their existing CCaaS with AR VR technologies.
If the client is unable to visit the site, you can arrange for a virtual tour by sending a link to AR VR-enabled immersive content on your website or YouTube.
Payments, KYC and After-sales
Online KYC, paperless documentation and new property listings become easy with a WhatsApp messaging automation tool.
The payment structure in real estate deals can be complex for first-time buyers. Allow your buyer to understand each payment slab and conveniently allow them multiple payments, financing and mortgage options through automated chats.
Thanks to UPI, you can now send a payment link to your customer on WhatsApp. Keep track of each payment cycle without sounding too intrusive. Apart from the payments link, you can leverage video tools, automated documentation, and registration of your KYC details to further simplify the process of handing over the property to the customer.
Visitor Management
You can give your visitors more options such as:
Is the site located close to their current place of residence?

Would they need transportation / a pick-and-drop service to visit the place?

how many companions do they plan to bring?

what time they would visit?

how much time do they usually take to finalize a deal?

are they bringing a pet, a kid or elderly people with them?
Best Practices for Chatbot users in Real Estate Industry
Whether you are an established real estate company with years of experience or just a startup, a WhatsApp chatbot can be extremely useful for your operations. However, you should keep in mind certain best practices to secure your omnichannel strategy.
How Ozonetel's CCaaS Platform on WhatsApp can Help Your Real Estate Businesss
It is nearly impossible to think of generating meaningful insights for your real estate business by staying away from WhatsApp and call management solutions.
A well-defined omnichannel strategy followed by swift execution is critical for driving CX success. You can leverage Ozonetel's CCaaS platform on WhatsApp to devise your CX-centric omnichannel strategy. It enables your customer to call or WhatsApp you on the same number.
Our WhatsApp solution can help you reduce the cost of operations by more than 75 %. Our inbuilt AI capabilities can automate conversations and enable contact center agents to handle up to five WhatsApp conversations at a time.
You will have access to all the contact center features needed to personalize communications including virtual numbers, automatic call distribution, interactive chat response systems, and more.
The platform also enables our customers to directly connect with relationship managers, counselors, delivery partners, field sales teams, or their account managers through WhatsApp.
References
1. How is Indian real estate industry placed currently to start its next growth journey, Financial Express
2. Phygital, by Monash Business School
3. Global AR VR in Real Estate Market Ecosystem By Raw Material; By Components; by Products, Parts and Devices; by Services & Solutions; by Application (Training, Monitoring/Maintenance); by region.