WhatsApp Business Solution Provider: Why Choosing the Right BSP is Crucial to Your CX Goals
WhatsApp Business Solution Provider: Why Choosing the Right BSP is Crucial to Your CX Goals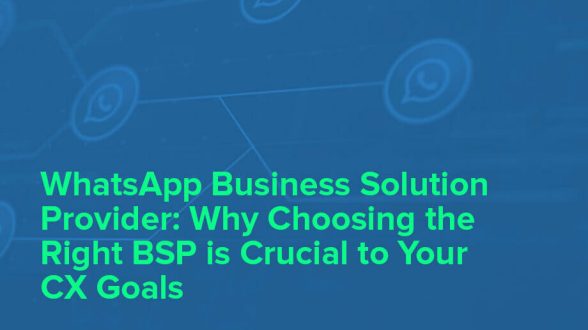 Why do so many businesses want to establish a presence on WhatsApp? For brands in emerging markets, the answer is clear: WhatsApp tops the worldwide popularity list for messaging apps with 31 percent of the global market.
In that light, the question isn't whether you should get involved with WhatsApp but how best to achieve it. And partnering with the right WhatsApp Business Solution Provider holds the answer.
WhatsApp Partners serve as the essential interfaces between your enterprise and this leading chat platform. Here's how they work and why you probably shouldn't go without one.
In this article, we will explore:
What is a WhatsApp Business Solution Provider?
WhatsApp is a messaging app that allows users to send text, audio, and video messages to one another. It's available for iPhone, Android, Windows Phone, and BlackBerry devices, but it doesn't just cater to individuals.
Remember those massive market share figures from earlier? A good portion of those users are businesses that use the app to reach out to clients, advertise, handle complaints, and more. As of 2020, enterprise users accounted for a whopping 50 million accounts!
It seems clear that WhatsApp has business potential, but how do companies make the most of it? Most go through a WhatsApp Business Solution Provider, or BSP – a third-party company that provides access to the WhatsApp API.
The WhatsApp Business API allows businesses to send messages to their customers using the WhatsApp platform. The only problem? Making the most of it isn't quite as easy as it sounds.
Dealing With APIs: Why You Need a Business Solution Provider
Make no mistake, the WhatsApp Business API is a powerful tool that you can use for customer support, marketing, and even sales. However, it can be difficult to use if you don't have the right tools or knowledge resources. That's where a Business Solution Provider comes in.
A BSP will provide you with everything you need to use the WhatsApp Business API effectively. They may also help you manage your customer interactions on WhatsApp and ensure you meet all of the platform's policies and regulations.
Because the WhatsApp Business API is a code-based solution, it doesn't come ready to work out of the box. Instead, you'll need to build whatever application or integration you want to use it with.
This is doable for some companies, but for others, it presents a huge hurdle. If you're not a developer, or you don't have any on your team, finding a third-party provider that offers solutions known to work with the WhatsApp Business API Account can make life easier.
There are also several practical reasons why you might need a Business Solution Provider:
You don't have the time or resources to develop your solution:

 Developing a solution from scratch can be time-consuming and expensive. A BSP can save you both time and money by providing a ready-made alternative you can put into production at once.

You don't know where to start:

 WhatsApp is a complex platform, and it's not always obvious how to use it to your gain – even if you employ a team of coding mavericks. Working with a Business Solution Provider can lower the starting hurdles by letting you build on an existing solution or offering advice on how to create a tailor-made outreach platform.

You need expert help:

 The WhatsApp Business API is complex and constantly evolving. A Business Solution Provider will have experts on staff who can help you navigate the platform and make the most of its features.

This is crucially important when it comes to updates. Although Meta – the parent company of WhatsApp and Facebook – is fairly good at announcing major breaking API changes in advance, there are no guarantees. Partnering with a WhatsApp Business Solution Provider can help you keep up with the evolving code without as much of a hassle.
You want peace of mind:

 A BSP can help you avoid potential problems by ensuring that your solution is compliant – not only with WhatsApp's policies but also with the national regulations that govern how you do business and advertise online.

BSPs are also great at keeping routine operations running smoothly. For instance, they can help you troubleshoot any issues that may arise or oversee deployments when you want to roll out new features, making it a lot easier to focus on running your business while taking issues in stride.
Choosing Your Partner Wisely: What to look for in a WhatsApp Business Solution Provider
When choosing a BSP, there are several factors to consider. Remember, your relationship with your BSP can make or break your enterprise experience with WhatsApp, so it pays to be careful about who you work with:
A Unified, Omnichannel Platform
Juggling separate business solution providers for your calls, SMS and WhatsApp solutions can lead to poor customer experience as well as unnecessary management and billing complications for you. Look for a unified   WhatsApp  CCaaS Solution to ensure you can manage all your communications on a single platform.
Feature-rich Options
WhatsApp offers you immense possibilities to scale up your campaigns. Even if you start small, ensure your BSP can provide you conversational AI as well as agent routing for human failover. This way, you can fully or partially automate conversations based on your campaign requirements, not on your BSPs capabilities.
CRM Integrations
Ensure that your BSP can assure you of seamless CRM integrations. Without integrating with your CRM you cannot take advantage of your customer data to personalize campaigns.
Compliance
Choose a provider who can help you ensure compliance with all of WhatsApp's policies and any applicable legal regulations – and don't forget to consider the future. For instance, if you think you might want to branch out into the healthcare sector down the line, then you'll probably benefit from selecting a HIPAA-compliant BSP.
Support
Look for a provider who offers 24/7 support in case any issues arise with your solution. After all, you never know when trouble might rear its head, and it might not even be your fault when it does since hardware failures and power outages are among the top three causes of IT downtime. While it's possible to improve your practices to sidestep some of these setbacks, building a disaster-ready emergency team in advance is the greatest defense.
The Features and Benefits of Having a BSP
BSPs deliver services designed to capitalize on known sources of business value – and derive new value from revenue streams that previously went untapped. While each use case is unique, some of the common perks you might enjoy by working with a WhatsApp partner include:
Increased Customer Engagement
With a BSP, you'll be able to reach out to more customers and encourage two-way communication through features like automated messages, quick replies, and away messages. This will help you build stronger relationships with your customers and increase customer loyalty gradually but sustainably.
Improved Customer Support
A BSP can help you improve the performance of your customer support team by providing features like automated responses, live chat, and  smart, context-aware conversational AI. This empowers your customer service agents to handle customer inquiries more quickly and efficiently, leading to improved satisfaction levels.
Greater Marketing Reach
With a BSP, you'll be able to interact with more customers through features like broadcast lists and message templates. This will allow you to promote your products or services more effectively and reach new markets with greater ease.
Enhanced Sales Capabilities
A BSP can help you increase sales by providing features like click-to-chat buttons, lead capture forms, etc. This will let you connect with potential customers more easily and close deals faster.
Better Omnichannel Outreach
WhatsApp is a great solution for getting in touch with customers – but it's only one potential avenue of outreach. Working with a BSP can improve your ability to connect with customers on multiple communication channels, including SMS, email, and social media.
Better Payment Options
WhatsApp offers several payment options, and BSPs may make it easier to transfer and receive funds – which is key for growing businesses. These include traditional methods like credit cards as well as more modern options like Apple Pay and Google Pay, making it possible to accommodate a wider range of customers and still fulfill your payment compliance obligations.
Increased Customer Loyalty
Customers who have an enjoyable experience with your business are more likely to return in the future – and they're also more likely to recommend you to their friends and family members. A good BSP can help you create an exceptional customer experience that will keep people coming back for more. For instance, instead of repeating the same conversations over and over with customers who'll eventually become frustrated with getting the run-around, you can build custom systems that lookup account information and contextualize conversations for your chat agents – leading to more rewarding, personalized interactions that engender lasting goodwill.
Smoother Integrations
Engaging customers is tough, especially when your conversations with them unfold across multiple digital marketing channels and real-world venues. Anything you can do to ease friction – particularly at the transition points – is a good idea, and BSPs make it easier to achieve seamless experiences starting with your tech stack. By ensuring the consumer never notices the difference when they switch from chatting on WhatsApp to emailing or vice versa, BSPs can help you craft a branded engagement journey that feels far greater than the sum of its parts.
Verification
Businesses can boost consumer confidence by applying for a verification checkmark that lets users know who they say they are. The only catch? You'll need a Business Solution Provider to request verification for you.
How the WhatsApp Partner program works in brief
Companies that want to become partners must apply with Meta by filling out an application and providing their details. Beyond that, however, Meta doesn't enforce many limits on how BSPs can operate apart from what's defined in its terms of service.
Platform-wide restrictions include prohibitions against spam and illegal content, but partners have quite a lot of leeway in other regards. This makes it even more imperative to choose a BSP that complements your business mission.
WhatsApp BSPs: Features, Pricing, and Restrictions
Picking a good WhatsApp Business Solution Provider comes down to three vital areas: its feature offerings, pricing schemes, and restrictions:
Feature offerings
Your WhatsApp Business Solution Provider must offer a wide range of functionalities that can help you customize your WhatsApp account according to your business needs – not make you change everything to accommodate them. Some key functionalities to look for include:
Broadcast Lists
You should be able to create and manage broadcast lists easily. This will allow you to send WhatsApp messages to multiple contacts at once.
Automation
Automation is key when it comes to managing a WhatsApp API. A good WhatsApp Business Solution Provider should offer automation features such as auto-responder, message scheduling, and bulk messaging.
Analytics
Tracking the performance of your WhatsApp channel is vital to maintaining a high ROI. A good WhatsApp Business Solution Provider should offer detailed analytics reports that can help you improve your messaging strategy.
Integrations
The best WhatsApp business implementations work with existing tools and software for a streamlined outreach management process.
Pricing Schemes
Pricing is a crucial factor when choosing a WhatsApp Business Solution Provider. Make sure to compare providers before deciding. Pricing plans usually vary based on the number of contacts, messages, and features offered. WhatsApp itself is free, but you can expect to pay more for advanced features that augment what you can do with the app.
Restrictions
Some countries have placed restrictions on the use of WhatsApp for business purposes – and some BSPs take it a step further. This may be due to their business models or simply because they don't have the skills to offer certain perks. In other words, you'll want to do your homework in advance, check the restrictions in your country, and compare offerings, integrations, and feature sets before choosing a partner.
What to look for in a Business Solution Provider?
WhatsApp can help you reach out to more customers, improve support, and increase sales. However, building on the WhatsApp Business API demands time, attention to detail, and funding – all of which might ironically limit your ability to focus on your consumers!
A WhatsApp Business Solution Provider can help you overcome these challenges by providing you with the tools and resources you need to use the WhatsApp Business API effectively.
When choosing a BSP, look for a provider that has experience working with businesses in your industry, can help you ensure compliance with all of WhatsApp's policies and any applicable legal regulations, and offers 24/7 support in case any issues arise with your solution.
Why Ozonetel should be Your Preferred BSP
Organizations can vastly improve the quantity and quality of WhatsApp customer conversations using Ozonetel's intelligent, full-stack Contact Center on WhatsApp. With our solution, you can significantly cut your operational costs & amplify engagement by up to five times. Ozonetel's CCaaS Platform for WhatsApp offers all the key features needed to personalize customer communication at scale, including virtual numbers, automatic call distribution, interactive chat response systems and bots. Customers can directly connect with relationship managers, counselors, delivery partners and field sales teams via WhatsApp. Our innovation enables you to track customer interactions in real-time and get detailed engagement statistics via dashboards and reports.
One Business. One Number. With Ozonetel, you can convert any customer-facing number into your WhatsApp phone number. This means you can use your existing toll-free customer support number for WhatsApp as well, keeping your brand identity and customer experience smooth and seamless. 

 

Flexible Automation Options. Automate customer interactions using our proprietary Conversational AI. You can choose from a variety of plans that offer full or partial automation based on your campaign requirements.

Seamless Human Failover. Enable swift bot to agent handoff. Ozonetel offers intelligent routing to agents. 

 

Omnichannel Agent Dashboard. Our intuitive agent dashboard allows your agents to manage calls and chats within the same window. We have several efficiency features including CRM screen pop and AI-based smart assist to ensure agents can seamlessly manage 3-5 conversations simultaneously.

 

Ultrafast implementation. Ozonetel helps you 

integrate WhatsApp into your current contact center processes with minimal investments. You can have your solution up and running in days. 

 
Set up a fully functional contact center on WhatsApp with minimal investments & deliver a stellar customer experience—in a cost-effective, efficient & scalable manner with Ozonetel. Explore what's possible by reaching out to an Ozonetel expert today.