What is CPaaS? How does it help businesses build better customer experience?
What is CPaaS? How does it help businesses build better customer experience?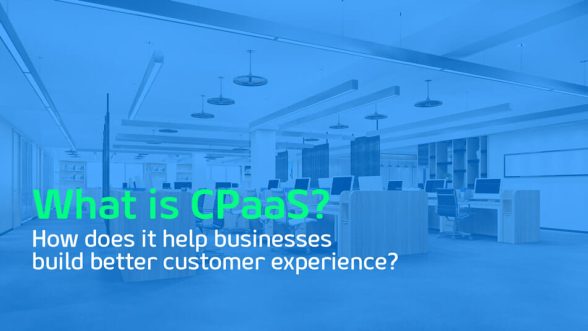 Over the last few years, customer expectations have changed. Today, customers expect prompt access to information in a channel of their choice. Insights from the State of the Connected Customer* report show that 85% of customers expect cohesive experiences across departments. Failure to provide such experiences results in lost opportunities, costing companies up to $1 trillion in revenue losses*.
So, what prevents businesses from building the real-time communication their customer wants? A rapidly changing environment is one reason. Businesses often need to quickly add or prioritize a new communication channel. But while deployments need to be agile, they must also be robust and dependable. A secure, high-availability infrastructure is necessary to prevent outages and ensure data security. Additionally, rapid technology developments add pressure on businesses to upgrade constantly.
Here is where CPaaS, aka Communications Platform as a Service, comes in.
With CPaaS solutions, you can fully customize your communications stack. Instead of purchasing solutions with predefined features or building a solution from scratch, you can integrate selected communication features into the business apps you use. Additionally, the cloud-based delivery model minimizes investments while ensuring easy scalability.
However, businesses struggle to meet these expectations. The 2022 Omdia study*, across more than 200 customer experience (CX) professionals highlighted three eye-opening statistics:
61% of CX professionals are unable to engage with customers across channels in personalized ways.
55% lack tools to enable proactive, intelligent customer engagement.
36% can't access customer insights and journey data.
To build relevant customer communications at this brisk pace, businesses today require:
Fast implementation cycles and future-ready technology.
Seamless integrations with existing software (such as CRM software) to personalize communications in a way their customers appreciate.
An ability to add new customer communication channels with minimal investments.
An ability to scale their communication services, on-demand, across any channel.
In this article, we will explore:
What is CPaaS?
CPaaS (Communications Platform as a Service) is a cloud-based platform that businesses use to embed real-time communications features like voice calls, in-app messaging, WhatsApp messages, interactive voice response, email, and SMS communication into their existing workflows and applications— enabling faster turnaround time and agile innovation.
This communications platform allows developers and IT teams to leverage their web development skills to build telecom applications. The platform acts as an interface between business applications and the user's landline, feature phone, or smartphone.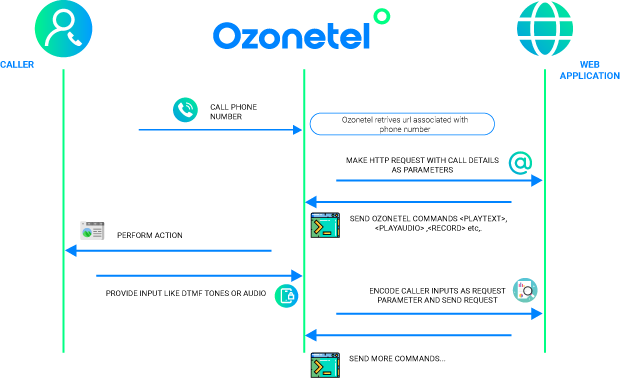 With a CPaaS solution, your business does not require to own infrastructure or build communication features from scratch. Instead, with the help of Communication APIs (Application Program Interfaces), all you have to do is pick your preferred communication features and integrate them with the existing software stack.
The result: you get real-time access to best-in-breed features and tools with minimal investments and ultrafast deployment.
Business challenges that CPaaS solutions solve
CPaaS platforms simplify telecom and digital communications for businesses enabling them to innovate more rapidly while saving costs and time.
Rapid innovation
Businesses often have ideas for out-of-the-box solutions to improve customer experience (CX) on their mobile applications or websites. However, video, voice, and SMS are each single-purpose applications each having its code and logic. As a result, integrating and syncing them on the backend with communication channels is an enormous challenge for developers.
CPaaS empowers IT heads and developers with a robust platform where they can easily build these communication capabilities into their existing software or applications for seamless connectivity.
IT teams can build and implement innovative communication solutions rapidly, with negligible capital expenditure. This gives them the freedom to quickly prototype and test ideas.
Seamless integrations
Using CPaaS solutions, your developers can authorize webhooks to send an SMS, place a call, or send an alert from within existing business applications such as their CRM, based on predefined criteria—in a matter of minutes.
Most CPaaS providers offer readymade integrations with leading CRM solutions on one end and with messaging channels such as WhatsApp, or social media channels such as Twitter and Facebook on the other end.
Your CPaaS solution will also integrate with any of your custom applications.
Omnichannel experiences
Today's customer contacts a business through multiple touchpoints. For instance, they could buy a product at your offline store, make a complaint about it via email, follow up on that complaint via a phone call and then make a repurchase on your online store.
When they contact your customer service, they expect the agent to already have details of their prior communications. Similarly, when your business gets in touch with the customer via, let's say a WhatsApp message, they expect the offer you send to be personalized for them. This is only possible when there is a seamless integration between your various customer-facing channels and the backend data.
Businesses can use customer journey data to communicate personalized offers to customers at critical touchpoints. Agents have seamless access to the relevant customer data when they speak or chat with them on any channel.
Custom applications
CPaaS offers your business the tools for a rapidly changing communications environment and reacting faster to unpredictable situations. Compared to UCaaS and CCaaS solutions, you don't get a pre-bundled set of features but instead can quickly add the exact features your business requires at that point. You only pay for what you use and can scale up or add new features on the fly as your business requirements grow or change.
CPaaS offers a rapid means of building your own business applications on a robust communications platform.
Cost savings
Developing a solution from scratch can significantly drain resources and time. A lot of time goes into writing custom code and managing disconnected applications. This process can become inefficient, cost-ineffective, and unsustainable over the long term, while solutions like CPaaS prove cost-effective and efficient.
CPaaS providers bill on a pay-per-use basis, which is far cheaper than building and hosting your own communications infrastructure.
Data privacy
Your CPaaS platform will not store any of your data or access any details of your application. The Application Programming Interface will also provide a layer of security for both your application data and the server by sharing only relevant data between the two.
Dependability
A trustworthy CPaaS vendor ensures a high availability infrastructure with in-built redundancies and high uptime giving you unmatched business continuity without any maintenance hassles. They will also ensure meet the latest regulations and compliances you require in every region.
CPaaS vs Ucaas vs CCaaS
Both CCaaS (Contact Center as a Service) and UCaaS (Unified Communications as a Service) are pre-bundled cloud communication packages. While CCaaS typically offers external-facing communications solutions such as contact center management and supervision features, UCaaS focuses on internal business communications and collaboration features.
For example, CCaaS solutions typically simplify your contact center communications while UCaaS could offer you video conferencing tools for remote meetings or team messaging apps.
A CPaaS communications platform, by contrast, allows you to pick and choose the communications capabilities that your business requires. Businesses use this to build both customer-facing and employee-facing communications. For instance, you could use CPaaS to automate phone calls and text messages to your customers at critical stages in their customer journey. Similarly, you could use this communications platform to automate status alerts for your delivery agents via voice calling or SMS.
Typically enterprises that want to build a custom communication solution or have a very niche requirement would choose a CPaaS over CCaaS. Individual developers also often turn to a CPaaS solution to embed communications features into the software they may have developed.
Also Read: The benefits of combining your UCaaS + CCaaS solution
Use cases: how businesses use CPaaS to improve customer experience across touchpoints
As a CPaaS provider for leading brands, we have seen businesses use our CPaaS platform in several innovative ways across the customer journey:
Marketing
Brands and marketing agencies have used our CPaaS platform for many innovative marketing campaigns such as missed call campaigns, SMS text campaigns, and interactive voice response campaigns that would play pre-recorded music and interactive content. 
Number masking is also a key feature that CPaaS providers offer to enable businesses to track ROI on their marketing campaigns by use of virtual numbers for their ad campaigns.
Customer service
Businesses can build full-fledged contact center solutions on CPaaS platforms. They can also use CPaaS features to customize or extend their CCaaS capabilities. For instance, to automate outbound voice calls, prioritize incoming calls based on customer segmentation, for intelligent call routing, self-service IVR solutions, or enable call recording and transcriptions.
Operations
Businesses use number masking for last-mile delivery solutions, field force management, and automated rescheduling of appointments for real estate agents or other field staff such as service engineers or homecare nurses.
For instance, during COVID, there was a surge in clinical services provided at home including physiotherapy services and lab tests. Healthcare teams were working on the field, and their smartphones were the easiest way to connect with them. Some diagnostic service providers used our CPaaS to build an innovative IVR to remind and confirm that day's appointments with their phlebotomists before they left their homes.
Similarly, a large appliance company uses our virtual number masking solution to let their vast fleet of service engineers speak to customers for appointment confirmation and quick consultations— via their mobile phones—but without either the customer or service engineer seeing each other's actual phone numbers.
Trends shaping the CPaaS market today
CPaaS facilitates the elegant integration of AI, people, and systems and truly democratizes the customer experience, eventually leading to greater RIO for the organization. No wonder CPaaS is gaining traction with decision makers, with experts predicting revenue to surpass $10 billion in sales by 2022*.
As this segment grows, here are some areas where you can expect advancements:
Improved omnichannel experience
While many brands claim to provide omnichannel experiences, the truth is that only a few do so. Going forward, brands will invest more in intuitive workflow builders and provide their clientele with an authentic omnichannel experience where they receive unified messaging across digital mediums.
Conversational AI
Simple chatbots don't remember conversations, nor are they capable of having multi-system conversations. Conversational AI uses predictive and sentiment analysis to provide far more accurate and nuanced information to the customer. Conversational AI is thus going to become an integral part of future CPaaS offerings.
Conclusion
According to research by Forrester consulting, companies that prioritize CX enjoy 1.6x higher customer satisfaction rates and 1.7x higher customer retention. By enabling seamless integrations and innovative communications, CPaaS could hold the key to retaining customers and staying ahead of the curve.
It is a reliable and mature option that, apart from saving developers' time, also offers consistent and high-quality service. Going forth, the CPaaS market will only grow more, providing more intuitive and hyper-personalized experiences than ever before.