The Definitive Guide to Cloud PBX [2023]
The Definitive Guide to Cloud PBX [2023]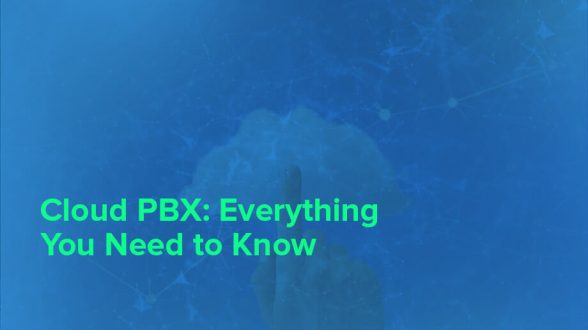 The extensive penetration of cloud technology has transformed many businesses by changing the way we communicate and collaborate. Internal communications today, for instance, are often powered by video conferencing rather than face-to-face boardroom meetings.
One technology that has truly transformed thanks to the advent of the cloud is the PBX, or "Private Branch Exchange" which would direct calls from a main office to specific handsets.
Today, cloud-based PBX solutions connect employees and customers across the globe with single, unified communications solutions that require no hardware or software to set up. Moreover, most cloud PBX solution providers today offer UCaaS solutions that integrate video, chat, and other digital channels.
In this article, we will explore:
What is Cloud PBX?
Cloud PBX, as the name suggests, is a cloud or internet-based business phone system. To use this, your business typically signs up with a service provider that hosts the phone system in the cloud. Calls are routed from an IP phone through the internet to the provider's PBX (public branch exchange). Since the service provider hosts the phone system, the provider operates, maintains, and upgrades the service for businesses.
Cloud PBX is also known as IP PBX, Hosted PBX, and Virtual PBX.
How Does Cloud PBX Work?
A cloud PBX functions from within a dedicated cloud infrastructure. Users relay voice data through virtual networks or broadband lines with little or no noise or delay in communication. Modern-day PBX on Cloud PBX also allows advanced levels of voice data encryption for better security between every call.
From its location to management and functional features, users dip into Cloud's data network to achieve high-quality connectivity and better output within seconds — a big benefit compared to traditional PBX for businesses.
It should be noted that your internet service provider plays a big role in the success of your Cloud PBX system.
What Are the Elements of a Cloud PBX?
A cloud PBX may also offer a virtual assistant application with multiple options to organize your call flows. Today, many Cloud PBX solutions integrate digital channels such as messaging channels or video conferencing and are also known as UCaaS or Unified Communication as a Service Solutions.
Cloud PBX comprises three main elements:
VoIP phone
PBX software or application
Additional PBX applications for security and maintenance
Why Do Businesses Use Cloud PBX?
Most businesses are switching to advanced VoIP-based Cloud PBX networks to reduce the total cost of operations, enhance flexibility and improve communications. They use cloud PBX as a business phone system to manage both internal and customer or client communications.
Some businesses integrate their Cloud PBX or UCaaS with their contact center solutions or CCaaS solutions so that they have a single view of their internal and external communications.
Differences Between Cloud PBX and On-Prem PBX
Cloud PBX is essentially a replacement for legacy PBX systems. On-site PBX systems are located physically at your desk or office server room from where operations and maintenance are carried out. Cloud PBX applications function virtually inside the cloud but require a constant continuous internet line with connectivity to a data warehouse or data storage platform.
We have listed the other notable differences between the two setups below:
| Cloud PBX | On-premise PBX |
| --- | --- |
| The cloud service provider manages the entire PBX architecture with zero interference in your ongoing operations; | Your business needs to maintain and update the hardware and software. |
| Users can access their phones remotely via IP phones or computer systems. | Fixed calling lines with traditional wired or cordless phones |
| Unified communications (UCaaS) enable you to integrate video, chat, messaging, and other digital channels. | Analog-only functions available |
| Businesses can run remotely or virtually on Cloud PBX; | In-office only |
| "Pay as you use" pricing plans | Only one type of fixed pricing is available |
| Little or no maintenance cost other than hardware replacements on the user's side; | Variable costs upfront and during maintenance |
| Seamless scaling of business | Scaling up takes time and effort |
| AI and automation can be synced with cloud infrastructure | No such opportunities arise within on-site infrastructure |
What Are the Benefits of Cloud PBX?
Now that we have understood the different possibilities of working with Cloud PBX, let us list the benefits for your business. 
1. Availability of cheaper VoIP and Virtual telephony software helps in reducing business costs by up to 50 percent;
2. Set up is quick and easy, compared to hard-wired phone lines, where considerable time is required to set up the hardware. With a cloud PBX, employees can simply log in to a browser to make and receive calls. 
3. Cloud PBX is easier to scale. New lines can be incorporated immediately to scale unified call center operations;
4. Cloud PBX solutions enable employees to work from anywhere, potentially eliminating or reducing the need for an office infrastructure to collaborate. 
5. It requires little or no hardware maintenance; everything is replaceable from the vendor/ service provider side
6. In a cloud PBX solution, voice bot replaces the need for a human receptionist, enabling customers who call their office to select and connect to the right person or department. It also offers after-office-hour and holiday messaging and callback options.
7. With cloud PBX, businesses can unify communications such as video, web conferencing, and phones (also known as UCaaS or Unified Communications) across locations.
Cloud PBX and UCaaS
UCaaS or Unified Communication as a Service is another modern innovation offering a single platform to serve all your communication needs. 
In many ways, UCaaS is like cloud PBX with extended functionalities. With a large chunk of communications moving from voice to digital channels many cloud PBX providers today also offer UCaaS solutions.
With UCaaS, businesses can integrate all communication channels including chats, texts, voice, and video, thereby enabling interactions across digital and voice channels. 
Considerations When Moving from an On-Prem PBX To a Cloud PBX or UCaaS
Although the benefits of the cloud are well-known, businesses might still face some apprehension when it comes to moving their legacy PBX investments to the cloud. 
Another consideration that businesses have when switching from their legacy PBX solution is whether to choose a Cloud PBX solution, a cloud contact center, or a UCaaS solution.
Here are some reasons why a business may be apprehensive about moving from an on-premise PBX to a cloud PBX:
Investments: Many businesses have made deep investments in their on-premise PBX and there is a need to protect this investment.
Customizations: These investments may include customizations and automated workflows that cannot be transferred to their cloud solution.
Training: Employees who are used to their on-premise solution may be reluctant to switch to a new solution.
Cloud PBX or Cloud Contact Center: What's Best for Your Business?
As we've discussed in this article so far, a cloud PBX solution was originally a replacement for an on-premise PBX. Companies would use cloud PBX as a business phone system that enabled both internal and customer or client-facing communications to come extent.
However, as businesses scale, the limitations of a cloud PBX begin to show. Businesses need to know: Can my business make do with a cloud PBX or does it need a cloud contact center?  
Differences between Cloud PBX and Cloud Contact Center (CCaaS)
To understand which solution is best for your business, let's discuss the differences between Cloud Contact Center or CCaaS (Contact Center as a Service) and Cloud PBX
Skill Routing, Call Distribution and Management
Typically cloud PBX solutions offer hunt groups and some degree of call flow management. Whereas CCaaS offers skill routing, advanced call routing options and automated call distribution.
Dialers
While cloud contact centers offer various automated dialers such as power (progressive), predictive dialers, Cloud PBX does not have any inbuilt dialer capabilities.
Analytics & Call Monitoring
Some cloud PBX solutions offer limited reports and call tracking while contact centers offer advanced call monitoring with live dashboards, barge-in, and AI-based analytics
| Feature | Cloud PBX | Cloud contact center |
| --- | --- | --- |
| Low fee structure | Y | Y |
| Low CAPEX & infrastructural investment | Y | Y |
| Zero-minimal maintenance fee | Y | Y |
| Anytime, anywhere internet-powered access | Y | Y |
| No pay-per-seat fee; freedom to scale up or down | Y | Y |
| Click-to-call | Y | Y |
| Seamless CRM integration with cloud APIs for enhanced productivity | Limited | Y |
| Detailed reporting & analytics for insightful business decisions | Limited | Y |
| Social Media Integrations | N | Y |
| In-depth call center management capabilities (call queue management, 2-level + IVRs, advanced call distribution, etc.) | N | Y |
| Chatbots/Conversational AI | N | Y |
When Should You Migrate from Your Cloud PBX to a Cloud Contact Center?
Despite the apparent advantages, a cloud contact center is not always the better option for your business. You should only consider a cloud contact center software solution if business needs are among the following:
1. You Have a Dedicated Team of Agents and Need Better Workforce Management.
2. You Require Greater Control Over Customer Experience.
3. You Need to Improve Inbound Lead Management.
4. You Have a Dedicated Sales Team
1.  You Have a Dedicated Team of Agents and Need Better Workforce Management.
When you have a dedicated customer support center or a large team of agents to manage, then a cloud contact center solution offers better workforce management tools such as
ACD logic: Automated Call Distribution ensures that calls get routed to "Maximum Idle Agent". This means that total calls get divided equally amongst agents, which is essential for fair workforce management within a dedicated group of agents. 
Skill Hunting: Skill hunting lets you divide your agents into groups or skills, and route calls accordingly. Not only does it create more sophisticated routing options, but it also helps you manage hierarchies and roles within your agent population, for better training and management. 
QA monitoring tools.
2. You Require Greater Control Over Customer Experience
A cloud contact center gives you the following features that ensure greater control over customer experience.
Multi-level IVR.
Self-service via IVR.
Intelligent call routing options with skill hunting.
3. You Need to Improve Inbound Lead Management
With a cloud contact center, you can automate callbacks to inbound leads and ensure that you call them within a stipulated time frame. This improves the sales experience and improves chances of conversion. To enable this automation, a cloud PBX solution is not enough. You require a contact center solution with automated dialers and deep CRM integrations.
4. You Have a Dedicated Sales Team
When you need to scale up your sales, it is best to switch from a cloud PBX solution to cloud contact center with power dialers that will automate processes and boost productivity by three-fold or more.
Conclusion
Overall, a cloud PBX is a flexible and cost-effective alternative for a business phone system.
It is excellent for businesses that have agents operating on rollers — quick inbound conversations with callers, easy seamless call transfers for outbound sales, and cloud-based workflow management.
For advanced internal communications, however, businesses will need to switch to a UCaaS solution that offers modern communication options such as video conferencing and messaging. And for advanced customer communications, businesses should consider a cloud contact center option.
Frequently Asked Questions
VoIP and a cloud phone system, differ in terms of functionality. The major difference is that the cloud PBX automatically answers all calls and routes them to the right department or user extension, whereas VoIP is a phone system that allows you to make phone calls over the internet. All cloud telephone systems use VoIP systems, but not all VoIP systems are cloud-based.
Hosted PBX, is essentially a cloud-based phone system, telephone system that is hosted off-site and over the Internet rather than its physical location.