What is a Predictive Dialer?
What is a Predictive Dialer?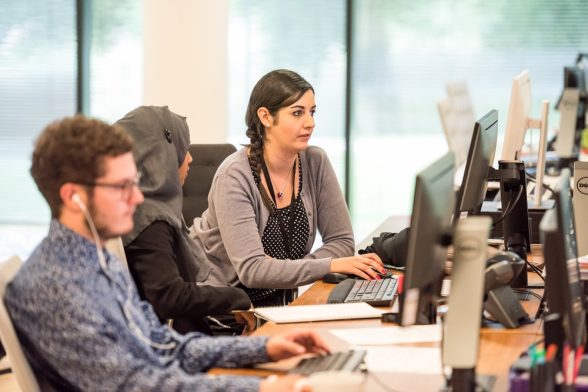 Success with outbound sales prospecting means call center agents and sales reps spend less time dealing with answering machines, busy signals, and unanswered calls, and more time talking to customers.
With75% of today's executives willing to accept an appointment based on a cold call, it only makes sense that your company increases your agents' talk time. That means using software where you can manage your agent's availability while ensuring they're not occupied dialing numbers.
In this article, we will explore:
Here's Why You Need an Outbound Calling System  
Auto dialing systems are used by all kinds of call centers, contact centers, and sales teams in all kinds of industries and markets. Their high outbound dialing rate is relied upon by companies who want to reduce agent idle time, improve their sales process, limit unsuccessful calls, and reach a higher number of customers.
For these companies, having an automated dialer that tracks outbound agent availability is critical to their success. It's about maximizing the amount of time their agents spend on the phone with customers.
Having an outbound calling software or auto-dialer simplifies how companies and sales teams engage their market. It improves the entire outbound calling process and reduces sales rep idle time. This ability to proactively manage agent availability and agent productivity mean all customers get the attention they deserve. 
Focus on Customers 
Call center software also helps companies focus on customer satisfaction and lead generation. With the right auto-dialer solution, your agents will no longer waste time making multiple calls in a desperate attempt to reach customers.
Improve Your Contact Strategy
Reducing agent idle time is one benefit of call center software but improving your company's contact strategy is another. Every company wants to be the first to market their product or service. Every company wants to immediately reach out to their customers to initiate interest in their new product or service. 
Unfortunately, digital marketing can only accomplish so much. Customers only spend so much time online. At some point, your team must speak to your customers on the phone. They must reach them faster than your competitors, and an outbound calling system is simply the fastest way of getting your message out to those customers.  
Companies rely upon automatic dialers to increase outbound calls, reduce the number of abandoned calls and improve agent productivity. This means available agents can prioritize leads, help with market research, and focus on servicing the customer.  
Improve Customer Service with a Predictive Dialer 
Proactive customer service is a mentality, one where your call center and customer service agents are dialed into what customers need and want. Anticipating customer needs is key. 
Having anautomated dialing solution that gives your agents insight into previous calls saves your agents and your customers valuable time. Your customers will come away impressed with how knowledgeable and prepared your agents are. In return, your agents will be more focused on the customer without worrying about dealing with an unanswered call. 
Excellent customer service is ultimately about listening to your customer and showing empathy. It's about capturing customer data and scheduling follow-ups. That's extremely difficult when your team is frustrated making multiple phone calls and never reaching anyone. The truth is, that takes a toll on agents. It affects their mood and how they handle customers.  
Without auto-dialer software, complacency creeps in, and your contact center agents and customer service team lose focus. That frustration comes across when they're on the phone.
Being frustrated and dealing with an upset client rarely, if ever, works out well for the agent. It's not good for call centers, not good for the agent, not good for the customer, and most importantly, not good for the company.
Benefits of Predictive Dialing
So, how do predictive dialing systems work exactly? First, a predictive dialer handles all the outbound dialing on behalf of contact center agents. This means your agents no longer spend valuable time manually dialing phone numbers or encountering answering machines. 
The predictive dialer will generate the phone calls on its own from your predetermined list of contacts. This eliminates the need for manual dialing and allows your agents to focus on handling calls.   
Second, the predictive dialing process means the system is generating a high number of phone calls while your agents are still on the line. The predictive dialer is focused on getting as many answered calls as possible. This means available agents are always in line to receive the next call.
Once the agent becomes available, that next call will be routed to the agent via the automatic call distribution system. Agents won't have to worry about when the next call will come. The system will take care of that for them.
Third, a predictive dialer tracks multiple call metrics, giving call center managers and supervisors insight into how agents are handling calls. These metrics include the number of dials made, the average time on a call, the number of calls each agent has answered, and the number of unanswered calls and missed calls, among many other metrics.   
Fourth, predictive dialing systems have multiple features that help managers improve their outbound call campaigns. With call monitoring, managers can listen in on real-time calls to see how agents are handling customer requests. 
Call recording allows managers to record calls and review them later with the individual agent or the entire contact center team. Call filtering can be used to avoid certain numbers and the call scheduling feature helps agents and managers plan follow-ups.   
Fifth, predictive dialers run on an algorithm. This means these cloud-based auto-dialers have machine learning that continually adjusts based on the real-time performance of your contact center. 
The predictive dialer solution tracks multiple metrics in real-time, so it's constantly changing based on what your agents are doing and how long they're speaking to customers. The predictive dialer then adjusts the number of calls it makes and how many calls are routed to agents.
Here is a summary of all the benefits your company could take advantage of:
Predictive dialing software eliminates the need for manual dialing. 
Predictive dialing systems continually dial numbers while agents are occupied.  
A predictive dialer tracks multiple call metrics and key performance indicators (KPI).  
A predictive dialer has multiple reporting features to help managers.  
Predictive dialers have machine learning because they run on algorithms.    
Why Choose a Cloud-Based Predictive Dialer?  
Predictive dialers work similarly to auto-dialers in that they both generate outbound calls from a predetermined list of contacts. However, while auto-dialers are often the domain of the small contact center or small sales team, the predictive dialer has multiple dialing modes and is, therefore, more suited for a larger call center.
This means the predictive dialer can handle a much larger list of customer contacts and generate more outbound phone calls than a standard auto-dialer.  
Typically, companies that use a predictive dialer want their agents or sales reps to handle high call volumes, the kind of volumes a standard auto-dialer can't make. They have a large team and need their outbound contact strategy to keep that team busy with answered calls.
However, that's not the only difference between a predictive dialer and an auto-dialer. It all comes down to how many calls you need to make and what your goals are.
Predictive Dialers Focus on Call Quality
Some auto-dialers have a higher dialing rate than a predictive dialer. One of these is a power dialer which is sometimes used in debt collection or to provide customers with a recorded message if they don't answer. These auto-dialers can contact upwards of 1,000 customers a day.
While predictive dialing software doesn't generate as many calls, it more than makes up for a lower call volume by improving call quality. Agents can spend more time on the phone with customers. Therefore, it can also be used for debt collection as it gives the agents more time to work out payment plans.
A predictive dialer works from a contact list of between 100 to 900 contacts, allowing call agents to handle upwards of 250 calls a day. Most importantly, the predictive dialer software provides agents with about 15 to 20 minutes or more between calls so that the agent can review the customer's history. 
This critical time improves call quality and means customers don't have to revisit the history behind previous calls. This makes a predictive dialing system ideal for contact centers where customers need technical support or where situations aren't solved on just one call.  
Cloud-Based Predictive Dialers Have No Setup Costs  
The problem with several auto-dialer systems is that there are expensive software and hardware solutions to purchase. This means a company's IT department can spend a lot of time installing software on multiple laptops or desktops. They also end up having to do a lot of troubleshooting. None of this is a concern for cloud-based predictive dialers.   
Cloud-based predictive dialers have no setup costs or installation costs. A hosted predictive dialer can be used by anyone with internet access, which is ideal for employees working remotely. This means companies can get up and running within minutes of signing up.  
Cloud-Based Predictive Dialers are Legislation-Compliant  
The "Telephone Consumer Protection Act" was enacted by theUnited States Congress in 1991. It became the law of the land once it was signed by then-President George H. W. Bush. 
The goal of the legislation is to protect everyday consumers from unsolicited telemarketing call campaigns. Today's cloud-based predictive dialers are compliant with this all-important legislation, which means you have all the tools you need to avoid certain phone numbers.   
Cloud-Based Predictive Dialers Allow for Easy CRM Integration  
Generating a high call volume is nothing if you can't capture customer data. This is why so many of today's predictive dialers are easily integrated with today's CRMs. Your call center agents can quickly upload customer data into a CRM, thereby providing other team members immediate access to critical customer information. Your sales team can then access that data when contacting customers or generating action plans.
Who Should Use a Predictive Dialer? 
Predictive dialers are best used when companies need a high volume of calls answered. These are companies that may have a large sales force or have a large market footprint. For these companies, a predictive dialer is an ideal solution. It can generate a high volume of calls while also allowing agents enough time to review previous calls.  
In the end, a predictive dialer is a type of auto-dialer that generates a high volume of outbound calls, increases agent productivity, bypasses answering machines, and avoids busy signals. The question you must ask is whether a predictive dialer is right for your business. Here are some things to consider:
Are You Currently Using a Dialer Software?  
If you are currently using an auto-dialer, but are thinking of changing, then start by making a list of reasons why a change is needed. It could be that your contact center has grown, and your current dialer can't keep up.  
You may have purchased software that needed to be set up and installed, and now you want to switch to a cloud-based auto-dialing solution. Regardless of your situation, just be sure to write those reasons down as they will help you decide whether a predictive dialer software is right for you.  
If you're not using dialer software but should then ask yourself whether you have a large enough contact center and handle enough calls to benefit from a predictive dialer software. If not, then you may be able to get by with a cloud-based auto-dialer instead.  
Do You Generate a High Volume of Outbound Campaigns?  
If you're one of those companies that are seeing a drastic increase in your outbound call rates, then predictive dialer software may be what you need. Start by taking stock of how many agents you have in your call center and whether you plan on increasing your number of agents. 
You'll now need to schedule this year's remaining outbound campaigns.
After you've answered these questions, you can start to compare your past call volumes to the number of calls you'll need to make moving forward. All this information is needed to make the most informed decision. You might find out that a standard auto-dialer is all you'll need.
Do You Need an Automated Dialer for After-Sales Support?
If your company runs a contact center, one where you must provide technical after-sales support, then a predictive dialing solution may be what you need. Predictive dialing systems are among the best contact center solutions available. This is because they give agents time between calls while also providing them with a history of previous calls.
Your agents can spend that time reviewing that history, so they're ready when they get on the phone with the customer. They can also review those all-important notes during the call, which further improves the call and the customer's experience.
Here are some questions to answer:
How many campaigns will you be running? 
Do you want your team to act as lead qualification agents or simply be available when a call is answered? 
What is the length of each of those campaigns? 
Will your sales teams be part of those campaigns, or will the campaigns be handled by your contact center agents? 
Real Solutions With Ozonetel
A predictive dialer is ideally suited for companies looking to generate a high volume of outbound calls. The system will maximize your agent's time on the phone, improve your sales process, and won't occupy your agent's time having them trying to reach disconnected numbers.
Ozonetel offers a full line of automated dialers. We help customers make more calls and generate more connections with their audience. Whether it's helping you choose a standard auto-dialer, a progressive dialer, or a predictive dialer, we have the answer you're looking for.
Ozonetel packs all the tools you could ever need to improve service levels within an affordable, easy to integrate, quick to set up call center solution.Contact us to learn more.