Cloud Telephony – What is it?
As its name suggests, cloud telephony is the communications technology where all communication devices and applications are hosted at the service provider's premises. Any business interested in using these services does not need to install any software or buy any hardware to get the services started. The service can be an IVR, call center setup, call recording, virtual number or call forwarding. These services can be started on a traditional phone, mobile or a computer system i.e. desktop, laptop or tablet. It works via two networks:
PSTN –

Many countries do not allow the mixing of IP and PSTN calls like India and Middle East countries. These countries use PSTN-based cloud Telephony solution

IP –

Cloud telephony services are delivered via the internet. Some countries such as the United States have internet-linked calling or are VoIP enabled for providing Cloud Telephony services.
PSTN-Based Cloud Telephony To understand better, let's look at a traditional solution and compare it with the cloud telephony architecture Traditional PBX Solution. In a conventional setup, to start any enterprise telephony solution like a PBX or small call center, we need a dedicated PRI—a PRI server and a conventional call center solution.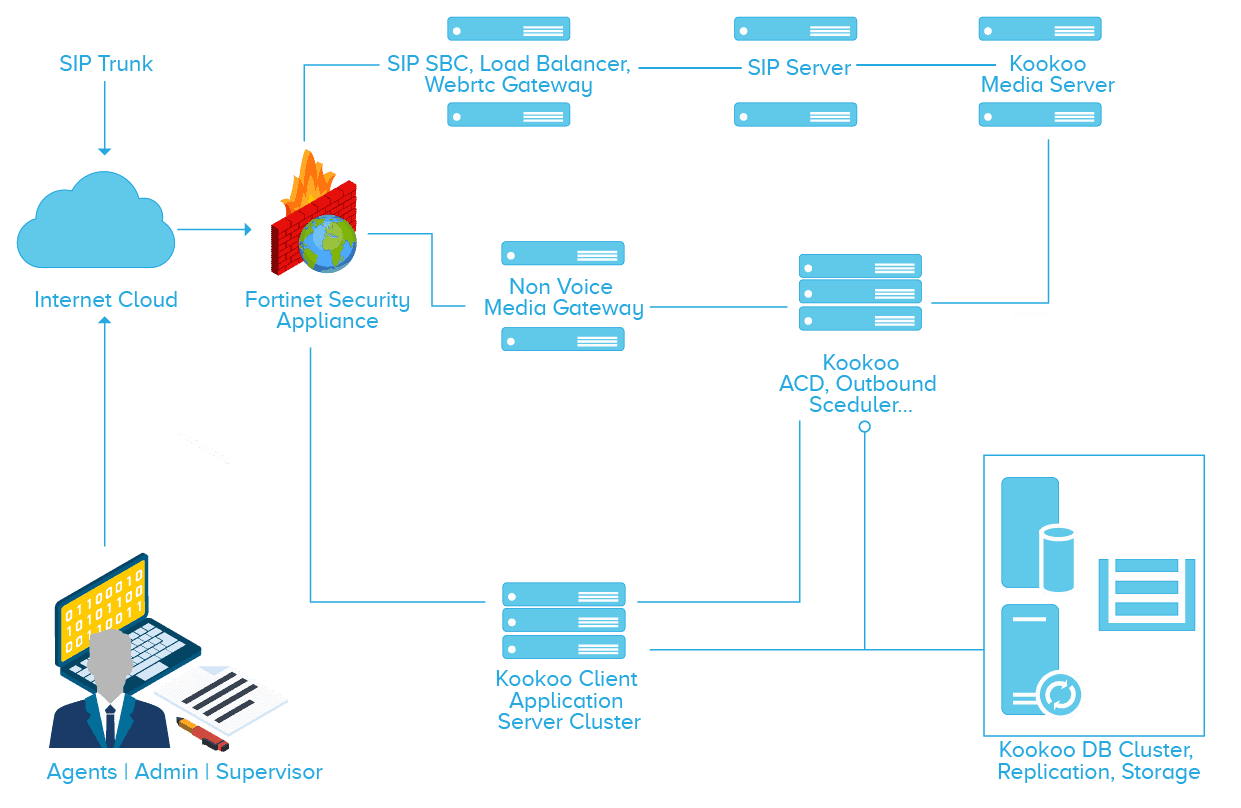 Now, look at the above image of a "cloud telephony architecture". Here all the devices like PRI Line, application server, etc. are hosted or reside at the service provider's premises and all the applications/devices are maintained by the service provider.
Why do businesses use Cloud Telephony?
01 Instant setup & business process continuity Cloud setup can be done in 24 hours or less. Entire call centers can be moved to remote working solutions in a few hours.
02 No hardware or maintenance costs. No installation or maintenance costs – all you have to do is subscribe to the cloud service. 
03 Easy Integrations Integrate with other cloud software solutions such as Salesforce, Hubspot, Zoho, Zendesk, Freshdesk, and Slack to boost productivity, streamline workflows, personalize calls & chats, unify customer data, and boost customer experience.
04 Add new channels with ease Phone calls are not enough for today's customers! Cloud telephony lets you respond on the latest digital channels such as SMS, WhatsApp, or Twitter.
05 Reports & Insights Cloud telephony typically ensures more reports & insights including live dashboards with real-time information on all calls made or held, duration, agents with maximum calls, and maximum call time.
09 Easy to scale (or downsize) Most importantly, cloud telephony is easy to scale. Add or reduce agents at the click of a button! 
Excellent tools & features
Cloud telephony ensures that you get access to the latest tools & features to optimize both your agent performance and customer satisfaction.
Easy call distribution Automated call distribution. 
Advanced auto-attendant or IVR Cloud telephony solutions have advanced IVR options to greet customers and provide self-service. 
Call recordings Record all the calls for quality control, training, and dispute resolution. Recordings are saved on the cloud and are easily accessible through your call center solution or integrated CRM.
Number masking No number display – when your delivery agents, service engineers, or sales reps call, all the customers see is your cloud telephony provider number.
Advanced call routing Set up call routing and fallback rules to send calls to the right department during office hours and after office hours.
How does Cloud Telephony work in India?
When your entire phone system gets migrated to the cloud, customers won't be calling your office lines but a published cloud telephony number. There can be three scenarios when there is an incoming call from a published phone number – mobile or toll-free:
Scenario 1: Call forwarding to a PRI (Primary Rate Interface) line in the data center
Scenario 2: Call forwarding to a PRI number from the cloud
Scenario 3: Call forwarding to cloud telephony servers (capable of call recording, IVR, reporting, API, and other functionalities) with multiple PRI lines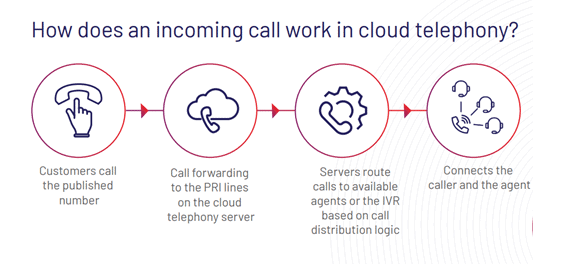 Customers call the published number

Call forwarding to the PRI lines on the cloud telephony server

Servers route calls to available agents or the IVR based on call distribution logic 

Connects the caller and the agent
While all this is happening, in the background: 
The call gets recorded

The API communicates with your CRM 

You get an SMS notification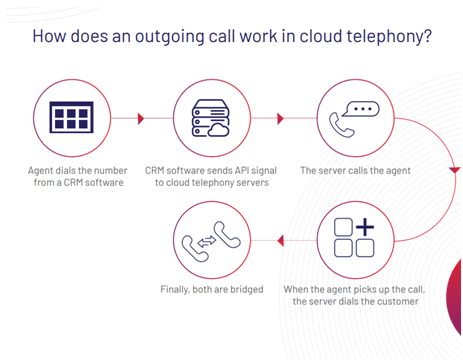 Agent dials the number from a CRM software

CRM software sends API signal to cloud telephony servers

The server calls the agent

When the agent picks up the call, the server dials the customer

Finally, both are bridged
Who is using Cloud Telephony?  Short answer – everyone! Long answer – a few verticals, in particular, are using more solutions like toll-free numbers, IVR responses, virtual numbers, and lead management software for analysis, feedback, and one-stop recording.
Retail & Ecommerce

Banking, Insurance & Financial Services

Real Estate

Travel and Tourism

Logistics

Healthcare

Education
Cloud Telephony business use cases Let's understand how cloud telephony works through three use cases.
CASE STUDY 1
A leading water purifier brand enables secure, trackable calls between their customers and service engineers on the field.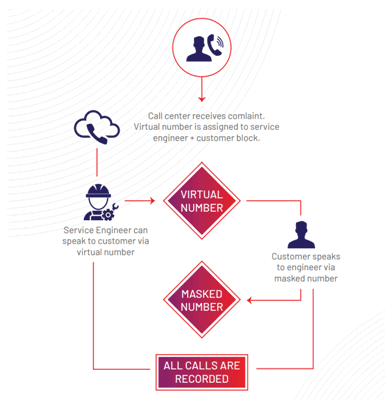 The brand used cloud telephony to map a new virtual number to an agent's mobile number for every new complaint while keeping their phone numbers masked.  Call records and call tracking helped ensure that from the time service engineers received a call, the 72-hour service window was met.
CASE STUDY 2
An online eCommerce startup scales from 8 agents to 700 using our cloud telephony platform while ensuring best-in-class service levels.
The online grocer was using a PBX solution for their customer care department, which was ineffective in scaling with a growing business and personalizing their customer service. They moved to the cloud-based system with more customization options and flexibility, resulting in a CAPEX savings of 500,000 over the first two years. The brand mined its data for important customer information that could be used in subsequent calls, saving time (average handle time moved from 4.5 minutes to less than 3 minutes per call) and enhancing customer experience. They routed the calls to their best agents through deep CRM integrations without any IVR, reducing the time taken for callers to reach live agents by 20 to 40 seconds per call. They also implemented customer-centric practices, such as Dynamic Queue Prioritization which enabled answering calls from VIP customers, customers who wish to complain, and regulars on a priority basis.
| | | | |
| --- | --- | --- | --- |
| Handles 30,00 daily calls. | 70% Agent utilization | 10 seconds Average Speed of Answer | 80% first call resolution |
CASE STUDY 3
A logistics giant uses cloud IVR solution to service 4x more customers than before at 4x lower costs. 
The client wanted to ensure they could smoothly support any incoming query without leaving any customer unattended. This meant handling 83,000 daily requests.
In order to do this they used our cloud telephony solution with a self-service IVR, Callers were able to use the self-service IVR to request status updates & reschedule deliveries.
| | | | |
| --- | --- | --- | --- |
| 60% of inbound queries have been automated. | Wait times have been reduced by 3X. | 25% improvement in CSAT. | Cost of serving a single customer reduced 3.5X. |
Is it right for your business? 
Cloud telephony has brought remarkable changes to businesses. Before deciding whether or not it's right for you, you must consider these factors:
The platform capabilities
Before thinking about this, brainstorm with your team to narrow down your requirements. Are you looking to route sales/support calls, or do you just wish to send updates to the customers? Would you have to pay for call recordings? Can you use a native integration to integrate with your CRM? Costs of call rates or sending bulk SMS messages? The more details you put on paper, the easier it will be for you to evaluate the tool.
Is the platform reliable?
Most cloud platforms will share their uptime range. Always check with their support team before initiating a conversation.
Trial runs, anyone?
It can be beneficial to ask for a trial run in advance, so you can test all functionalities before risking a purchase. Request a 1:1 demo from the support team.
Seamless transitions
The ease with which a cloud phone system can be set up and managed must be one of your criteria. You must ask whether a platform can easily integrate with your apps, helpdesk, or CRM. Would you need a specialist to install and maintain it? Is the knowledge base useful in getting an understanding of the product?
Data security
Another important criterion—data security. You must check for security certifications, audit logs, monitoring systems, data backup, recovery plans, and network and account encryptions.
Pricing
Last but not least is the pricing factor. Ask upfront about any hidden charges. Usually, software rental and call rates are the two primary costs.
The future
The future of cloud telephony is bright indeed. A Transparency Market Research report says that the international VoIP phone service market is projected to peak at $136 billion and reach a subscriber base of nearly 348.5 billion by 2021! And with 5G on the horizon and the latest advances in AI, things will go north pretty fast.
We hope you got the basics so far. Want to set up a cloud telephony solution to ease your customer communications? Contact us for a free demo.