In the race for creating better customer experience, every millisecond counts. No bump in the customer journey is too small to ignore. In this context, let us relook at the IVR experience:
Long ago, IVRs efficiently replaced receptionists for answering calls. The IVR easily handled any number of callers and connected them to the right department. Callers learned to key-in their choices. And businesses learnt to simplify menu options.
But there is a small, small sacrifice that is still being made in the customer experience. Today technology makes it possible to remove that inconvenience: Voice recognition.

WHAT IS VOICE RECOGNITION?
Natural Language refers to the way people speak to each other. Voice recognition is a system's ability to understand this natural language. This is the realm of NLP or Natural Language Processing, a form of Artificial Intelligence. In everyday life, we see NLP work on our phone's digital assistants like SIRI and OK Google. We also interact with it on devices like Alexa, Google Home or Amazon Fire stick.
Now the same technology is available for your call centers.
HOW CAN VOICE RECOGNITION TRANSFORM IVR?
Currently, this is how callers experience your IVR:
Customer calls.
IVR gives standard welcome greeting and states menu options.
Customers listen, look at their keypad, punch in the numbers
And wait for a response.
It is a simple routine. But what if you could simplify it further?
Here's the new scenario:
Customer calls.
IVR speaks: Hi.
Thank you for calling XYZ company. Please state if you
would like to be connected with sales or service?
Customer says: Sales. IVR connects.
This removes the small cognitive load of switching to the keypad. And by doing this, it removes the one roadblock in creating completely frictionless IVR experiences.
HOW ELSE CAN IT BE USED? 
Here are some other ways, clients are using voice recognition within their call centers:
Improve customer surveys. How are you collecting feedback on customer experience? Use IVR + voice recognition to just ask them how they rate the call on a scale of 1-10. They just need to speak out the number. Your system will record it, and thank them.
Conduct surveys naturally. Now you can use your call center to conduct surveys using IVR + Voice recognition.
Make verification easier. Using birthdates or other details for your verification process? Customers don't need to key in their answers anymore, they can just speak out their details, for a completely smooth , automated verification process.
Answer FAQ's. Asking is easy; searching is not. Don't make customers fumble around your website for answers to their frequently asked questions. We've used Voice recognition + IVR to create bots that listen to caller questions, if it is a frequently asked question, it will play a pre recorded answer. If not, it will connect the caller to a live agent.

CAN I USE THIS TECHNOLOGY TO CREATE AN INTELLIGENT VOICE BOT?
Yes. In the near future, you can have a voice bot answer your phone. These bots will anticipate customer needs and carry out natural, personalised conversations. Here is an advanced scenario of your IVR acting as a voice bot: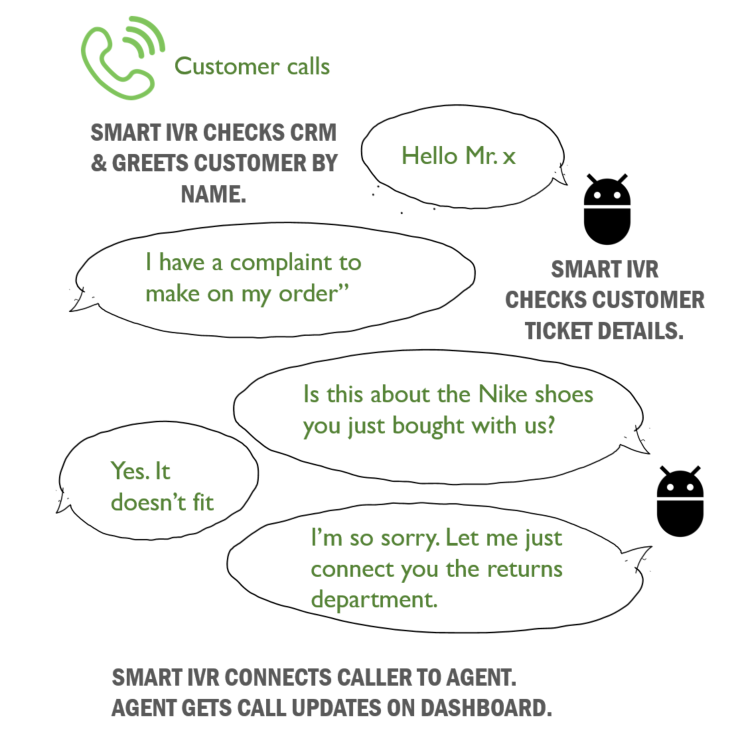 Imagine how much that will improve customer experience?

CAN I USE THIS TECHNOLOGY IMMEDIATELY? 
Yes. Ozonetel's tag allows the system to convert voice speech to text. It then analyses these words and categorizes it to "understand" what action to take. The system is currently being developed to understand American English, Indian English and Hindi. But more languages and accents can easily be added.
Looking for more details? Connect with us and our experts can guide you better .