How Your Business Can Benefit from a Virtual Receptionist
How Your Business Can Benefit from a Virtual Receptionist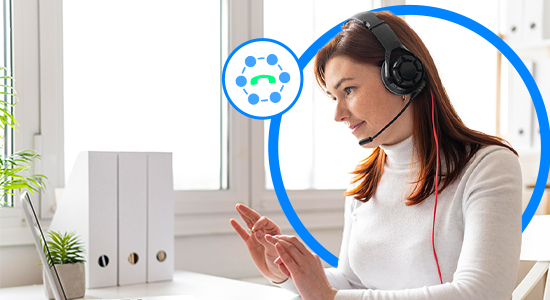 The best brands never leave their callers unattended. Approximately 80% of the business revenues are generated from calls, and not answering phone [calls on time can negatively hamper your business — especially when you are competing for every second of your customer's attention.

It makes business sense to never leave any call unattended
Millennials and Gen Z consumers hate phone calls and will often avoid making a call unless it is extremely important to them. If your business misses a call from this customer — who made that call despite disliking this communication channel — they may never call you back in the future. Or worse, they will take their business elsewhere. 
You can avoid this situation with access to better technology. 
Statistically speaking, every business can leverage the benefits of a virtual receptionist. Customer-centric organizations are quickly adjusting their operations around cloud-hosted services and tools, such as virtual receptionists to automate their calling workflows. 
Let us take a deep dive into the world of virtual receptionists and how they have emerged as the cornerstone of a modern call center operations.
In this article, we will explore:
What is a Virtual Receptionist?
A virtual receptionist is a software interface installed by business owners to attend inbound client calls and auto direct them to a virtual phone answering system or live virtual agent. It is set up as a stand-alone solution or as part of a unified contact center automation suite. 
There is a growing market for virtual receptionists that combine the power of conversational AI, generative AI, natural language processing, voice-to-text, and video-to-text analytics, and more. 
A basic virtual receptionist can perform many tasks including call routing, scheduling appointments, and conducting online surveys and polls. It is mostly used by small-sized businesses with a limited number of human agents. 
From reducing missed calls with a fast response time to delivering tailor-made messages to callers, virtual receptionists can significantly improve call center productivity.
Here are the most important features of a virtual receptionist:
Automated call answering

Voice and video call response 

Call quality management and call recording

Live call transfer to IVR or chat support

Appointment scheduling

Secured mobile messaging

24×7 online scheduling

Auto-alerts and reminder

AI-powered omnichannel CX management
Why do you need a Virtual Receptionist?
A virtual receptionist is ideal for first-time entrepreneurs and small-sized local business owners who want to start a call center without too much of an investment in personnel and IT infrastructure. 
Investing in virtual-receptionist software helps your business to mitigate missed calls and prevents you from losing out on credible business opportunities. Without a virtual receptionist, you would lose out on ROI-centric outcomes on your existing customer communications setup.
How does a virtual receptionist work?
Virtual receptionists work on different models. Subscription-based models and per-minute plans are the most popular pricing models that are specifically designed for different industries. 
You can set up a virtual receptionist based on your exact needs and requirements to manage inbound calls. Here is a four-step workflow used to set up a virtual receptionist.
STEP 1: Greet professionally using a human voice, scripted text-based bots, or pre-recorded messages
STEP 2: Choose pathways: Integrated with IVR or Call forward to the right department
STEP 3: Pick hold music or voice mail
STEP 4: Select an after-business-hours model to manage automation and reporting
STEP 5: Assign a manager or virtual agent for escalation
STEP 6: Generate reports and monitor results
What are the top benefits of Virtual Receptionists?
1) Reduce call center costs
Businesses can save up to 30% in their call center operations by deploying a virtual receptionist for inbound calling. With this strategy, call center managers can run their operations with a small team of agents while a single virtual receptionist manages a bulk of calls.
2) Develop consistent experiences
You can install a multi-language virtual receptionist with an IVR set-up to tackle the problem of dealing with regional customers. Using an IVR menu, the call is routed to a virtual receptionist who can greet in a language of the caller's choice. It allows the call center to segment each call based on the caller's language preferences and region, before routing such calls to the specific human agent. Brands can create unified experiences using such tactics and be consistent with their follow-up conversations.
3) Integrate with omnichannel digital platforms
Virtual receptionists can empower the caller with more choice. For instance, top-class virtual receptionist software will integrate with digital platforms such as chat, email, social media, WhatsApp, or SMS to free up your agency's time and resources. 
4) Enable 24×7 call management
With a virtual receptionist at the helm of your inbound call center, you are positioning your business as an "always ready to serve" brand in front of your customers. Customers appreciate that they can call and interact with your business as per their convenience instead of needing to call within fixed working hours. 
5) Analyze and generate reports
Virtual receptionist software typically let you generate reports on each call. You can access a consistent stream of data for your supervisors to plan calls and train your agent better.
Simply put, you can convert leads into buyers and long-lasting customers with simple virtual receptionist software for your inbound and outbound customer service department.
Why choose Ozonetel
An experienced virtual receptionist provider like Ozonetel can deal with complex conversations and behaviors using a plethora of cloud-hosted apps and tools. Ozonetel's Cloud agent lite (CA lite) is a zero rental business phone offering designed specifically for startups & new businesses. CA Lite ensures that no leads are missed and allows them to track, monitor and record all conversations.
Why CA Lite
 Instant Go Live- Zero Installation

 Unique proposition- Zero rental, full talk-time business phone

 Complete ownership of Admin and Agent Panel

 24 X 7 enterprise grade support team

 Fastest to set up & easiest use

 One telephony partner across growth stages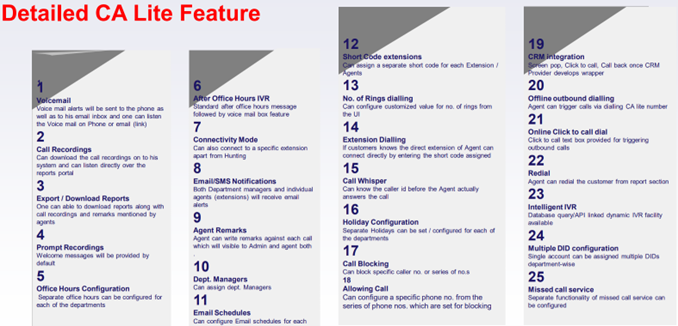 Ozonetel's virtual receptionist is trained to handle online customer service with AI-generated pre-defined scripts and voice messages. Important inbound calls are intelligently and automatically routed from Ozonetel's Auto Attendant interface to relevant teams in Sales or Customer Service for escalation or resolutions based on the service package you have chosen.
Conclusion
Investing in a virtual receptionist is a simple, cost-effective decision to solve your problem of missed calls. Together with IVR and automated call center tools, a simple virtual receptionist eliminates missed call risks with minimal manual intervention. 
With powerful integrations and analytics, you can take your inbound call center performance a step higher without ever worrying about losing the faith of your callers — your customers, leads and followers.