How to Choose the Best Telephony Software?
How to Choose the Best Telephony Software?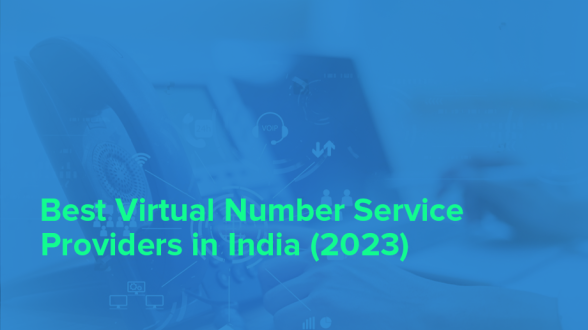 Introduction
Expanding your reach globally is a challenging proposition. Operating from your local call center to serve a global and international client base is physically daunting as well as costly. But that's not stopping organizations from exploring telephony systems that can be scaled from on-prem and cloud. Businesses are investing heavily in novel voice call technologies to stay connected with their customers. Virtual business phone number telephony is one such useful and cost-effective technology for scaling business contact center operations. 
A large number of call centers now provide toll-free and premium voice call services with domestic and international coverage running on virtual numbers with customized contact center solutions specifically designed to deliver high-quality customer service and personalization. 
Considered a game-changer in driving digital transformation for organizations, virtual phone number solutions are institutionalizing the use of AI, automation, and data analytics, creating stunning call center experiences for millions of customers and agents. Let's understand how virtual business number services could be at the center of your profit-making contact center.
Investing in a virtual number service is everything you need in your contact center to innovate ahead of the trends. This blog highlights the top features provided by leading virtual number service providers to make it happen for you.
In this article, we will explore:
What is a Virtual Business Number Service? 
Virtual numbers are also called Direct Inward Dialing numbers (DIDNs). 
Virtual business number service is an inventory of geographic, non-geographic, and toll-free dial-in numbers that is not locked up with a standard traditional fixed-line phone. These numbers are programmatically set up to log in and connect with existing phone numbers via APIs and cloud networking tools, allowing a call center to maintain an international presence via the internet. Highly flexible in terms of call management and agent tagging, you can scale up or down concurrent calls with easy-to-use cloud APIs and plug-ins.
Users can contact customers and agencies through Internet calls or text messages without revealing their personal information. Unlike what happens with a traditional phone service company, users of virtual number services can enjoy 100% cloud-based internet telephony and text forwarding with little or no setup costs.
There are four types of DIDNs that a call center can use:
Toll-free numbers.
Local Numbers.
Vanity numbers.
Mobile phone numbers.
These numbers can be used for inbound, outbound as well as blended calling activities.
How to Set Up a Virtual Business Number 
To set up a virtual number, you don't need EPABX or wired LAN infrastructure. Fundamentally, all you need is a cloud-hosted VoIP with an area code that can be integrated with your IVR or virtual agent. You can set up a virtual number in three steps:
Step 1: Choose the area code that you want to use virtual numbers with concealed identity protecting your business information.
Step 2: Compare the features and prices of different service providers.
Step 3: Choose a plan based on call volume, usability, and customer service required to run your operations.
Step 4: Sign up for a virtual number service suite from an established VoIP vendor like Ozonetel.
Key Features in a Virtual Business Phone Number Facility
The emergence of remote working and virtual cloud-based collaborations have left a considerable impact on how modern contact centers function. Apart from scaling the existing digital infrastructure, contact centers are constantly striving to secure their networking centers with powerful telephony applications such as virtual phone numbers.
Here are the key features offered by best virtual business numbers service providers:
Easy setup with existing telephony infrastructure.
Smart call routing to best agents for better First Response Time (FRT).
Parallel call responses with recording, queuing, reporting, and forwarding.
On-demand IVR insights and analytics.
Blended call center automation plans for omnichannel customer experience management.
How to Evaluate Best Virtual Business Number Providers 
In practical terms, choosing a virtual number or DDI number depends on the local country or city where you want to set up the operations. The DDINs are forwarded to your local call center via VoIP using SIP, H.23 or IAX protocols. If you are looking to make anonymized or masked international calls, you should be aware of the key pointers in your evaluation of virtual phone number service providers. 
These are:
1. Set Up Costs:
Most of the best-in-class service providers do not charge for installation services. However, the prices are factored in once you operationalize your calling process. You could be billed per minute of calling, for team-wise volume, or directly as a fee per month billed at the end of the payment cycle (monthly, quarterly, or annually).
Tip: You should clearly understand the pricing model and discuss the information available online or during the demo with sales professionals from respective vendors while evaluating your options.
2. Analytics and Reporting Insights:
Again, it all depends on the vendor's featured package offering analytics and other advanced insights-based capabilities to users for free or as a subscription. Service providers are evaluated based on levels of analytics provided and how they assist with advanced self-service automation dashboards such as the ones provided by Ozonetel. 
3. Ease of Use:
Convenience emerged as the top-most differentiating factor while evaluating virtual number service providers. You must weigh the pros and cons of user experience and cloud-hosted applications before going ahead with the buy-in.
4. Call Management:
Forwarding, blocking, screening, masking, and concurrent/ parallel calling features are important factors in deciding between different platforms that provide virtual calling services. Your selection should allow your agents to make inbound and outbound calls to domestic and international numbers on the web, mobile app, or video conferencing devices. 
5. Call Quality:
To improve customer satisfaction and generate higher CLVs from your contact center operations using virtual numbers, focus on call quality is a must! Check multiple online review sites and testimonials, in addition to setting up a demo with the platform to assess how virtual number service providers score in their call quality reports. You can also ask for pilot calling or avail free trial package to ascertain how virtual numbers play out within your existing business model.
6. AI, Automation, and Customer Service:
If you want to do more with less effort and transform the agent experience, go for AI features for video calling, transcription, and scripting. Auto-attendant, chatbot calling, and conversational AI linked to your VoIP, IVR, and omnichannel communication touchpoints could emerge as a massive plus point in your search for customizable cloud-hosted virtual number service provisioning. 
A reputable service provider like Ozonetel offers customizable AI-assisted virtual phone number integrations in more than 160 countries across the globe. This encompasses all 18 geopolitical regions of India's telecom circles.
Top Vendors in the Market that Offer Best Virtual Business Number Service
We will now provide a detailed overview of the best virtual business phone number service providers in India for your business requirements. The list consists of:
GoToConnect
CallHippo
Cisco Webex
Ozonetel
Google Voice
RingCentral MVP
Vonage
8X8
TollFreeForwarding.com
Dialpad
Aircall
DDIW
Let's take a look at their features and pricing info.
Service provider
Founded
Top Features
Pricing (In US dollars)
Customer rating
GoTo Connect
2003 (US-based)
1. Real-time analytics with reporting

1. Basic: $27 per user/month
2. Premium: $43 per user/month
8.8 out of 10
CallHippo
2017
1. Power dialer with smart switch
2. Call conferencing
3. Auto attendant
4.Free demo with smart call forwarding
1. Bronze: $16 per user per month
2. Silver: $24 per user per month
3. Silver: $24 per user per month
8.6 out of 10
Cisco Webex
1995
1. Cross-platform call management and support
2. Free plans available
3. Cognitive collaborative capabilities for browsers and smartphones
1. Meet: $13.50 per user/month
2. Meet+ Call: $20 per user per month
8.4 out of 10
Ozonetel
2009
1. Plug and play Fully cloud-based enterprise telephony system
2. Free DIDNs
3. AI-enabled omnichannel CX
4. Auto dialers
5. Live call monitoring with real-time dashboards and analytics
5. 24/7 call center support with installation and migration services
6.World-class integrations with CRM, ERP, and HCM
7. Voice activity detection + Broadcast
Available based on request
8.9 out of 10
Google Voice
2009
1. Dedicated admin console
2. Integrated with Google AI for transcriptions and call blocking (spam)
3. Multi-level auto attendants and "Ring" groups
4. Unlimited calls to the US/ Canada and Europe
5. Unlimited text messaging
1. Starter: $10
2. Standard: $20
3. Premier: $30
7.8 out of 10
RingCentral MVP
1999
1. Business phone numbers in 100+ countries
2. High-quality integrations with Zendesk, Office 365, Google Workspace, and Salesforce Slack
3. Enhanced business text messaging with document-sharing features
4. Video meetings with up to 200 members
5. Custom integrations with multi-site admin and hot desking
6. Unlimited storage in the ultimate package
1. Starter: $19.99
2. Standard: $27.99
3. Premier: $34.99
Ultimate: $49.
8.2 out of 10
Vonage
2001
1. AI-powered conversational commerce
2. Multichannel live agent
3. Automated chatbot builder and responses management
4. Social CRM to collect and analyze first-party data from social media sites
5. Personalization with messages over Messenger, SMS, WhatsApp, WeChat, and others
One-time setup fee: $5000
7.5 out of 10
8×8
1987
1. Unlimited calling, SMS, and FAX
2. Visual voicemail services
3. 3-way calling
4. Multi-party auto attendant
5. Call waiting and parking with cloud extension
6. Advanced call handling and analytics with all-in-one voice, video, and chat
1. Express: $15
2. X2: $24
3. X4: $44
8.6 out of 10
TollFreeForwarding.com
2002
1. Fast and robust setup
2. Global call forwarding facilities with dedicated customer service
3. 100% cloud-hosted application
4. Zero setup fees
5. Exceptional call quality with a powerful control center
1. $0.059 per minute
2. Pay as you go: $5
3. 250 minutes: $9 per month
Free trials available
High-volume packs are also available for case-to-case scenarios
Call recording and call porting charges are separately billed as per the vendors' pricing list
8.6 out of 10
DialPad
2011
1. Integrated with contact centers
2. No, IT help is required for the setup
3. Dialpad has a desktop and a mobile app specifically designed for remote businesses
4. No need to download or paste links to set up or join video calls and meetings
5. Built-in AI for call transcription and scripting
6. Free video conferencing with AI assistance
1. Pro: $25
2. Standard: $15
3. Custom: priced based on request
8.6 out of 10
Aircall
2014
1. local or toll-free number included with outbound domestic calling facility
2. Unlimited inbounded calls with custom analytics and integration
3. Advanced sales features with mandatory call tagging
4. Access to call recordings
1. Essentials: $30
2. Professional: $50
8.9 out of 10
DDIWW
2014
1. Currently, it covers 80+ countries and facilitates 4551 area codes
2. Simple to use and highly customizable
3. Syncs with in-house cloud-hosted PBX and traditional telephony systems to give you the best of both worlds
4. Virtual numbers are also compatible with SIP-based VoIPs, softphones, and dedicated BOYDs
5. Report unwanted calls with easy blocking features
Available on request
NA
Other players in the landscape include service providers such as CloudTalk, JustCall, Five9, Spectrum Business, Exotel, Mitel, Nextiva, Counterpath, Grasshopper, VirtualPhone.com, and others.
Final Thoughts
If you are looking to thrive in the digital age with modernized technology, virtual business number service providers could emerge as your go-to support system. Whether you run a small-sized telemarketing agency or a large-scale retail management company, having seamless access to virtual telephone numbers renders a world-class image and reputation for your business. 
Moreover, you can easily scale your omnichannel CX strategies across international geographies at a fraction of the cost compared to what you could have been spending with decade-old fixed-line telephony systems.
So, what are you waiting for?
Innovate and redefine your call management technology with a virtual number provided by a reputable company. You can start your journey with Ozonetel's virtual number and set up your customer communication in less than a minute!
Frequently Asked Questions