Virtual Call Center Software Selection Guide
Virtual Call Center Software Selection Guide
A virtual call center is one where agents are geographically dispersed as opposed to being in a brick and mortar building. Virtual call centers are popular thanks to the advent of voice over internet protocol (VOIP) technology and a chunk of the workforce opting to work remotely. Businesses set up virtual call centers to accomplish a variety of goals.
To meet these complexities efficiently, virtual call center (VCC) software or a cloud telephony/contact center provider must have some core capabilities. It's a no-go if any of these table stakes are missing:
While it's all good on paper, businesses often face issues like unintelligent IVRs, clunky APIs, and lags. So, get ahead of some of these irritants, by asking 7 pre-emptive questions during your evaluation: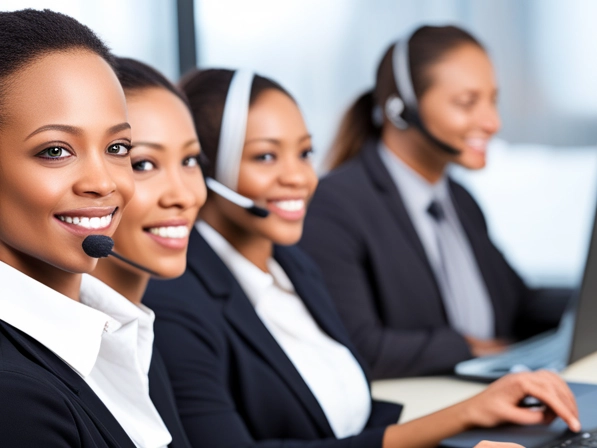 To reduce overhead costs as employees work remotely.
To reduce operating costs as virtual call centers usually charge per-monthly user fee; significantly lower than per-line charges of traditional phone lines.
To service a geographically-dispersed customer base, 24 X 7 across time zones.
To provide customers quick issue resolution in real time.
To offer personalized cross-channel support that includes, voice, video, web, chatbots, and social media integration.
Easy setup and configuration across the board, as no hardware is involved.
Easy interfaces, so agents get up to speed quickly, making training cost almost zero.
No maintenance cost.
Easy integrations with third-party applications like CRM/Ticketing systems
Complete call tracking with insightful reporting & analytics.
24 X 7 customer support.
In this article, we will explore:
What's voice quality like?
Poor voice quality = loss of business. This is one of the most commonly faced annoyances.
So, check on providers' POP. Depending on where your customers are, it's important to pick a service with data centers in different parts of the world – US, Europe, the middle east, SE Asia, etc. That way, agents will be connected to the nearest possible POP for the highest voice quality.
Voice quality issues arise mainly because of 2 reasons:
Cloud telephony providers don't always have a point of presence (POP) in more than one continent. Most POPs are located in the US. If your agents or customers aren't located close by, it could result in poor voice quality.
It also helps to look for a solution that treats voice and web (data) separately. This reduces packet loss and improves quality.
Can you choose your own telecom provider?
Or are you bound to the one offered by your contact / virtual call center provider software? What if you want to choose your own telecom provider? You should be able to exercise that option! This is especially important if you are an enterprise user. Or if you have big plans to expand.
Some providers let you choose your own telephony trunks. That way, you pay call charges to your established operator and pay your virtual contact center provider only for its cloud /virtual contact center software.
Is the billing transparent?
Potential customers take fee structures at face value when they should investigate deeper. Ensure you get billing transparency. Look for essentials like enough free minutes with every agent license. This ensures you a fixed cost per month and the outflow (phone billing) is the only variable you scrutinize. And yes! There should be no charges for customer support or maintenance.
What about downtime?
Technology crashes. It's a fact. But, how often? Because when that happens, it spells havoc. There ARE Cloud telephony/contact center software options that DON'T CRASH, other than during scheduled downtimes. So, check where your VCC maintains it's data centers. Look for products that partner with world-class data infrastructure giants like IBM to deliver enterprise quality uptime.
How's the performance?
Isn't it frustrating to hit refresh and see nothing happen for a minute or two? You really don't want agents to be in a pickle during customer calls, for example!
What is the prime reason for API lags? It can happen, when cloud contact centers depend on third-party platforms (Cloud platform as a solution, or CpaaS) for core telephony. Some of these CpaaS weren't even originally architected for contact centers, but rather, for IVR solutions.
Look for a cloud telephony/contact center software that owns the entire stack., as opposed to depending on 3rd party CPaaS for running their product. That way, it ensures your call center is truly delay-sensitive.
Is reporting robust?
Reporting should go beyond just assessing agent and contact center performance. Look for a solution with numerous variables covering a variety of business metrics, accessed through easy to use filters.
Some solutions have customizable APIs to avoid transferring data to Excel to make sense of it. How many reports does your VCC software generate? Does it invest in AI, so that you can eventually take advantage of the predictive technology? ("Based on your past records, we predict a surge in call volumes this week, before Thanksgiving weekend")
Is CRM truly integrated?
Many contact center telephony providers/software have click to call functionality within CRM or ticketing software. But, few provide automated or power dialers. These improve productivity by at least 18x times. Look for virtual call centers with predictive dialers you can use seamlessly with your CRM /ticketing solution (Zoho, Zendesk, Salesforce, etc.).
When contact centers/cloud telephony software providers integrate, they often store a copy of your CRM or ticketing database on their systems. This poses a security and privacy risk for you and your customers. Look for solutions that allow you to integrate your data through customizable APIs (screen pops). Where you store your CRM or ticketing data on your end and not on the provider's platform. Since it all works directly from your CRM pop, CRM integration is truly seamless. Data is always in real time (as there's no lag), and you control your data/workflow.
In conclusion, if you're looking for a virtual call center software, make the right choice for your business, by asking the right questions and, test, test, test! Till you get what you need to convert faster, increase retention, and optimally utilize resources!