The Power of Conversational Marketing: How to Make Your Brand Stand Out
The Power of Conversational Marketing: How to Make Your Brand Stand Out
In this article, we will explore:
What is conversational marketing?
Conversational marketing is a customer-centric approach used to shorten the buying cycle by quickly engaging with website visitors through meaningful dialogues. This approach prevents the alienation of prospects by creating a humanized messaging channel based on the customer's current intent to interact with specific products or services.
Customer feedback is the crux of conversational marketing, fueling new technological innovations and practices tailored to suit customer needs and wants. 
The ultimate aim of conversational marketing is to accelerate lead conversion without forcing the relationship on customers. Conversational marketing done right is a glorious way to grab the attention of your customers. Making them happy and staying longer in the relationship only becomes easier (and ROI-centric) once you ace conversational marketing.
Why Do You Need Conversational Marketing?
By embracing a conversational marketing approach, brands can enhance their lead capture strategies without necessarily replacing traditional methods making way for more meaningful interactions, personalized experiences, and build stronger relationships with their target audience.
Did you know that businesses can save up to 30% of their customer acquisition costs (CAQ) and leads-spending by adopting a conversational marketing strategy?
This is achieved by forging real-time conversations using face-to-face meetings, live chats, or virtual assistants.
In today's fast-paced digitized landscape, real-time conversations help businesses build a strong community of brand loyalists and advocates who influence sales cycles. Live chats and other seamless conversational marketing tactics can increase sales by up to 27%. Profit-focused organizations can increase revenue, in addition to improving their website performance and visitor retention rates by reducing friction and delivering an enriching medium to talk to customers.
Here are the next top five reasons why you need conversational marketing:
Engage instantaneously

with website visitors for faster sales conversions.

Enhance the scope and quality of engagement

with visitors.

Solve complex queries

through live chats and AI-assisted chatbot support.

Increase brand awareness

and extend upselling and cross-selling opportunities.

Improve customer experience management with personalization-driven conversations.
Key Elements of Conversational Marketing
Greeting the Customer at the Right Time with the Right Message, Context, and Tone
1. Starting a Conversation Delightfully Is a Winning Strategy
Customers, when they visit a website or a mobile app, expect an instant conversation with an expert marketer, salesperson, or customer service executive. Irrespective of the market or types of customers you serve, conversational marketing strategy should focus on quick resolutions that are convenient as well as CX-driven from a customer's perspective.
2. 24×7 Availability
Customers like to engage with brands that are more inclusive and accessible to individuals with special needs and disabilities. A conversational marketing strategy should be scalable in terms of its operational timings to provide tailor-made assistance through text, voice, or videos.
3. Solving Problems with Empathy
A great conversation leaves a lasting impression on the customer's mind. Empathy and EQ-driven conversations create a meaningful plot for starting conversations with visitors and nurturing their intent with relevant information and solutions.
Visitors would likely abandon the brand if the conversation doesn't satisfy the exact needs in the first 30 seconds on the website. They also want a minimum number of steps to speak to a human agent.
Conversational Marketing vs. Inbound Marketing: Which Is the Better Choice?
Many marketers consider conversational marketing as part of their inbound marketing pack. Both are attached at the hip — but there are also differences that you should know when to go ahead with conversational marketing versus inbound marketing.
Inbound marketing is a traditional way of identifying, attracting, engaging, and retaining customers through content-driven tactics spanning across the web, email, social media, and paid advertising. On the other hand, conversational marketing is more about establishing a personalized roadmap to generate leads and accelerate sales processes with higher levels of engagement on the website using text or voice interactions.
Another key differentiation between the two strategies lies in the way they target customers in a sales funnel and the types of leads they generate with engagement. Inbound marketing tactics would likely focus more on generating leads from the top of the funnel; conversational marketing would focus on converting leads into potential customers or returning visitors that can be nurtured (MOFU/ BOFU).
In most cases, conversational marketing would entail sharing diverse types of content, including product information, price list, or company brochure with specific user groups. On the other hand, inbound marketing would target a wider audience group with SEO-driven tactics or affiliate marketing tactics.
Brands should focus on conversational marketing if they intend to create a CX-centric roadmap for better lead conversion. From a knowledge-sharing point of view, inbound marketing works best. 
In the digital age, it is recommended that you adopt an integrated approach to inbound and conversational marketing for better results.
Benefits of Conversational Marketing
Conversational marketing is a must-have for services-related businesses that cater to a complex group of prospects and customers. Here are the top benefits of using conversational marketing:
Scalable & flexible approach to lead generation 
Achieve scalable and flexible lead generation by leveraging personalized conversational marketing strategies.
Shortened sales cycle
Accelerate the sales cycle with a shortened duration through effective strategies and streamlined processes.
Clearer segmentation of customer profiles
Achieve clearer customer profile segmentation by distinguishing between marketing-qualified leads and sales-qualified leads.
Meet more customers
Businesses can effectively handle a higher volume of website visitors simultaneously, engaging with more customers at once.
Faster response time
Provide faster response times to customer inquiries, leading to improved customer satisfaction and engagement.
Easier to address requests
Simplify handling demo requests, FAQs, and event-related inquiries for seamless customer engagement.
ROI-centric retention
It is cost-efficient and drives ROI-centric customer retention by fostering meaningful interactions and personalized experiences.
Unified data analytics 
Enable businesses to enhance communication by better understanding and engaging with customer profiles that share similar characteristics.
Integrated marketing communications
Integrated marketing communications plan based on traditional advertising, inbound marketing, and conversational marketing tactics. 
Long-lasting customer relationships are built on trustworthy and relatable dialogues at every point of interaction. Customers stay engaged with your marketing, sales, and customer service teams and resources. They are always on the lookout for consistent conversations that can ease their search experience on the web or app, offering a seamless and coherent dialogue with the reps through live chat, AI-assisted chatbots, or WhatsApp.
Best Practices for Implementing Conversational Marketing
Now, let us look at the best practices for laying the foundation for your conversational marketing strategy and making it click.
1. Identify Your Best Web Pages and Digital Tools
The digital marketing teams have a fairly clear idea about the top-ranking web pages on their website where they receive the maximum visitors. To make your conversational marketing strategy work, identify these pages and add chatbots smartly to these pages.
Purpose: To deliver highly engaging first-touch personalization to visitors and direct them to sales-focused content for higher conversions.
2) Create Surface Points for Self-Service Actions
Customers like brands that give them the authority to choose and manage the different types of content – video, blogs, FAQs, marketing academy, and contact center resources. By adding a self-service option in your conversational marketing mix, you are not only creating a chance to deliver high customer satisfaction but also removing friction points in the sales funnel.
3) Automate Your Conversation Flow
Automation can lower the burden on reps by up to 70 percent. Once you have your live chat or self-service tools in place, you can start creating an automation pathway for the different types of customer journeys that visitors may take to interact with your marketing content. It could include adding a chatbot-driven conversation flow that asks for personal information from the visitors, using personalized two-way dialogue.
4) Map Meetings into Your Conversational Marketing
High-value prospects can be quickly engaged for a face-to-face meeting or live chats using powerful meeting tools. These tools should be part of your conversational marketing to ensure your reps have a better opportunity at scoring conversion with the right leads. The meeting planning tool can be integrated with your email marketing, SMS, social media messaging, or outbound calling software for faster turnarounds.
5) Take Full Responsibility for Your CX
Drive CX straight into the heart of your Conversational marketing strategy. Creating a highly enjoyable and empathic user-friendly UI UX with effective live chat, chatbot, and messaging capabilities ensures better qualification of leads and shorter sales cycles.
Conversational Marketing for the Industry 
Even a second delay can result in you losing a conversion opportunity. Moreover, customers rate longer waiting periods as the most grueling experience while dealing with sales reps. Receiving wrong information comes a close second.
If you are implementing a fresh conversational marketing strategy for your business, it's always best to analyze various scenarios where these efforts made a lasting impression.
We have identified successful conversational marketing campaigns from industries — Financial Services, Healthcare, Education, and E-commerce, to assist you with your next steps.
1. Conversational Marketing for Financial Services 
Financial services providers are transforming the way they deliver CX using conversational banking solutions.    
80% of financial services-based organizations are using conversational customer engagement tactics to enhance customer satisfaction and loyalty. Accessibility to smart banking platforms that support unified communications and customer experience management has made a remarkable impact on the financial services technology industry. Banks are reaping benefits from conversational marketing in dollars and cents.
We will take the example of one of India's most customer-centric banks—Axis Bank.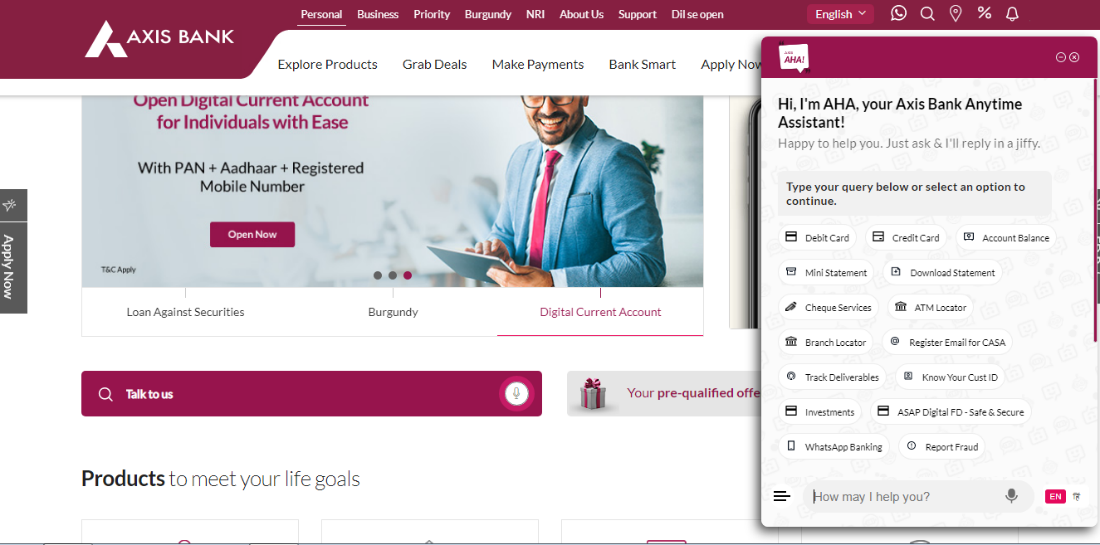 Axis Bank's Home Page takes Conversational Banking to dizzying heights with its ease of accessibility and highly personalized self-service options. The AHA chatbot lets visitors decide the flow of their conversation, answering questions from 50+ different topics. The speed of response is lightning, making it a delight to chat with.
Moreover, the website has a separate "Support" menu that pops out the various services and products available from the bank's existing portfolio. From applying for credit cards and personal loans to registering complaints, Axis Bank lets customers take full control of their conversation with great self-help features, powered by AI and easy banking solutions.
BankBazaar is another example that is worth mentioning from the financial services industry.
The Home Page is optimized to provide various types of information related to tax filing, credit cards, bank loans, and credit scores. It offers 100% contactless KYC, paperless documentation, and a single-pane view of all types of taxes and financial products.
2. Conversational Marketing for e-commerce
E-commerce companies use conversational marketing tactics to provide quick and genuine responses to visitors.
Much like their bigger rivals, local e-commerce companies are heavily dependent on live chat and AI-assisted messaging bots for conversational marketing. A popular cake-designing boutique, Ferns n Petals has managed to harness the power of conversational marketing to tap into the local market.

Its location-based intelligence is integrated into its CRM database, allowing the chatbot to deliver more contextual and genuinely reliable information about cake orders, delivery updates, pricing data, and cancellation and refund policies.
Many app-based businesses also use WhatsApp as their go-to conversational marketing platform to reach regular buyers and potential customers. From sending promotional messages to greeting customers to new product launches, there are countless examples in the e-commerce industry where conversational marketing pushes the boundaries of outbound messaging.
Check these examples for more ideas.
3. Conversational Marketing for Education
There are more than a dozen educational institutions and online certification courses that have a very fluent conversational marketing strategy in place. UpGrad, for example, provides visitors with multiple options to reach a counselor or a contact center agent. 
4. Conversational Marketing for Healthcare
Patient experience has emerged as one of the fastest-growing trends in the healthcare services and telehealth management industry. Patients and family members rely on mobile-based apps and AI-powered websites to book appointments with doctors and consultants, review services, avail insurance facilities, write recommendations, and pay online for tests. Apollo Hospitals leads the way in providing authentic patient care through digital conversations across the web, mobile, and email.
The conversation with Apollo Hospitals could start online by simply filling out a contact form or dialing their virtual telephone numbers "10XX" and "1860-XX-XXX".
Future Trends in Conversational Marketing
By 2024, the chatbot-driven commerce industry would cross $115 billion. AI-driven conversations would play a huge role in delivering relevant live chats and chatbot experiences to customers, freeing up your sales reps.
Artificial Intelligence, Generative AI, in particular, is seen as the future of conversational marketing. Brands that are quick to scale the power of Generative AI in their chatbot integrations on the website would win the attention of the customers. Customers no longer want to engage with brands that offer mono-directional and bland conversation roadmaps during the buying journey. 
With AI that is trained by a plethora of customer data and location intelligence data models, brands can start a conversation much before the customer even thinks about the products and services. These intent-builders would start the conversation on apps where customers spend most of their time, interacting with social media connections, subscribing to new content, or playing their favorite playlists!
Another important point that conversational marketing designers should keep in mind is building a privacy-focused digital marketing strategy. With GDPR and CCPA taking stringent measures against advertisers and data management organizations, it would be interesting to track how marketers dodge the cookie-less economy soon.
By all means, social commerce and chatbots would continue to be the focus of every conversational marketing strategy powered by AI and machine learning.
Channels in Conversational Marketing
Chatbot for Conversational Marketing
Chatbots are at the center of a successful conversational marketing strategy. These chatbots are designed to interact with customers using highly contextual messages that are delivered with a personal touch.
Marketers use personalized trigger-driven messaging or intelligent chatbots to engage with visitors in real-time. Businesses can get closer to their customers by using AI-assisted chatbots and personalized live chat messaging to pitch their products, services, or other marketing content once they understand exactly what the customer is looking for.
WhatsApp for Conversational Marketing
WhatsApp is a very popular mobile messenger app. The mobile app qualifies as a key channel in the current conversational commerce or C-commerce landscape as users spend anywhere between 30 minutes and 4.5 hours on WhatsApp for various purposes, including interacting with businesses and affiliate marketers. All top brands, including the ones that sell to a niche audience, have created a digital avatar on WhatsApp to engage with Gen Z and millennial customers. These customers prefer to chat with human agents on popular messaging platforms such as Messenger or WhatsApp to bypass the need to visit a physical store or website for any kind of information. 
If customers have found you on WhatsApp, your business has achieved future readiness. 
All you need to do to start with a WhatsApp conversational marketing strategy is create a messaging strategy that is in sync with WhatsApp's data-sharing policy.
Choose Ozonetel's CCaaS Platform on WhatsApp: The Best Conversational Marketing Solution
Clearly, conversational marketing offers boundless potential for customer engagement and growth. Unsurprisingly, there are not many companies offering out-of-the-box solutions. Empower your marketing efforts with Ozonetel's CCaaS Platform on WhatsApp. Integrate your cloud contact center with WhatsApp API for enhanced customer experiences and unified engagement on a single platform.
Here are the key benefits of our product:
Hyper-personalized experiences:

Personalization is one of the key elements of conversational marketing. With our solution, you can leverage customer data to understand their needs and preferences & engage in a personalized interaction. Our deep CRM integration enables you to run personalized campaigns at strategic touchpoints in your customers' journey.  

Seamless Onboarding:

Our onboarding process is simple and swift. We are amongst Meta's recognized Business Solution Providers with direct access to their cloud API. Brands can use our one-click embed flow and get started with their WhatsApp contact center in 5 minutes.

Lead management:

With our proprietary Conversational AI, you can fully or partially automate conversations based on your campaign requirements. You can build an automated conversational flow and leverage WhatsApp's rich media and readymade templates to nurture leads.

Collaborative resolution:

While automation can be useful, it is also essential to have timely human intervention. Customers want to feel like they are valued and that their concerns are being addressed. Our solution helps you seamlessly route WhatsApp conversation to a human agent using efficient automated chat distribution software.

Consistent point of contact:

With our solution, you can use your existing customer-facing number on WhatsApp. Also, customer & prospect will automatically get connected to the same agent, thereby increasing familiarity, reducing customer hesitation, and improving conversion rates.

 Lead data protection: Lead leakage is a grave issue for businesses. Using the number masking feature, you can prevent offline conversations between prospects and agents. You can also use the same virtual phone number for calls and WhatsApp chats. Using the sticky agent feature, you can also give a consistent point of contact and build trust & familiarity with prospects as well as customers.
Conclusion
We have come very far with live messaging and chatbots in modern marketing journeys. Today, the focus for brands has shifted to voice-driven interactions and generative AI search results. Whether it's about meeting a customer looking for more information about the products and services or a returning follower asking for pricing, conversational marketing can be extremely beneficial for your contact center at every stage of the buyer's journey. 
Start by selecting the key elements of conversational marketing and by using a reliable system of platforms and tools to increase the likelihood of turning your leads into long-lasting customers.
Frequently Asked Questions