The #1 Driver of Change for Enterprise Communications in 2023: with Dave Michels
The #1 Driver of Change for Enterprise Communications in 2023: with Dave Michels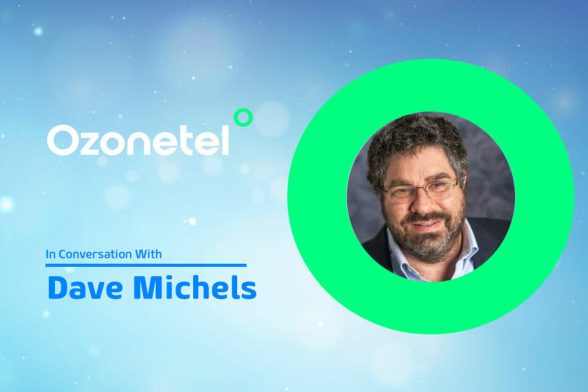 There's significant change happening in the space of enterprise communications, UCaaS and CCaaS, and CX. What's happening is impacting the way businesses operate on a day-to-day basis. The industry is growing as companies keep up with customer expectations and utilize advancing technologies to improve customer experience.
Isn't that what it's all about? Finding the most efficient way to provide the best customer experience?
In 2022, we've seen a shifting environment that offers new ways to do this.
Once emerging technologies such as cloud, CCaaS, CPaaS, Conversational AI, Conversational Analytics, and Digitization— are now coming into practical use. Customer Contact Centers adapt to new software, cloud-based service providers, digital platforms, and AI innovation.
Of course, industry-wide change comes with challenges too.
Big and small enterprise communications companies respond to mergers, acquisitions, and market changes. Companies balance the fantasy and reality of what AI is capable of. It's the fundamentals of business that continue to support strong company initiatives. Technology like artificial intelligence (AI) is a tool to support those initiatives. It doesn't replace them.
We sat down with Dave Michels, the Principal Analyst and Founder of TalkingPointz, about the exciting new tech environment.
Here are the highlights from the interview that brings a new perspective on age-old issues in enterprise communications:
The best way to serve a customer is knowledge (CRM vs CCaaS).

The fantasy of technology versus managing expectations.

The #1 thing to pay attention to as we head into 2023.

Acquisitions, and more.
In this article, we will explore:
Dave Michels on The Changing Enterprise Communication Environment
Not that many people will get the reference to TalkingPointz's origin name, PinDropSoup. Dave Michels lets us in on the 80s reference. PinDropSoup was a nod to the telecom industry's US Sprint "Pin Drop" campaign.
Dave Michels is the Principal Analyst and Founder of TalkingPointz. He's a leading voice in the industry and although he's humble, TalkingPointz.com is one of the most quoted and informative sources that industry leaders turn to for news and insight in enterprise communications.
Good Timing For A New Perspective
Dave holds a Master's Degree in Telecommunications from the University of Colorado. When Dave started his blog in 2007, he didn't have a degree, he was passionate about the industry, and he had excellent timing.
Blogging was new. Twitter was new. Dave loved communications and saw a problem with the way it was being discussed in the media. The media was so positive about everything it left little room for real dialogue about the problems the industry was facing. Dave would change all that.
Now, his blog, rebranded as TalkingPointz.com, continues to share important information. He has a vast knowledge that he delivers with a no-bs approach. Dave brings much-needed awareness to the modern customer. He's not afraid to ask hard questions and explore different perspectives on topics that are driving the industry forward today. That's what we're talking about in this interview, and why you'll want to listen in.
Well-Known Issues That Lack Perspective
There's a need to build awareness about the industry, says Dave. The issues with enterprise communications are well known, but what's missing are different perspectives on the problems. Asking good questions can change this.
Dave talks about an example of this narrow view that came out of the last Enterprise Connect. Multiple keynotes at the conference showcased new solutions for UCaaS on mobile devices. The conversation was focused around if people wanted to use native smartphone services.
Apps like UC and UCaaS are run over-the-top (OTT) of an internet connection. The quality of the experience is lacking compared to using native apps.
Dave prompts a better question, he says, "Why do the mobile carriers get to give us a crappy experience on over-the-top dialer apps?" As we head towards consolidated communications services, he asks, "Why do we have to use the native dialer to get a decent experience?"
This is a better conversation. As technology advances in ways that allow us to conduct messaging, meetings, and mobility from a smartphone, these are the things we should discuss more.
Let's ask better questions.
The Best Way to Serve a Customer – CRM vs CCaaS
Is there an actual war over the agent screens? What is winning when it comes to supporting agents to best serve their customers? Is it the Customer Relationship Management Systems (CRMs) or is it Contact Center as a Service (CCaaS)?
Perhaps, it's a bit of both, and the war is not won? We've got to think about this in a business sense. The question isn't about which tool or app is better. The important thing is to consider what's the best way to service the customer, and what's the best way to support the agents to do this.
Knowledge continues to be king in this arena. When it comes to customers, the more you know, the more you can help. CRM is great for collecting knowledge and nudging an agent to use it. It might not be the right tool to win the day though. Companies want to shift their thinking to be agent-centric. How does the agent get the support they need to be successful? 
In the future, the best way to serve a customer will rule. Whatever the business uses for operations will be Contact Center enabled and fully integrated with CCaaS. Dave shares with us his view on where things could be heading in this arena. CCaaS is inherently about routing and queuing, plus it's done around other apps including CRM.
This benefits the customers, the agents, and the business through a consolidated approach that has the agent-to-customer experience front and center.
Chatbots Are Cool, Right?
Chatbots continue to advance. More companies are adopting chatbots as part of their customer service mix. Live Chat is being replaced with Chatbots, and innovations in AI make it better every day.
We had to ask Dave what he thinks about Chatbots and what's going on there. He enthusiastically said he loves them! Did we hear a collective sigh of relief? Wait, there's more.
Dave has a story with a meaningful takeaway as we leap forward with Chatbots and Voice Apps.
The Future Needs a Prelude
When Dave was a young kid in the 80s, his Dad had access to a computer. Remember, in the 80s computers were a rarity. Book reports weren't. Dave had been tasked with a book report. His Dad let him do his work on the word processor. He had a confident 80s kid beat to his step the day he brought that report to school. Picture the dot matrix printout. Imagine the sound it made as it placed each line of text onto the paper. Each line that Dave carefully thought about when he typed it into the computer. His efforts were tangible. Dave submitted his book report and the class, including the teacher, was in shock and awe. Dave remembers now the questions he got. The questions were rooted in fantasy.
"Did you insert the book into the computer for it to read?", one student asked. There were follow-up questions, "Did it analyze the book for you?" Students imagined the computer had magically read, understood, and written the book report for Dave.
This is the fantasy of technology. Here's the spoiler. Computers are incredible and popular, and though they make our work easier, computers don't do the work for us.
With new technology in communications like Chatbots, Voice Apps, and Conversational AI, the same fantasy is on the rise. The reality is that this technology isn't going to replace the human factor, but it will help it.
Successful Enterprise Communications Requires Expectation Management
Dave had to read the book and write the report. When new tech emerges people get excited and quickly face reality.
We saw this when Apple introduced its voice assistant Siri. Everyone wanted to ask Siri complex questions. The voice application couldn't answer them. People were disappointed. We know what to expect out of voice assistants now. The expectations are managed and grounded in reality vs. fantasy.
As we continue to advance technology like Chatbots people are satisfied with the interactions. The tech is getting better and people have reasonable expectations. This is a good thing for companies utilizing modern tools.
What's Happening in the Enterprise Communications Space? New Players, Mergers, Aquisitions, and AI
There's a lot of movement happening in the space of enterprise communications. We've seen acquisitions, mergers and new players emerge. What's next?
UCaaS continues to grow. This is a trend that was soaring high during the pandemic. It's slowing a bit with fierce competition and big players like Microsoft Teams, Zoom, Salesforce Slack, and Cisco WebEx. We saw mergers and acquisitions in this space, especially between companies that can offer a collaboration of services. All the UCaaS providers are looking for their dream CCaaS. Dave talks more about this with us. Make sure you listen to the interview to hear his full take.
Dave shares that he sees the CCaaS side of the industry growing. There are more players entering the market. CCaaS companies aren't consolidating but they're starting to face a rapidly growing market. Pressure will increase. It's the mid-size companies that get squeezed. Dave says, "The big companies do well and the smaller companies can cater and provide better service to stand out, mid-size companies will struggle."
This is the kind of industry-driving pressure that leads to incredible new tools. Companies announce new advancements. At Ozonetel we made a huge leap forward in the ultimate digitization of Contact Centers with the introduction of our CCaaS platform on WhatsApp. 
One of the areas to pay attention to according to Dave is mobility. There's a lot of change happening here that's creating a storm. Dave won't guess who's going to be acquired next when it comes to UC/CC. He says, there's a long way to go.
UCaaS versus CCaaS
Enterprise Communications, UCaaS, CCaaS, and CX are all part of the bigger picture. The industry changes over time. It used to be hardware focused. You'd need specialized equipment and knowledge to be in the space.
With advancements in technology, like Voice becoming an App, big companies such as Microsoft enter the field. They understand the software and they're cloud-based.
What's important is that we pay attention to the conversation and what's driving the conversation. The messaging changes and companies may convince people, there's no need for advanced features. Especially when there's a race, everyone's watching to see who will lead first.
When it comes to UCaaS and CCaaS, the latter is becoming a super-connector. It expands across systems in workforce engagement, and there's a lot happening with conversational AI. CCaaS breaks the barriers between departments. It connects marketing, sales, and service.
Enter Amazon, Google, and Microsoft
Amazon and Google entered the CCaaS space. Amazon Connect and Google's Contact Center AI are new big names to watch. Microsoft is leading in UCaaS with Microsoft Teams. The big companies are coming in, but Dave sees hope for niche players.
The fear would be that the big names come in and suck the air out of the room. People are used to supporting companies like Microsoft. The conversation switches from, hey go check out Slack to endorsing Microsoft Teams. Naturally, Microsoft is used to being in the winner's circle. The UCaaS space will not be different.
Amazon Connect and Google's Contact Center AI are both lucrative and they're in it for the long game. In the CCaaS space, these beasts integrate with other apps and run on servers and as cloud-based solutions. The intent is that they experience a domino effect of being the only one center with all the customer's apps in their clouds.
The problem is, big companies aren't a dream to work with.
The solution is, smaller companies can stand out by providing better customer relations.
The one foundational piece that roots the entire industry on solid ground is that businesses want to create a better customer experience and they're looking for impactful solutions to do just that.
AI innovations
Dave says the number one thing to watch for is AI innovations.  AI is changing everything. There are a few things to know when it comes to advancing AI technology in the enterprise communications space, they are:
It's not easy.

It's complicated.

It's being worked on by everyone.

Competition is expanding.

Aim to understand it completely, where it breaks down and where to support.

Always ask great questions to raise your level of awareness.
Conclusion
Do Contact Centers drive business growth? Sure, but not on their own. Dave explains he's not into vendors promising business outcomes. A CCaaS is a tool. Like a hammer, he explains. If you don't know how to build a house, the hammer isn't going to do it for you.
To get things right companies have got to do the work. The core business fundamentals, business practices, and mindset are the drivers behind successful Contact Centers. Leadership must drive the initiatives forward in meaningful ways while paying attention to what's coming up next.
There are some key factors happening in enterprise communications that change everything we know about providing incredible customer experiences. From routing, and analytics to the understanding of what an agent is. There is a force shaking the industry up. Retail clerks now act as agents, staff work in the office, at home, or in some version they've made up. It's all moving parts.
We're at a time when everything is in play. Everything is changing, it's moldable. Leadership should be asking great questions and looking at development that supports their goals.
"Leaders need to be modular, turn on and off, and adapt quickly," Dave says, "Be swift and responsive to new developments."
Contact Center Leadership should pay attention to this most.