How to Strengthen Customer Relations & Drive Business Growth with Dedicated Account Managers
How to Strengthen Customer Relations & Drive Business Growth with Dedicated Account Managers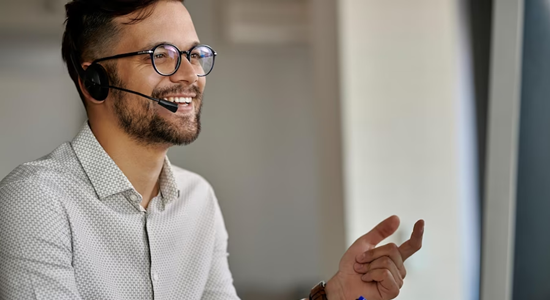 Your customers aren't just faces passing through your store or clicks on your website; they are the core of your enterprise, the driving force behind its growth. That is why developing strong customer relations is not simply a feel-good idea, it is a smart business decision.

So, how can businesses cultivate meaningful relations that benefit customers and improve revenues?  

One increasingly popular method is assigning a single point of contact for every customer. 
Especially popular in Banking, Education, and even Healthcare, these relationship managers cultivate trust by constantly keeping in touch and consistently meeting individual needs. As a result, customer satisfaction increases, repeat orders rise, brand recall improves, and churn reduces. 
But even so, not all businesses can benefit from a dedicated account manager. Before implementing this strategy, businesses must consider the volume of their transactions, costs, customer expectations, and plans for scaling up.
In this article, we will explore:
Are Dedicated Account Managers the Right Strategy for Your Business?

A dedicated account manager is someone who works closely with a specific set of customers or clients, understands their needs, and goals, and provides personalized service and support.  They often play the dual role of customer service and consultative sales representatives.   
Earlier this form of relationship marketing was restricted to wealth management, and insurance services. But today, thanks to cost-effective cloud solutions, firms within real estate, healthtech, and edtech can adapt this strategy, at scale.
So today, how do businesses decide whether dedicated account managers are the right move for them? Here are four critical considerations: 
Cost of switching

.




How expensive or difficult is it or the customer to switch from your brand to another? A low switching cost means that customers is not locked into your brand. It is easy to win over such customers, but just as easy to lose them.  Dedicated account managers may be less effective here. Conversely, if cost of switching is high it is more costly to lose the customer and customer relations are more critical for both the customer and the business.

The nature of the product or service

.




Dedicated account managers may be more suitable for products or services that require repeated purchases, high involvement, or customization.

Time horizon or lifetime value


Relationship marketing may be more profitable for customers who have a high potential value over time, considering their purchase frequency, loyalty, referrals, and feedback.

Customer segment.


Relationship marketing may be more necessary for customers who are dissatisfied or at risk of leaving or for premium customers. 
Ultimately, businesses need to evaluate their unique needs, customer dynamics, and financial capacities before committing to this approach. In other words, not all businesses can benefit from a dedicated account manager. But for those that can, this method customer relationship management can make a huge impact on revenue and growth.
Business Benefits of a Dedicated Account Manager
A dedicated point of contact helps brands establish lasting connections with their customers. With each interaction, a sense of familiarity emerges, putting your customers at ease. They find solace in connecting with professionals who understand their history, paving the way for enhanced customer experiences, swifter solutions, and reduced conflicts.  
Higher Customer satisfaction

Improves Customer Loyalty

Reduced Acquisition Costs

Higher Customer Lifetime Value

Increased Upsell & Cross-sell Opportunities

Brand Advocacy
Here are six ways in which these long-term connections lead to higher business value and revenue:
Higher Customer Satisfaction. Dedicated manager gives personal care, making customers feel valued and understood. They can clear doubts and misconceptions that customers may not be comfortable sharing with others. By automatically connecting patients to dedicated healthcare advisors, our customer, one of India's leading healthcare brands, was able to increase their CSAT by 36%. 
Improved Customer Loyalty. According to Salesforce, 68% of customers leave a business relationship due to perceived indifference. In contrast, when customers have a consistent person who knows them, they stick around, come back, and recommend your brand to others.
Reduced Acquisition Costs. Attentive service and prompt responses from a relationship manager can mean customers don't leave as much. According to the book, Leading on the Edge of Chaos, increasing customer retention rates by 2% can be equivalent to decreasing costs by 10%.
Higher Customer Lifetime Value. According to Bain & Company, returning customers spend on average 67% more than new customers. Strong relationships with managers can help since it helps customers stay around longer, and as a result, do more business with you. 
Increased Upsell and Cross-sell opportunities.  Customers are more likely to purchase from someone they trust. Th healthcare firm we worked with saw a 53% increase in conversions because of their dedicated account managers.   
Brand Advocacy: According to Nielson, 83% of consumers trust recommendations from family and friends over other forms of advertising. This trust in personal referrals is why having a dedicated account manager holds immense value. Satisfied customers who benefit from such personalized service are more likely to become enthusiastic brand advocates, promoting your business through positive word-of-mouth and online reviews. And this pays off more profitably than any other marketing campaign.  
Therefore, fostering long-term connections isn't just about goodwill, it's a strategic investment. These enduring relationships translate into higher business value and revenue, ensuring sustainable success and growth
Practical Challenges (and Solutions) for Scaling up Account Management 
From resource allocation to training, business face several practical challenges in setting up a scalable system for dedicated account managers. One of the most critical challenges is how to personalize communications at scale. 
While traditionally, these account managers met customers face-to-face, today they must cultivate relationships via phone calls and WhatsApp messages. Agents must remain empathetic and consistent in their communication even while balancing a high volume of customers or accounts. 
Broadly then, businesses need to solve five practical challenges to successfully set up a dedicated account management team.
How to setup the right team and training? 

How to recognize customers and route them to the same agent?

How to leverage technology to reduce agent workloads and create efficiency? 

How to use the data to improve decision-making and training? 
Let us discuss how to solve each of these challenges in detail.
Setup the right team and training
The first step to setting up a dedicated team of account managers is to allocate budgets and hire and/or train your team. We recommend hiring individuals with strong interpersonal skills, industry knowledge, and the ability to understand and address customer needs. Thoroughly train them on your company's products, services, and communication protocols.
Consider AI-based knowledge management tools to keep them up to date with the latest developments.
Also, clearly outline the objectives of the account management team. Are they focused on customer retention, upselling, cross-selling, or all of the above? Setting clear goals will help you measure the team's success.
Recognize customers and route them to the same agent
Today, personal connections are built primarily over phone calls, email and WhatsApp. While emails are easy to route and track, establishing seamless connections over phone calls can be equally crucial for businesses aiming to engage with their audience effectively. Here recognizing customers and connecting them with the right team becomes important. Through deep CRM integration  & multi-level menu, the system identifies callers based on their phone numbers and accordingly routes them to the right set of agents. This results in reduced wait times and a significant decrease in abandon rates. Additionally, the implementation of skill-based routing, ACD, and CRM integration allows for optimal work distribution among agents, ultimately enhancing efficiency.
Leverage technology to make work easier for agents 
Empowering agents to offer seamless assistance 24/7 is now achievable through direct call patching to agents' mobile phones, facilitated by robust CRM integration. This deep integration ensures agents can effortlessly dial, answer, and transfer calls from within the CRM system while accessing a holistic customer view. Call recordings and chat transcripts after each customer interaction are automatically added to the CRM records. Furthermore, harnessing automation enables the seamless delivery of personalized messages and offers, automatically originating from the agent's virtual number.  This strategic blend of CRM integration and automation not only streamlines operations but also fosters meaningful and timely interactions that leave a lasting impact on customers.
How to use the data to improve decision-making and training? 
Leveraging data has a transformative impact on improving decision-making and agent training. By seamlessly tracking conversations and consolidating records like call logs, WhatsApp transcripts, and emails within the CRM through integrations, businesses can create a comprehensive repository. This data treasure trove forms the foundation for informed choices and agent development. With both AI-driven insights and human analysis, metrics like CSAT and CX metrics come into play, while performance indicators such as average handle time enable efficiency enhancements. Moreover, the strategic application of single dispositions reduces after-call work (ACW) time. This holistic approach empowers businesses to refine their strategies and equip agents to deliver superior experiences.
In Conclusion
In the world of business, where relationships are key, dedicated account managers quietly shape lasting customer connections and sustainable growth. Their impact goes beyond the surface, building trust and loyalty through personalized support and attentive service. Satisfied customers, empowered by these relationships, become formidable allies, ensuring a steady path to business success. Together, they forge a future marked by prosperity and enduring partnerships.