Reduce Average Wait Time for Customer Service Calls
Reduce Average Wait Time for Customer Service Calls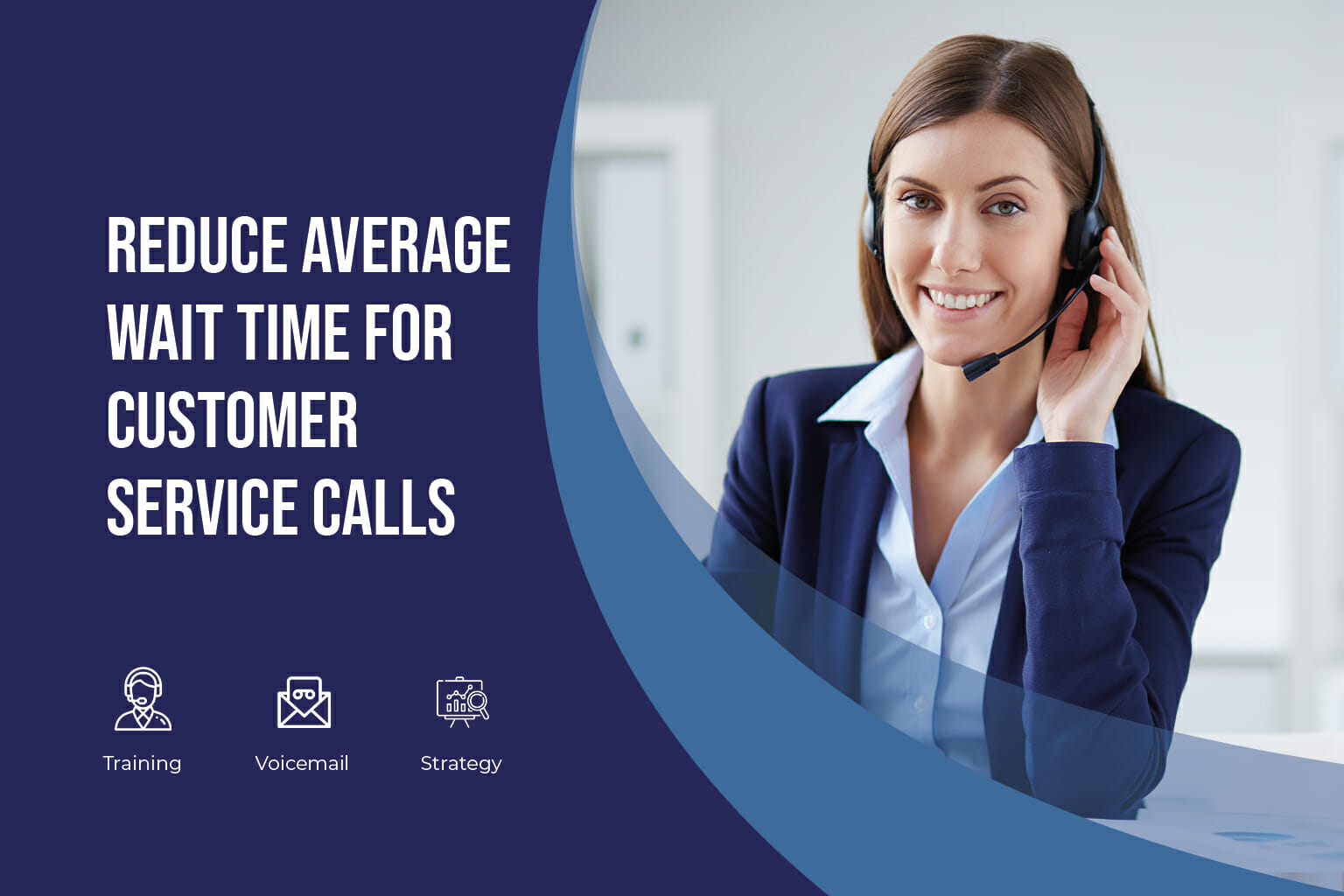 Did you know that in 2021, customers spent an average of 46 seconds waiting for call centers to answer their calls? And they didn't like it! 28% of these callers disconnected before they could speak to a business representative. 
We've all been there. We have waited on hold for what can seem like hours. It's one of the most exhausting things that can happen during a phone conversation, and as a customer-centric business, you want to keep this wait time to a minimum. 
Long waiting times can be detrimental for any business and lead to losing customers and clients. It's vitally important to keep an eye on your wait times and as a business, you should always be on the lookout for ways you can improve them. 
In today's post, we're going to be looking at what the average wait time for a customer service call (AWT Call Center) is, why you should look to reduce it, and ten brilliant ways you can do so! Let's get into it. 
In this article, we will explore:
What Is the Average Wait Time (AWT) Call Center?
Average Wait Time (AWT) is also known as the Average Time in Queue(ASA). Put simply, it defines the average time an inbound call spends waiting in a queue, or time spent waiting for a callback. This does not include time spent interacting with an IVR or auto-attendant. 
This metric is not to be confused with average handle time (AHT), which is the time an agent takes to complete a call, or with Average Agent Speed of Answer, which is how long agents take to pick up a call but does not include the time they wait in a queue. 
AWT can be measured by queue, skillset, agent group, or phone number. On average, businesses aim to answer 80% of calls within 20 seconds. 
What is the Average Wait Time (AWT) for Customer Service Calls?
According to our study, in 2021, the Average Wait Time within contact centers was 46 seconds across industries. This means that, on average, callers waited for 46 seconds in a call queue before speaking to a company representative. 
This number varies across industries. In general, we noticed that eCommerce (groceries, D2C, and online pharma companies) companies maintain high service levels, with an Average Wait Time of 27 seconds. By contrast, some broking companies saw an average wait time as high as 125 seconds.
What Is an Acceptable Waiting Time for Customer Service?
A 2014 study by American Express found that the maximum time a caller is willing to wait is 13 minutes. Three years later, Arise conducted a similar study which found that two-thirds of consumers would accept a wait time of fewer than 2 minutes, and 13% said they wouldn't wait at all and no wait time was acceptable. They also found that 34% of callers who hang up are never called back, increasing the abandonment rate across the country.
Many studies suggest that customer expectations of service are growing. For instance, our studies show that in 2018, 98% of callers to customer service departments and contact centers were willing to wait for 75 seconds or more for their call to be connected. However, in 2021, 54% of these callers would disconnect, even though wait times had nearly halved. 
Today, customers expect fast and instantaneous calls. This could be down to the growth of eCommerce, where customers are used to having real-time service at the click of a button. Call centers and brands that offer customer care services need to keep up with this demand to survive.
Why Reduce AWT/Call Center Queue Waiting Times?
As previously mentioned, the world of eCommerce has grown rapidly in the last decade. This has transformed customer experience expectations. Customers have adapted to a world of full and real-time service at the click of a button. They expect the same from all brands and companies, and those who don't adapt to this change are likely to be left behind. 
Reducing your wait time can be extremely beneficial for many reasons. As well as keeping customers and clients happy, you also encourage repeat customers. If customers and clients know they won't be waiting hours to speak to someone, they're much more likely to return and use your business or service again. 
Having a long call center average wait time is detrimental for any business, and if you're looking to improve your client and customer satisfaction, reducing wait times is a great place to start. Let's have a look at ways you can reduce your wait time.
10 Ways to Reduce Queue Waiting Times on Your Customer Service Calls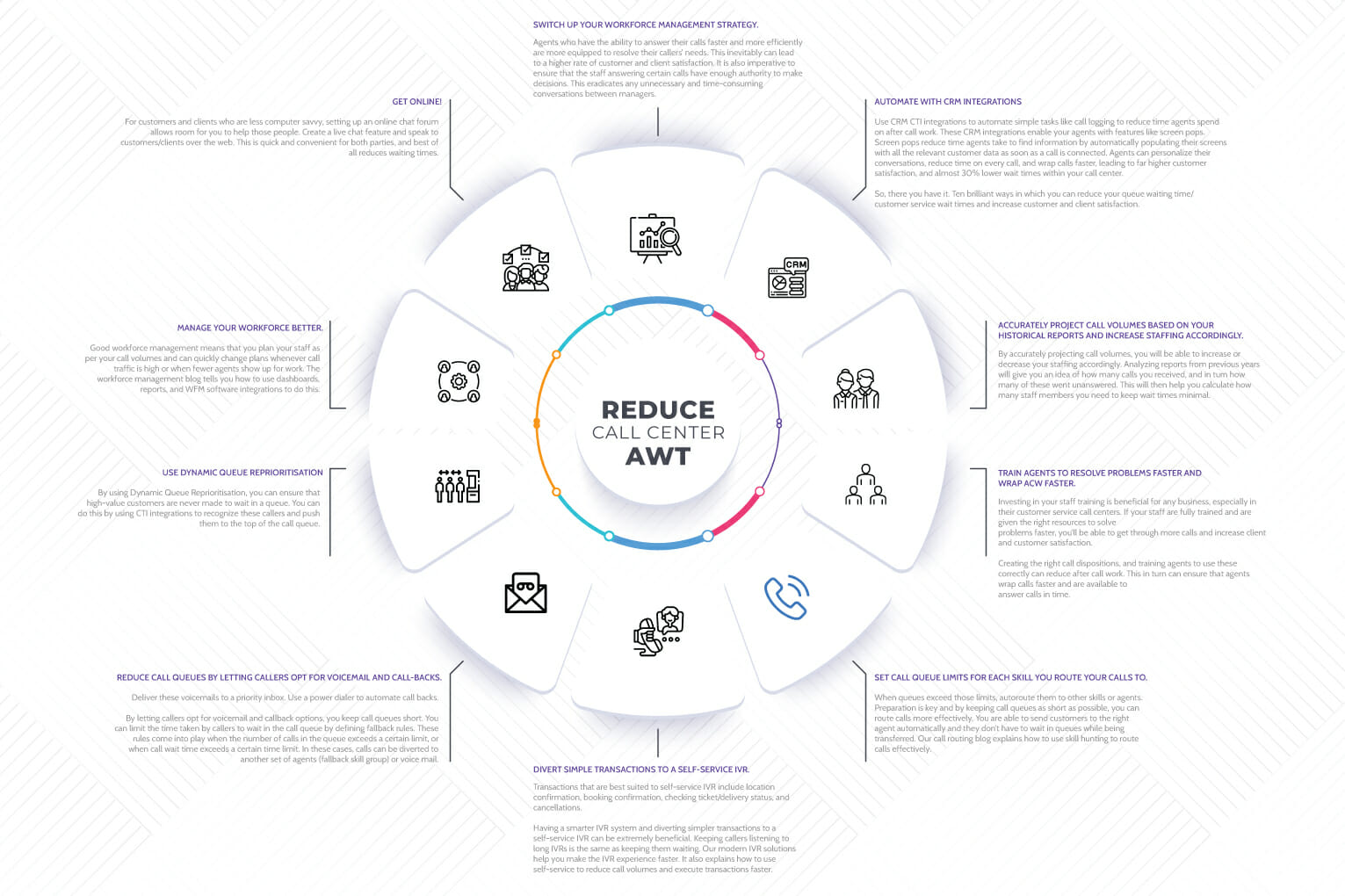 1. Accurately project call volumes based on your historical reports and increase staffing accordingly.
By accurately projecting call volumes, you will be able to increase or decrease your staffing accordingly. Analyzing reports from previous years will give you an idea of how many calls you received, and in turn how many of these went unanswered. This will then help you calculate how many staff members you need to keep wait times minimal.
2. Train agents to resolve problems faster and wrap ACW faster.
Investing in your staff training is beneficial for any business, especially in their customer service call centers. If your staff are fully trained and are given the right resources to solve problems faster, you'll be able to get through more calls and increase client and customer satisfaction.
Creating the right call dispositions, and training agents to use these correctly can reduce after-call work. This, in turn, can ensure that agents wrap calls faster and are available to answer calls in time.
3. Set call queue limits for each skill you route your calls to. 
When queues exceed those limits, autoroute them to other skills or agents.
Preparation is key and by keeping call queues as short as possible, you can route calls more effectively. You are able to send customers to the right agent automatically and they don't have to wait in queues while being transferred. Our call routing blog explains how to use skill hunting to route calls effectively.
4. Divert simple transactions to a self-service IVR.

Transactions that are best suited to self-service IVR include location confirmation, booking confirmation, checking ticket/delivery status, and cancellations.
Having a smarter IVR system and diverting simpler transactions to a self-service IVR can be extremely beneficial. Keeping callers listening to long IVRs is the same as keeping them waiting. Our modern IVR solutions help you make the IVR experience faster. It also explains how to use self-service to reduce call volumes and execute transactions faster.
5. Reduce call queues by letting callers opt for voicemail and callbacks.
Deliver these voicemails to a priority inbox. Use a power dialer to automate callbacks.
You can keep call queues short by letting callers opt for voicemail and callback options. You can also limit the time callers take to wait in the call queue by defining fallback rules. These rules come into play when the number of calls in the queue exceeds a certain limit, or when call wait time exceeds a certain time limit. In these cases, the system can divert calls to another set of agents (fallback skill group) or voicemails.
6. Use Dynamic Queue Reprioritisation. 
By using Dynamic Queue Reprioritization, you can ensure that high-value customers are never made to wait in a queue. You can do this by using CTI integrations to recognize these callers and push them to the top of the call queue.
7. Manage your workforce better.
Good workforce management means that you plan your staff as per your call volumes and can quickly change plans whenever call traffic is high or when fewer agents show up for work. The workforce management blog tells you how to use dashboards, reports, and WFM software integrations to do this.
8. Get online!
For customers and clients who are less computer savvy, setting up an online chat forum allows room for you to help those people. Create a live chat feature and speak to customers/clients over the web. This is quick and convenient for both parties, and best of all reduces waiting times. 
9. Switch up your workforce management strategy.
Agents who can answer their calls faster and more efficiently are more equipped to resolve their callers' needs. This inevitably can lead to a higher rate of customer and client satisfaction. It is also imperative to ensure that the staff answering certain calls have enough authority to make decisions. This eradicates any unnecessary and time-consuming conversations between managers.
10. Automate with CRM integrations.

Use CRM CTI integrations to automate simple tasks like call logging to reduce the time agents spend on after-call work. These CRM integrations enable your agents with features like screen pops. Screen pops reduce the time agents take to find information by automatically populating their screens with all the relevant customer data even before a call connects. Agents can personalize their conversations, reduce time on every call, and wrap calls faster, leading to far higher customer satisfaction, and almost 30% lower wait times within your call center. 
So, there you have it. Ten brilliant ways in which you can reduce your queue waiting time/customer service wait times and increase customer and client satisfaction. 
Try Ozonetel
If you're looking for the perfect tools to reduce your average wait times check out our Cloud Contact Center solution. Ozonetel packs all the tools you could ever need to improve service levels within an affordable, easy-to-integrate, quick-to-set-up call center solution.