Ozonetel vs Genesys: What is Best for Your Business
Ozonetel vs Genesys: What is Best for Your Business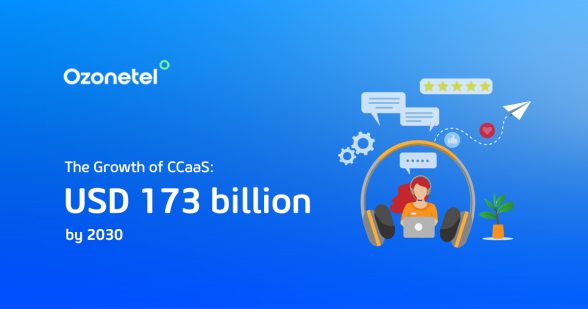 Effective customer communication is the cornerstone of any customer service strategy that focuses on retention and loyalty management. Contact center agents are expected to answer ever-increasing call volumes and deliver faster responses to ensure maximum customer satisfaction.
Contact Center Solutions empowers businesses to be more responsive to ever-growing customer needs. It enables their agents to juggle multiple responsibilities with AI-powered omnichannel interaction management and a plethora of high-end tools.
In a fast-changing business environment, Contact Center as a Service (CCaaS) has emerged as a key component in scaling up omnichannel customer engagement.
In this article, we will explore:
The Growth of CCaaS
The CCaaS market is swelling with innovation and opportunities. As compared to on-premise solutions, Cloud offers businesses more agility and scalability. These solutions are easy to upgrade and adopt the latest Artificial Intelligence (AI), Machine Learning (ML), Cloud computing, and Robotic Process Automation (RPA). They readily integrate with other business tools such as their CRM, payroll software, internal communications, and knowledge management tools — and connect business teams with customers like never before.
According to a recent study, the global Contact Center as a Service (CCaaS) market was valued at USD 3.91 billion in 2021. By 2030, this number is expected to touch USD 173 billion.
When compared to traditional on-premise systems like Genesys, cloud-native technologies such as Ozonetel offer vital benefits to your business and ensure business continuity no matter the situation.
Ozonetel's robust technology has been tested for 15+ years by businesses of every scale and size, powering 2 billion+ calls annually and supporting 150,000+ agents across secure, enterprise-grade deployments.
Side-by-Side Comparison Between Genesys and Ozonetel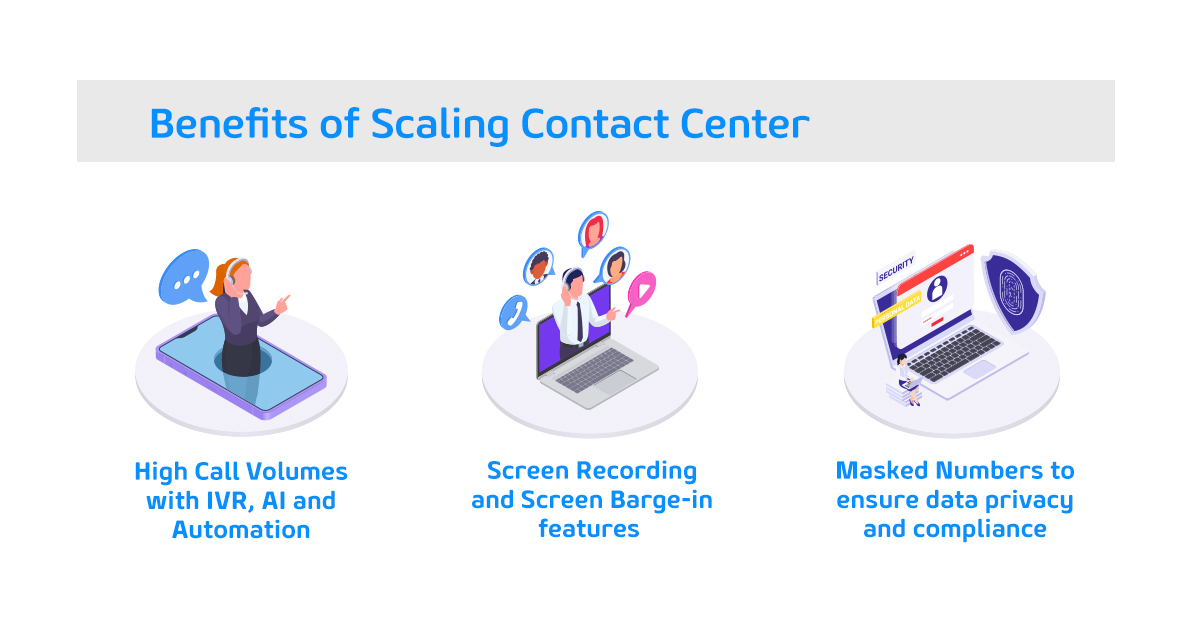 Looking to gather more information about CCaaS tools and top features? Look no further! We have done a side-by-side comparison of Ozonetel CCaaS Solution versus Genesys.
This in-depth detailed comparison is based on vendor information, product features, and online user reviews.
Let's begin with Ozonetel.
Ozonetel offers businesses a robust cloud-native, AI-enabled Omnichannel Solution that is loaded with next-gen features.
For example, it delivers AI-based Speech Analytics, purpose-built Auto Dialers for Predictive, Progressive, Power, Preview, or IVR calling, and features for call queuing, call analytics, and workforce management.
Here is a list of popular Ozonetel features that would help you get started with an outbound, inbound, or blended contact center in less than a day.
1. Inbound Multichannel Automatic Call Distributor
An automatic call distribution system is a useful feature for SMBs and enterprises that receive 100+ calls every day. It automatically routes the call to a voice messenger or a live agent based on availability, thus reducing the chances of inbound call drops and abandonment.
Ozonetel's immersive ACD workflow provides instant access to tools needed to build highly responsive phone support systems such as visual IVR, multi-level inbound call queuing, and call routing.
2. Modern IVR
An IVR quickly routes inbound calls to an available agent. It can be also programmed to hold calls with greetings, voice tones, or audio music to keep the caller engaged while your IVR sets up the next line of action.
3. Drag and Drop IVR
Also referred to as configurable IVR, a drag-and-drop feature allows contact agents to create bespoke workflows for better call management and removes your reliance on an IT administrator for the reconfiguring of your IVRs.
A simple drag-and-drop feature also enables the contact center to create workflows for outbound calling campaigns and fast-track first-call response initiatives.
4. Auto Dialers
Ozonetel offers multi-mode auto dialers that reduce the time each agent spends during call setup! Ozonetel CCaaS platform is decked up with powerful auto dialing modes – Predictive, Progressive, Preview, and IVR dialers – each smartly designed to deliver consistent outbound calling outcomes with 30% higher efficiency.
5. Live Monitoring
Live monitoring or real-time monitoring with Ozonetel allows you to track every call center activity with analytics, dashboards, and notifications.
Ozonetel tracks every call to identify speech and acoustics, language, escalations, and compliance-related entities with 100% coverage.
Agents can use Ozonetel's live reporting and dashboards to take proactive steps in customer service interactions saving valuable time and resources on subsequent calls with the same customer or others with similar speech patterns.
6. AI-Based Speech Recognition
Ozonetel Speech Analytics is a powerful tool for businesses that want to gain insights into their customer interactions, automate call quality audits, improve agent performance, and enhance the overall customer experience.
The software uses artificial intelligence and natural language processing technologies to analyze voice calls in real-time, extract relevant data and insights, and present this information in an easily accessible format.
7. Power Dialers
Ozonetel is recognized globally for its power dialers. Contact center businesses rely on these power dialers to execute their inbound and outbound calling strategies and improve customer satisfaction levels.
8. Dashboards and Analytics
Powerful dashboards with self-service analytics enable agents and managers to run their daily operations smoothly.
9. Sticky Agents
Customers wish they were interacting with an agent that they are familiar with or have spoken to before. Give that "sticky" feeling to your callers by identifying intelligently every caller from previous data and then connecting these callers to the same agent again. Sticky Agent feature is truly remarkable for cloud contact center organizations that prioritize customer experience through intelligent automation and human empathy.
10. CTI Integrations
Ozonetel provides seamless CTI integrations with multiple vendors.
Moreover, Ozonetel also offers bespoke integrations through Open APIs that can accommodate numerous integrations seamlessly with an in-house developed communication platform.
Dashboards and Analytics
Ozonetel brings to top the essence of working simultaneously with multiple analytics and data visualization tools for different purposes such as:
Agent activity
Agent productivity
Inbound first response record
Outbound call traffic reports
Speech analytics
Real-time queue status and 100+ other reports in real-time and predictive formats.
CTI Integrations
Some readymade Integrations include:
Zoho
Zendesk
Salesforce
Freshdesk
HubSpot
LeadSquared
Kapture
PipeDrive
Service Now
Ozonetel vs Genesys: Quick Snapshot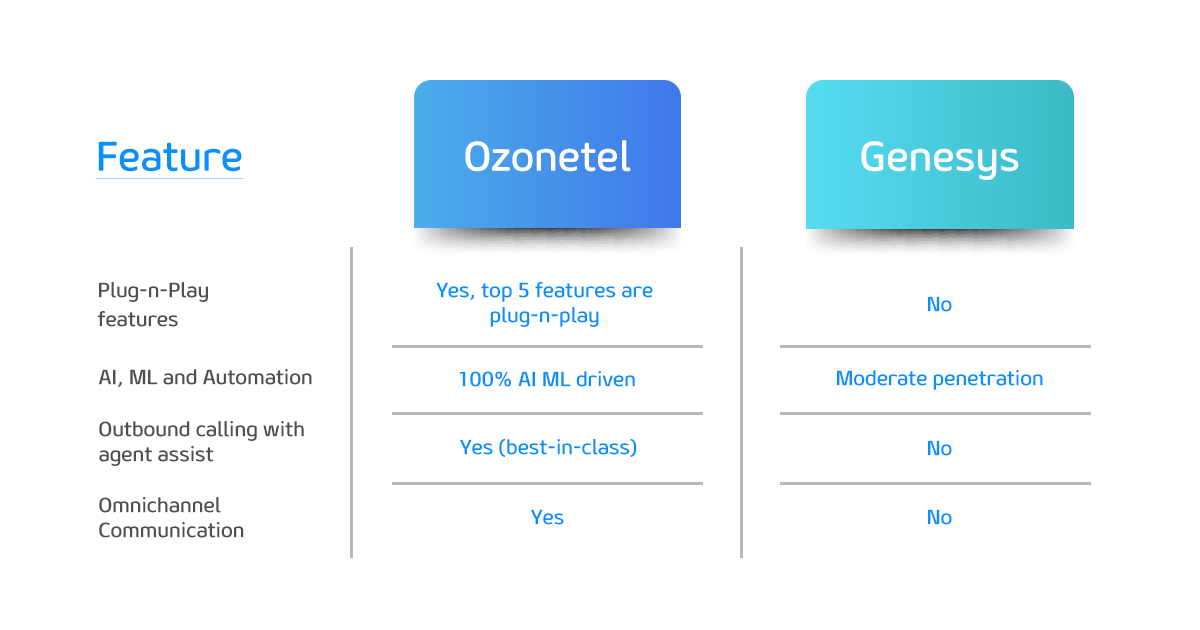 Here is a head-on comparison between Ozonetel and Genesys. This table will help you make a strategic decision for your purchase.
| | | |
| --- | --- | --- |
| Feature | Ozonetel | Genesys |
| 1. Cloud call center and hybrid | Yes | No |
| 2. Omnichannel Communication | Yes | No |
| 3. Automatic Call Distribution (ACD) | Yes | Available but not fully functional |
| 4. Outbound calling with agent assist | Yes (best in class) | No |
| 5. End-to-end management and customer support | 24 x 7 support with a dedicated relationship manager and project manager | Moderate support |
| 6. Pricing structure | cvd | Moderate flexibility |
| 7. Speech analytics | Yes, with customizable dashboards | Yes, but no dashboards |
| 8. Scale opportunities | Yes, to 50,000+ | Yes, to up to 15,000+ |
| 9. Reporting and DIY | 100+ analytics with live agent assist | Moderate analytics available |
| 10. Plug-and-play features | Yes, the top 5 features are plug-and-play assortments | No |
| 11. Third-party apps | Zero dependence | Moderate dependence |
| 12. AI ML and Automation | 100% AI ML driven | Moderate penetration |
On a feature-by-feature comparison, Ozonetel and Genesys are on par. Both offer powerful auto-dialers, omnichannel ACD, and intelligent analytics. However, Ozonetel scores higher when it comes to customization, flexibility, cost of operations, and support.
Let us understand each of these differentiators a little better.
What Makes Ozonetel Unique?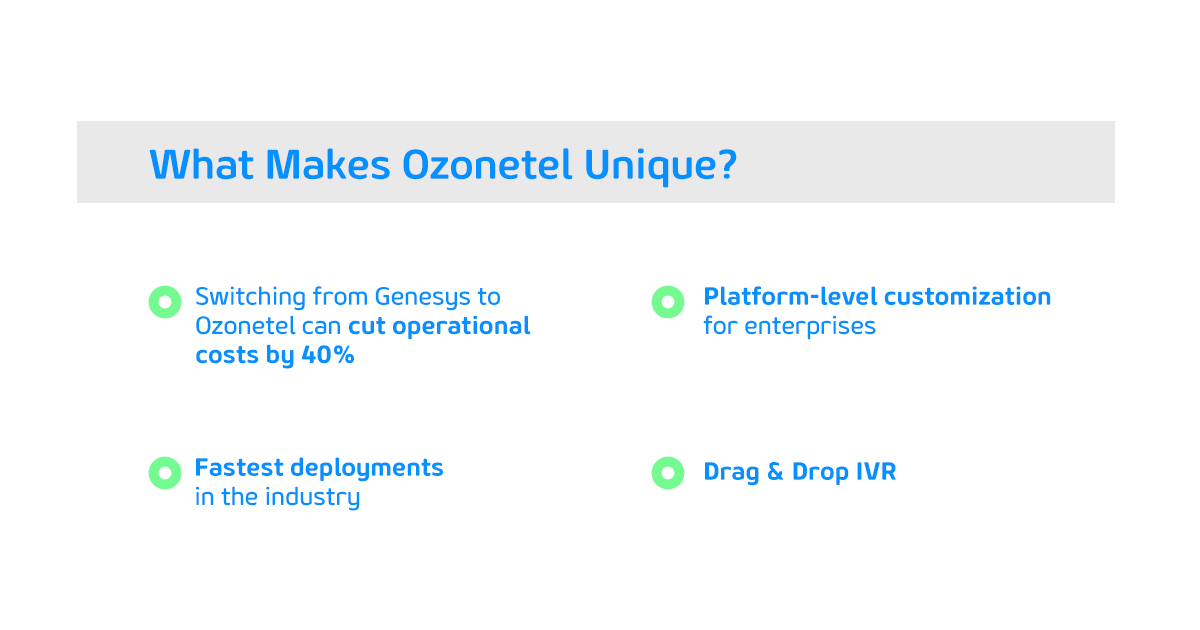 Price & Cost of Operations
When compared feature-by-feature, Genesys works out to be a more expensive solution. The pricing structure is also more inflexible with an annual commitment and overall higher cost of operations. Ozonetel offers a feature-packed solution with pay-as-you-go pricing that gives your contact center the flexibility to scale up or down as per seasonal demands. Overall, businesses can cut their total cost of operations by 40% or higher when they switch from Genesys to Ozonetel.
Deployment
Ozonetel offers one of the fastest deployments within the industry. Most standard deployments are completed within 24 to 48 hours (about 2 days) and custom solutions are implemented within weeks. Typically, Genesys deployment takes longer, and a full-fledged deployment takes months to complete.
Customization
Ozonetel is the only CCaaS player providing a full-stack solution with zero dependencies on any third-party platform. Built from the ground up with an underlying CPAAS layer, it is one of the few service providers offering platform-level customization for enterprises.
Drag & Drop IVR
Apart from platform-level customization, Ozonetel solution offers a drag & drop IVR for DIY customization. This feature offers an intuitive drag & drop interface that makes it simple to customize or edit your IVR flow and eliminates the need for coding to make these changes.
Typically, when businesses require a change to their IVR flow it requires expensive change management programs that take 30 to 45 days. With Ozonetel, businesses can build or edit IVR flows without any coding. Genesys does not offer this feature.
Support
Across third-party review sites, Ozonetel scores higher than Genesys especially when it comes to Ease of Use and Customer Support due to Ozonetel's high-touch onboarding and personalized support for businesses of all sizes.
Benefits of Scaling Contact Center with Ozonetel
Looking at these differentiators, Ozonetel emerges as a clear winner for fast-growing enterprises and mid-market players. Here are some of the benefits of using Ozonetel to scale your contact center to further fortify our stance.
1. Seamless Handling of Million+ Calls
Handle high call volumes using IVR, automation, and AI assistants.
Ozonetel's latest IVR and conversational AI technology assists live agents in handling high-priority inbound calls. When integrated with Auto dialers, your outbound calling strategy receives a massive boost as well. From caller identification to predictive intelligence for your dialers, you can make every conversation meaningful and engaging.
2. Training and Screen Recording Tools
Screen recording and screen barge-in features
Turn your contact center into a training hub where each call becomes a resource for learning and knowledge sharing. Built on Ozonetel CloudAgent, this feature benefits upcoming businesses. With an indispensable barge-in feature, supervisors can "barge" into a live call and co-browse with agents to solve complex problems without making your callers wait.
3. Data Privacy and Compliance
Most customers are hesitant about sharing too much information on a call. A CCaaS platform needs to engage customers within the legal framework. Number masking for inbound and outbound calls by CCaaS solution keeps your enterprise and customer data safe from breaches.
In addition to these benefits, Ozonetel's CCaaS platform also helps you build a productive workforce with on-spot training and support.
After making a side-by-side comparison of features, product capabilities, 
tools, and reviews of the two contact center solution providers, it can be concluded that Ozonetel is a clear winner.
Ozonetel is helping over 2,500 businesses manage and analyze interactions at every step of their customer journey — across both voice and digital channels. If you are looking to scale your business, contact us for more information. Click here  to book your demo today!