How Muthoot Gold Deployed A Bold Zero-inventory Model to Engage 5 Million Customers
How Muthoot Gold Deployed A Bold Zero-inventory Model to Engage 5 Million Customers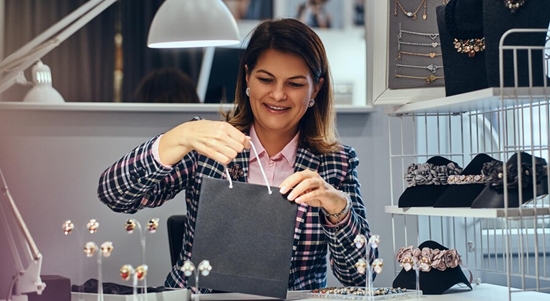 India's top gold loan NBFC Muthoot Fincorp last year launched Indivara, a whole new range of attractive gold ornaments with innovative design aesthetics. Being a legacy business group, they aimed to create awareness about its new product among its 5 million strong customers while reaching out to new customers digitally. 
For a high value jewelry product, Muthoot needed to engage customers, continually interact with them, and create the right ambience, typically created via retail stores and specialized staff — resources unavailable at their current branch offices.
In this article, we will explore:
How to Engage Customers without Incurring Inventory & Retail Cost
The Muthoot brand is synonymous with trust, nurturing robust customer relations at each of their 5000+ branches nationwide. Diversifying into gold jewelry, they sought to capitalize on these strong relationships and widespread presence but faced a new set of challenges.
The NBFC wanted to
Display jewelry without incurring the cost of retail stores and inventory.
Leverage the trust that exists between customers across 5,000 branches.
Continually update customers about our new designs and engage them.
Create an ambience of luxury via beautifully crafted catalogs & videos
Seamless 'Phygital' Strategy: Blending Digital and In-person Engagement
Muthoot's innovative response was the development of a 'phygital' go-to-market strategy. Muthoot decided that they would engage customers and create the right ambiance solely through digital channels, while they enabled payments and sizing at the branch offices. Their goal was to build awareness and engage both new and existing customers digitally and implement a zero-inventory model for the jewelry vertical.
The idea was to enable customers to view the products in the comfort of their homes, share them with their family members, and then make the purchase in the closest branch with a branch member whom they knew and trusted.
Enhancing Customer Engagement: Muthoot's Journey with Ozonetel
To overcome these challenges, the company deployed Ozonetel's CCaaS Platform for WhatsApp, voice bots, and other customer engagement technologies to build awareness and create positive engagement in a lean, agile, and cost-effective manner. Let's discuss each in detail.
Transforming Conversations with the WhatsApp Catalog
WhatsApp, with its ability to share rich media messages and its universal appeal across social strata, was the ideal platform for promoting new product lines. Muthoot leveraged Ozonetel's CCaaS Platform for WhatsApp to deploy digital catalogs on WhatsApp chatbots instantly. The WhatsApp phone number was circulated widely among Muthoot Group outlets and then forwarded to customers. WhatsApp became a major part of Muthoot's go-to-market strategy where we could reach out to customers in any part of the country.
With this solution, Muthoot could now continually update consumers on new designs without retail stores or printed catalogs. This meant near-zero inventory costs, easy catalog distribution, and high engagement.
Streamlining Operations through Seamless ERP Integration
Muthoot also integrated the WhatsApp solution into their website, making it easy to update digital catalogs across all their centers in a single step. They also synced their ERP (Enterprise Resource Planning) with their webpage, simplifying how they coordinate inventory, orders, and customer information.
Blending Online Convenience with Offline Trust
In keeping with their 'phygital' approach, Muthoot did not restrict payment to the online mode and instead encouraged customers to visit outlets to make the final purchase. This was a strategic decision because previously most Muthoot customers paid premiums at branches (80-90%), while only 10-20% paid online. Besides, in-store visits also addressed sizing issues. This strategy enabled personalized attention, quick query resolution, and further strengthened customer relations.
Enhancing Payment Efficiency with Voice Bot Technology
Consumers often bought gold on a loan and would require reminders to pay their monthly installments. Previously, this task fell to two dedicated agents. However, Muthoot made this process efficient by integrating a voice bot specifically for payment reminders. With the introduction of the voice bot, call connectivity remained steady, while installment collections improved by 5-8%. Customers seemed to appreciate the automated approach for such communications.
Ozonetel's Voice bot is being used to make over 8700 automated collection calls. Plus, the agents previously responsible for this task were successfully reassigned to other roles, optimizing workforce utilization. This strategic deployment of technology ensured both cost savings and enhanced customer engagement.
Leveraging Data Analytics to Run Targeted Campaigns
Muthoot has 10 million customers and serves over 5 million through its physical presence. They continually analyze this customer data to segment their user base and run personalized campaigns across digital channels. This data-driven approach has helped them deploy more effective campaigns leading to an 2.5 X increase in average order value.
Results: 2.5X Average Order Value, 150K WhatsApp Impressions
Through a seamless blend of digital and in-person interactions, we have been able to solve the unique business challenges we faced as a finance company diversifying into the jewelry segment. The company achieved the following outcomes.
WhatsApp garnered over 150,000 impressions in 9 months, demonstrating its significant impact.
Ozonetel voice bot made over 43,500 EMI collection calls in 5 months, leading to business savings of Rs 200,000.
This data-driven approach led to a significant increase in the average order value from Rs 20,000 to Rs 50,000.
80% of pre-purchase research is being done through digital channels.
Recently, Muthoot won the award for Best Omnichannel Experience Provider and they were very happy with Ozonetel's role as their technology partner.
In the words of Mr. Haridas P.C., Assistant General Manager of Muthoot Gold Bullion Corporation, "The BEST OMNI CHANNEL EXPERIENCE award won by us has been greatly facilitated and aided by the extensive deployment of Ozonetel WhatsApp(commerce) chatbot, voice bot and other customer engagement technologies. Since we follow a zero inventory, phygital (delivery mostly through branches) model for the jewelry vertical, we are indebted to Ozonetel for quickly deploying this tech for our Go To Market strategy."
Conclusion
With Ozonetel, Muthoot could quickly and seamlessly integrate WhatsApp chatbots, voice bots, and other customer engagement tools into their GTM (go-to-market) strategy. As a result, they have kept inventory costs low, elevated the customer experience, deepened customer trust, and set a new industry benchmark for luxury retail in the digital age.