Do you want to modernize your call center or update your customer service department? You've probably come across chatter about self-service Interactive Voice Response or IVR systems.
An IVR is the classic automated phone menu or directory. It's the telephony system feature that customers can interact with via voice input or through their phone's keypad. This feature can interact with your customers, collect information, and direct callers to the correct recipient.
But this customer service staple isn't outdated. By enabling self-service, IVRs align with how today's customers prefer to be served and allow businesses to triple their call-handling capabilities and reduce their cost per customer.
What is IVR self-service?
A self-service IVR system is an automated contact center solution feature that interacts with your callers to solve their queries and carry out simple tasks like bookings and cancellations.
They can provide immediate information and deliver callbacks, emails, texts, faxes, and more. Yes, this is the sometimes robotic "press 1 for option A, press 2 for option B, or press # to speak with an agent" menu.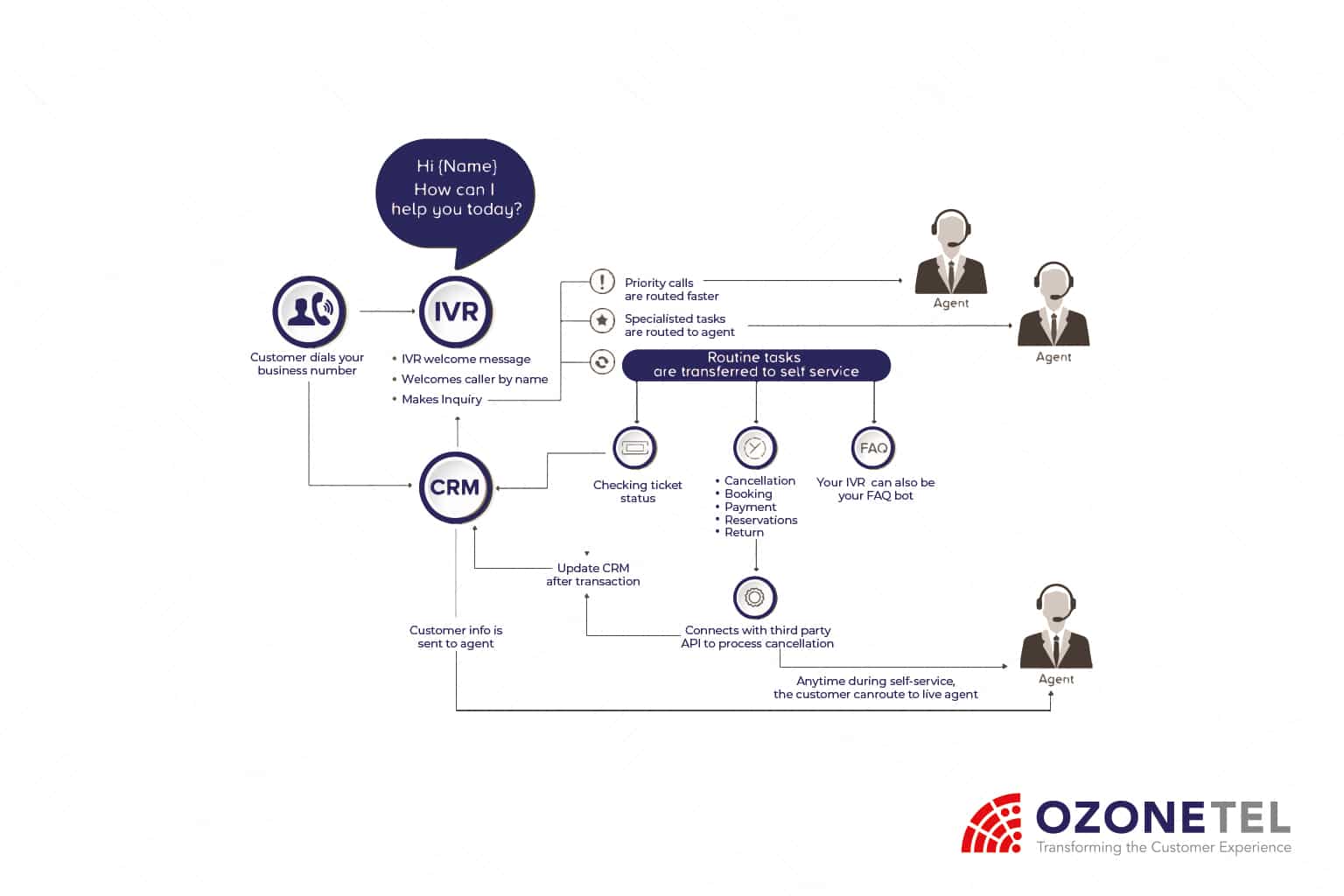 How does IVR work?
Interactive Voice Response, or IVR for short, runs on three technologies: dual-tone multi-frequency signaling (DTMF), voice recognition of directed dialogue (speech-enabled IVR), and conversational AI (AI-based conversational IVR).
With DTMF, customers can choose options using their keypad, and directed dialogue lets the system recognize a set of predetermined verbal responses. With speech-enabled IVR, a caller can speak words like "yes," "no," or from a given menu. With AI-based conversational IVR, the caller can speak more naturally and carry out simple conversations without any human intervention.
So how exactly does this technology lead to improved customer service?
Five benefits of self-service IVR
1. Efficiency and cost savings.
Implementing a self-service IVR to handle incoming customer inquiries immediately reduces your agent workload and lowers the contact center's cost per call.
A self-service IVR can efficiently deliver answers to frequently asked questions, offer clarity to confused customers, and provide transactional customer service, like showing delivery updates and rescheduling.
For instance, one Ozonetel customer received 83,000 customer inquiry calls daily. After integrating self-service IVR, this logistics company saw a 40% improvement in operational efficiency.
2. Higher-value agent work.
Agents working in tandem with conversational IVR can concentrate their efforts on resolving more complex customer problems.
A self-service IVR system can route all incoming calls, resolve transactional issues, provide information, and only send agents calls that are emotionally charged, overly complex, or where a live agent was specifically requested.
Your agents don't have to act as a directory, take care of FAQs, redirect confused customers, or serve as a reference source.
Resolve issues faster

.
Self-service IVR eliminates customer service wait queues and delivers answers much faster than a live agent can.
It's still faster, even if the customer must be directed to a live agent. This is because the IVR can prepare the agent with contextual information about the customer's inquiry.
Improve customer satisfaction.
Instant attention with personalized help creates empowered customers. An empowered customer is a satisfied customer.
But this isn't all. The self-service IVR reduces agent workload, freeing agents to answer calls faster. This, in turn, reduces the average wait time across your call center, leading to better customer experience metrics and higher overall CSAT (customer satisfaction).
Develop customer loyalty.
Customers value self-service enough to feel more loyal to companies that offer it. Salesforce discovered that 59% of consumers and 71% of business buyers felt it impacted their brand loyalty.
IVR self-service strategies and best practices
To be effective, the self-service options you offer within your IVR need to be as customer-centric as service can get. The goal is to ensure you get the highest contact center efficiency and customer satisfaction levels.
Map your customer journey
Map out the customer interactions each customer segment or persona will have with you throughout their entire customer lifetime.
Look to understand where and why customers will interact with you at any given time. This will probably end up looking like a net or mesh of interactions, but you can start to narrow things down with a few questions:
What are the critical points?

Is there any time when they may be at risk of attrition?

When do they usually seek contact, and where do they need help?

What are they looking to achieve?

Where are the trouble spots where they may need assistance?
Develop a service knowledge base
Collect and analyze as many customer inquiries, conversations, and interactions as possible.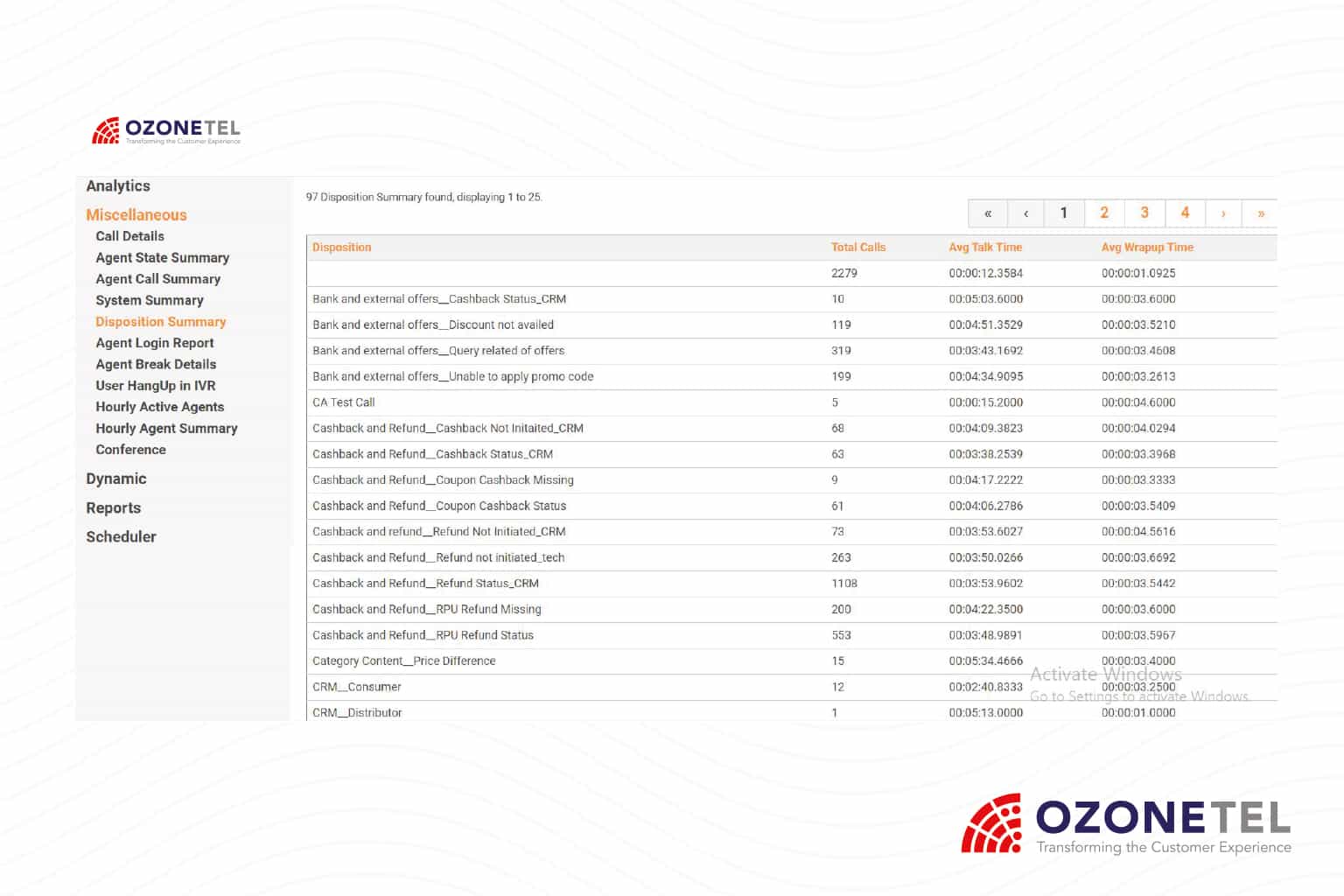 Source from your telephone conversations, emails, chats, social media interactions, online reviews, complaints, personal interactions, call dispositions, helpdesk tickets, and any online chatter or mentions. Your call recordings and call dispositions can help you identify key areas for intervention.
Identify the questions, issues, problems, trouble spots, and customer needs. Then assess them for frequency, priority, and urgency. See what keeps coming up and what seems emotionally charged.
Keyword analysis and speech analytics will help you out here, particularly if you want to analyze call recordings.
Once assessed, sort the inquiries into ranked categories. See which ones can be automated and create a content library of interaction answers and responses.
Analyze and refine
It's easy to tell when customers are unhappy. But when things are going right, it's not always easy to determine when, where, or why you're being successful.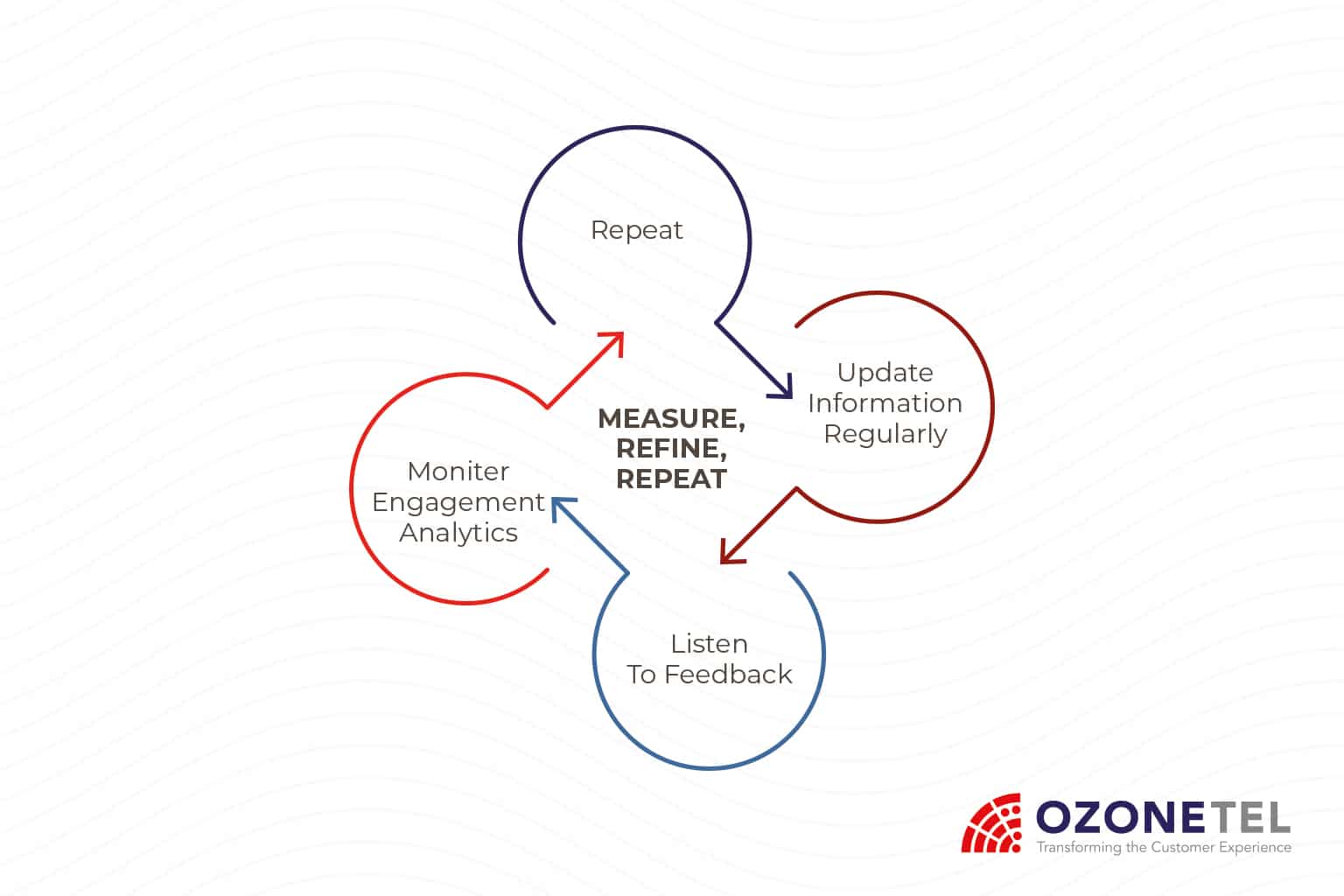 Have a clear objective for every self-service IVR interaction and assess this against your metrics and measurements.
Keep tabs on your feedback, run some sentiment analysis, and keep listening to third-party review sites and any online chatter.
Finally, maintain an updated content library, knowledge base, and customer support database.
Integrate
Customer self-service works best when it's completely integrated into your customer service strategy.
CRM integrations are critical so that your IVR can deliver more personalized service by accessing relevant customer information. Integrating the IVR with other business apps can extend its functionalities. For this, it is essential to consider an IVR built on an open API platform with deep CTI integration capabilities.
The best self-service IVR is intelligent, adaptable, highly resourceful, and plays well with others. Your agents can work alongside it to lower their service workload and give customers the best of both worlds.
Conversational IVR: the next step in customer self-service.
Conversational Interactive Voice Response gives callers a more human-like and friendly experience. This IVR system only needs vocal input to work. It can recognize what callers say, what they mean, and interact with them.
But these self-service IVR systems aren't limited to brief, stilted responses like "yes," "no," or "human please."
A conversational IVR system understands the way your customers naturally speak. And its responses are much better too.
These IVR systems run on artificial intelligence, machine learning, and natural language technology. They go beyond being speech-enabled; they offer automated speech recognition as well as intent recognition. AI and natural language processing give the system the ability to understand a message's content, context, and intent.
Conversational IVR systems continually improve thanks to machine learning. A great conversational IVR system will feel intuitive, natural, and effortless. It will give your customers an experience that feels extremely close to speaking with another human being.
This is why integrating a self-service conversational IVR system can improve your entire customer service department.
Self-service is the way to modernize your contact center
Did you know that customers prefer self-service? That is, as long as it's done right. Today's customers are more independent and self-directed than ever.
These customers aren't just comfortable with autonomous interactions – they demand them.
According to Harvard Business Review, 81% of customers attempt to solve problems on their own before reaching out to a live representative.

Forrester Report states that 72% of customers prefer using self-service to resolve issues over picking up a phone or sending an email.
Your customers want instant gratification, prefer to explore on their own, and like getting service responses on demand.
This applies to ordering food or choosing a streaming television show, and it applies to your customer service.
The more you cater to your customers with an omnichannel self-service IVR, the higher their satisfaction. This will deliver advantages on several fronts.
Conclusion
You don't have to sacrifice outstanding service for cost savings with a conversational IVR system. The key is to use an advanced self-service IVR system that combines the
best of automated service with the latest in intelligent language processing technologies
This type of IVR system will positively impact contact center operations, customer experience, and the company's bottom line.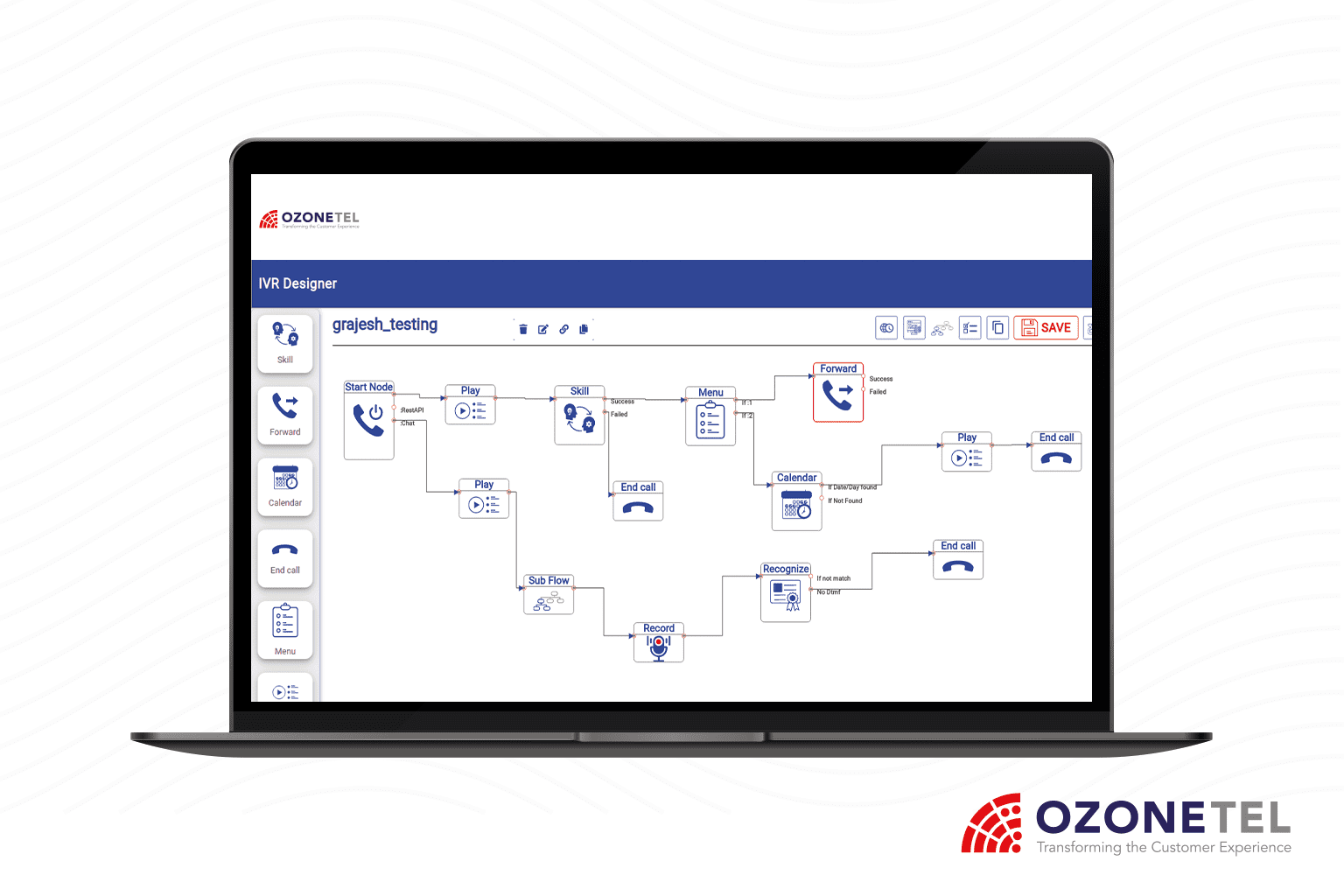 Ozonetel's self-service IVR is the perfect fit for anyone implementing self-service into contact centers or even for small customer service teams.