Is Cloud Adoption Reshaping the Insurance Industry in India?
Is Cloud Adoption Reshaping the Insurance Industry in India?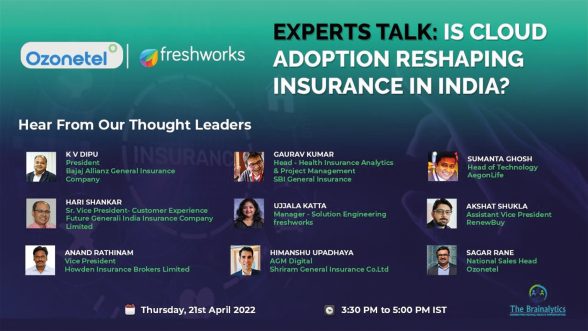 In this article, we will explore:
The experts weighed in and now you can too!
The events of the past couple of years have caused a massive amount of disruption, both on personal and professional fronts. The rapidly changing situations during the pandemic barely gave people a chance to catch their breath, much less prepare, plan, and strategize! 
Industries across the board faced challenges they hadn't experienced before and the insurance sector was no exception. 
The pandemic also brought to the forefront the importance of digitization and future-first technologies. It drove home the fact that for any business to stay competitive, more so for traditional industries like Insurance, a digital transformation was no longer optional. 
Insurers had to adapt at rapid rates to meet the expectations of the smart and digitally savvy modern customer and newly emerging complex needs, all within the many constraints of a worldwide health crisis, of course.
A recent roundtable organized by Ozonetel and Freshworks was packed with thought-provoking insights about all the above points and more. There was much to learn, share and discover about how tech like AI, Cloud, and automation aren't just fancy buzzwords anymore, but an integral part of the modern-day insurance.
The discussion took a deep dive into the digital transformation of the industry from various perspectives and gave us an idea of what's to come. 
As Sumanta Ghosh (Head of Technology. Aegon Life) highlighted, providing digital channels alone does not define an intelligent, digital-first organization. All processes need to be digitized, especially in a highly regulated industry such as this one with its atypical retail purchase process. 
The roundtable covered  two pillars of the insurance industry: the customer and the employee. 
Here is a synopsis of the discussion:
The pandemic accelerated tech transformation

Digitization in insurance is here to stay. All the panelists agreed that while the digitization game plan was in place pre-pandemic, adoption accelerated in the past couple of years. 
And this created an end-to-end transformation. From policy issuance, services, the entire life cycle, or claims automation, technology is today helping to speed up every aspect of insurance.
What took days now happens in a matter of minutes.
For instance, as KV Dipu explained, earlier in the case of some incident such as a car crash, claims would be a multi-step process. The customer would have to call up the surveyor who may not be present near the site of the crash. Only after the surveyor assessed the extent of damage and submitted his report the whole process would kick in. 
Now, it's just a two-step process for the customer, just take photographs of the damaged car and upload them using the mobile app. The AI engine will assess the images and then, convey the amount, (up to certain levels) within 20 minutes. The customer gives us the consent and the money is transferred. 
And every process is getting simplified.
Similarly, telemedical underwriting was accelerated during the pandemic to manage the spike in demand for insurance during the stringent 21-day lockdown. Medical check-ups and data submission took place digitally. 
Technologies like video screening helped not only during claims settlement but also when the insurance had to be issued. 
KV Dipu gave examples of how bots today are obviating the need for customers to visit a branch, by intercepting them with the right set of questions during their google search for a product or a branch location. 
The digital experience
Insurance, as an industry thrives through multiple channels. The digital experience needs to encompass and facilitate all the intermediaries, especially, the retail lines of intermediaries. For instance, Mr. Shankar illustrated how the Future Generali portal is used for policy issuance and commission management.
The customer-facing experience is the other aspect. 
Today, all insurers have apps that not only aid customers with claims and processing, but they are also offering more comprehensive assistance. For instance, assistance with car repair, or finding a doctor. Today many insurers send documents over WhatsApp. 
And more and more companies are finding that customers prefer these conversational channels. 
However, these channels are not perfect. There is a need for a human-machine partnership to build successful automation and digital transformation models in insurance.
Forging an AI-human partnership is the way forward
AI-based technologies and automation are playing a key role in helping insurance companies to scale up. Because, beyond a point, humans cannot handle an infinite workload. As we saw in the earlier examples, automation changes the speed at which a company can source policies or handle claims. 
But what is the role of humans in this changing landscape? Is the need for human beings eliminated or merely reduced?

As KV Dipu suggests, "there is a shift today from digitizing the physical to humanizing the digital"
We want to give a human-like experience. Bots are not fully there yet, and right now, it's a case of a handshake between man and machine. 

Sumanta Ghosh expanded upon how humans play a key role in developing AI-based technologies that can help insurers scale. Human capital, according to Sumanta, should be used in two cases— firstly to train the algorithm and secondly to handle the exceptions.
For instance, Insurance has a pool of underwriters who have built up invaluable expertise. Companies need to use their expertise to build algorithms that automate 80% of the work. And then, when this is done, the 20% exceptions that arise should also be handled by these experts.
Whether on a customer-facing app or website, AI-based chatbots with a warm transfer to humans, when necessary, can be extremely beneficial. 
In India, insurance companies also need to consider the key role played by community influencers, especially in customer acquisition across rural markets.
The expert panel of speakers for this riveting session, comprised of
KV Dipu, President, Bajaj Allianz General Insurance Company.
Gaurav Kumar, Head – Health Insurance Analytics & Project Management, SBI General Insurance.
Hari Shankar, Sr. Vice President – Customer Experience, Future Generali India Insurance Company Limited.
Sumanta Ghosh, Head of Technology, AegonLife. 
Askhat Shukla, Assistant Vice President, RenewBuy.
Anand Rathinam, Vice President, Howden Insurance Brokers Limited.
Himanshu Upadhaya, AGM Digital, Shriram General Insurance Co. Ltd.
Ujjala Katta, Manager – Solution Engineering, Freshworks.
Sagar Rane, National Sales Head, Ozonetel.
Technology can support localized selling & market penetration
"Insurance is basically about trust. There is no physical asset that we are selling. And to build a trust we need to build a connect, and to build this connect there has to be something local"
Akshat Shukla, Assistant Vice President, RenewBuy.
Today internet penetration in India is rapid. Today 61% of  Indians use the internet, up from 21% in 2017. (2) There has been rapid acceleration during the pandemic. As Anand states, physical presence is not required to buy  insurance. Processes have been made simple for buying insurance and for paying insurance claims as well.   
However, moving from physical to digital was not easy, particularly in the case of insurance. As Askhat Shukla pointed out "Insurance is basically about trust. There is no physical asset that we are selling. And to build a trust we need to build a connect, and to build this connect there has to be something local"
When it comes to selling insurance in these new markets, the POSP model has been remarkably successful. 
Companies know that they need to identify certain influencers within the community who on the ground, especially in rural India, can be critical for customer acquisition. To attract and retain these agents, lucrative commissions are not enough. Companies need to make the process as simple as possible for them. 
Technology should assist in making life simple for these agents and in training these people in the right way, to increase penetration and acquisition in new markets.
Insurers need to consider all these aspects and more while planning their technology roadmap.
Insurers need to unify their AI & cloud strategy
Managing rapid change in the past two years has been tough on all businesses. Today the nature of technology is such that change is not incremental, it is radical. The cloud is creating rapid transformations. In such a situation how do traditional companies within insurance cope?
Because of these factors, the technical architecture, the entire ecosystem, and the entire value chain within the insurance organizations become very, very complex. 
To top it all within the last few years, there has been heavy attrition in IT. 
This means that in most organizations implementation of new technologies has been very frugal. Companies are lacking human resources that have a clear picture across the value chain to implement these technologies strategically.
According to Gaurav, what is to be done is that companies need to start working on having a data strategy, which is a part of a corporate strategy. Companies need to build a clear roadmap of how they will take care of multiple facets, because, once set in motion, the changes will not be incremental, they will be radical.
"From that data strategy," says Gaurav," there has to be a strategy for communication. There has to be an ethical strategy. There has to be a moral strategy. How are you going to coexist togetherwith the existing architecture or existing DNA of the organization?"
But as in all other industries, leadership in insurance is not relegated to technological roadmaps. With the pandemic bringing in completely new working styles, the leadership needs to accept and spearhead an about-turn in culture.
Insurance organizations face some unique challenges when it comes to implementing new technological changes:
there is high variance across product lines within an organization.
technological constraints.
and regulatory frameworks which keep on changing abruptly every year.
Creating Trust at Leadership Level
"Leadership has to be driven by empathy. The people working, below you, in your team, are much more marketable than you. That's a simple fact! You have to all accept it.
So it has to be your empathy, intent-driven, a motivational way that we have to drive."
Sumantha Ghosh, Head of Technology, AegonLife.
Today, as Akshay pointed out, the pandemic has proven the efficacy of the work-from-home model. According to him, productivity has only increased in the past two years, and the hybrid model is here to stay. 
This creates a shift in the way leaders manage their workforce. Already many companies have noticed that a lack of flexibility has led to high attrition in the IT sector. Today, leadership styles in insurance (as in other sectors) the leadership style needs to be employee-first, outcome-driven, and empathetic.
Gone are the days when you could expect your workforce to be sitting a cubicle away from 9:00a.m to 5:00 p.m. As Akshat stated, "We have to be outcome-driven and accept flexibility"
Cloud Adoption is now critical
A key aspect for the insurance industry and commerce at large has been recognizing how to leverage digital innovation to accelerate growth. As our panel discussed, it is imperative to have a business model backed by intuitive technology yes, but more importantly technology that is possible to scale. 
As discussed earlier, the adoption of Cloud and AI-based tech has transformed processes and cloud adoption is no longer an option but a necessity.
Furthermore,  to capture a larger market share and boost a deeper saturation, insurers can longer neglect semi-urban, rural, Tier II, and III demographies; and it's becoming clearer that the best way to reach customers in all possible sectors is via an omnichannel communication model, built on digitalization and a prevalent human touch. 
To paraphrase Ujjala "Based on Freshworks statistics, 79% of the consumers worldwide say they also prefer digital channels for insurance interactions. We understand that in India, there is definitely a divide between the urban population and the population in tier II/tier III cities, and villages; but with the advent of WhatsApp and smartphones, digitalization is also creeping into these places and about 22% of insurance companies have already launched a personalized auto real-time digital mobile service." 
With all these points in mind, insurers should be careful about the vendors they choose. Robust platforms with enterprise-grade security are table stakes. Considering the complex ecosystem in which insurance operates, Insurers should be careful to invest in open API platforms that give them the flexibility to integrate their various solutions.
Ready to move to the cloud? Choose the right SAAS vendor.
There are  three points insurers must keep in mind while choosing their cloud solutions:
Omnichannel. Today, CX and EX are closely intertwined. Customers prefer and expect seamless communication across multiple channels like email, social media, chatbots, text, voice/video calls, etc., ease of doing business, and speed. For that to happen agents must have access to relevant data and seamless backend support. A single platform to manage all your communications with seamless CRM integrations is critical for all insurers.
Open API flexibility. Data gleaned from the now Cloud-connected intelligent and intuitive systems, help the organization get to know their customers far better than they ever could; leading to meticulous personalization, the gathering of invaluable insights and data to know when, how and why to better products and services as well as better customer service and emerge ahead with customer acquisition and retention in the market they wish to serve.
AI-based. AI-based automation and analytics are at the core of digital transformation. AI and Cloud technologies have been a boon for multilevel and complex businesses like Insurance in this regard, both in terms of new age CX and new age processes to better serve it.
Conclusion
As discussed at the Roundtable  – insurance is not bought, it is sold.  Empower your employees to do their job well and your customers will have a much better experience with you. With regards to Insurance, traditional channels of physical assessments and documentation, verifications and the like have had to be replaced by digital methods like video verification and e-KYCs. 
What it all comes to down to, however, is the underlying theme, of being 'human'. The need for a blend of digital capabilities and human understanding cannot be overestimated, especially in an industry with such a diverse consumer base. There will always be a need to be heard and understood, whether it's a language or inherent human emotion. 
Similarly, leadership too has to start operating from a place of empathy, while handling teams who have been thrust—under immense pressure— into entirely new ways of working and living. It's not about buzzwords and jargon, but the right deployment of current and emerging technologies (and a healthy dose of being sensitive to human behavior) to best optimize processes and support people. Because, after all, protecting and understanding the needs of a person, is what the Insurance business is all about! 
Want to know more about the role of an intelligent, digital-first customer service software in the future of the insurance industry or how Cloud can assist in customer acquisition and business continuity?  Watch the complete video here.
About Ozonetel
Ozonetel provides banking, insurance, and finetech companies with
AI-based, seamless omnichannel communication platform. Established in 2007, Ozonetel was the first cloud contact center solution in India. Today, 2 billion+ calls take place on its robust, enterprise-grade platform. 
Only Ozonetel owns the full-stack and offers an open API platform with and no dependence on any third-party platform enabling enterprises with unmatched flexibility & deep CRM integrations.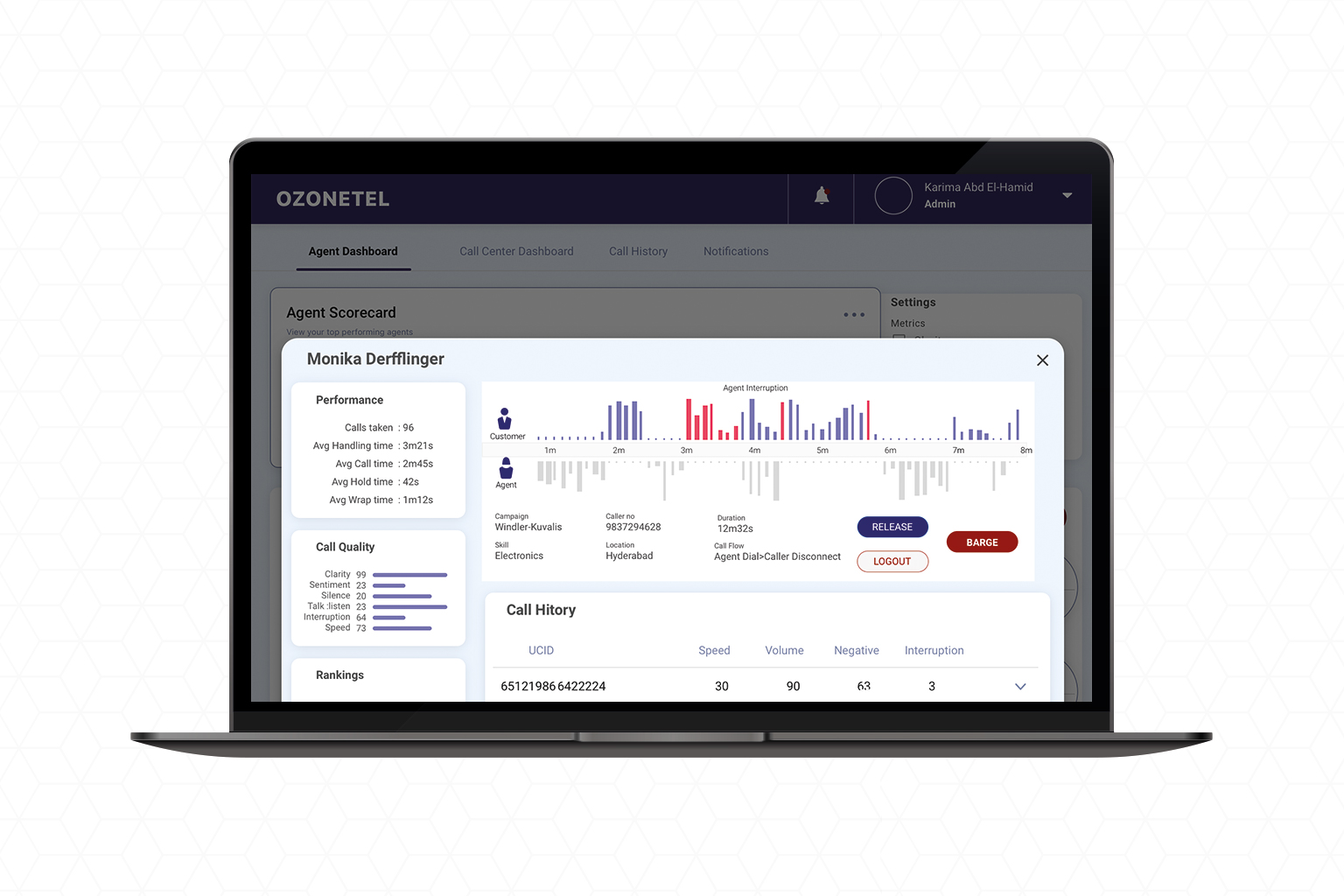 Want to know more about how its cutting-edge contact center, sales dialer, conversational AI, or AI-based speech analytics can help your organization? Talk to our sales team today.