5 Examples of How Intelligent Routing Can Transform Customer Relations Across Industries
5 Examples of How Intelligent Routing Can Transform Customer Relations Across Industries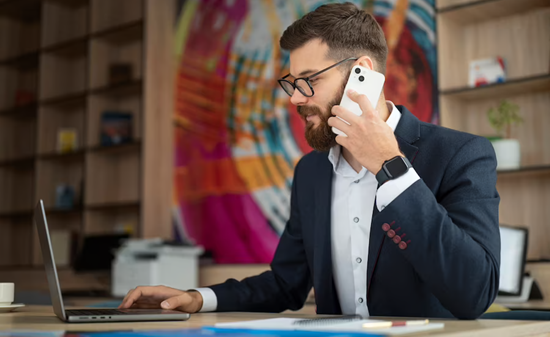 Rima was struggling to explain her credit card billing issue to the call center agent. This is the fourth time she has called the helpline number, and each time she calls, she has to explain her issue from the beginning and share her personal details like name, contact number, address, card plan, etc. 
Research shows that 57% of consumers tend to increase their spending with a brand they feel connected to, and an impressive 76% are likely to choose that brand over its competitors.  
Companies understand this.
They are working hard to ensure that customers like Rima don't face disconnected, impersonal experiences. In stark contrast to the example above, they are creating highly personalized customer relations with dedicated relationship management approaches.  
Not only will these brands recognize you as soon as you call, but it will also connect you directly to your dedicated account manager. This is the same account manager from whom you will receive emails, or WhatsApp messages updating you on the latest regulatory guidelines, a missed payment, or a personalized offer. 
How are these brands able to personalize customer relations, on a large scale, across a growing volume of customers? Is it viable to create dedicated account managers for every customer? 
In this article, you can explore five examples where companies intelligently route customers to a dedicated relationship manager.  Understand the benefits and learn how they efficiently manage these personalized account management experiences with technologies such as  virtual number masking and sticky agents .
Do you want to know if this strategy would suit your business model? Let's plunge in!
In this article, we will explore:
Example 1: Healthtech Firms Improve Speed of Resolution with Dedicated Healthcare Advisors

Healthcare is a critical industry where patients or their families need to get information quickly. Be it a diagnostic test, settling bills, enquiring about a critical surgery, booking an appointment, and postoperative care, there is a lot of information that patients look for. Utilizing intelligent routing allows healthcare providers to assign a dedicated agent to each patient, ensuring access to the complete interaction history. This streamlined approach expedites information delivery, eliminating the need to repeat routine inquiries and maximizing efficiency in patient care
Example

A leading diagnostic firm wanted to make it easy for their patients to book a test from anywhere while also building a more meaningful relationship with them. The company wanted to simplify it for every patient to book tests, clarify doubts, schedule appointments, and view test results. The brand believes a patient's digital journey must not be anonymized and impersonal. Instead, it should feel deep and meaningful across its omnichannel presence.

With Ozonetel, the system recognized patients irrespective of channel choice. As a result, patients could easily switch between channels at any time during their diagnostic journey without needing to identify themselves or explain their history.
Example 2: BFSI Firms Drive Growth with Relationship Managers
BFSI is a complex industry, and customers here often have queries and grievances that need more than one call to resolve. You can improve the call experience of your customers by having a dedicated call agent through intelligent routing. This will help to save time for the call center agent and the customer as the agents will have access to the case history, and the customer won't have to repeat themselves. 
Example
As a customer-centric insurer, it was imperative for the company to ensure that customers in need of human assistance were swiftly connected with the appropriate agent. Simultaneously, they aimed to efficiently manage interactions that could be resolved without human intervention through a seamless self-service IVR system.
To achieve this, the system leveraged CRM data and assessed multiple customer attributes such as the line of business, policy duration, expiry date, potential claim situations, existing claim status, and endorsements. This thorough analysis enabled the system to rapidly and accurately route callers to the most relevant branch of the IVR tree. This strategic step not only reduced IVR navigation time by 20% but also enhanced routing precision by 20%. 
By implementing intelligent routing, along with an intelligent, predictive IVR engine, the insurance firm could successfully channel queries requiring agent intervention to the appropriate skill group. 
For example, customers considering new policies or those approaching policy renewals were directed to the pre-sales team. This strategic approach significantly improved customer acquisitions and had a direct positive impact on the company's top-line performance.
Example 3: A Dedicated Team Resolves Escalations for an Online Retail Brand
A dedicated relationship manager may not be viable for high-volume transactions such as those in online retail stores and marketplaces. However, customer-centric brands understand the value of calming irate customers who can go on to become loyal customers and brand advocates, when treated right. 
Example

An online pharma company observed that customers had to connect with our customer service teams multiple times before they got a resolution. The e-commerce firm adopted a proactive approach by assigning a dedicated agent to any customer who contacted them twice regarding the same issue.  
These agents assumed the role of a single point of contact, reaching out to the customer, facilitating internal coordination, and ultimately delivering a comprehensive resolution.  These steps have led to vital improvements in the customer experience, with improved CSAT and marked increase in positive online reviews.
Example 4: An Edtech Firm Improves CSAT by Connecting Students Directly to Counselors 
Edtech brands have an omnichannel presence where they want to reach the masses. On the other hand, students keep switching channels to communicate with the brand. 
Ozonetel's CCaaS Platform on WhatsApp also includes the sticky agent feature, facilitates students in connecting a consistent point of contact across channels. By providing the same advisor across calls and WhatsApp interactions, the platform cultivates familiarity and trust, thereby enhancing conversions and overall customer lifetime value.  
Example

A fast-growing edtech firm deploys Ozonetel's CX platform to enhance the student-counselor interactions. With this solution, they create a seamless experience— instantly recognizing students and connecting them to the same agent, every time they call. 
Counselors can automatically access relevant student information during both inbound and outbound calls. This streamlines the counseling process, and also enables counselors to create deeper personal connections with the students they support.
Example 5: Improving Conversions with Consultative Selling in Real Estate
In the dynamic real estate landscape, personal touch and trust are key. The dedicated account manager can understand a prospective homebuyer's preferences, expedite property searches, and instill confidence, leading to higher sales and improved customer lifetime value. 
Example
Redfin, a leading real estate brokerage, distinguishes itself with a dedicated relationship manager program. When clients engage Redfin for their real estate needs, they are paired with a dedicated agent. These agents offer personalized support and expert guidance throughout the buying or selling process. 
Known for their local expertise and seven-day availability, Redfin agents prioritize client needs, utilizing both their professional insights and advanced technology, such as the Redfin app. This transparent and customer-centric approach has earned Redfin a reputation for delivering excellent service.
In Conclusion
Whether in real estate, e-commerce, or any other industry, the power of consistent, personalized interactions cannot be overstated. By routing customers to a dedicated agent, businesses can cultivate trust, loyalty, and a sense of belonging. 
As illustrated in the examples above, by leveraging the right technology, dedicated account managers can manage a fairly large number of accounts, with efficiency and ease.  In a world where customer relationships drive business growth, intelligent routing to these dedicated agents can be an effective way to establish stronger customer connections and achieve customer-centric growth.