How to Boost Student Engagement? Insights From Unacademy, Extramarks, Filo, Wheebox
How to Boost Student Engagement? Insights From Unacademy, Extramarks, Filo, Wheebox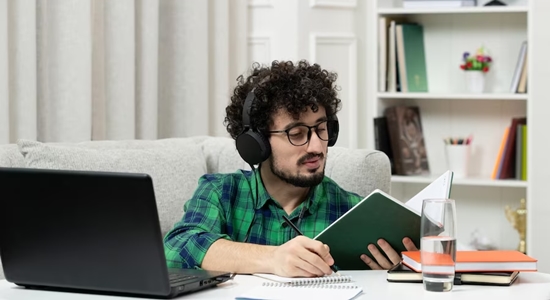 The future of education is already here, powered by ingenious edtech companies like Unacademy, Extramarks, Filo, and Wheebox. As these companies tirelessly redefine student experience, they've provided the industry with new ways to engage, converse, and bond with a  digitally native generation, more effectively.
Central to their strategies is the evolution of Omnichannel Student Engagement — a trend that's become a must-have for making quality education accessible to all.  This article reveals insights from titled- An Omnichannel Approach to Student Engagement Increased Enrollment in 2023– featuring following industry leaders:
Shubham Lakhotia – Chief Operating Officer, Wheebox
Shaishav Kayastha – Head of Sales for Western India, Extramarks
Bitu Rai – Founder, Geekster
Apurva Godbole – Product Manager, Filo
Ram Pradeep Kumar – Senior Product Consultant, Ozonetel
Sagnik Ghosh – Former Head of K12 Business, Unacademy
During the webinar, these experts stressed the importance of omnichannel communication for digitally savvy students. They highlighted the continued significance of the human touch in student counseling. Data integration, content engagement, rural outreach, automation, and holistic student journey design were also recommended as key strategies for personalized and effective learning experiences. Here we discuss each in detail.
In this article, we will explore:
Omnichannel communication is critical for engaging digital-native students
Omnichannel communication is necessary, not optional, for engaging today's digitally native students. Students want to communicate with businesses, educational instititutes and student couselors through the digital channels they use daily to communicate with friends and family.
Edtech companies and educational institutes can no longer rely on traditional physical channels. They need to adapt to todays students. As Shaishav said, "right now we are dealing with the generation which is digital native." He goes on to say that you must speak the language that students are comfortable with — digital.
Edtech companies must step into the shoes of their core audience and move toward platforms like WhatsApp, Instagram, and YouTube that dominate student attention currently. An omnichannel presence is the only way to be available in the spaces where students hang out.
And companies today are under pressure to go beyond mere channel presence, they must recognize and converse with students seamlessly across these channels. For this, they need to sort out many technical and operational issues on the backend. Their systems must talk to each other and seamlessly, yet securely, share data. Because, at the end of the day, an omnichannel approach is key for edtech companies to not just grow their user base but also simply survive and avoid becoming obsolete.
Data integration provides 360 views to customize experiences
"The data of understanding the exact requirement of the kid are still in silos so we can collect all the data and we can derive an intrinsic data." – Apurba
This statement from Apurba succinctly outlines the importance of data integration to create 360-degree views of each student.
We must remember that omnichannel engagement produces data dispersed across different student touchpoints. For example, a student may visit a website for research purposes and then enroll on mobile. Without data integration tools to collect this data, edtech companies are left with scattered information. That is hard to use, especially when reaching out to parents, who are the final decision-makers, with a unified message.
We see the need to break down data silos and integrate information in order to form a holistic 360-degree view of each student. This consolidated data enables a much deeper personalization of communication, content, and experiences for each student.
Data like interests, engagement, career goals, and challenges can all inform how edtech companies tailor their interactions with students across channels. It is this customization that makes experiences feel meaningful and human.
Meet students on preferred platforms instead of forcing owned channels
Given the diverse digital platforms students actively use, panelists advised avoiding trying to funnel all engagement into an edtech company's owned channels. Instead, companies should proactively reach students on the specific social, messaging, and communication apps they prefer.
If a company's owned website or app is not where students spend time, attempts to draw them there may reduce engagement and retention. Bittoo explains: "The customers today have very small attention spans, right and how you want to deliver your content, how you want to engage them is very important."
An effective omnichannel approach involves understanding which platforms students want to be met on for different needs, whether WhatsApp, Instagram, Snapchat, or others. Meeting students on their turf is more likely to drive engagement.
Engaging content captures student interest and engagement
Several panelists emphasized content quality as a key part of engagement and retention in an edtech omni-channel approach. Content should aim to tell stories, create concrete examples, and make concepts relatable to students. This not only drives initial interest but helps concepts stick in students' minds better for long-term retention.
Since human minds recall images and stories more readily than facts, content that taps into this tendency is more engaging. For example, vividly describing a red elephant rather than simply mentioning the color red.
A beautiful quote from Shaishav explains this: "The goal is not education. The goal is engagement and human-to-human engagement." He continues: "A blend of technology and the skills of a teacher together always makes a good offer to enter a child's brain successfully for a long-term thought process."
Creative, memorable content is what differentiates edtech companies from traditional rote learning. Content should also aim to build student skills, not just cover syllabi.
Rural areas require special focus, given lower device penetration
For rural areas, panelists noted lower smartphone and internet penetration limits student reach online. More traditional channels like SMS or printed guides may still be relevant here. Human assistance is also likely essential to bridge understanding gaps.
Since many rural students may not be proficient with apps and technology, edtech companies need specialized rural strategies. Voice calls, SMS, human translators, and strong on-the-ground assistance ensure students aren't left behind.
"There is a huge team of counselors spread across the state who translate the meaning of whatever the AI is generating for the end candidates," says Shubham. And that's the final piece of the puzzle. Another example of marrying tech and human assistance.
Creative initiatives like training local teachers on tech can also help expand their reach. Rural students have high aspirations but need more guidance.
Automation efficiently handles common questions
Panelists spoke about the intelligent use of chatbots and automation to improve scale and efficiency in an omnichannel approach. Simple common questions like schedules, course syllabi, pricing, etc can be answered instantly 24/7 using bots.
This saves substantial human work hours, allowing counselors to focus on complex student issues like career advising. Apurba explains: "[…] In the cost also. We can cut it down. We cannot force counselors to work around the clock, but the chatbots can work around the clock for us."
Automation further facilitates gathering lead data from multiple channels and routing it to the right department or geographically relevant agent. Overall, it augments human capabilities.
Human touch is still important, especially for counseling students
While automation, like chatbots, can handle common inquiries, human connection is still vital, even in an omnichannel approach, especially when students are confused about what path to take. That's because technologies like AI and bots have limits in mimicking human interaction.
Moments when students are evaluating courses, unclear on whether to enroll or need career guidance is when human advice becomes indispensable. Edtech companies should blend automation with access to counselors and advisors at critical decision points.
Bittoo explains: "If you feel he needs some touch point where he can he's confused he doesn't know whether to join a course or not something like that their human touch comes into the picture."
Mapping student queries to either bots or live agents based on complexity allows each channel to play suitable roles.
Design student journeys holistically across touchpoints
Finally, Sagnik closes off with the importance of "Putting the learner first or the customer first being obsessed about their needs. Putting the technology where it is most relevant."
A key best practice was to always design omni-channel experiences starting from the student's perspective. Panelists stressed understanding their needs must shape how touchpoints across channels are orchestrated to create a seamless journey.
Companies must research which platforms students use at each stage, from discovery to enrollment, and continue engaging post-sign-up. Journeys should be mapped backwards from the student rather than based on what channels a company prefers.
This student-centric design approach ensures that omni-channel adds value rather than confusion.
In conclusion
Omnichannel Student Engagement firmly sets the stage for a more interactive and engaging educational experiences. Edtech companies like Unacademy, Extramarks, Filo, and Wheebox are paving the way for CX transformation in education. To remain relevant today, all educational institutes, both new-age and traditional, must pay attention to their chaning customer. Adopting multiple communication channels, integrating data for custom experiences, focusing on content quality, and prioritizing student-centric strategies — is more critical than ever before.
Ozonetel can help
To boost enrollments and transform student engagement across voice and digital channels, consider Ozonetel's single, unified CX platform. We've helped leading educational institutes run effective promotional campaigns, accelerate speed-to-lead, and streamline admissions & payment processes to create significant value for students & foster business growth. Ready to see what Ozonetel can do for your company? Sign up today for a free 21-day trial.
Webinar Link: An Omnichannel Approach to Student Engagement Increased Enrollment in 2023
Ready to see what Ozonetel can do for your company? Sign up today for a free 21-day trial.