Improving Communication in Healthcare by Breaking Barriers to Patient Engagement
Improving Communication in Healthcare by Breaking Barriers to Patient Engagement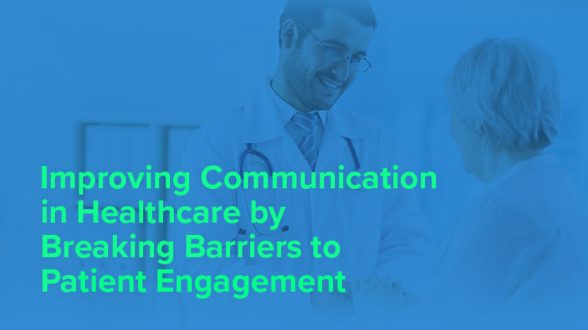 It doesn't matter whether you're running a hospital, community clinic, or specialistfacility: Your objective is to improve patient health and well-being. Promoting positive patient engagement grounded in hyper-personalized, relevant communication is one of the smartest ways to reach that goal.
Practitioners have long recognized the value of keeping their patients highly engaged: Healthcare experiences where patients remain actively involved lead to better outcomes.
Unfortunately, it's incredibly tricky to ensure continuous interactions between patients and providers across the continuum of care. 
Building a foundation of effective communication in healthcare lays the groundwork for a more human healthcare experience. Nothing can replace the value of human interaction, and every conversation is a chance to forge stronger patient-provider ties. At the same time, leaving the repetitive, high-volume busywork to automation frees staff to invest in building an empathetic rapport with patients.
We wanted to explore these ideas more, so we sat down with some experts:
Santosh Marathe, Regional CEO of Western Region Apollo Hospital,
Dr. (Col) Prabal Deb, Head of Operations at Aster Labs,
Dr. Garima Sawhney, Co-founder of Pristyn Care,
Sudhanshu Mishra, VP of Business at Ozonetel, and
Vineet Kumar Tiwari, AVP of Sales at LeadSquared.
Here's what we learned about how effective organizational communication practices contribute to continuous patient engagement, higher quality healthcare, and hyper-personalized, seamless patient experiences.
How to improve healthcare communication and make it easier for patients to reach out and remain engaged with their healthcare providers – even between visits or in the post-recovery stages?
How do we remove  communication barriers in healthcare and let providers stay actively involved with their patients?
In this article, we will explore:
What are the Communication Barriers in Healthcare and Patient Engagement Roadblocks?
Sudhanshu opened the discussion with an insight that set the tone and revealed one of the biggest challenges facing healthcare: "As more and more technologies seep into our world and lives in every possible aspect, there are certain areas where you still need the human touch."
Also of concern is the fact that not all IT solutions are optimal: When improperly applied, the push for digitization can prove counterproductive. It's a bad sign if automation increases the distance between patients and the people responsible for their care – or results in new hurdles, like obscuring what patients are going through in real-time or whether orders from doctors are reaching patients.
Santosh offered an insight into why the industry should care about these communication issues: As patient-provider relationships evolve, it becomes critical to maintain consistency of care across the journey. Although technology can facilitate new healthcare modalities that were once unthinkable, it's by no means a cure-all in a human-centered industry where touch still reigns supreme.
How can we Hyper-personalize and Improve Patient Healthcare Journeys?
Vineet pointed out that the typical healthcare journey is rife with potential communication hurdles, like not being able to book an appointment with a doctor, saying that, "whatever technology we adopt, if we fail to personalize it to the level of the end patient, then it's a gap." In other words, caregiving systems must be sufficiently well integrated into your process to pass on empathetic, positive experiences to patients.
Having a generic technology layer in place isn't enough, either. Providers need to strive for hyper-personalization, and according to Santosh, Big Data is a critical asset in this fight. For example, more modern healthcare providers are using data to group and cluster patients early, making it easier to deliver relevant, informative content to individuals.
Some forms of hyper-personalization are more physical – like 3-D printing, which allows implants to be tailored to the specific patient. Other initiatives include using AI tools to detect potential lifestyle diseases early and promote wellness management instead of trying to fight illnesses after the fact. Although the use of electronic medical records and other advances have produced overwhelming volumes of data, effective providers work to zero in on the markers that inform individual care plans and associate broader knowledge with specific experiences.
How to Build Effective Communication in Healthcare that Keep Patients Actively Engaged?
The typical healthcare journey can inherently be fragmented – it's tough to maintain strong patient connections between appointments, tests, and follow-ups. So what measures can providers take to unify the whole experience?
Dr. Deb said that bedside manner is extremely important, succinctly stating that "the thin line between hospitals and hospitality is becoming thinner by the day." He then took the panel through a typical patient journey to help explain how opportunities for proactive hospitality and engagement arise before any actual healthcare interactions occur. For instance, a patient who wants a test or checkup will usually Google local providers first, prompting many providers to adopt an omnichannel approach to engagement.
Dr. Deb also maintained that omnichannel doesn't mean hands-off or automation only, stressing the value of reaching out to patients personally to sensitize them to what to expect, let them know they can ask questions, and simply forge bonds. By normalizing the act of conversing with patients, caregivers can make it easier for ordinary people to stay involved and invested in their care.
What does a broken patient journey look like?
The panelists also shared some lessons gleaned from clinical practice and the unique problems self-reported by patients. One of the biggest challenges was the fact that broken patient journeys can contribute to a significant degree of patient apprehension.
When people can't book appointments easily or aren't clear about what comes next, they may experience tremendous fear that makes it hard to even come to the hospital!
As Dr. Sawhney pointed out, the state of modern caregiving doesn't always help. For instance, discharge delays, follow-up schedules, and insurance confusion are common challenges that contribute to a less-smooth overall patient experience.
Actionable Pointers for Staying Patient-centric and Scaling Engagement
Providing satisfactory care and communicating effectively become even harder as you grow, but caregivers still have options. Dr. Sawhney shared some important initiatives providers can take at the organizational level to increase patient engagement and enhance experiences, including:
Assigning patients dedicated care coordinators who act as points of contact and help with hurdles like insurance, travel booking, and appointment scheduling throughout the journey,
Pre-booking patients, or preparing everything required to minimize their wait times on arrival at care facilities, and Following up with patients immediately after discharge to learn how they feel about their experiences.
Dr. Sawhney also highlighted the value of an orderly approach. Although her practice has adopted multiple technological tools, it also strives to unify their use so that "Everything is linked and there on one dashboard – We're always aware which stage the patient is at, and we've developed patient applications that keep them informed of where they are and what's coming next, making it easy to book consults, manage prescriptions, deal with insurance, and explore details about specific appointments."
Adopting New Technological Elements
Closing existing gaps in patient experiences is just the beginning – it's equally critical to avoid creating new communication deficiencies in your pursuit of better caregiving. The panel finished by covering some of the real-world concerns and benefits hospitals ought to consider before introducing new technology into their operations.
Putting AI-enabled Omnichannel Healthcare Communication & Automation Tools to Work
The benefits of technology aren't just limited to direct medical practice. The right omnichannel tooling can help providers overcome many of the hurdles we've addressed thus far.
As Sudhanshu put it, "AI and technology have the power to not only make the patient journey smooth and seamless but also serve as a support system for the healthcare providers themselves – There are so many things that can be addressed with technology without requiring any human intervention, saving the human touch for the most important aspects of patient care."
Omnichannel communication played a big role during the COVID-19 pandemic by letting providers and patients stay in touch despite the risks of physical contact. It also helped relieve burdens on an arguably stressed healthcare system by granting patients access to on-demand case information without tying up limited medical staff.
CRM Platform Adoption Cycles
Tools like CRM platforms only work when people use them, so how do we drive adoption? Vineet says that continued internal education is critical – Whether you're running a hospital call center or clinical patient care platform, multiple-iteration training systems can incentivize users to get onboard by revealing the advantages of new tools and uncovering adoption sticking points.
With that said, CRM tools must be well-optimized to their users' needs. For instance, a lab worker and a doctor might use the same system for completely different tasks. If you want everyone to get the most out of your software, it should provide each stakeholder with an accessible interface, task-relevant features, workload-and appropriate UI features.
Looking Forward With an Eye on Patient Engagement Trends
Finally, it's worth considering the role of patient behaviors in engagement. The panelists pointed out a few trends you should heed to stay on top of the evolving patient-provider relationship, including:
Providers using speech analytics and machine learning to gauge consumer sentiment.
Patients buying into the idea that providers should know them better – and that they shouldn't have to run from one caregiver to another to find answers, get help with follow-up schedules, or receive hyper-personalized insights.
The diversification of caregiving settings beyond traditional bounds like hospitals.
Want to discover more about the future of healthcare – and the role communication frameworks will play in improving patient outcomes? Take a look at these real-world examples of omnichannel patient engagement in action.
And in case you are looking for a healthcare communication system that is both efficient and patient-centric, consider how Ozonetel's CCaaS Platform for Healthcare can help. This article is a summary of our recent webinar on how the healthcare sector is promoting patient engagement and effective communication in healthcare  today