Improve Customer Call Management With a CMS (Call Management System)
Improve Customer Call Management With a CMS (Call Management System)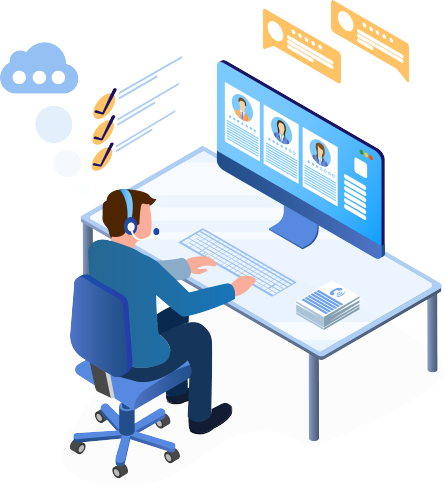 How do you manage inbound and outbound phone calls within your business or call center? Intelligent call reception is the key to happy customers and a high-performing workforce. If your business is struggling with too many incoming calls, haphazard processes, or a chaotic service department, it's time to consider call management.
In this article, we will explore:
What Is Call Management?
Call management refers to the way a business handles its incoming calls. Call management is the method used to route or distribute calls using a set of parameters, processes, workflows, software tools, and systems.
A company uses call management to efficiently manage workloads, quickly respond to customers and leads, and direct inbound calls to the right recipient.
What Is the Purpose of Call Management?
Effective call management shortens queue wait times, improves CSAT (customer satisfaction) outcomes, and efficiently balances out the contact center's workload.
Wait times can be lowered efficiently by implementing measures like smarter IVRs and callback requests.
The call management parameters improve outcomes by sending calls to the ideal service representative. This also helps distribute calls fairly across the workforce.
You can include fallback call routing options to take care of customers when agents are busy. This might include leaving a voicemail, using a self-service IVR, or scheduling a callback.
What Is a Call Management System?
A call management system or call management software (CMS) lets businesses manage their inbound and outbound calling by routing calls based on predefined parameters. Companies can use features like IVR and call queues to determine how calls are routed, transferred, and managed. They can prioritize certain calls in real-time and route calls based on agent skill or department, the time of the day, and customer segmentation.
By using a CMS, a business can optimize routing calls to best serve their customers' needs. They can provide fallbacks for when calls go unanswered such as rerouting calls to another department or automating callbacks. They can also use additional features such as call tracking and call recordings to monitor the quality of their customer communications and meet various call center KPIs.
A call management system is generally a VoIP-based software or service that typically uses a computer telephony integration (CTI) system to operate within a network. This gives businesses granular control over inbound calls.
The call queue management routing criteria should be selected based on in-depth call volume analysis. Questions to consider may include:
Should phone calls be routed to an agent or an auto-attendant?
How should phone calls that come in after business hours be routed?
Should calls be routed according to agent skill, department, or shift timings?
How long should calls be put on a call queue before automatically adding them to a call-back menu?
How can these calls be managed to optimize agent productivity?
How Do Call Management Systems Improve Customer Experience?
The customer's experience depends on how effectively companies are routing calls.
 Given this scenario, it makes perfect sense for companies to implement call management software to maximize call handling efficiency, agent performance, and customer satisfaction.
If you need to optimize your call load management, it's time to implement a CMS. You can customize the call handling procedures, eliminate workflow inefficiencies, and get control over critical KPIs.
Here are some industry statistics:
The average customer hold time is 56 seconds (Source: conversational.com). That may not seem like a lot, but after 2 minutes, customers hang up (Source: Small Business Chronicle).
70% of business callers in the US are put on hold (Source: Inbound/Outbound). This translates into a substantial amount of lost business and disgruntled customers. Especially since 40% of US customers attempt to make a purchase over the phone (Source: American Teleservices Association).
In 2019, the average customer spent 19 seconds waiting in a call queue, a 53% reduction from the previous year. (Source: Ozonetel's Contact Center Performance Report)
This results in:
Fewer dropped calls
Higher conversion rates
Higher customer retention
Increased revenues
Reduced agent turnover
What to Look for in a Call Management System?
A Call Management System (CMS) can be customized for your business goals. It's best to begin by considering the contact center's most pressing business needs and KPIs. Then configure the system's features accordingly.
Your contact center's call reports are a great resource for developing insights. Take a deep dive into the reports measuring customer satisfaction, agent performance (handle times, abandon rates, productivity metrics, etc.), and overall management reports (e.g., conversions, and other revenue output data).
This will let you know what operational aspects should be tweaked. And provide a strategic foundation for configuring the system's options.
Here's a list of call management features that can upgrade your contact center's call queue management capabilities:
Better routing
Self Service IVR & multi-tiered auto attendants
Advanced Voice Mail
Dynamic call distribution
Call forwarding with answering service
Call transfers
Easy monitoring & call listening
Robust reports, call recording, & call tracking
Seamless CRM integration
Email / text / social media integration
Easy setup & scalability
Let's look at each of these points in detail.
12 Essential Call Management Features
Better Routing.
High-performing contact centers intentionally handle incoming calls. A Call Management System (CMS) facilitates this with skill-based routing, time-based routing, priority-based routing, and campaign-based routing capabilities.
Better routing is the first step to efficient communications and workload management. Operations can be further refined by pairing these settings with other filters and parameters.
Further Reading: Guide to Call Routingfor high agent efficiency and better customer satisfaction
Multi-Tiered Auto Attendants
The key here is 'multi'. Basic auto-attendant functionality is part of any phone system. A multi-teared auto-attendant capability offers deeper features, such as customized caller greetings and the ability to route a call to multiple numbers.
Self-Service IVR
Upgrade the way you manage high inbound call volumes with self-service IVR. Your company can triple its call handling capabilities by using IVR to answer delivery status and complaint status queries or cancel orders. Conversational IVR can take this one step further by using natural language in place of DTMF inputs to have intuitive, efficient, conversations with your callers.
Automated Call Distribution
Automated Call Distribution or ACD is the ability to transfer or route inbound calls to the right agent based on a variety of parameters. These include the time of day, agent's skills, multiple skills, campaign, and more.
Call Management Software can be configured to route calls to the supervisor if all agents are busy, or to an auto callback mechanism, where the system automatically dials a customer whenever an agent is available.
Call Forwarding with Answering Service
Call forwarding allows you to forward calls to your agents' mobile phones, home landlines, or alternate agents when they are not at their desks. A CMS pairs call forwarding with an integrated answering service. If a call goes unanswered, the customer can leave the system a voicemail message that won't get lost. This is a great failsafe measure for any business.
Advanced voice mail management
Basic voicemail (VM) exists in almost any contact center software. Advanced VM allows for further customization like custom greetings, automated transcription to convert messages into text, etc. Another use scenario would be to automate sending customer voicemails directly to a supervisor's email account, so they can schedule callbacks.
The ability to conduct audio conferences across users and team members is also a relatively common feature in most online telephony systems. However, this usually comes with restrictions like limits on the number of users or with only limited numbers to facilitate conference bridges. So, if collaborative meetings and conferencing are vital to your business, a Call Management System (CMS) is worth considering.
Call Transfers
Call transfers can either tank or improve the customer's experience. Customers don't appreciate having to fill in a new person or wait for them to get caught up. You can avoid this with a Call Management System (CMS) that facilitates warm transfers. During a warm transfer, the system lets both agents speak with each other before bringing the customer in. Once the transfer is completed, the agent can remain a part of the conversation, or drop out as needed.
Also Read:  When to use Warm Transfer vs Cold transfer
Easy Monitoring & Call Listening
Keep a strong sense of the pulse of campaigns and agent performance with a well-integrated monitoring system. It makes active oversight painless and efficient.
For example, supervisors can monitor campaigns and agent productivity in real-time. They can stop a campaign if there are unusually high drop rates. They can easily "barge into" a call or "whisper" tips to an existing agent.
Robust Reports, Call Tracking, & Call Recording
Intel drives strategic business visions and roadmaps. A Call Management System provides robust reporting (both real-time and historical) of key metrics like agent performance, campaign metrics, vector directory numbers, trunks, etc. to inform critical business decisions.
Businesses should be able to analyze these from a granular or micro-level (minutes, real-time through live dashboards that update every 5 seconds or so) right up to a more macro look (over a period of days, weeks, months, or semesters).
Seamless CRM Integration
If your current CMS or contact center software doesn't have the capability of automatic integration with leading CRM software like Salesforce, Hubspot, Zendesk, Zoho, & Freshdesk, make sure that you get that capability. It is critical for overall CX and contact center efficiency.
Email, Mobile, Text Message, and social media integration
Call management software should integrate with a variety of communication channels. This way you can provide service across all your customer's touchpoints including email, SMS, Twitter, Facebook, or WhatsApp.
Ease setup & scalability
For growing businesses, it is essential that your CMS is easy to set up and scale. With a cloud-based system, you can add agents with ease. There is no additional hardware or software setup required every time you add an agent. Ensure that your solutions provider gives you scope to downsize with equal ease.
Setup should be stress-free too. A complete contact center or CMS employment should be completed in 24 hours to a maximum of 2 weeks.
An intuitive dashboard and easy-to-use features are a must. For instance, a feature such as drag & drop IVR makes it easier to configure call routing and workflows and allows for changes without writing a single line of code.
Using a Call Management System (CMS) can save you time, make agent training and onboarding efficient, and make routing customization more intuitive.
Top Call Management Systems for growing businesses
So, if you have determined that your business would benefit from the advanced capabilities of Call Management Software, the good news is that it does not have to break the bank.
In a competitive landscape, CMS prices and fee structures remain competitive too! Your business needs and KPIs will determine your fee structure (per month per user), which can range anywhere from $17.99 to $80.
Based on multiple factors such as features, customer support, ease of use, integration capabilities, and scalability, here are some companies to help meet your call management needs:
1. Ozonetel. Ozonetel is our product, and we're very proud of it. So naturally, we're going to put it in the top 5 call management software. We believe it offers the most comprehensive, scalable, flexible, and value-driven plan. Starting at $25/user/month, the basic plan offers all the important call management features. These features include an easy-to-use 'Drag & Drop IVR' that can create complex multi-level menus, after-office hours messages, as well as many callback options. The agent call controls include the ability to mute, hold, & transfer calls (both cold and warm transfers are possible (plus, it offers live monitoring Barge, Whisper and Snoop), Ozonetel also offers in-built CRM integrations with Salesforce, Zendesk, Zoho, & Freshdesk, a real-time performance dashboard, and 40+ reports. Businesses have the flexibility to scale up, downsize, or even cancel plans anytime without incurring penalties.
2. RingCentral. RingCentral's premium subscription at $34.99/user/month offers rich features such as auto call recording, multi-site admin and management, whisper, barge, real-time analytics and reporting, and much more. However, early termination of a plan may be subject to additional fees or a penalty.
3. Vonage. Vonage offers a range of options from basic call management capabilities such as skill-based call routing to dialers and more dynamic call routing options. The Vonage plan ideally serves businesses with small teams. The cost goes up as you add features, so it will scale with your business needs. Pricing ranges between $17.99-$37.99/user/month.1
Getting started with a CMS
So, as a growing business, what should you do?
Do your due diligence!
Most importantly, have a clear business vision, know what you want, and do your research
Make the most of your existing contact center software or cloud telephony system.
Be 100% sold on the robustness of the CMS offerings.
Not ready to commit? No problem! There are service providers with 'pay-as-you-go' flexibility. These plans let you pay as your business needs to scale. You don't have to commit to a flat rate for an extended period where several product offerings may not be suitable for your current business needs.
Opt for call management software or a business phone system with no setup fee. That's just a waste. Especially where there are great plans that can meet your unique business needs without requiring a setup fee.
Get a system that allows you to cancel at any time without a penalty.
Conclusion
Are you ready to take better control of your inbound call management? And have it be easy? Ozonetel's Business Phone System and Cloud Contact Center solution delivers enterprise-worthy CMS capabilities with small business-friendly scalability.
You don't have to take our word for it. You can explore for yourself with a free trial account and get a personal walk-through of our system.
Get started now by requesting a live one-on-one demo with one of our consultants.