Every business, whether small, mid-sized or a large enterprise, needs a call center for customer service or lead generation. A SaaS contact center is easy to set up. All you need is a headset, a good internet connection, and a computer system or laptop. Your agents can receive calls directly on their computers, mobile phones, or landlines — enabling them to work from home, the office, or on the move. No call goes un-tracked. Supervisors and managers can log in to the call center software online to view call recordings, agent performance, customer satisfaction, and other reports. As a web-based call center solution, there's zero hardware, software, and maintenance cost.
Call center setup in 7 easy steps
A SaaS or virtual call center can be set up in a matter of minutes. We've outlined what you need to do.
Step 1: define the type of call center you need
Your call center can be of three types.
Inbound: An inbound call center receives incoming calls. Typically this is a customer support/customer service or help desk. It receives complaints, orders, or inquiries from callers.
Outbound: An outbound call center makes outgoing calls. These are primarily sales calls, but they could include reminders for payments, renewals, last dates, or offer announcements.
Blended: Blended call centers get incoming calls as well as make outgoing calls.
Step 2: plan how callers can access your agents
If you have an inbound or blended call center, the next step is setting up your IVR. Decide the following to define how callers will reach your agents.
Decide if you need an IVR: Will your callers get connected to agents directly or via an IVR system (Interactive Voice Response)? Do you need only a welcome message, or do you need to offer a menu of choices? Decide the menu options you would like to provide and choose from our single-level or multi-level options.
Decide on self-service: Decide if you want some callers routed to self-service. Your IVR can handle basic inquiries or connect with other applications to create or cancel bookings, reservations, and more.
Decide after-office-hours or shifts: Divert post-office-hours calls to voicemail and have alerts sent to email IDs you specify. You can also divert post-office-hours calls to another shift of agents to create 24 / 7 support.
The next step in the call center sequence will be to create agent IDs. An agent ID can be saved as the agent's name, nickname, email ID, or alphanumeric employee ID. If you have a CRM, you can keep agent IDs the same as CRM IDs for an easier CRM integration.
Step 4: define skill groups
Call center software connects calls to various skill groups. You can define each group to consist of one or more agents depending on your business's size. A skill group may be based on employee knowledge and permissions. For example, staff with specialized knowledge of a product or service will answer queries for that product, or some staff may exclusively handle operational problems like shipping and delivery issues. Some call center agents may be authorized to handle refunds. Each will be in separate skill groups.
Step 5: define your ACD logic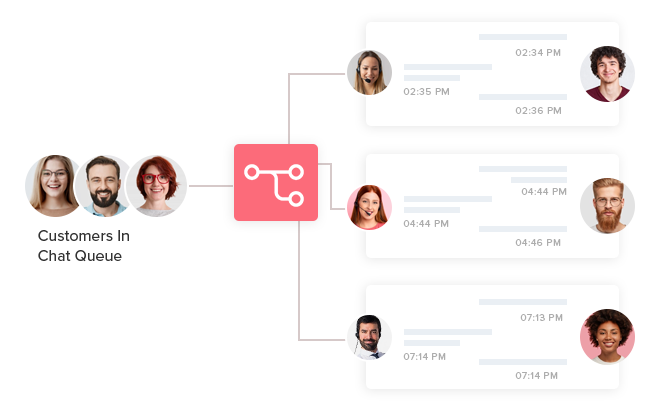 Your ACD is your Automated Call Distribution. It distributes call loads amongst agents in the most equitable manner while keeping call queues and wait times short. A SaaS or cloud-based contact center could have agents working from anywhere. Consider these factors before setting up your ACD:
Decide Dynamic Real-Time Queue Reprioritization: Yes, you want all your customers to have low wait times—but do you want to prioritize certain high-value customers? Use CRM integration to identify these callers and push them up the queue automatically when call volumes are high, or connect them to a separate skill set of agents.
Define Sticky Agents: You can assign certain customers to specific agents. This means every time the customer calls they automatically connect to the same agent. This helps build familiarity and improve customer satisfaction. You can define sticky agents when you define your ACD logic.
Select the Distribution system: All the calls not being priority routed or sent to sticky agents will then be distributed amongst your other call center agents or staff. You can choose from two distribution methods:
Step 6: define the data format for your dialers
This step is required for setting up your dialers only if you'll be making outbound calls. In this step, you "explain" your data format to your dialer. The dialer then "understands" where to find the phone numbers to dial from within your contact lists or database, and it can automatically dial numbers whenever you run your outbound calling campaigns.
Step 7: decide how to collect feedback
Customer satisfaction is an important statistic to measure. You can close all calls with a quick CSAT survey. Defining these CSAT metrics will be the last step of setting up your SaaS Contact Center.
How can a SaaS call center help?
The advantage of a SaaS call center is that it is easy to set up and does not need any heavy investment. You only pay for what you use. Besides, it helps ensure business continuity in case of an emergency since it can be accessed by agents, supervisors, and managers from anywhere on any desktop, laptop, or mobile phone with an internet connection.
Why should you set up a call center for your business?
A customer call center is a prominent piece of infrastructure for your sales and support teams. Customer calls provide you with the deepest insight on your operational issues. They help you understand your customers and help you serve the customer better. A good cloud call center stays out of the way and allows you to manage your communications in a seamless fashion. It allows you to plan your workforce for peak hours.

For example, Big Basket has seen average response time improve by 200% after adopting the Ozonetel solution. Shaadi.com sales agents have been able to make 4x more calls as a result of integrating a click-to-call dialer into their CRM.
Cloud call center setup by Ozonetel
We don't require any hardware or software to set up a cloud; it's delivered as a pay-per-use service. All that is needed is a chrome browser and agents can take calls on any phone — mobile, landline, softphone,  or IP phone.
Zero initial investment and maintenance cost.
Mobility: Can take a call from any location.
Highly scalable solution: Easily scale up to meet your business need.
Easy to upgrade: Software up-gradation is very easy.
Shared call center by Ozonetel
In this setup, the organization has to take a PRI line from telecom service provider. Ozonetel will then provide a call server. The call server would be placed on the company's premises. It's also delivered as a pay-per-use service and agents can take calls on any phone – Mobile, Landline, Softphone, IP Phone.

Key features of Ozonetel's call center solution
Faster & Easy Deployment
Deploy your full-fledged Call Center in just a few hours. Integrate with Salesforce, Zendesk, Shopify and more in just a click. Configure IVR, phone numbers and more in real-time
Improve Leads & Customer Service
Personalize customer interactions by integrating with CRM. Allow your agents to work from anywhere and stay connected when customers need them most.