Optimize Agent Experience-Key Takeaways
Optimize Agent Experience-Key Takeaways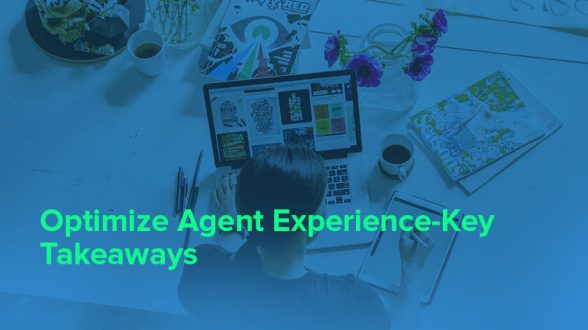 Customer service is all about engineering a transformative experience for your clients. That experience often starts – and may end – with the interactions customers have with your contact center agents.
As the public face of your company, your agents play a critical role in enabling a great customer experience. They're the ones on the frontlines, dealing with customers day in and day out. Most importantly, they're the ones who really understand the human side of the story, gathering the irreplaceable first-hand data that powers continued improvement.
There's no arguing that if you want to create a great customer experience, it begins with your agents – but we wanted to learn just how leading contact centers are making the changes needed to keep agents and customers happy. In this webinar, we chatted about the critical role agents play in enabling a great customer experience and how you can empower yours to deliver an outstanding experience for your clients.
Ozonetel's Garima Gayatri moderated the panel – and as usual, the insights never stopped coming. Watch the full interview here, or explore a few of the biggest takeaways below.
To help us untangle this truly complex topic, we called on some experts from Freshworks, Ozonetel, and other industry standouts, including:
Arundhati Govekar, Founder and Lead Coach, Rathee,
Ajay Nambiar, Chief Service Officer – M3M India Pvt Ltd, Chief Operating Officer PTP India Pvt, Ltd,
Karthik Chakrapani, Chief Business Officer, Promerica Life Insurance India Ltd,
Shashank Chakrawarti, Business Head, Wellness Forever Medicare Private Limited,
Rampradeep Kumar P, Senior Product Consultant, Ozonetel, and 
Krishnakumar Govindarajan, CX Solution Consultant, Freshworks.
In this article, we will explore:
Understanding the Root Causes of Agent Frustration
The typical CX journey is a symphony of distinct elements, but some factors stand out above the rest. According to one Gartner survey, some 86 percent of execs agree on one thing: Employee engagement is a major determiner of customer experiences.
Unfortunately, it's hard to keep frontline team members engaged when their workplaces and workflows make their lives harder. From rising call volumes and anxious customers to new tech and work environments, agent frustration is steadily mounting.
Reconsidering What Agents Need to Know
We were curious to know what our panelists thought might be some of the most common stress factors in the industry. According to Karthik, some of the biggest challenges for customer service agents today are their lack of brand understanding and the organizational absence of regular skill enhancement. He suggested that companies should start rethinking the level of knowledge they want to impart to agents in terms of understanding the brand purpose and the brand itself.
Overestimation and the Lack of Empathy
Here, Arundhati brought up a valid point about overestimation. Today's agents are frustrated because of overestimation on both sides – by the customer experience team and by the agents themselves.
Arundhati noted that although empathy is a widely used term, it's not always evenly applied: "Agents can't give much of what they don't get. If I don't feel understood and my pain points aren't addressed – if I don't receive empathy – then I'm going to be limited in extending empathy to my end customer as well."
The Attrition Problem
Krishnakumar zeroed in on the idea that equipping agents with enhanced domain knowledge could be a way to reduce high attrition rates and improve the skills of agents coming from various backgrounds. He also highlighted how nowadays, many external support agents work with tight SLAs and have little time to address customer problems. Productivity tools are widespread, but many companies fail to use them to their fullest potential, resulting in repetitive work that leaves agents' true skills to rust.
Call center attrition rates also compound the difficulty of keeping good people on board. Ajay said that "At a call center level, the switching cost is very low. Because of high demand, it's very easy to switch, and attrition is accordingly high." Unfortunately, this seeming career leeway doesn't make things easier on those agents who remain – After all, it's hard to sustain morale when others are regularly jumping ship!
The Value of More Rewarding Workplaces
Automation can help reduce attrition rates, but true career empowerment is also essential. Ajay revealed that his company avoids hiring people solely for contact center roles. By hiring them for a more specific niche, in this example real estate, the firm provides its employees with genuinely rewarding vocational opportunities – something agents find extremely gratifying.
Agents require extensive branding knowledge to be successful in today's market – and these directives should cascade from the higher levels downwards. Customers are getting smarter and better informed, making it difficult for agents to keep up. As such, leadership must support their representatives with relevant information and guidance.
Making Life Easier All Around
At the same time, Rampradeep observed, simplifying workflows is key. "91 percent of agents are required to access multiple screens, dashboards, and systems when handling a typical customer interaction – This is clearly a source of frustration."
Shashank agreed, bringing a broader perspective to the table. He pointed out that companies must go beyond empowering front-line employees by also giving them the tools and training they need to be successful on a daily basis. In other words, employers must cultivate strong pools of replacement workers who can bear some of the workload.
Identifying Where Customer Pain Points Lie – The 360-degree, Data-driven Perspective
While happy representatives make for happier customers, driving agent productivity isn't the only way to improve customer satisfaction. It's also vital to listen to feedback in an effort to identify solvable customer pain points.
Contact center enterprises are increasingly moving to digital spaces, and this affects customer service. Without the physical presence of customer service representatives, it can be frustratingly tough for customers to get the help they need.
Broadening Your Viewpoint to Overcome the Frustration
"Behind the scenes, modern businesses have dedicated teams for dedicated channels, but the problem is that these channels don't have visibility into what the others are doing," said Krishnakumar. 
To combat this, businesses are increasingly adopting a "customer 360" approach, which gives customer service agents access to all of a customer's data in a single view – no matter which channel the agents are working from or where they jumped into the conversation. This way, agents can provide more informed and helpful answers to incoming questions.
Krishnakumar also shared that giving customers a personalized experience can lead to increased trust and sales. Technology that furthers these bespoke engagements can also help support agent experiences by integrating different systems and data while providing essential context – so the benefits are multifaceted. 
The 360-degree data perspective makes it easier for agents to navigate massive volumes of information and provide the correct answers faster. Your tools essentially need to keep all the data under one roof, incorporating unified desktop experiences, uniform cloud tools, and extendable APIs to bring multiple applications together in a streamlined workflow. Only then can your agents provide the type of stellar service that keeps customers from having to wait on hold, deal with mistakes, or otherwise get frustrated.
Choosing Reliable, Relevant KPIs
KPIs are a time-honored means of judging your contact center's performance, both regarding workplace accommodations and how satisfied your customers are. The problem is that they're not always easy to use properly: In some cases, it's hard to pick the right performance indicators, while in others, it's easy to fall into the trap of overhyping KPIs by relying on them too heavily.
Shashank told us that company-level KPIs should be focused on reducing call times and providing real-time solutions, rather than merely evaluating individual agents. He also recommended that employees receive training on how to add value to the company's revenue. In his view, it's best to address broader organizational metrics, like how well new technology implementations work, inbound customer query resolution times, revenue, and training efficacy.
Thinking About What Really Drives Business Success
Arundhati reinforced the importance of choosing CX-oriented KPIs – Figuring out how to improve a product is one thing, but it's just as necessary to determine whether customers are coming back for repeat business. 
For instance, in addition to assessing metrics like customer feedback and Net Promoter Score, contact centers ought to consider referrals and renewals to gain a more reliable understanding of whether their clients are truly happy with the services they receive. 
As Garima noted, repeat business doesn't necessarily mean customer loyalty. In other words, if you run a call center, you can't just settle for sustaining your customer base; You have to choose KPIs relevant enough to further your understanding of the why and how behind your success – at least if you want to sustain it.
Closing the Gaps in Agent Training
Effective agent training does more than just teach someone how to respond to an inbound query or use a knowledge base to look up an answer. It also fosters a stronger organization by showing frontline workers how to work more efficiently, reducing ongoing stress, increasing well-being daily, and promoting lasting customer happiness. 
Part of this ideal involves something multiple speakers mentioned: The idea of empowerment. Agents need to be sufficiently empowered so that they don't have to escalate every little issue – Even if they don't make all of the decisions, they should be able to handle some on their own. 
Unfortunately, this is just the ideal. Today's call centers commonly fall short, and many of their deficiencies come down to a lack of appropriate training.
Facilitating True Agent Autonomy
Ajay said that common sense is more important than jargon or technology when it comes to training agents on how to run a thriving contact center. To truly empower workers, you need to provide a continuous feedback loop that allows them to iteratively improve. After all, agents commonly field the same question multiple times daily, so having a sounding board can really help. 
Ajay also pointed out the value of starting early and bringing the whole organization into the loop from start to finish. For instance, if you were running a contact center, you might have higher-level management try answering calls to learn how they could improve features and make life simpler for everyone. Or you might bring new agents to all your project sites to gain familiarity with the physical products and take true ownership.
Workforce enhancement can help agents initiate more empathetic interactions with customers – but it works best when you cultivate a broader perspective on customers and products. As Arundhati brought up, this requires training that cultivates a more intimate understanding of customer needs and the struggles they face. For instance, in high-stress sectors such as healthcare, agents should receive thorough instruction on how to calm people down and assuage their worries.
Start Putting Your Customers First With Advanced Analytics 
Putting customers at the forefront of what we do is no easy task – even when you account for fine-grained metrics, like inbound lead scoring, number of calls aborted, total time, and queue time. Modern contact centers may benefit from moving away from these limiting notions and leveraging data to rewrite the problem without the typical constraints.
For instance, just a few short years ago, most contact centers that wanted to explore customer trends would do so according to demographic breakdowns and geographical areas. Your contact center can still accomplish these kinds of assessments using data analytics and AI, but that's just scratching the surface – so much more is possible. Now, you have access to far more information about customer behavior regardless of age or geography.
Get More Out of Your Data
Engaging with all the information available to you can help your organization better understand its target market. It can also improve your ability to highlight and overcome deficiencies. By looking at markers within the call process itself (rather than just outcome-based measures), your enterprise can identify actionable improvements it can implement today to better serve customers going forward.
Building a superior customer experience starts with keeping your agents happy, and the quality of your agent experience depends on the tools, data, and processes you use to get work done. 
Want to engineer a contact center that lets you treat your team with true empathy and further positive customer journeys? Talk to an Ozonetel expert about creating a custom solution that helps you take a holistic approach to success.