Future-ready BPOs: Transforming Agent & Customer Experience
Future-ready BPOs: Transforming Agent & Customer Experience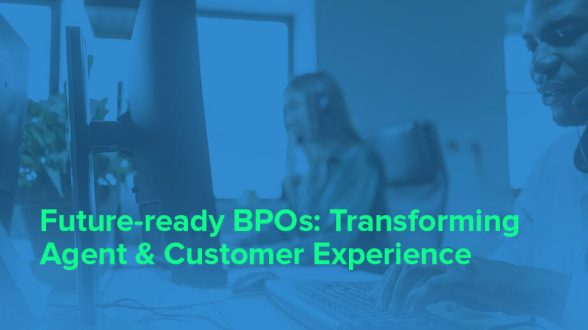 The business process outsourcing (BPO) industry is expanding at a tremendous pace. Revenue projections for the sector in India alone anticipate a combined annual growth rate of 9.51% from 2022 forward, resulting in a market volume of US$7.41bn by 2027. 
To stay ahead of the curve, BPOs need to understand the current landscape and identify addressable gaps. They also need to be future-ready: prepared and willing to adapt to changes and lead their businesses into the future. 
How can humble outsourcing companies achieve all that? Our latest roundtable brought together some industry thought leaders to find out.
We were happy to hear from such experts – so here's what they had to share.
Ozonetel's Garima Gayatri sat down with a panel of experts, including:
Ajay Chambula, Associate Director, Technology Firstsource, 

 
Saurabh Kumar, Sr. Vice President, Outsource Global,

 

Lakhan Joshi, Business Support Director, FiveS Digital, 

 

Rajiv Bharathan, Sr. Vice President, Sales, Ozonetel,

 

Sanjay Jotshi, Chief Business Officer, NextWealth, and

 

Yahya Rasheed, Global Head of L&D and Workforce Transformation – Digital Workplace, HCL Technologies.
In this article, we will explore:
Assessing the BPO Industry: Understanding the Focus and Quantifying the Gaps
It's been quite a challenge for business process outsourcing (BPO) providers to adjust to the changes of the past two years without impacting customer experience and accelerating digital transformation. Consumer expectations have only mounted, and the pressure is on BPOs to remain competitive while creating value for customers.
At the same time, business continuity has taken on a new meaning – one firmly rooted in a hybrid working model that might have seemed unfathomable only a few short years ago.
Most BPOs realize that smarter talent pools and lower attrition are critical to building future-proof strategies. While technology can enable simple ways to manage these novel workforces, investing in seamless CRM integrations and transformative AI is just the beginning. Leaders still need to keep pace with the times, and that means understanding how to leverage these valuable tools – and where the current gaps lie.
To explore these complex questions, we wanted to know where BPOs are currently focusing and what they see as the major challenges lying ahead. The industry faces many hurdles, including disruptions to service delivery models, organizational change, market dynamics, and global economic woes.
The Agent Management Issue
According to Sanjay – and the others – talent is the biggest obstacle: There's a shortage of skilled workers, which has driven up salaries and caused instability in operations.
Another issue is the hybrid model of work. Although the idea seems straightforward enough – some employees work remotely while others are on-site – hybrid work is still evolving and presents its own set of difficulties.
Despite these problems, Sanjay pointed to a light at the end of the tunnel, noting that "There's a lot of churn, but a good situation will emerge. It's just that while it's happening, we'll have to get through some short-term pain."
Building Better Systems
So how can BPOs pull through the less-than-pleasant parts of the journey? Lathan gave an interesting real-world example of how his company made workforce acquisition more fluid by focusing on improving talent.
Lathan's team built a tool to help with talent acquisition and training. They also created a system to power more effective, accurate decision-making. Their framework lets executives refer agents to a knowledge base inventory they can use to find answers to customer queries and respond appropriately.
Sanjay and Lathan weren't the only panelists who highlighted the importance of building strong workforces. The others also brought their own unique angles to bear.
"This industry has never approached human resources from the talent grooming perspective," said Saurabh. "We're always focused on talent acquisition, but we need to concentrate on letting people from the bottom rise – instead of waiting months for new candidates to come and fill positions."
The BPO Leadership Challenge.
Employers bear the responsibility for making this ideal a reality: It's up to leaders to prioritize which candidates they select based on their communication skills – not only with customers but with their colleagues too.
The underlying themes were clear – BPOs can't just acquire talent, they must also groom it to ensure their teams can rise to new challenges and stay in line with the mission.
As Rajiv noted, effective call centers strive for unity of purpose, consistently working to "translate the leadership vision right down to the last agent." This is where business frameworks and technology come in.
Exploring the Broader Role of CCaaS and the Omnichannel Path to Value
Rajiv suggested that part of the solution to attracting and retaining talent – and keeping team members aligned with management – may lie in improving technology. The goal? Providing a better experience for customers and employees alike.
Building an Omnichannel Outlook for BPOs 
This can be an extremely tough task. After all, communication channels are proliferating due to the need to engage consumers in different ways, like phone calls, email conversations, and chat messaging.
"As AI and ML come into play, the agent and customer experiences have to improve," said Ajay, "All of these channels have to talk to each other cohesively." The purpose of such inter-channel harmony becomes clear when you consider the end goal. Your BPO needs to drive the customer journey from a unified perspective, no matter which path consumers take to the destination.
Reflecting on his 20 years of experience, Yahya noted that even with the state of automation and improved tech, there's still a lot left to do. "There is a lot of low-hanging fruit we can still automate," he said, "many of which were existent earlier within BPOs."
Omnichannel-aware CCaaS may make it easier for BPOs to gauge these factors and assess whether they're achieving their optimal potential. For instance, BPOs can measure their efficiency using numerous metrics, and enriched reports make it easier to highlight areas where agents need more training. With the right data points and feedback tools, management can make more informed decisions about how to run the business.
Insights on Improving the Agent Experience
So how does the digital transformation play into the earlier challenges like agent management? In short, organizations should focus on training and learning interventions to automate work, rather than fixating on finding talent with a certain degree.
Churn is a fact of life, but BPOs can strengthen their knowledge management processes to reduce dependencies and improve continuity. "It's not the breadth of the knowledge that matters, but the depth of the knowledge, so expose agents to what is required," said Yahya.
By focusing agent support efforts on key technologies and concepts, BPOs can enhance their ability to fill positions and accelerate time-to-value. At the same time, it can also free leaders to focus on broader societal objectives – such as one Sanjay highlighted as being essential to his company's rise to success.
The NextWealth Example 
Sanjay's company NextWealth works to help those in rural areas access better job opportunities. It particularly focuses on young women who may enjoy fewer workforce opportunities due to cultural reasons.
Bringing jobs from big cities to smaller areas and underserved population segments does more than just help BPOs like NextWealth capitalize on wasted talent. It also resonates well with customers.
At the same time, the story also demonstrates how furthering agent experience works better as a whole-team effort. Although the company uses no shortage of in-house and cloud technology to maintain consistent standards across all projects, it invests just as heavily in incentivizing agent performance with rewarding opportunities.
Today NextWealth's leadership team mostly comes from internal promotions, almost 30 percent of the leaders are women, and the workforce is 60 percent female overall. These characteristics may be unique within the industry, but they ultimately promote stability and continuity, including an attrition rate of under 19 percent and an NPS score of 70.
Partnership Opportunities: Bringing AI and BPO Agents Together
The idea of internal promotion as a key to long-term workforce success was another sound concept that multiple speakers echoed – and it's no wonder why. Simplifying life for agents is crucial, but it takes more than just good tools: Business leaders that want to retain great talent must dedicate themselves to building better lifelong relationships with their employees.
A Two-way Street
"Agents have been doing everything for us, so asking what we've done for them is a really important question," Kumar noted. As a potential answer, he gave the example idea of technology-powered workforce "silos" where exceptional team members get noticed for their skills, receive training that promotes these strengths, and earn recognition from leadership.
To create better customer experiences, businesses must honestly invest in reducing effort for employees – so they need to be serious about ensuring their work-saving solutions actually save work. For instance, Kumar's team applies the same criteria to its machine agents that it uses to judge its human staff.
Improvements That Matter
Kumar's company also uses ML to eliminate busy work, such as by building an accounting system with a reconciliation tool that processes millions of transactions monthly. These services led to his company achieving customer growth of around 30 percent – during Covid, no less. 
BPOs should look at AI as an opportunity, not a threat. True, the expansion of artificial intelligence and machine learning forces many businesses to re-evaluate their processes. Still, most do so with an eye on using these technologies to improve their operations.
Transformation Outlooks: Recasting Your BPO As a CX Partner
For BPOs, growing AI applications translate to new chances to move into more high-skilled positions. This will prove especially relevant as enterprises look to digital transformation consultants for help making sense of data and improving customer processes.
New Market Opportunities
At the global scale, for instance, companies in North America and Europe have traditionally lacked the time to invest in the same degree of process improvement that outsourcing companies thrive on. This offers BPOs – and agents – prime new business opportunities to serve new enterprise customers and retain relevance while ascending the value chain.
"Technology is never a threat in my view," Lathan said. "It enables us to deliver more or do our best." Also, even as automation comes increasingly into the picture, there are still plenty of things humans must do for it to work correctly.
Workforce Differentiation Makes BPOs Stand Out
Good human agents will remain vital elements of these partnerships – not only learning new skills but also enhancing ML systems by training them with value-adding inputs. In the process, they'll differentiate their companies from those that failed to be sufficiently AI-ready.
Finding a CCaaS partner that makes it easy to sustain this relationship – with an open API, robust tooling, and secure compliance features  – could determine whether your BPO can keep up.
Staying Relevant in an Automation-first
World: Actionable Insights and How to Learn More
Technology is transforming faster than ever before – and adapting to this kind of dynamic, changing situation is key for organizations. "As part of this journey, we'll have to confront challenges and deal with chaos, but we'll be making history in our own ways within our organizations," Sanjay said.
As for rising to that lofty goal, the panel highlighted three key areas BPOs could invest in to equip themselves for the future: training, human resource enhancement, and organization-wide infusion of technology.
Being adaptive and open to change is also vital, but not just in one domain – tunnel vision won't cut it in a world of shifting customer expectations. The BPOs that prove themselves truly future-ready will do so using a combination of technology, human capital, and customer engagement – collecting more data across a broader scope to provide better service.
Asking what the customer needs and how you can make them more comfortable is a foundational tactic for achieving lasting relevance as a BPO. But it takes a system that lets you evolve rapidly, consistently, and rigorously enough to prove your results deliver real value.
Start Making Smarter Changes
The right CCaaS tools can empower your agents to make decisions based on relevant data and help you measure the metrics that let you nurture what works. They make it possible to continuously evolve based on customer feedback and implement changes that truly make life easier for your staff.  
Ozonetel lets you build call centers equipped with the tools and insights you need to drive enhanced agent and customer experiences. Learn how to transform your BPO by trying a demo, or watch the full webinar on our YouTube channel  for more insights into topics like moonlighting, intelligent workforce management, and how BPOs can stay agile.