How Can AI Enable Effective Call Quality Monitoring?
How Can AI Enable Effective Call Quality Monitoring?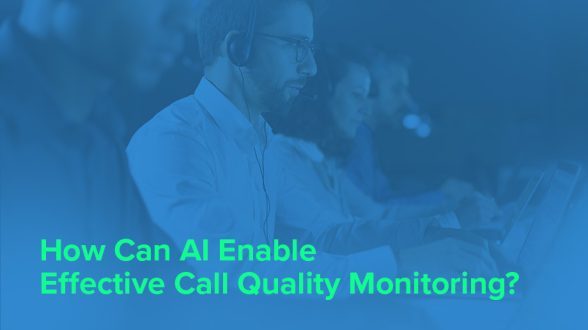 Customers love brands that listen and respond to their needs and demands.
In the modern era, 58% of customers prefer a brand for its service over price; 74% would switch to a competitor the moment they realize customer experience has dropped.
To ensure consistency in service delivery and get a sense of customers' satisfaction level, every contact center deploys call monitoring applications. That is why every call center has the same message for callers, "This call may be recorded for quality and training purposes."
Businesses use advanced call quality monitoring platforms to improve listening to customers and drive better service. When you add AI and automation to the mix, your call quality monitoring initiatives could get a massive boost.
Let us understand how.
In this article, we will explore:
How Automation Helps: The Growing Significance of AI
Call centers are bustling with actions and conversations that require constant monitoring. It can be an overwhelming experience for managers and team leads to keep track of every customer call and how it flows.
According to a survey, high-performing sales representatives are nearly 1.9 times more likely to use AI than laggards; and, enabling contact agents with powerful tools and insights to "do more with less." Call management and its quality assurance is one area in contact center operations where AI is providing remarkable support.
For an average agent who takes around 50 calls a day, AI can bring significant value to call quality management, keeping the service levels constant and reducing customer churn. You should pay close attention to the ongoing developments in Composite AI, Edge AI, Embedded Analytics, and Generative AI.
Let us understand how AI-powered applications can help set up a successful contact center in less time. But first understand what Call Quality Monitoring is.
What Is Call Quality Monitoring?
Call quality monitoring software consists of applications that help organizations track and record every call, and then systematically analyze these for evaluation and call scoring. These form the crux of call audits and agent performance scoring. When done right, call quality monitoring helps refine agent performance and allows contact centers to resolve queries in a better manner.
Overall, this is an important component of omnichannel contact centers that use various customized call reporting capabilities to improve reports on self-service dashboards and agent coaching initiatives.
Typically, Call Monitoring software has these features:
Unified call recording and monitoring (desktop, voice, and mobile screens).

End-to-end call recording security and data compliance as per the latest guidelines including CCPA and GDPR.

Automated agent performance analytics and data reporting.

Track call idle time and interruptions.

Next-gen AI-based analytics.

Content Management for sales enablement, agent training, and coaching.
Steps to Enable Effective Call Quality Monitoring
The first step to effective call quality monitoring is to define what is call quality and how good conversations are differentiated from bad ones.
Call quality is defined as the result of a phone conversation that plays out between a caller and contact center agent. A high-quality conversation is highly unbiased, transparent, empathetic, and polite. It directly improves First Call Resolution (FCR), NPS (Net promoter Score), Customer satisfaction (CSAT) and Customer Lifetime Value (CLV).
The goal of any contact center is to generate as many 'high-quality calls" per agent per day as possible so that customers feel happy and satisfied once they hang on.
If you are setting up call quality monitoring for the first time, here is how to do it effectively:
Step 1- Hire a Call Quality Monitoring Manager and Team
It takes solid hard skills and a sound technical understanding of contact center operations function before your business can reap the benefits of a call monitoring system. Hire a team of senior customer agents who thoroughly understand the workflows of a competent and high-volume call center. If you are not willing to build a team from scratch, you can also hire a third-party call quality assurance service provider.
Step 2 – Develop Scorecards for Agents
50+ fields in contact center operations can be analyzed and reported for a scorecard. Developing a consistent scorecard evaluation with recording functions improves the ability of a contact center manager in peer evaluation, and coaching.
Here's a list of entries you can use to develop a scorecard for your agents.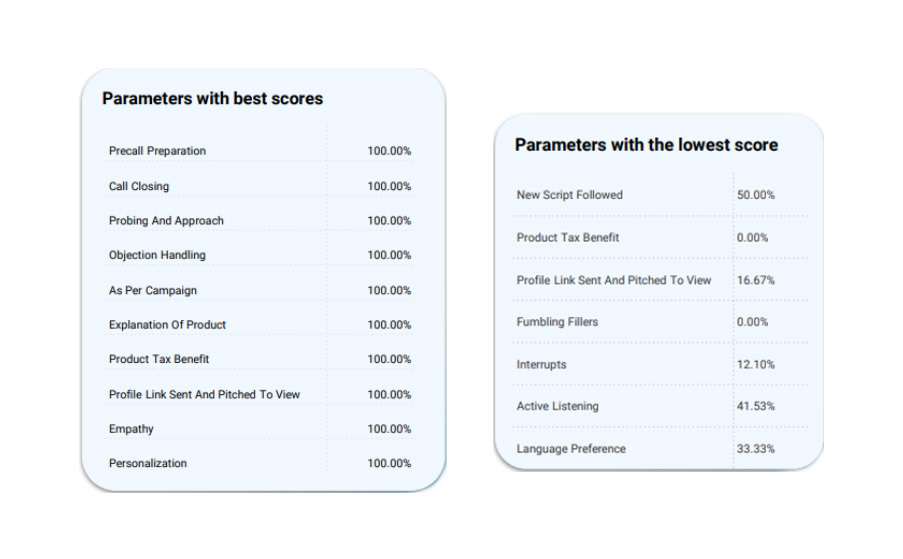 Step 3 – Differentiate the Type of Call
Call centers could receive hundreds of calls in a day that can be deflected to an IVR or an outbound call center. Call monitoring is successful when you can differentiate between calls, particularly undesirable ones. Agents can use pre-developed call scripts and personalize these by using active listening skills with enthusiastic call opening and flow.
Step 4- Identify Best Practices
Some phone conversations could be templatized as 'best conversations" that can be used as a reference to develop future practices. For example, the best calls involve agents who participate 50% or higher, speak less than 200 words per minute, and have less than 10 interruptions per call. Agents prosper when they are trained exactly on these basic parameters and appraised about them.
Here's a scorecard that can be used to develop a high-quality call monitoring system for your business.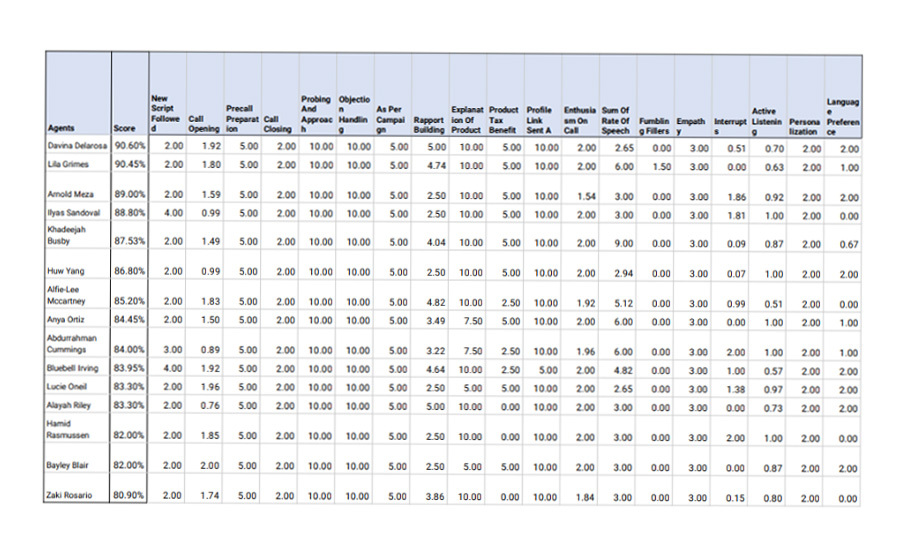 Step 5- Continuous Improvement with AI and Automation
When agencies handle a high number of calls, agents could face the brunt of stress and exhaustion. This can induce mistakes in the calls. It is important to study what types of mistakes surface and the factors that magnify these problems. The only way to reduce mistakes on call is to develop smooth and streamlined processes, in addition to providing opportunities for agents to develop themselves with better coaching in AI-based automation.
Step 6- Listen, Ask, and Document Feedback
The purpose call quality monitoring is successful when agents can freely communicate with their managers. Capture feedback through surveys, track the impact of their specific skills, and develop quality monitoring as a continuous improvement process.
Benefits of AI in Call Quality Management 
Finding what types of calls impact a contact center's bottom line could be searching for a pin in a haystack! Moreover, these operations could cost agencies millions of dollars in audits. To lower the cost of operations and automate manual tasks, businesses incorporate AI-based call monitoring software in their call centers.
Here are some ways automation and AI are enabling call centers with superior call quality monitoring:
Agent Scoring: AI is used to score the quality of every call based on certain unique parameters such as rate of speech, tone, loudness, number of pauses or interruptions, agent sentiment, and product keywords. Each parameter is analyzed using call monitoring software to build an agent audit sheet based on custom QA scoring. 
Speech analytics: Customer conversations with agents bring in a plethora of insights, which can be analyzed using AI to build powerful scripts and product descriptions. AI-powered call quality monitoring software enables agents to study the best call versus all other calls to create a script that can drive better customer conversations in the future.
Build powerful business-specific conversations: Using AI for call center operations, particularly in areas of call quality monitoring, can broaden the scope of customer experience and service management. From airlines to the food services industry, every call center-based business is using an automated contact center to handle customers, enhance conversations, and improve agent performance.
Choosing Ozonetel – A complete call monitoring solution
A reliable call monitoring solution like Ozonetel can automate a bulk of customer experience management tasks and activities with optimized outcomes. Your call monitoring solution should be able to handle the varying volumes of calls and train agents with AI's assistance.
Here is a list of the benefits of using Ozonetel's AI to automate your call quality management.
Automate every aspect of call monitoring in less than 5 days of implementation.

Achieve more than 60 percent accuracy within a day of deployment.

Build a customized call quality monitoring solution to convert your QA labels into AI-powered automated scores.

Calculate critical scores and KPIs in less than a minute.

Find "the pin in your data haystack" to focus on strengths and eliminate weaknesses from your contact center.

Silently enter an ongoing call to study how an agent is talking with the customer.

Reduce call idle time and interruptions by leveraging "whisper" and "barge" options in the call monitoring software.
Conclusion
Businesses are constantly striving to build pleasant and coherent customer journeys for their consumers using innovative techniques and strategies. These organizations are transforming their customer support centers, contact centers, and experience management departments using call quality monitoring software to outperform their competitors. 
Using a high-tech platform like Ozonetel integrates the power of AI with call routing, call analytics, sentiment analytics, conversational intent, and CX management to give a completely new dimension to your contact center.
Frequently Asked Questions