How call center created a low-barrier entry to working life for young Indians
How call center created a low-barrier entry to working life for young Indians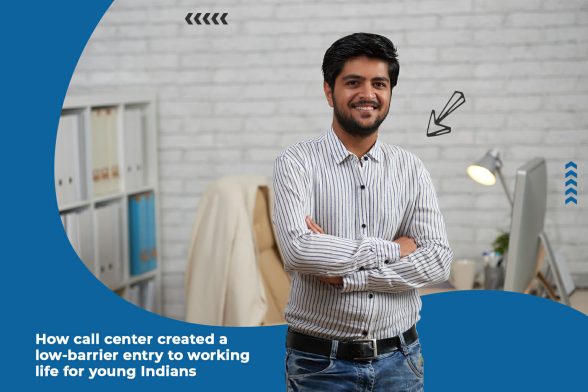 "Back in 2015 when I had completed my 12th, my family was in a financial mess. My father, a defence personnel, had retired early and his pension was not enough to support a family of five," said Kavindra who's a part of the customer engagement team at one of India's leading e-commerce companies.
Then 18, Kavindra landed a BPO job in Gurugram, thanks to his decent communications skills and basic knowledge of computers.
"It would have been very difficult for me to find a job in any other sector but the call center opportunity came as a blessing in disguise," he said, pointing out the lack of employment opportunities for undergraduates.
Seven years on Kavindra not only completed his education but also helped his family navigate the financial stress.
Kavindra is among hundreds of thousands of young agents who have been part of India's contact center revolution.
In this article, we will explore:
Stress integral to call center industry
Sharing his experience in the call center industry, Kavindra said being a major touchpoint between brand and customer, an agent needs to tread carefully and handle every client with utmost care and empathy.
"In most cases, customers will call you when they are facing an issue or have some queries. You can't always expect them to be in their best mood. As a representative of the company, you are expected to calm them down and offer the best possible solution within the prescribed guidelines," said Kavindra.
Another big challenge pertains to the call volume.  "On that part, I am happy because on a regular day I handle around 20-25 calls and we have adequate staff to handle high call volumes. We anticipate it in advance," he said, underlining the importance of optimizing the workforce.
However, that's not the case with some of his peers working in other companies who, he claims, usually handle 50 to 60 calls on a daily basis.
Stress is integral to the call center culture and it affects you in the long run. If you don't get a supportive manager, then survival becomes even more difficult, added Kavindra.
Kavindra is not alone, Bhavya Kapoor, who was associated with the call center industry for a brief period, also feels the same. The 27-year-old worked for a Gurugram-based vendor that handled outsourcing operations of an Australian company. 
"Stress was one of the major issues that drove me away. We worked early morning shifts. Working long hours sticking to a desktop while handling non-stop calls caused me mental strain," 
"Although they paid incentives for extra hours, nothing could compensate for the mental exhaustion we endure," he added.
Various studies have revealed call center agents feel more stress and anxiety as compared to their peers in other industries and are at risk of being exposed to a wide range of ailments.
A Great learning opportunity for beginners
However, both agree that a call center job presents a great learning opportunity for beginners.  "It gives you an early peek into corporate life. "Even if you plan to do an MBA later or pursue exams like IELTS or GMAT, you are taking your interpersonal skills to the next level while getting paid for that," said Bhavya, recalling some of his colleagues who were exam aspirants.
Omnichannel solutions brought much-needed relief
Technology has rapidly changed the contact center landscape with omnichannel solutions providing critical support to agents.
"Omnichannel solutions have made life easier for us. Suppose, a customer has not received his package or has received a damaged item, he can get the issue resolved without getting in touch with human agents through chatbots and our automated call offerings, " said Kavindra, adding that a good number of cases get resolved quickly if the issue further escalates, they are told to handle the case.
However, some customers find overly standardized menus and procedures jarring, they just want direct interaction with a human agent. According to Zendesk Customer Experience Trends Report 2020, more than 65% of customers across all age groups prefer directly speaking with the call center agent to get their issues resolved.
WFH model comes with its own sets of challenges
Pandemic played a key role in accelerating the pace of digitization and automation. Businesses suffered massive losses due to covid onslaught, subsequently leading to job cuts and discontinuation of services.  Amid strict lockdown, thousands of contact centers opted for the 'work from home' model, all thanks to cloud telephony solutions offered by companies like Ozonetel. It became possible for agents to handle inbound and outbound calls from the comfort of homes while using their phones with agent-specific numbers and call-masking. Nonetheless, the WFH model also posed a different set of challenges including internet connectivity issues, lack of communication and lack of privacy among others.
Repetition and lack of interest in daily tasks directly impact an agent's productivity. It can further lead to employee dissatisfaction, absenteeism, and turnover. The ongoing digitization has eliminated the need to manually enter customer data after each call. The Customer Relationship Management (CRM) solutions enable the system to automatically fill in details with proper prompts for call outcomes. Such measures would provide much-needed relief to agents from mundane tasks and help them channel their energy into more productive work. Gamification, timely appreciation and promoting a culture of tenure are other great ways to improve agent engagement.